Casa Samba sits atop a hillside overlooking both the Pacific Ocean and the Manuel Antonio National Park. This spacious, 4-story house has impeccable views and everything you need for a comfortable stay.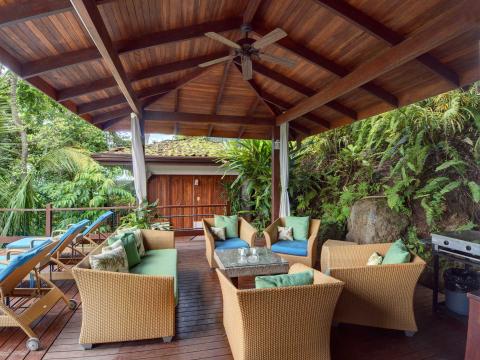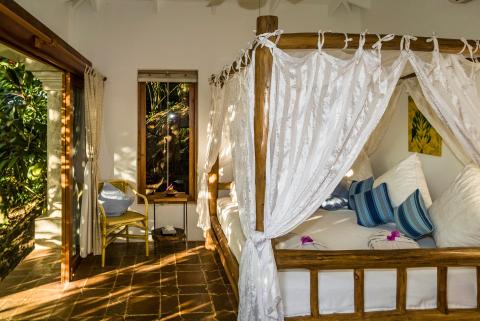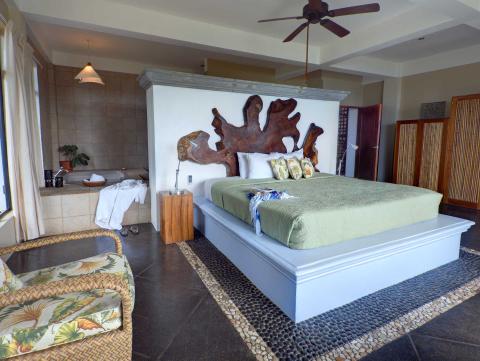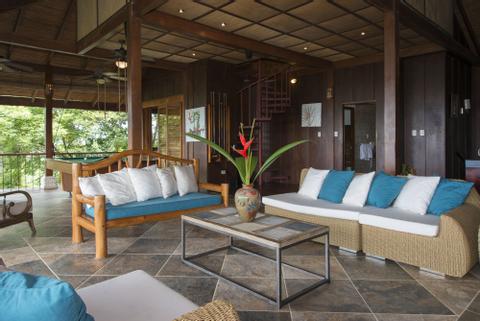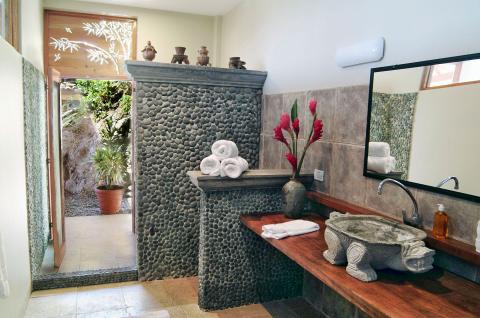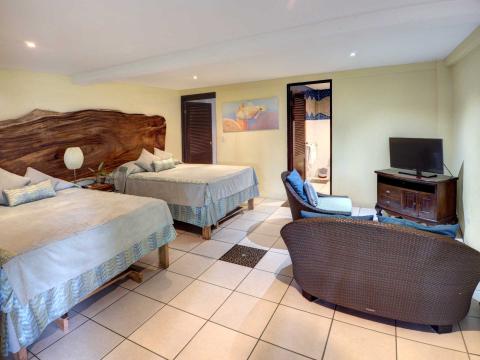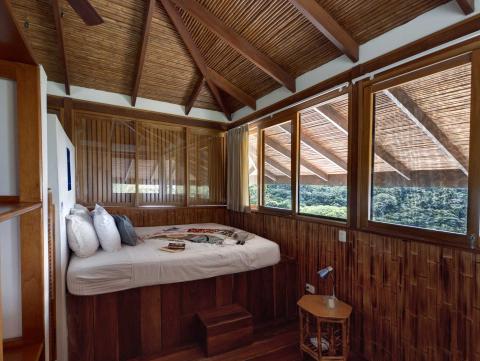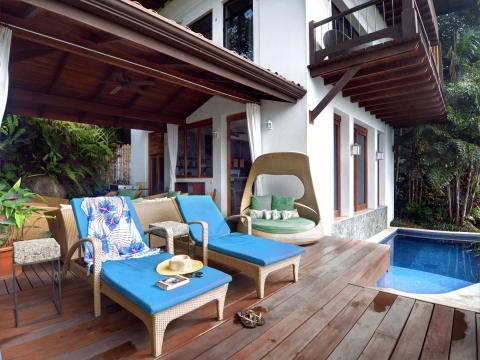 3:00 p.m. check in
11:00 a.m. check out
Swimming Pool
Wireless Internet
Please note: This house has a long staircase leading to the entrance, so guests should be ready for a climb and in relatively good physical shape.
Guests here have access to the community fitness center. There are restaurants, bars, and shopping a short distance from the house. Visit the local spa for some pampering and play a few matches at the local tennis courts. Travelers come to this part of Costa Rica for the chance to explore pristine, tropical beaches and see sea turtles in the wild. Other popular tours including kayaking around the mangroves.
Meticulously designed, this house employs custom stonework, bamboo accents, and native hardwood features. There is local artwork hanging from the walls and high, arching ceilings supported by large wooden columns. Ceiling fans combine with ocean breezes to keep the house cool and comfortable. It has pools, a sun deck, and a game room, covering a total of 5,200 square feet (483 m). The house comes with daily housekeeping and 24-hour security.
Casa Samba has five bedrooms and bathrooms. All bedrooms are air conditioned and have their own full bath suites. The showers are set with stones and the sinks are made from earthenware-glazed bowls. Some bathrooms even have their own Jacuzzi. Large windows in the bedrooms look out onto a picturesque landscape that includes the forest, the sand, and the sea.
The fully equipped kitchen and dining area are located on the main floor. Outside, guests can use the barbecue. The dining room is large enough for eight guests.
Sliding glass doors open onto the pool and sun deck. The 25-foot (7.5 m) outdoor pool looks out onto the ocean and forest. The game room has an entertainment area that includes a cable TV, a DVD player, and a stereo. Guests can access the Wi-Fi throughout the house.
More Property Amenities
Air Conditioning
Balcony
Cable TV
DVD player in Room
Fan
Game Room
Gardens
Hammocks
Hot Water
Internet Access
Jacuzzi
Kitchen
Laundry Service
Microwave
Ocean View
Private Parking
Safe Deposit Box
Telephone
Accommodations
Weekly Five Bedroom House
Sleeps 14
Air Conditioning
Balcony
Cable TV
Fan
Jacuzzi
Microwave
Wireless Internet
DVD Player
Living Room
Deck
Weekly Four Bedroom House
Sleeps 10
Air Conditioning
Balcony
Cable TV
Fan
Jacuzzi
Microwave
Wireless Internet
DVD Player
Living Room
Deck
Similar Hotels