Jungle Beach Hotel
The Jungle Beach Hotel is located along the main road leading to the Manuel Antonio National Park. As one of the most scenic and biologically diverse areas of Costa Rica, Manuel Antonio is popular with travelers, and for good reason – the park is incredibly diverse and gives visitors a great chance to spot wildlife.
The town of Manuel Antonio has all the amenities that one would expect from a popular destination – restaurants, shops, boutiques, and more. The reason most people come here, however, is not for the town but for the park. The park, which is small but packed with flora and fauna, is recognized as one of the country's finest. Trails splay out through the rainforest and lead to four gorgeous white-sand beaches. Within the park, you can spot monkeys, sloths, iguanas, and more. Aside from the park, travelers can go kayaking, zip-lining, snorkeling, and rafting.
The Jungle Beach Hotel is close to both Playa Espadilla and the Manuel Antonio National Park. The location is undoubtedly one of its strong suits, as guests enjoy easy access to both the coastline and rainforest. The hotel is set within the jungle and has grounds that host all kinds of tropical plants. This environment tends to attract monkeys, birds and sloths, which guests may be able to spot from their balcony.
The hotel spreads across several levels. As already mentioned, covered balconies front all rooms and offer up a great place to enjoy the tropical setting. Some balconies are private, while others are shared. The rooms are spacious, comfortable and well lit. They have hardwood floors and large windows, and each room is individually decorated with tropical murals. The beds are cozy and have side-tables with reading lamps. All rooms have a clean, private bathroom with hot water and showers with solid water pressure (a definite perk after a day in the rainforest). There are wardrobes for storing clothes, and access to reliable wireless internet.
The hotel offers a light complementary breakfast each morning that consists of toast, fruit, pastries, coffee, juice and tea. The staff is friendly and can recommend activities or restaurants for guests.
Facility Amenities
---
Restaurant in Hotel
Free Breakfast
Wireless Internet
Spa Services
Wheelchair Accessible
Swimming Pool
Air Conditioning
Balcony
Cable TV
Fan
Hot Water
Internet Access
Laundry Service
Private Parking
Safe Deposit Box
Facility Amenities
---
Restaurant in Hotel
Free Breakfast
Wireless Internet
Spa Services
Wheelchair Accessible
Swimming Pool
Air Conditioning
Balcony
Cable TV
Fan
Hot Water
Internet Access
Laundry Service
Private Parking
Safe Deposit Box
Check In:
3pm
Check Out:
12pm
Jungle Beach Hotel Accommodations & Rooms
5 Rooms
Filter Rooms
Room Features
1 QueenOR 1 Queen +1 SingleOR 2 Queen
3 QueenOR 2 DoubleOR 1 Double
3 QueenOR 1 SingleOR 1 QueenOR 1 Queen +1 Single
A nature lovers dream the monkeys were the highlight staff was wonderful
Nice, comfortable place to stay. It was clean and staff was very helpful. Very easy access to beach. Highly recommend.
The staff here were extremely friendly and helped recommend us great restaurants. The hotel was within walking distance to both the beach and Manuel Antonio national park which was great. We saw sloths and capuchin monkeys literally on the street this hotel was on. It was awesome.
This Hotel was clean..breakfast good..A/C great...Hot water pressure awesome..staff was like family and we felt like we were really living in the Jungle. The monkeys played on the balcony and we got great pictures. I got sick one night and they gave me warm soft blankets and hot tea and sent fresh fruit to my room. This place was a great value. I loved the eclectic boutique feeling of the rooms, restaurant/bar and pool.
Great place. Central location and close to the beach.
Great place to stay if you want to see monkeys every morning!! So cool
Don't expect luxurious accommodations, but what I loved were the monkeys everywhere! I have some great photos of monkeys right by the hotel. And, the breakfasts are great, and also the pina coladas!
Would stay there again. Excellent location with everything nearby.
Lovely stay , 2 minutes from the great beach! Tacos and cocktails at the hotel were great too.
The howler monkey that came out at night sounded like King Kong! I couldn't believe the next morning when I found out it was just a little monkey. Loved having the monkeys hanging around. Staff were also very nice and helpful. Nice having a private access to the beach. I didn't find out about it until the next day though.
This hotel was very nice. Our room was clean, air-conditioned, and we even got to see the squirrel monkeys one afternoon by the pool.
Jungle Beach hotel was great. The receptionist was very helpful in setting up some activities for us. It was very cool to hear and see the monkeys in the morning. The access to the beach was great and we loved having the bus stop easily available. Our room was spacious and clean.
This was by far the coolest hotel that was booked. There were so many monkeys and sloths! It was actually insane how much wildlife you were able to see just sitting around the pool eating breakfast. It was a really wonderful introduction to the area and felt super clean and safe.
Oh my gosh....the Capuchin Monkeys were hilarious! They were climbing on the trees right outside our room. Great freshly-prepared breakfast each morning! It was great to be able to just take a short walk to the beach also.
This was our favorite hotel!! There are monkeys everywhere, it's a PERFECT location to the beach and to the national park, the bus stops right in front, and the staff could not possibly have been any nicer, helpful and accommodating. This hotel was a huge part of our trip in Manuel Antonio and we would absolutely stay here again!!!!
LOVED THIS PLACE! MONKEYS visited every day!
There are lots of monkeys and mangos at the hotel. It is literally like living in Jungle. The only downside is lots of mosquitos.
Excellent. This is an excellent hotel if you want to be close to the beach and national park. This is the best part of the real Manuel Antonio. We loved it here, especially the morning wake up call from the Howler Monkeys. Great value.
Best location - close to the beach and the National Park!
Clean hotel, staff were professional took a little warming up to get some good interaction and assistance from them - once they started then it all flowed well and ended up helpful with booking additional tours. Hotel was nice, great location close to the beach, I had the impression it was a little in from the main road, thank fully the traffic at night was not to bad.
Jungle Beach Hotel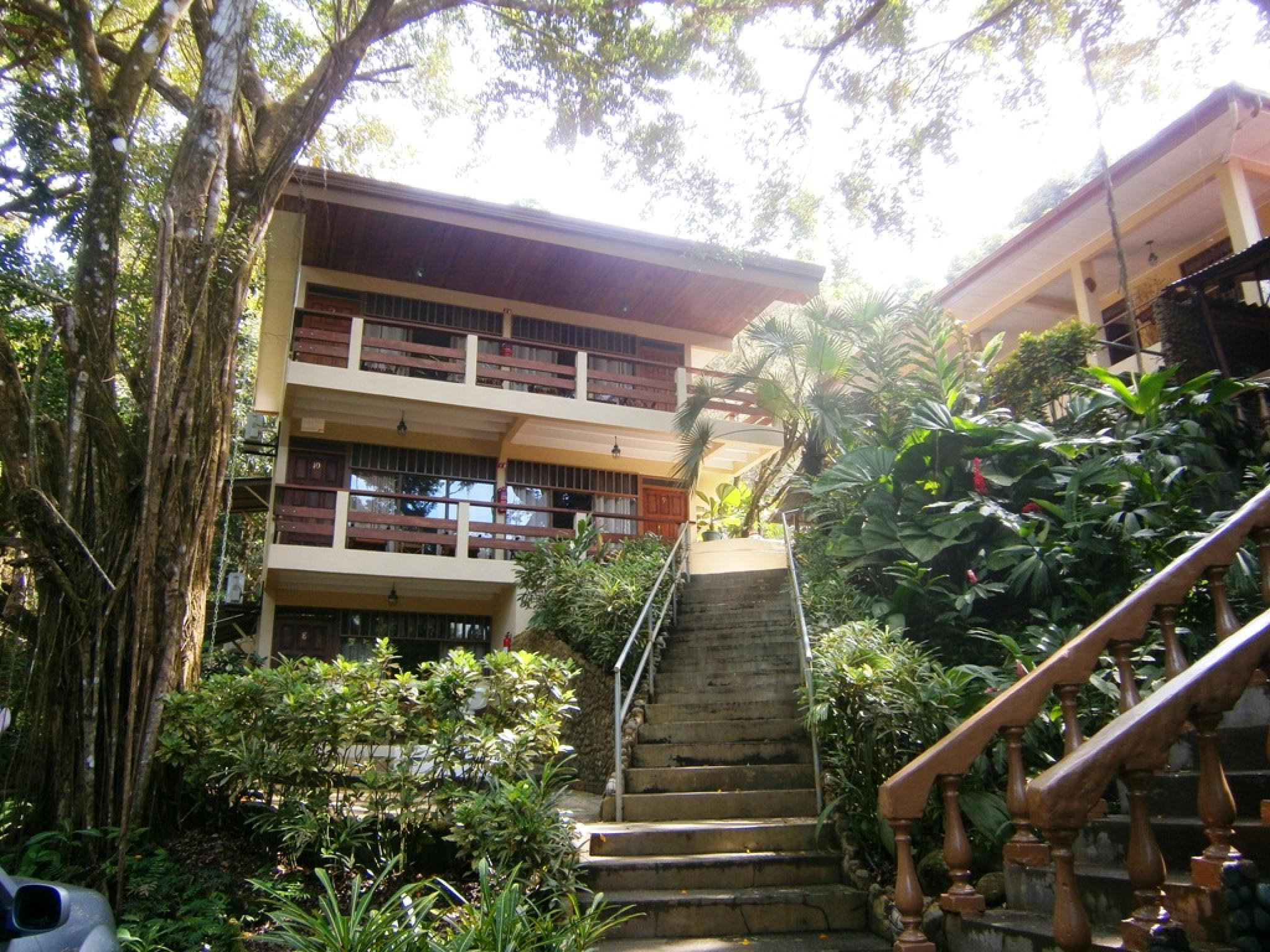 Room rates: $124
252
Anywhere.com