This three-bedroom, three-bath villa offers amazing views and amenities.
Featured in:
Luxury, Vacation Home, Great for Families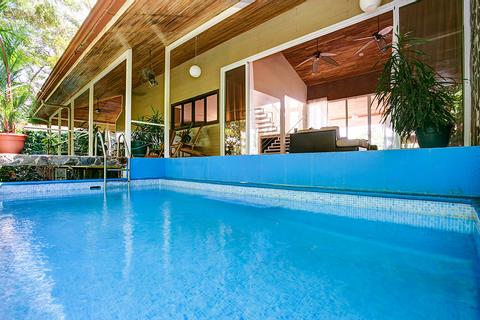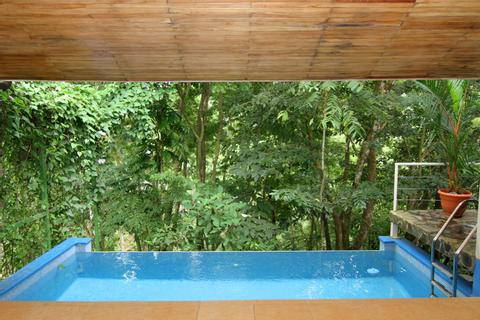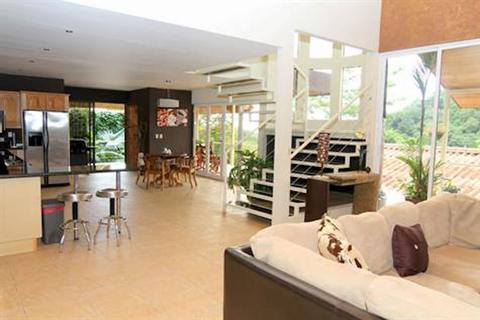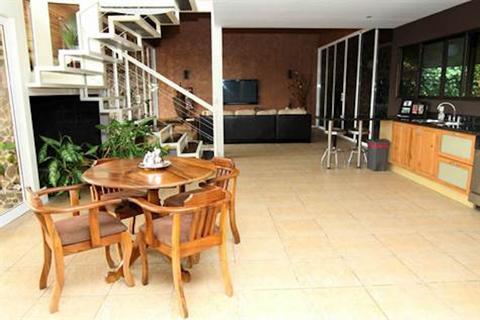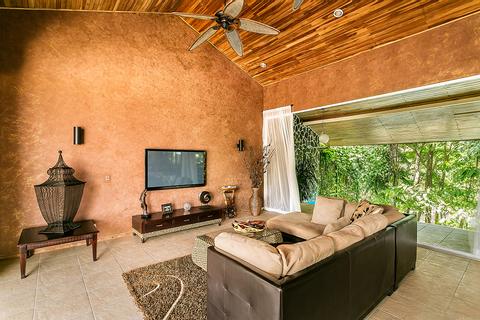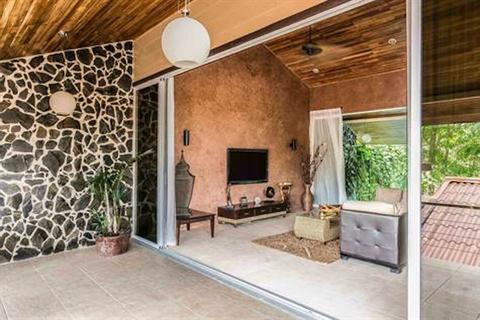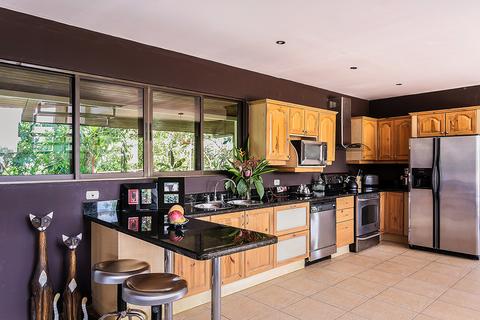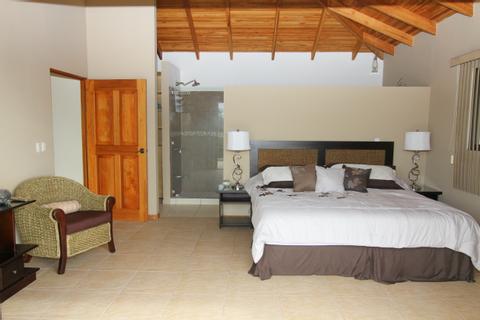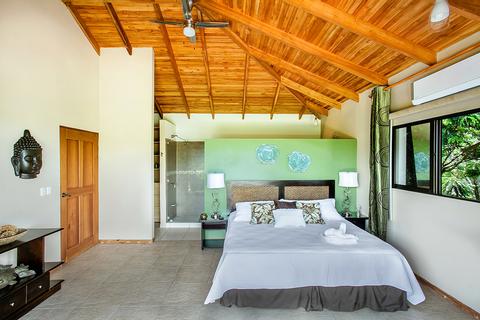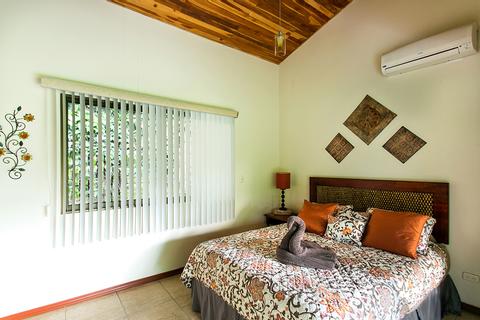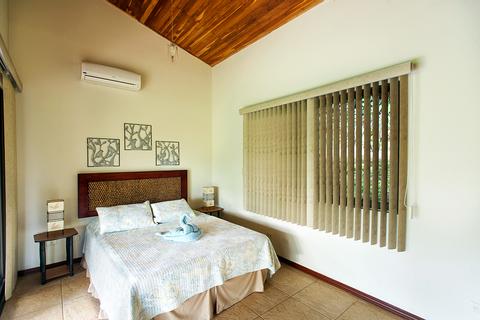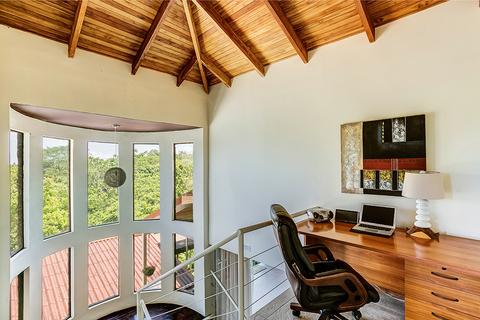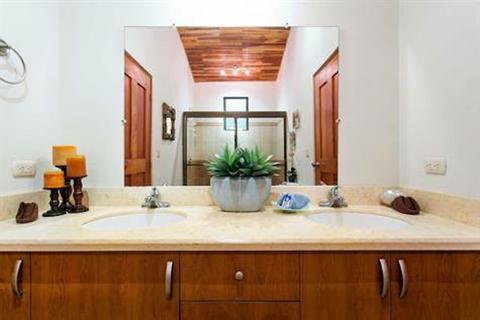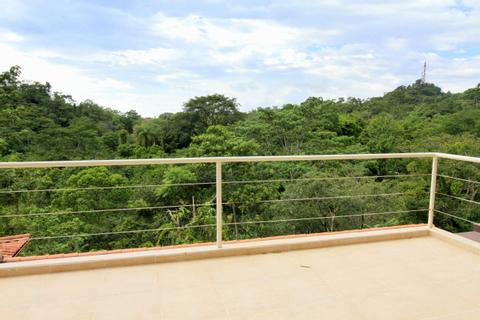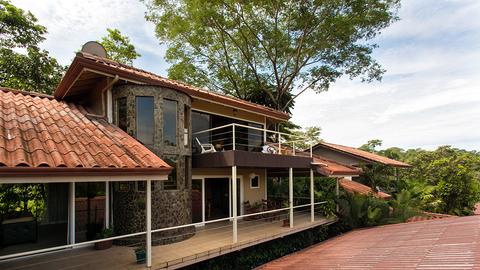 3:00 p.m. check in
10:00 a.m. check out
Swimming Pool
Wireless Internet
Attractions & Sites
5 km
14 km
This multilevel villa is available in one of Manuel Antonio's most comfortable and beautiful neighborhoods. Villa Tradewinds is perched high on a hill overlooking the lush Pura Vida Valley and giving its guests exceptional ocean views.
The house has an open planning design allowing for the tropical breezes to float from the patio all the way into the master suite. The living room is spacious with a beautiful couch and the kitchen is full of handy appliances.
The master bedroom is located above the main living area. The king-size bed, Jacuzzi tub and walk in closet make it the height of luxury at this rental. The private terrace with amazing jungle views is the best part of this room.
The other two bedrooms are located on a lower terrace and are detached from the main house. They offer lots of privacy and still offer great views of the forest. These two rooms are linked by a large adjoining bathroom. They also have their own entrance, which you can lock from the inside or outside.
On the deck, you will find a modern infinity pool and a deck with great spots to layout and catch some sun. There is plenty of wildlife around — the house is perfect for wildlife, and is located on a dead end country road with little to no traffic.
The house comfortably accommodates seven visitors. It has access to WiFi, air conditioning, and a daily maid service. A concierge is available to help plan your excursions on site.
More Property Amenities
Air Conditioning
Balcony
Cable TV
Fan
Jacuzzi
Jungle View
Kitchen
Microwave
Ocean View
Private Parking
Accommodations
Villa Tradewinds Three Bedroom Villa
Sleeps 6
Air Conditioning
Balcony
Cable TV
Fan
Jacuzzi
Microwave
Wireless Internet
Living Room
Dining Room
Deck
Patio
Feedback from Travelers
This home was PERFECT for us!! We loved every minute we spent there!! There was a sloth that we were able to observe up close and personal throughout our stay. The monkeys paid daily visits much to everyone's delight! The pool is large and was never empty and there are no words to describe the beautiful view! I highly recommend this home!
Loved Villa Trade Winds. Family of 6 with 4 adult kids and plenty of space to spread out. Well stocked kitchen. Lots of raccoons and monkeys at night on the roof (not really a problem but be sure not to leave any food around). Location is great but you really do need a car for running into town for groceries, restaurants and getting to the beach, etc.)
Similar Hotels