You'll be working with a non-profit organization called Latin American Sea Turtles (LAST), which is part of the organization called the Wider Caribbean Sea Turtle Conservation Network (WIDECAST). This program takes place on the beach of Playa Blanca, near the small town of Puerto Jiminéz. For this program you will visit the Golfo Dulce on the Osa Peninsula. This is one of the hottest and most humid parts of Costa Rica, and it rains often.
Featured in:
Educational, Volunteering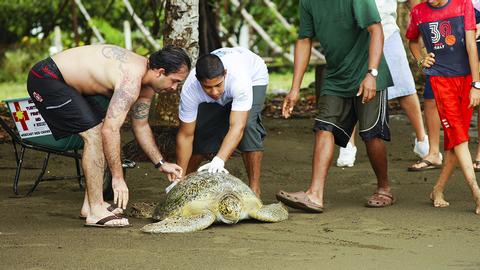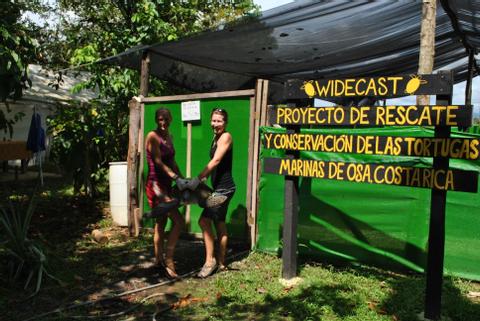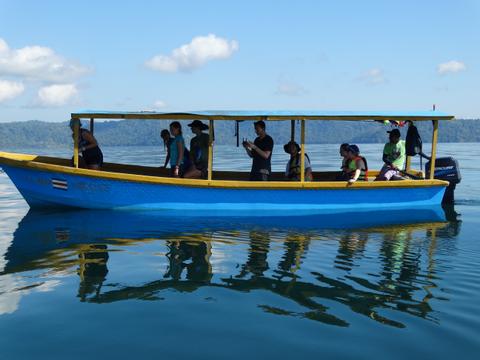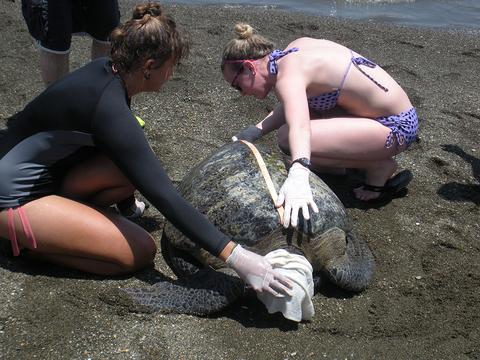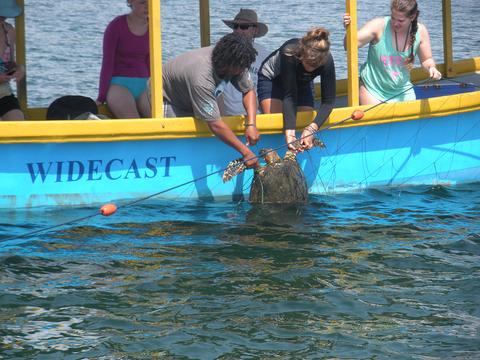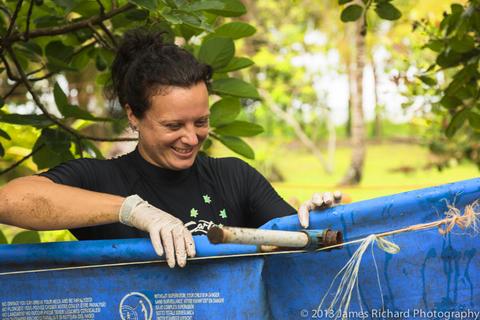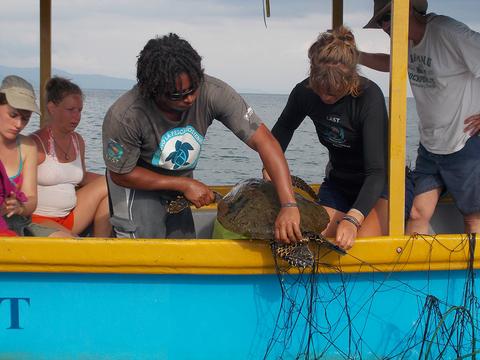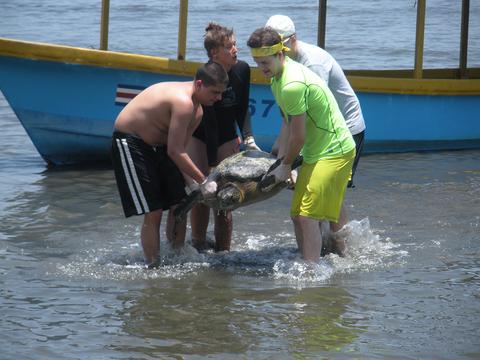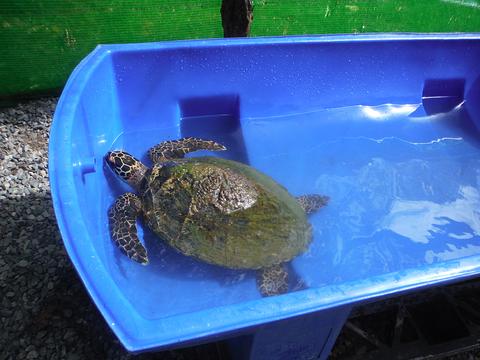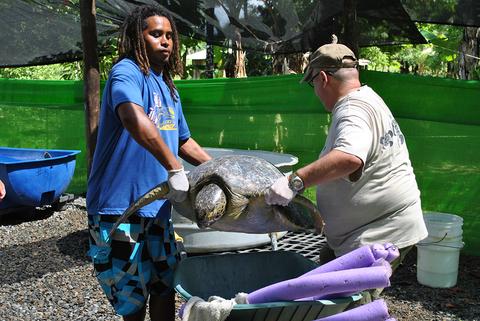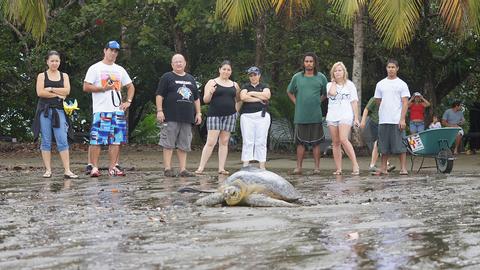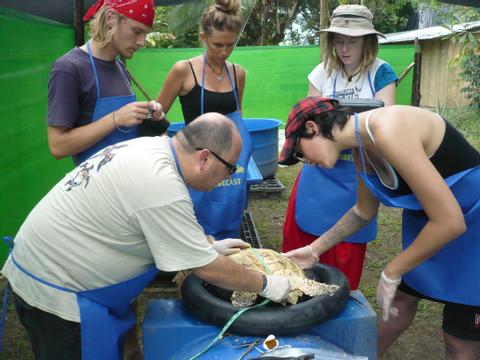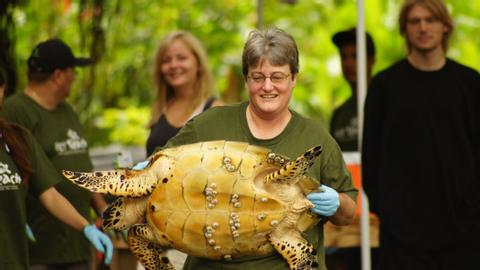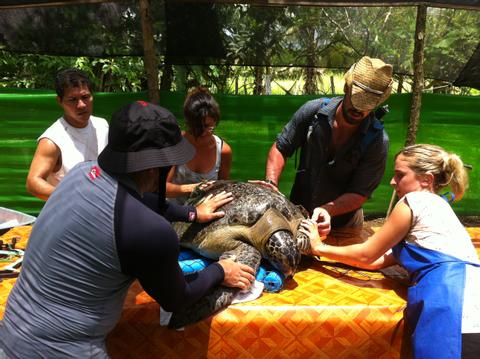 Duration:

48 hrs
Available Days:

Every day
Inquire for Transportation
Mobile Ticket Included
Offered in English, Spanish
As part of the experience you will learn the basics of data collection. When you work with the team you will be measuring the sea turtles and assisting with other biometric data collection. You will also help tag the turtles so scientists can track their development.
While you're in the boat, you will be asked to help with the following tasks. Keep in mind that these activities require that you be in good physical condition.
• Untangle captured sea turtles
• Lift sea turtles into the boat
• Carry field equipment to and from the boat
• Keep the equipment tidy
• Prepare the net
• Untangle deployed net using snorkel equipment
• Alert the team when a sea turtle enters the net
• Record scientific data
• Measure biometrics
If you find a weak or an injured turtle you will bring it to the LAST rehabilitation center. Volunteers help to keep the turtle as comfortable as possible. Some sea turtles have unwanted barnacles or parasites attached to their shells, which staff can remove.
Other tasks may include:
• Cleaning the tanks, changing the water
• Lifting and holding sea turtles as needed
• Monitoring the sea turtles
• Recording scientific data
• Measuring biometrics
Sea Grass Monitoring and Mangrove Reforestation. Sea grass grows plentifully in this part of Costa Rica, and the sea grass beds near Playa Blanca are a popular place for sea turtles to come and graze. Scientists need help tracking the health of these aquatic plants.There is very little information known about the mangroves in the area. LAST has already helped reforest some parts of the local forest, and you can help continue to improve the area by helping with the following tasks:
• Looking for seeds
• Getting mud for the plants and seedlings
• Sowing seeds into plastic bags in the nursery
• Maintaininng the nursery
Accommodations and Meals During your stay the program provides your food and accommodations. You will stay with a host family who will make three meals a day. Not all of the host families speak English, so knowledge of at least basic Spanish is recommended. Most of the rooms are near to the conservation center, and a few are just a short bike ride away. The provided rooms are comfortable but quite basic. You can choose from four different types of cabins.
• The Olive Ridley: cabins have shared bathrooms and can shelter up to 2 people each. These cabins are 4 km (2.5 miles) from the project, so guests here will use bikes provided by LAST to reach the project site.
• The leatherback and black sea turtle cabins: have private bathrooms. Leatherback cabins are for two people, and black sea turtle cabins can accommodate up to five.
• Hawksbill cabins: offer Wi-Fi, TV, and air conditioning, as well as private bathrooms. They can host up to four guests at a time. Like the Olive Ridley cabins, these cabins require a 4 km (2.5 miles) commute via bike.
When you pack for the Osa Peninsula, keep in mind that it is a tropical climate. Heat and humidity means that you should only bring light clothing (you will also have to air dry your laundry). Denim won't work – make sure to bring light cotton or linen.
Transportation
Many of our tours and activities offer transportation pick up & drop off options from several locations and destinations. Options vary by tour, see "BOOKING REQUEST" for full details.