Casa Habibi is a private, mountaintop guest house overlooking beaches and dense forest. It's quite large, with 6 bedrooms and enough room for a total of 16 guests. Best of all, each of the rooms (even the private bathrooms) come with stunning views. Come here for a family reunion or a getaway with a big group of friends.
Featured in:
Vacation Home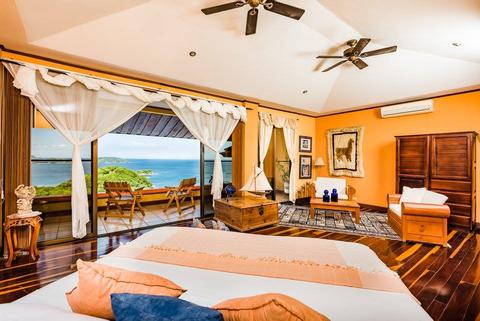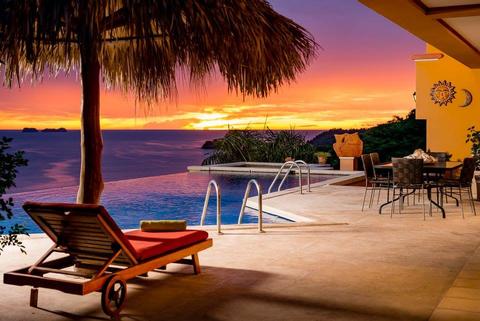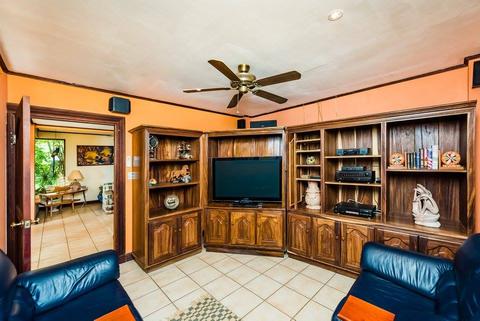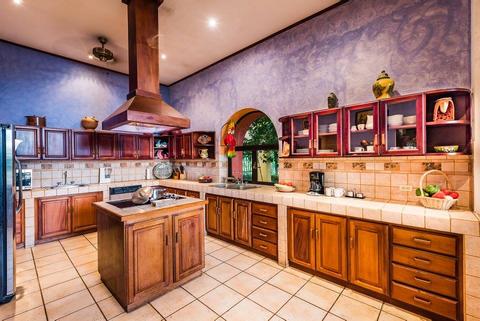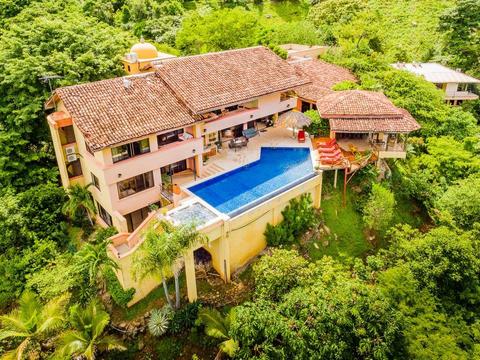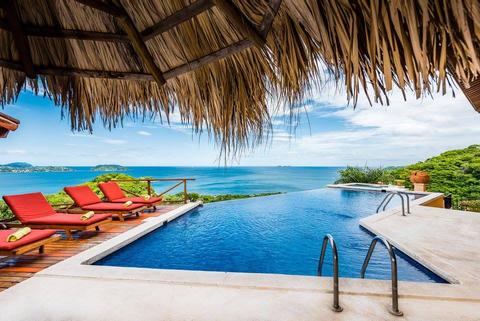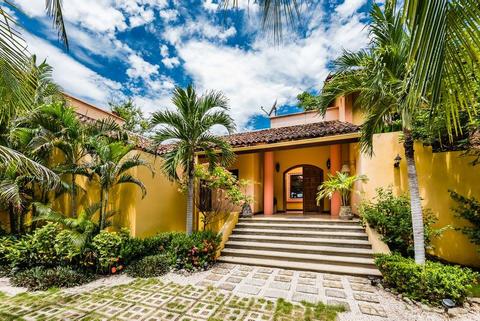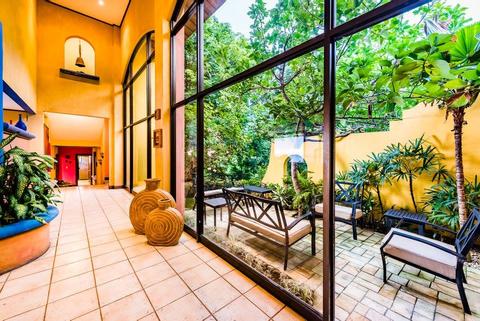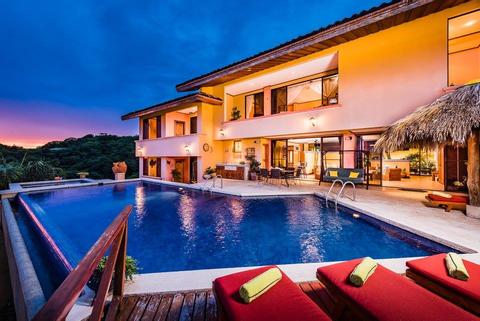 2:00 p.m. check in
12:00 p.m. check out
Swimming Pool
Wireless Internet
With a view of the beach, you'll probably want to make a beeline for the nearest waves. You can walk to Prieta Beach in about 15 minutes, or take a 15-minute drive to Flamingo Beach. Tours in the area include snorkeling, paddleboarding, and sailing. If you're interested in seeing more underwater scenery, consider taking a tour to go diving near the shores of Santa Catalina island, where you can see manta rays in their natural habitat. Casa Habibi is also 30 minutes from the many restaurants, shops, bars, and cafes of Tamarindo, one of the most popular beach towns in Guanacaste. In the casa's immediate surroundings, you can find a fitness center, a golf course, and tennis courts.
The home has a festive, colorful aesthetic, surrounded by a sea of greenery. Each of the six bedrooms has a private bathroom. All of the bedrooms have air-conditioning, and throughout the rest of the house open windows and ceiling fans can circulate a cool breeze. A couple of the rooms are especially luxurious – the third-floor master suite has a king-sized bed and a Jacuzzi, and there's a sixth bedroom that's separate from the house, offering a bit more privacy.
The kitchen is fully equipped with everything you need, including essentials like a coffee maker, a blender, and a dishwasher. If you want to cook surrounded by the serenity of the grounds, you could go outside to use the grill, and serve the feast you create at the 10-person outdoor dining table, or the 12-person indoor dining table. You can easily find ingredients at the nearby grocery store.
On the grounds, you'll have everything you would want in a beach house. The game room has a 55-inch plasma TV with cable channels and a DVD player, as well as billiards and foosball. You can access Wi-Fi throughout the ground. There's an on-site staff, including maintenance, housekeeping, and a night guard. When you come back from the beach, you can stop in the outdoor shower so you can leave the sand outside, and you can toss any clothes you need clean right into the on-site washer and dryer.
The grounds have as much to do outside as they do inside. There's a terrace that's ideal for bird watching, yoga, and sunbathing. Swim in the infinity pool and soak in the Jacuzzi, maybe with a cooling drink in hand. Gardens on the grounds have mango trees, and you're welcome to pluck some of the ripe fruit.
More Property Amenities
Air Conditioning
Balcony
Cable TV
Fan
Hammocks
Hot Water
Internet Access
Microwave
Ocean View
Private Parking
Pet Friendly
Accommodations
Sixt Bedroom House
Sleeps 14
Air Conditioning
Cable TV
Fan
Hot Water
Microwave
Wireless Internet
Living Room
Dining Room