This villa covers 2,000 square feet (185 sq m) and offers gorgeous views overlooking the beach, as well as bright, natural light and a contemporary amenities. Stay here to have a tranquil oasis that's walking distance from busy Tamarindo Beach. Come here with family or a group of friends — it's large enough to accommodate a total of eight guests.
Featured in:
Luxury, Hilltop, Vacation Home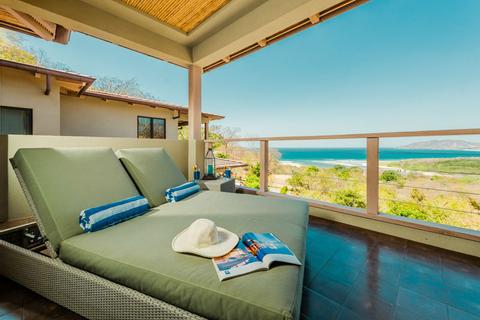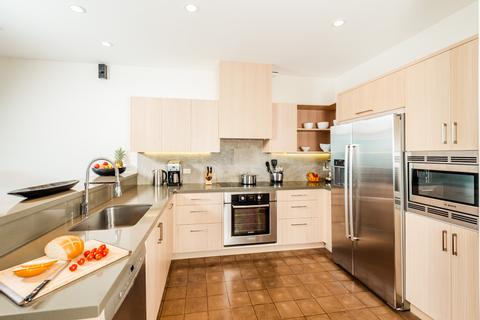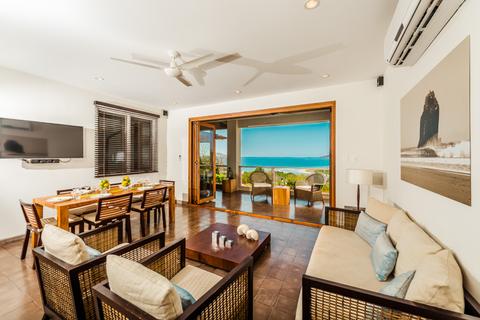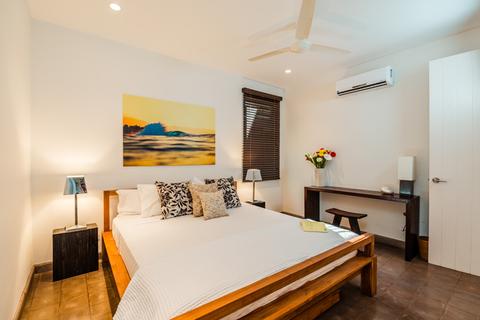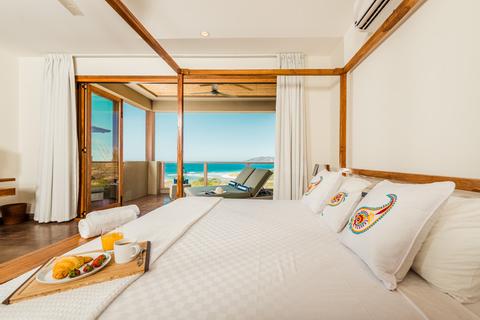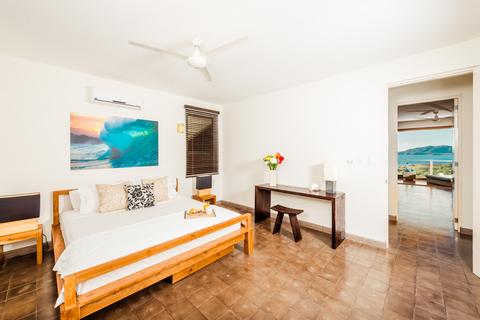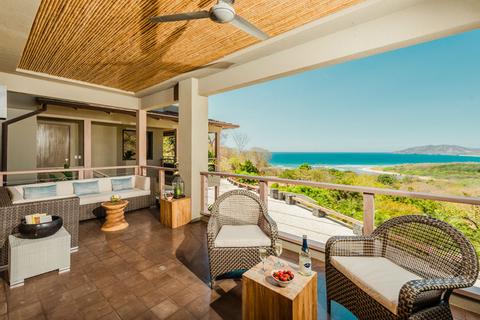 3:00 p.m. check in
10:00 a.m. check out
Wireless Internet
Las Mareas has its own beach club right on Tamarindo Beach, which is located downhill from the villa. The beach club has storage lockers for surfboards and anything else you might want to bring to the beach. Speaking of surfing, this area has plenty of qualified instructors who can help you catch your first wave. Tamarindo has smaller waves, which are ideal for beginners as well as travelers who'd rather stick to boogie boards. Experience local wildlife on a guided tour of the nearby Marino Las Baulas National Park — go here for superlative bird watching in the mangroves, and the chance to see leatherback sea turtles coming ashore.
Guests get to enjoy an incredible view from the swimming pool of the beach below. Beautiful views continue on the balcony that sticks out from the main living area. Conveniences like restaurants and banks are a short walk from the villa. Maid service is included in your stay, and you can also request extras like babysitters and masssage services.
Besides the same amenities as you would find in a hotel, the villa also supplies a few homey touches. The living room features a cable TV and a DVD player. You can access the Wi-Fi throughout the villa and there's also a telephone. There is a washing machine and a dryer on the property. In the kitchen, you'll find state-of-the-art appliances including a coffee maker. You'll also find the kitchen stocked with cooking equipment and a dishwasher.
Las Maras has a total of three bedrooms, and each comes with its own bathroom — the villa has a total of 3.5 bathrooms for optimum convenience. The master bedroom also has its own private balcony. No matter what time of year you visit, you'll stay comfortable with the air-conditioning. In addition to the super-secure safety deposit boxes for your valuables, this property also has its own security staff.
More Property Amenities
Air Conditioning
Balcony
Cable TV
Fan
Hot Water
Internet Access
Kitchen
Ocean View
Private Parking
Safe Deposit Box
Telephone
Accommodations
Three Bedroom House - Las Mareas #4
Sleeps 8
Air Conditioning
Balcony
Cable TV
Fan
Hot Water
Microwave
Safe Deposit Box
Telephone
Wireless Internet
DVD Player
Living Room
Similar Hotels