El Geckoes Lodge ofrece alojamientos lujosos, situados en la paz de la jungla costarricense. Los búngalows son lo suficientemente aislados como para gozar de la privacidad, pero lo suficientemente cerca de las atracciones más populares del área.
Featured in:
Honeymoon, Midrange, Cabins and Villas, Great for Families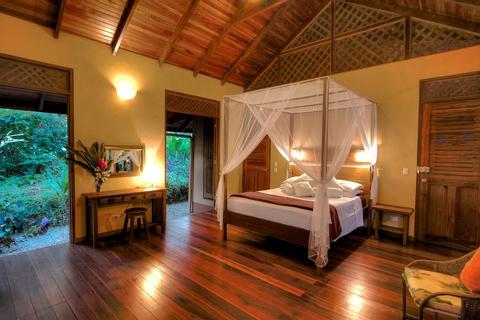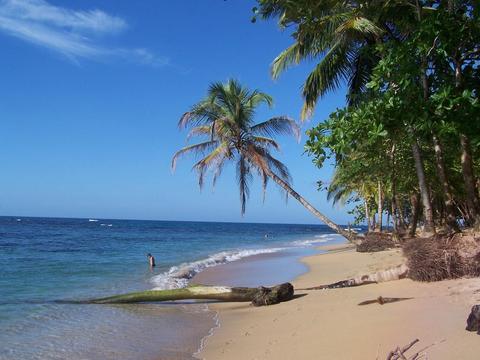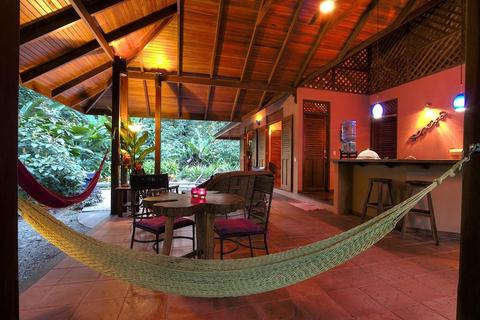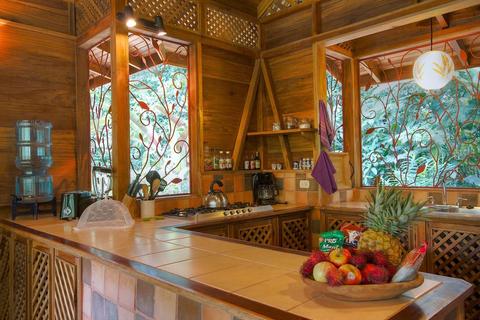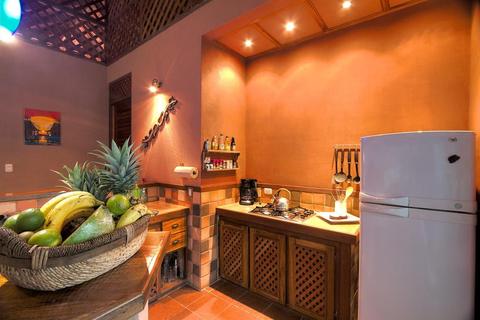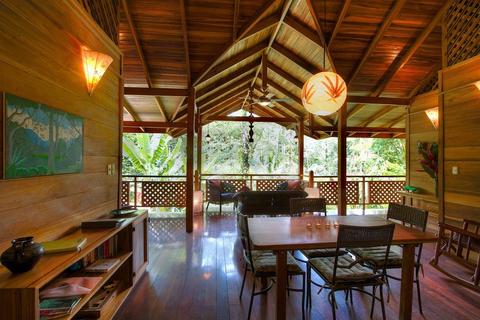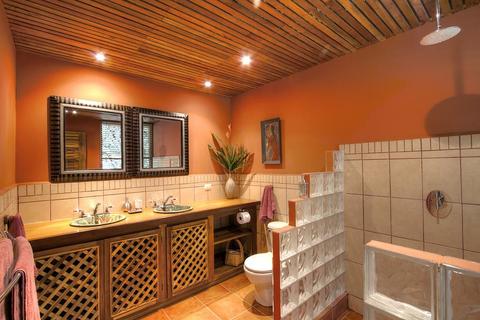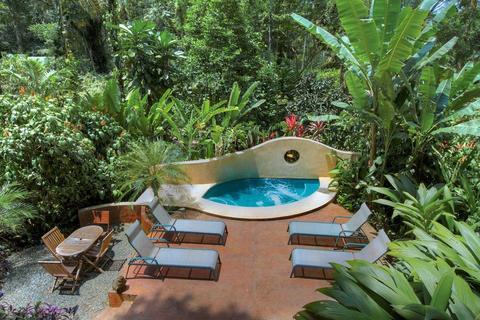 2:00 p.m. check in
12:00 p.m. check out
Swimming Pool
Wireless Internet
Insista en visitar la mayor cantidad de playas posibles durante su estadía. Habrá una encantadora variedad de playas en el área, todas a un viaje en carro de 15 minutos del lodge. Playa Cocles se encuentra a una caminata de 15 minutos desde el lodge. Esta playa es popular para los surfistas principaiantes; ¿por qué no recibir unas clases? Aventúrese un poco más adentro hasta la Playa Chiquita para disfrutar del snorkeling en un arrecife, y haga una parada en Playa Negra para asolearse y estirarse en la arena negra. Además, usted también debería hacer un corto viaje al Centro de Rescate Parada Jaguar. Además de jaguares, usted podrá ver perezosos, tigrillos (u ocelotes), monos, serpientes, lagartijas, y muchas otros pobladores de la jungla que podría no ver en la vida silvestre.
El Gecokes Lodfe ofrece alojamientos en dos diferentes tipos de búngalows. Casa del Bosque podrá albergar a dos huéspedes, y Casa Bromelia a cuatro. Cada una de estas casas para huéspedes poseen una disposición de suelo abierto, para permitir la entrada de las brisas de la jungla y fomentar la ventilación cruzada. Los ventiladores de techo también podrán ayudar a mantener una temperatura agradable en las casas. En los interiores, unas cómodas sillas y un área de comedor le brindarán abundante espacio para hacerlo sentir en casa. La madera pulida y la iluminación natural harán que el espacio se sienta ideal para su escenario en medio de la jungla. El servicio de mucama de 5 días a la semana mantendrán todo el lugar inmaculado.
En el exterior, cada casa dispondrá de su propia pequeña piscina, rodeada por reposeras. Uste también podrá encontrar una parrilla, y un área de comedor en el exterior. En el patio, usted gozará de hamacas para relajarse en medio de los viajes a la playa.
Los dormitorios están equipados con camas tamaño queen con dosel. Los huéspedes podrán colocar sus laptops en los espaciosos escritorios, y guardar sus artículos de valor en la caja de seguridad ubicada en el vestidor. Casi que en cualquier punto de la casa usted disfrutará de la vista de la jungla a su alrededor; ¡incluso en la ducha! Ambas casas poseen baños sumamente grandes.
Siéntase libre de usar el celular que viene con la casa. Además, la casa viene con una cocina completa, pero aún así planee en visitar los restaurantes del área. Muchos de los restaurantes ofrecen platillos internacionales, al igual que los favoritos costarricenses típicos.
More Property Amenities
Balcón
Jardines
Hamacas
Agua Caliente
Cocina
Caja Fuerte
Teléfono
Accommodations
Agua Caliente
Caja Fuerte
Internet Inalámbrico
Sala
Agua Caliente
Caja Fuerte
Internet Inalámbrico
Sala
Feedback from Travelers
We loved it here. Secluded with assistance as needed. They gave us a local phone to call for taxis. Our only complaint was how far off the main road, for anyone who'd like to be a little closer to restaurants and the beach.