Hotel Santa María Paracas
Hotel Santa María Paracas is located in Paracas, Peru. This hotel offers basic rooms and easy access to the coast and town.
Paracas is a small port town set along the southern coast of Peru. Paracas acts as a jumping off point for visits to the Paracas National Reserve and the Islas Ballestas. The Paracas National Reserve has a number of impressive geological formations and also protects important marine life and sea birds. At Islas Ballestas, travelers have the opportunity to see sea lions, seals, and thousands of birds.
Hotel Santa María Paracas offers travelers comfort and security in Paracas. The hotel is somewhat basic, but has good access to Paracas and the surrounding area. Guests will enjoy relaxing on the hotel's open-air terrace—this is a nice place to read or have a drink. A computer with Internet is available in the hotel lobby.
The accommodations provide guests with the basic but sufficient amenities. All rooms have a private bathroom and hot water shower. The rooms are kept cool with fans, and cable TVs provide in-room entertainment. There are a variety of room options, all of which have beds bordered by tables and lamps. Read until you're ready to turn off the light and go to sleep.
The hotel has a small restaurant where guests can eat and drink. The restaurant, El Chorito, specializes in seafood, most of which is caught locally and is extremely fresh. A complimentary breakfast is served here each morning, and guests can enjoy grilled fish and drinks at night—a great way to end a day in Paracas.
Facility Amenities
---
Restaurant in Hotel
Free Breakfast
Wireless Internet
Spa Services
Wheelchair Accessible
Swimming Pool
Air Conditioning
Bar
Breakfast Available
Cable TV
Hot Water
Internet Access
Laundry Service
Mini Bar
Safe Deposit Box
Facility Amenities
---
Restaurant in Hotel
Free Breakfast
Wireless Internet
Spa Services
Wheelchair Accessible
Swimming Pool
Air Conditioning
Bar
Breakfast Available
Cable TV
Hot Water
Internet Access
Laundry Service
Mini Bar
Safe Deposit Box
Check In:
3pm
Check Out:
12pm
Hotel Santa María Paracas Accommodations & Rooms
1 Room
1 DoubleOR 2 SingleOR 3 Single
Hotel Santa María Paracas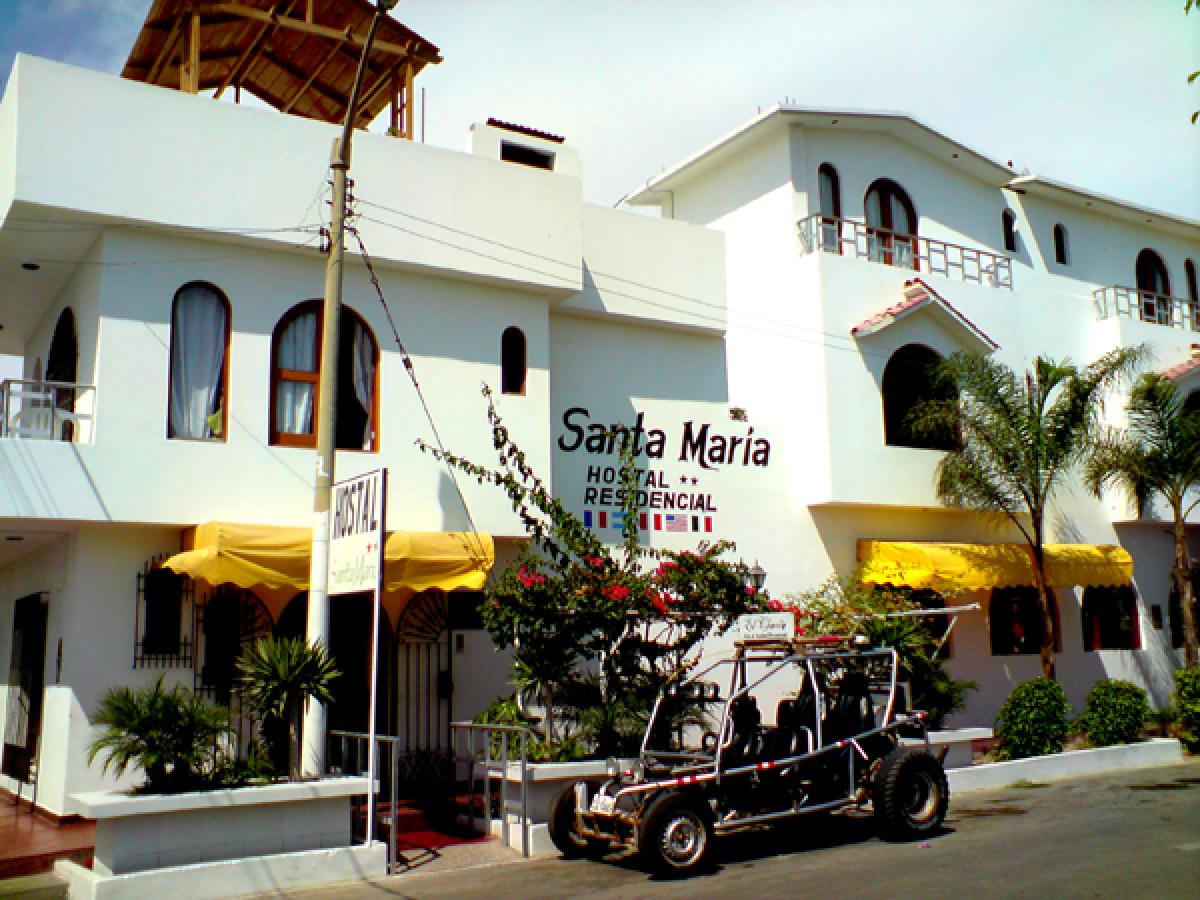 Room rates: $41
Anywhere.com