The short answer? Long-ass walks with backpacks. It is a mental game—prepare to be uncomfortable at times.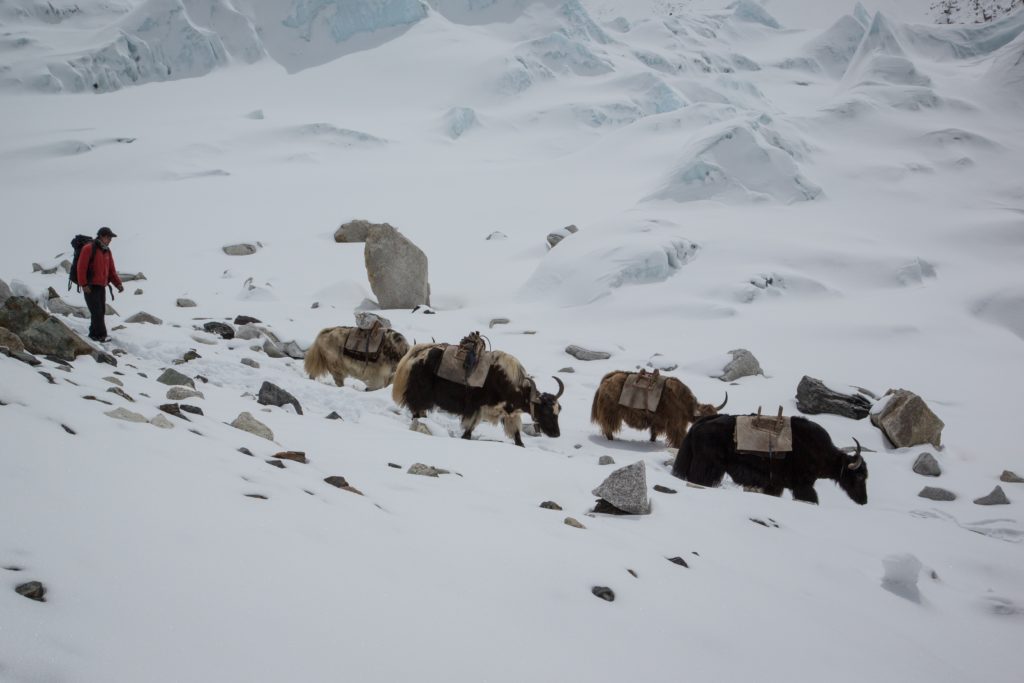 Yaks are 'beasts of burden' capable of trekking throughout the Himalaya—ensuring that they receive the proper care is of the utmost importance. Imagine how well you need to care for your own body...
There's a common misconception that visiting Mount Everest isn't worth it if you aren't going into 'beast mode' to reach the summit; ironically, for such a long climb, nothing could be further from the truth. You don't have to be an expert climber to experience Mt. Everest, but you do need to have intestinal fortitude (grit), and a positive attitude. Our Anywhere+ trek leader, Karl Nesseler (an expedition photographer and experience climber) kindly takes time out of his day for a Q&A about these treks, and why you can be an adventurer even if you aren't an expert climber.
Trek versus Climb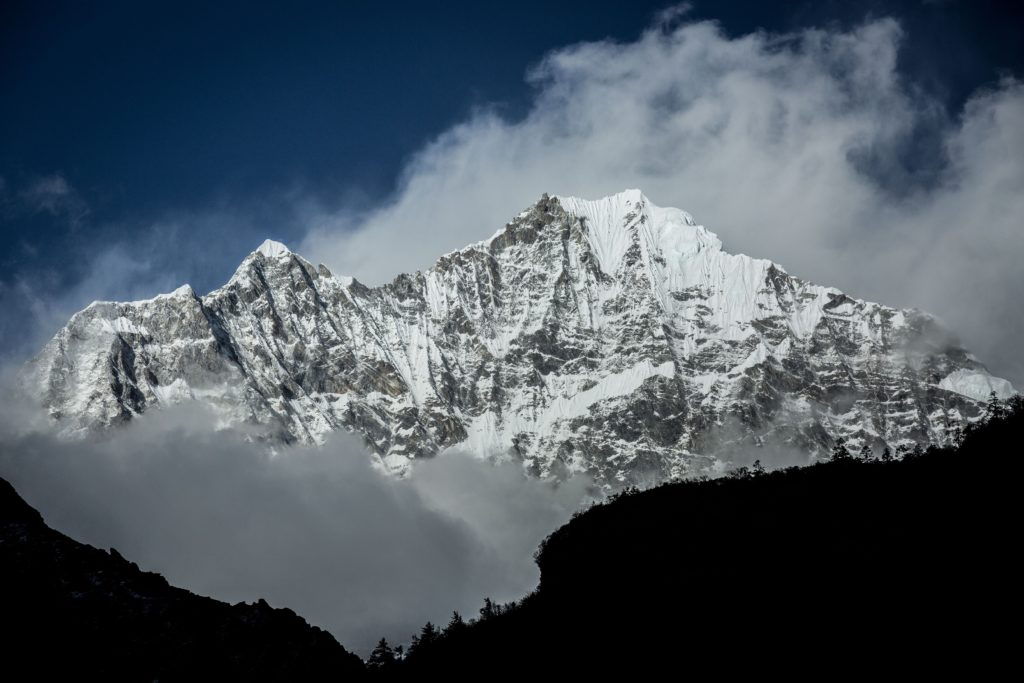 The beautiful and challenging, Mount Thamserku shrouded in mist and blue skies.
First and foremost, let's clear up something which seems inconsequential to the novice—trekking up to a mountain site and climbing a mountain are technically not the same thing. The thought of a 'climb' is probably what's stopping you from thinking you can successfully complete a trek—the quintessential 'climb' or 'mountaineering expedition' conjures up images of ropes, helmets, carabiners, crampons, an ice axe… You're right to think such things should be left to the pros, but you don't need that level of skill and muscle for a 'trek.' According to the New Oxford American Dictionary, a 'trek' is defined as "a long arduous journey, typically on foot." There's a world of difference between carrying a pack on a long, and sometimes uncomfortable, walk and needing an ice axe to hold on to the side of a mountain.
At the risk of spoiling this article for you, we will quickly tell you that even a novice can tackle a trek, because it's about the journey, acclimatization, and approaching your preferred mountain as more of a multi-day walkable incline. Sounds doable, doesn't it? Like hiking to the nth degree. Without further ado, let's get going...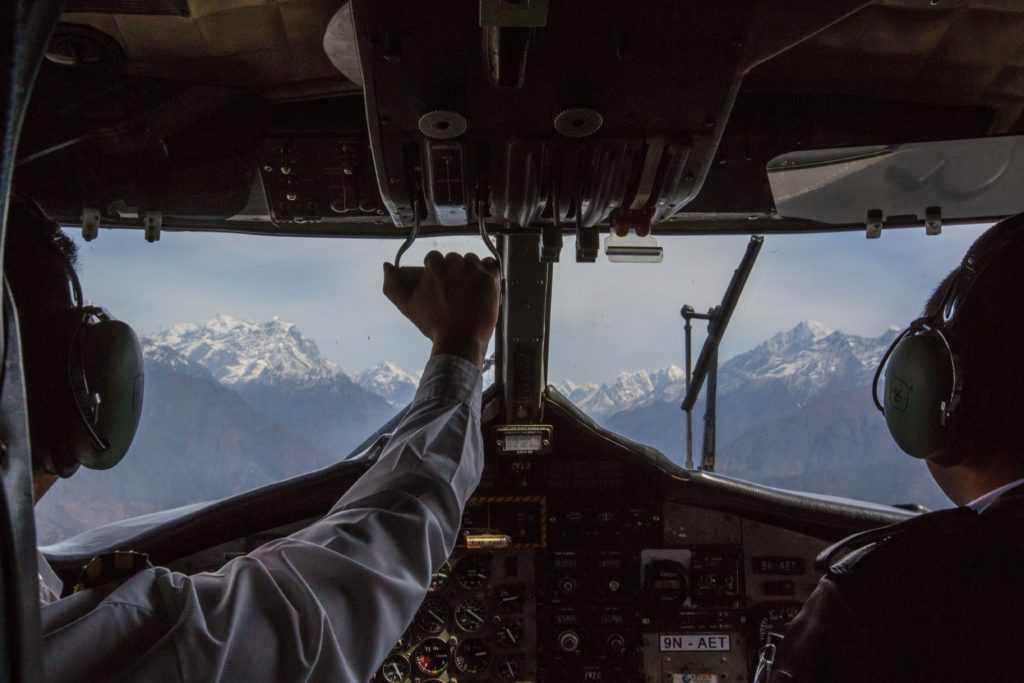 The view from the cockpit of an airplane during the Everest Base Camp Trek.
Q: You travel for a living, but you didn't start out leading treks to Mount Everest Base Camp (EBC) overnight. How did you get to a point where you could approach this Goliath with confidence and competence?
A: I have worked as an expedition photographer in the past and steadily increased my training and time in the mountains. Climbing Mt. Everest the past year (unsupported and together with my good friend and assistant trekking guide, Phura-Jangbu Sherpa) was the result of many different experiences in different mountain ranges around the world.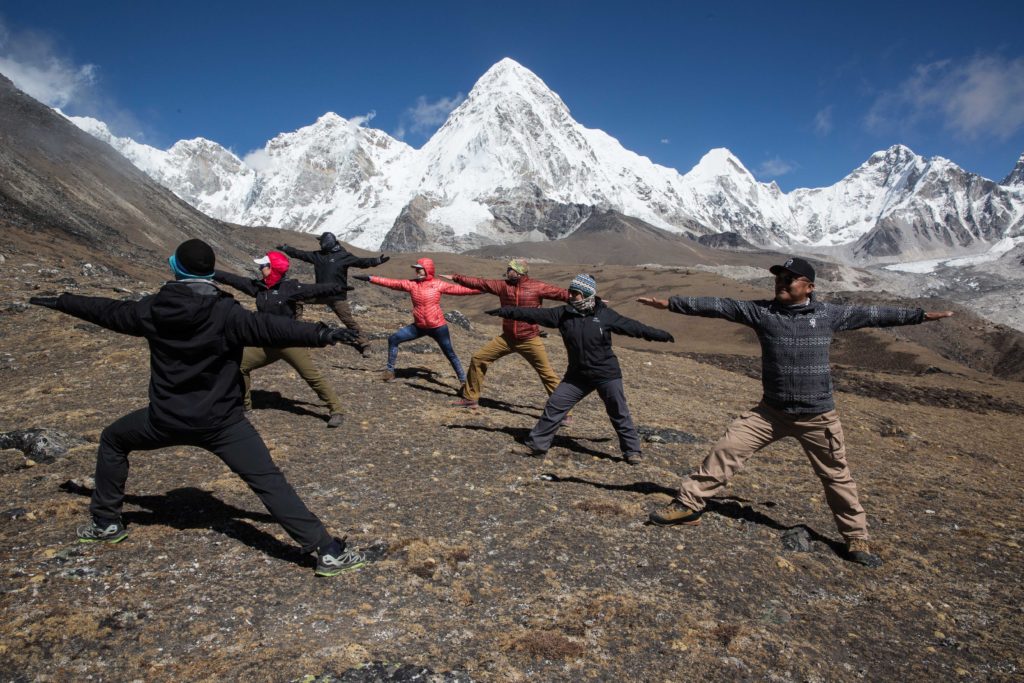 Yoga with one of the world's most amazing view. Members of the trek are doing the 'Warrior' pose—very appropriate indeed.
Q: How does one even begin preparing their body for such a feat—what goes into training for a mountain trek?
A: We curate our itineraries in a way [which maximizes] the success rate for all participants. Because of our conservative acclimatization strategies and the efficient support measures, we can confidently guide moderately physically active people to their goal. We do everything in our power to make their time in the mountains as comfortable and enjoyable as possible, after all, it is their hard-earned vacation time. I usually recommend hiking at a moderate pace with a 30-40 pound backpack for 3-4 hrs at least twice a week in order to prepare for some of the upcoming challenges. The more training people can get the better, but I do realize that it is difficult with a full-time job and family obligations.
Q: What's the best way to combat altitude sickness?
A: It is a mix of plenty of hydration (at least around 4L of water per day), eating sufficiently (many people lose [their] appetite and don't have enough energy left), and resisting the urge to fall asleep during the day (when the respiratory system slows down, the body doesn't acclimatize well because it is lacking oxygen). Even if you need to relax from an exhausting day, we recommend 'active rest,' which means you should read a book or do something else to stay awake while laying down.
If there is a slight hint of altitude sickness, we recommend a drug called 'DIAMOX', which helps the body to acclimatize and eases the common altitude headache in most cases. Severe cases of altitude sickness need to be evacuated, in the worst case by helicopter if the client can not walk anymore. This has never happened on any of our trips (thus far—knock on wood).
Q: How does one keep a positive attitude whilst trekking, and how important is this to completing the trek? It's been said that this journey is "mental" as much as it is physical; can you explain?
A: Completing one of our treks is 50 percent mental power. Being in those extreme environments and being uncomfortable requires a strong and positive mindset to keep oneself on track. If you lose your motivation and positive attitude, it will be harder and harder to get to the top.
Q: What are some of the common mistakes you see trekkers make when attempting to navigate the Everest Base Camp Trek?
A: Not taking care of their bodies enough. You need to drink plenty [of water], use sunscreen, change into dry clothes when you get to the camp, eat enough to fuel your body again… There are many different little tasks that are required for a successful and enjoyable trek.
Q: What are the actual essentials you'll need in your pack?
A: Your daypack will hold your hardshell jacket in case it starts raining or snowing, your water supply for the day, sunscreen, and an extra layer in case it cools down.
Q: What's a surprising thing people should know about attempting this trek?
A: [It doesn't] have to turn into a suffer-fest, but can actually be quite enjoyable with the right support and the right attitude.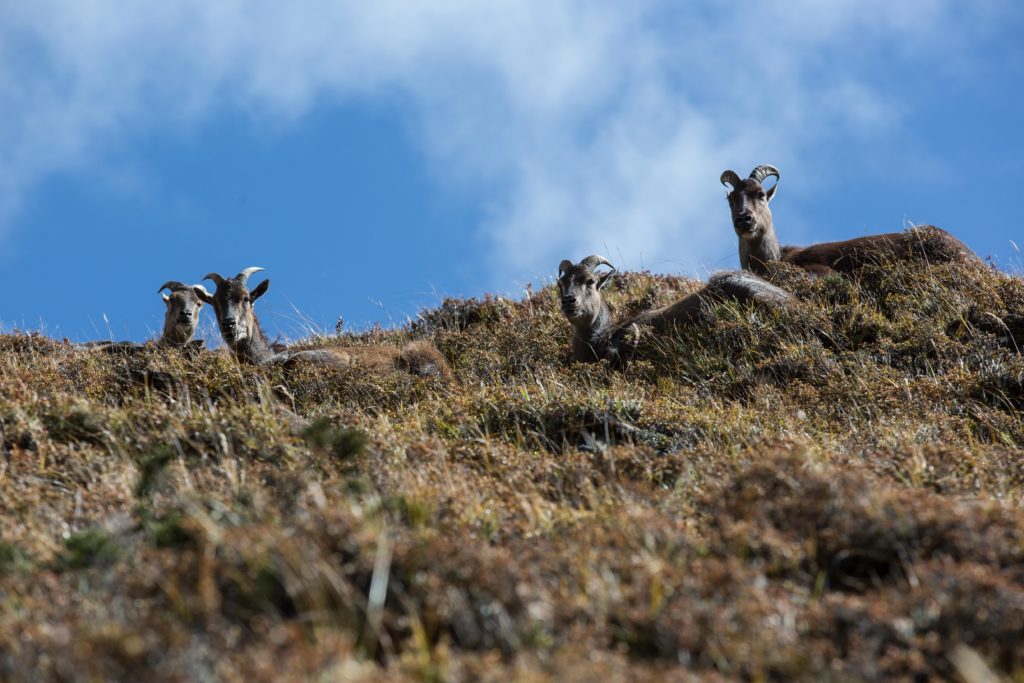 These mountain goats making trekking look easy. *Cue eye-roll*
Q: What makes reaching Everest Base Camp a uniquely satisfying excursion? After all, this makes for a rather intense holiday/vacation...
A: Reaching the base camp of Mt. Everest is a beautiful last highlight on a trek full of new experiences and environments. It is the perfect climax after 12 days of trekking through the mystic Khumbu Valley and coming face to face with the highest mountain on the planet.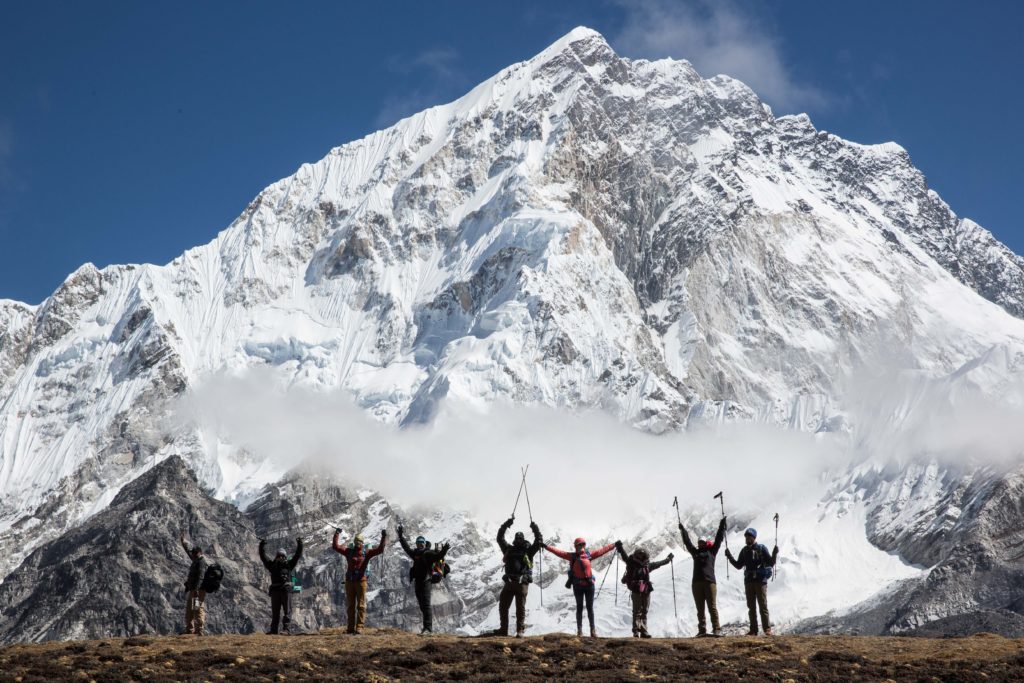 The Everest Base Camp trek team strikes a pose in front of Mount Nuptse.
If you're looking for an opportunity to do something amazing and life-changing, trekking up to Mount Everest Base Camp definitely fits the bill, but perhaps you need a little more convincing. We recommend reading the story of Anywhere globetrotter Marcella Herington—a young woman who turned a devastating loss into a powerful moment to seize the day. When all else fails, remember one thing: Mt. Everest may be great (in stature), but so are you.
"Be bold and mighty forces will come to your aid." - Basil King
Photographs courtesy of Karl Nesseler. © 2018, Karl Nesseler. All rights reserved.