Which is more challenging, reaching Mount Everest's Base Camp or climbing toward a new level of growth and healing in one's own life?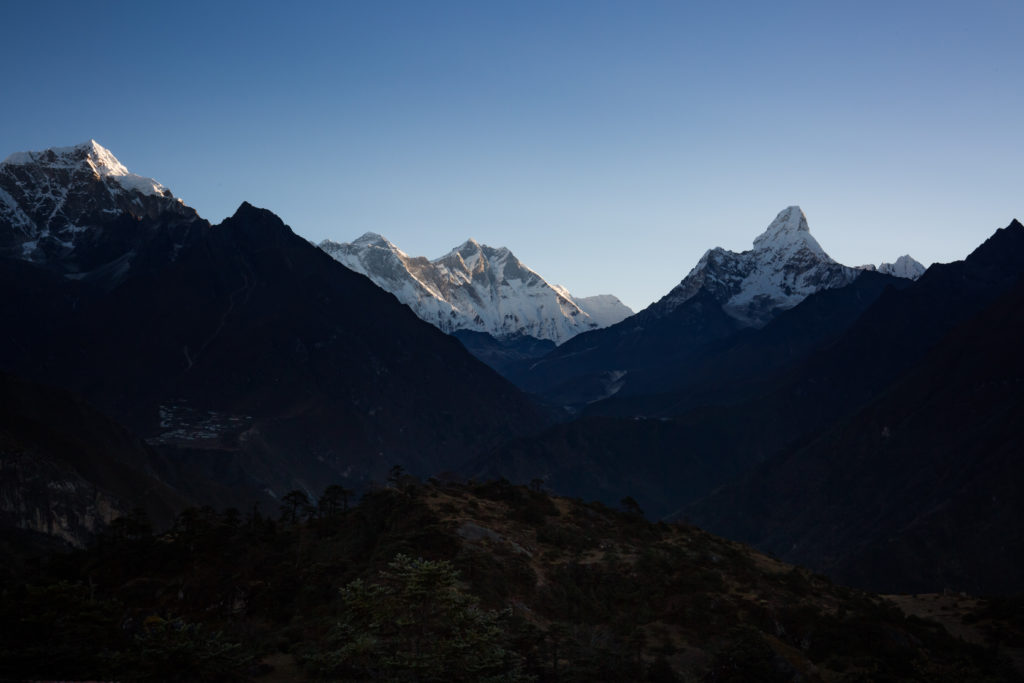 Walk closer toward your own destiny... Photograph courtesy of Marcella Herington.
A Guest Post By: Marcella Herington
"Inhale for three steps. Exhale for three more. Ignore the nausea, the sore muscles, the lack of sleep." Putting one foot in front of the other and learning how to breathe again transformed this trepidatious traveler from the Midwest into an adventurer with an insatiable appetite, who is now a citizen of the world. Ten days of trekking in Nepal to Everest Base Camp (EBC) took me to heights I had never imagined experiencing. It was a feeling of elation to be in the middle of ice, snow and rock after surpassing my previous record of 14,440 ft. (4,401.31 meters), and even then, all of those elements still towered above me. A mortal in the realm of the gods—I got there by inhaling, exhaling, and putting one foot in front of the other.
A reason for more
For me, travel had always been local. I stayed in the States and rotated between the same locations. I didn't have a passport and never gave solo travel any thought. My world was small even though I had dreams of doing more, but those were just that—dreams. International travel never seemed like a possibility for me. My world was then shaken by the passing of my parents. My mom's death made me want to hide, and my dad's death woke me from a daze that made my decisions and allowed me to accept what life handed me.
I decided to live proactively. That would surely make my parents proud, right? Their baby girl throwing caution to the wind, traveling on her own, and following her dreams. I'm sure my mom would have had a heart attack initially, but in the end, she would have been so excited for me. Nepal served as the catalyst to my literal circling of the globe. I was so far away from home, but somehow felt such a strong connection to a foreign and unfamiliar place. My initial trepidation morphed into admiration and an all-consuming love for this country and its people. I was surrounded by beauty that silenced and calmed me, and provided me with a sense of home.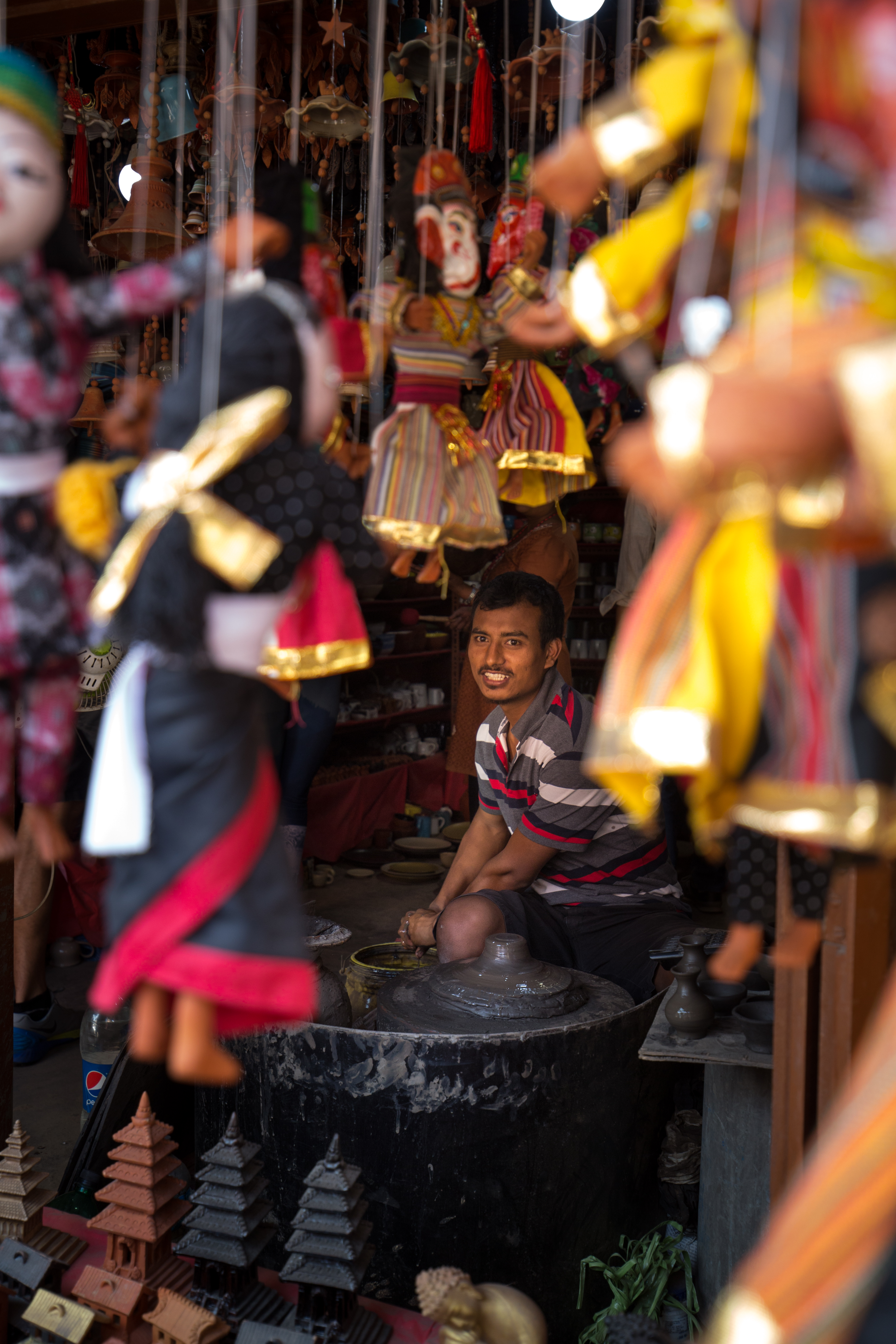 A Nepalese artisan gently smiles from behind a barrage of puppets suspending from strings, a pottery wheel, and small statues. Photograph courtesy of Marcella Herington.
Nepal was in a part of the world I never pictured myself being in. It was outside of what I thought I could research and organize. How would I know if what I was reserving was legitimate? Reliable? For those reasons alone, I could only see this travel adventure happening with Anywhere and their all-inclusive model. Worry was taken out of the equation and the opportunity to focus on my preparation, my recovery, my rest, and to simply enjoy just "being" was given. I, of course, had a lot of questions initially. My conversations with the trek's leader, Karl, always made me come away with confidence in his abilities, his team's abilities, and that the trip would be nothing short of amazing.
Saying, "Yes." to the world
After a week of [asking] questions and [receiving] quick responses from Karl, even though he was in the midst of returning from Everest Base Camp himself, I took the plunge and signed up for a trip that would change me in every way, shape, and form.
From the moment I was picked up from the Kathmandu Airport, I no longer had to think about the logistics of things. Transportation? Taken care of. Accommodations? All set. Meals? Done. Snacks? Yup. Guides? Covered. Professional photographs? You betcha! Tips? Included. Permits? Already have them. Even spending money was handed out. Everything I could think of was taken care of, but it's the details that I would never have thought to arrange for that impressed me. I had no doubt that this trip was operated with integrity. It was evident in every aspect I experienced.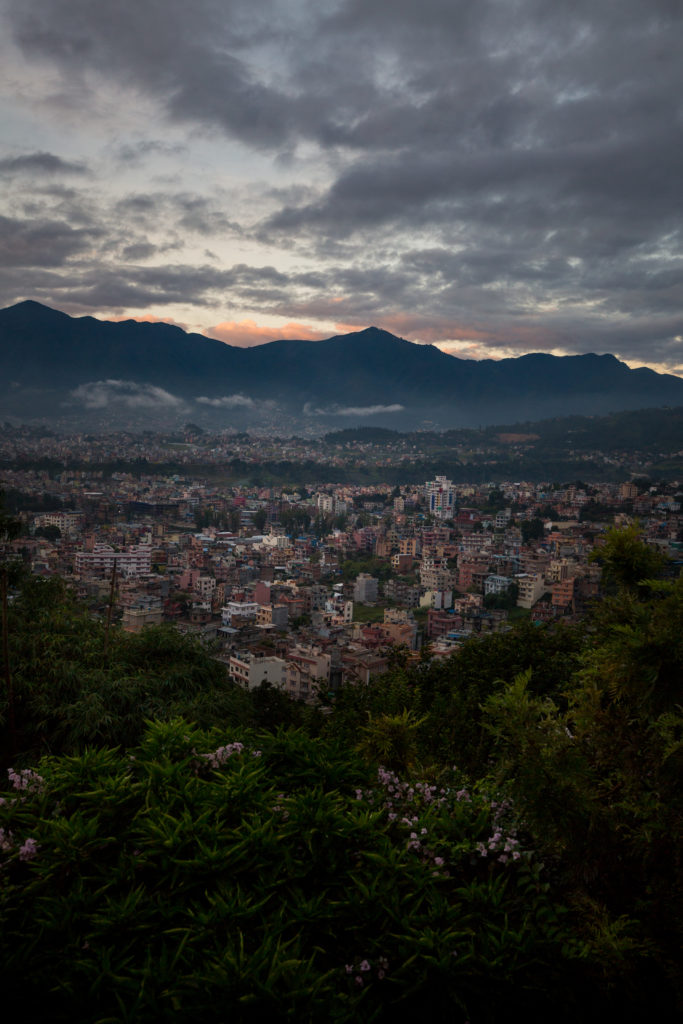 Kathmandu, Nepal—a city shrouded by wilderness and mountain. Photograph courtesy of Marcella Herington.
Since the logistical challenges were taken out of the equation with Anywhere's all-inclusive travel model, I was able to focus on how to mitigate the physical, mental, and emotional challenges that were before me. Although I was nervous about this part of my travels, I knew that I had unwavering support to help me navigate experiencing this place.
Greeting Nepal
Kathmandu was where my Nepal love affair began. Everything was exciting and extraordinary. The car ride to the hotel was interesting in and of itself. The streets were at full capacity since we arrived during Dashain, a festival that celebrates good conquering over evil. The chaos, the noise, the colors, the smells, the textures – the combinations of all these things made it feel like I was living in one of my favorite childhood books, "Wacky Wednesday."
Cars and mopeds whizzed by weaving in and out of traffic with such abandon and precision. The people seemed to do the same but at a more relaxed pace. There is this ebb and flow that naturally happens. Everyone knows how it works, and it does, just as if there are traffic signals and signs all over the place. Our group had a handful of days in Kathmandu to get a sense of the city and the people. All I had to worry about was making it down to the hotel lobby by the specified time. After that, I just went where I was told and visited multiple UNESCO World Heritage sites, was stuffed full of delectable local food, acquired a goat and saved it from slaughter, and even found enough courage with the help of Anywhere to venture out in Kathmandu without their guides. Did you catch that?? Yes, our group saved a goat.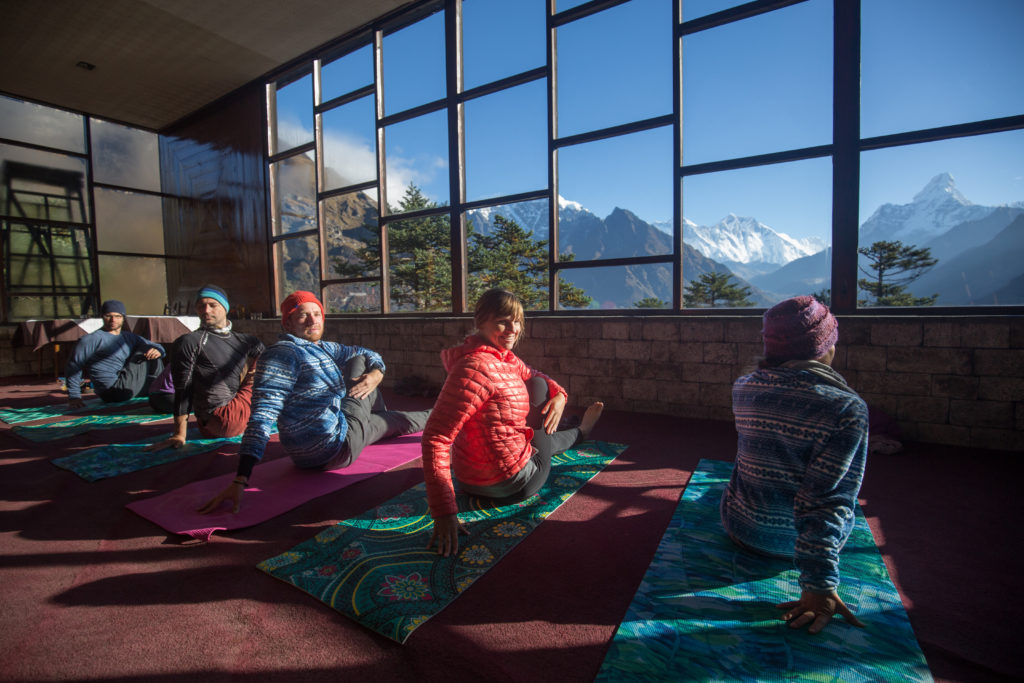 Members of the Everest Base Camp trek do yoga with an amazing view! Photograph courtesy of Marcella Herington.
Like an Everest Base Camp trek, life is a series of highs and lows
As for the physical aspect, I prepared as best as I could, but I wasn't in fantastic shape. I was still a beginner when it came to hiking/trekking, and I was worried about whether I would make it to EBC. My journey was filled with sobering moments of putting my ego aside, learning to accept help from others, taking moments to acknowledge my defeatist attitude, and then move on. More than anything, this trip required a strong resolve and a strong mind.
To trek up, then down, to only trek up again was taxing, but the reward at the end of each sweaty, dirty, and stinky day was worth it. I started to forgive myself; to heal; to love myself again. It was in the chaos of the city, in the calm and quiet of the mountains, and in the faces of the Nepalese people—as well as my friends trekking beside me—where I found a bit of peace. I remembered how simplistic contentment could be. There isn't a thing on this planet that I could purchase that would ever come close to making me feel the way I did in Nepal. Happiness. Peace. Love. Who knew this is what all-inclusive could be?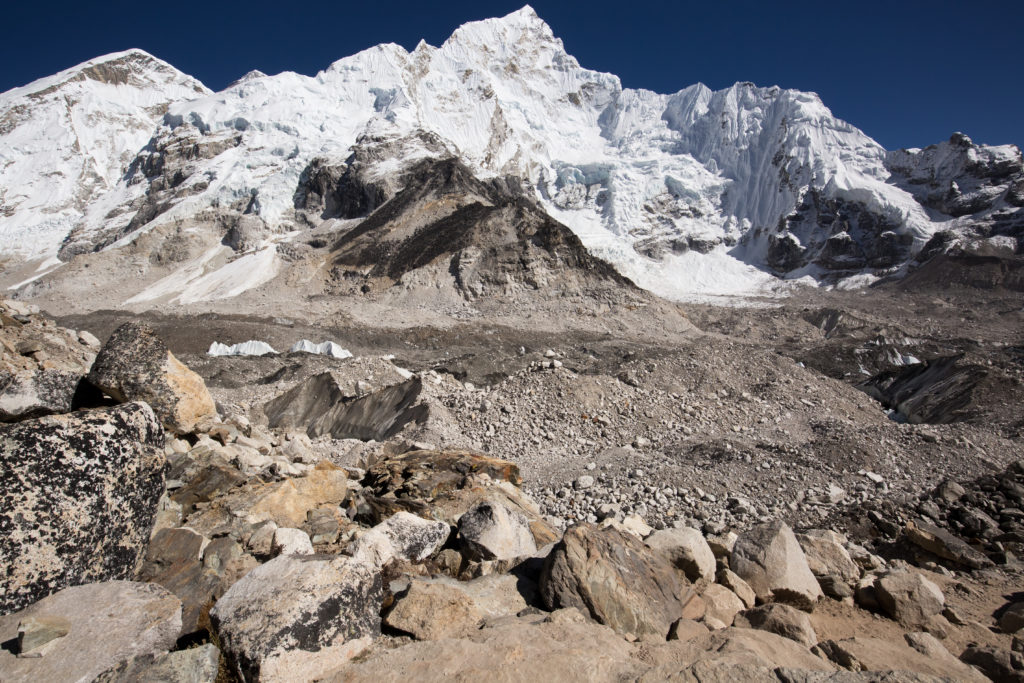 An Everest trek can be a curious and beautiful blend of snow and dry dirt, darkness and sunlight, cold and warmth... Photograph courtesy of Marcella Herington.
This is just killing you, isn't it? Did I make it to Everest Base Camp? Did my group make it too? I am so proud to say that every single one of us made it. We stared down the barrel of sickness, exhaustion and mental fatigue, and together, stood at the base of the tallest mountain in the world. I will forever cherish every single moment, even the miserable sick ones, because they helped me grow and made me stronger.
The gift of travel
This trip left me with many "gifts," although possessions no longer seemed important. I now want to be wealthy with experiences, memories, and friendships. I learned things about myself that I think could take others a lifetime to discover. In this environment, there are so many opportunities to go inward. Over ten days of trekking, I realized reaching EBC didn't make or break my adventure. I had already accomplished so many things by taking a leap of faith and booking this trip. I ignored my life's mantra of "I can't," and accepted responsibility for making my life what I want it to be. The world became bigger, yet smaller at the same time.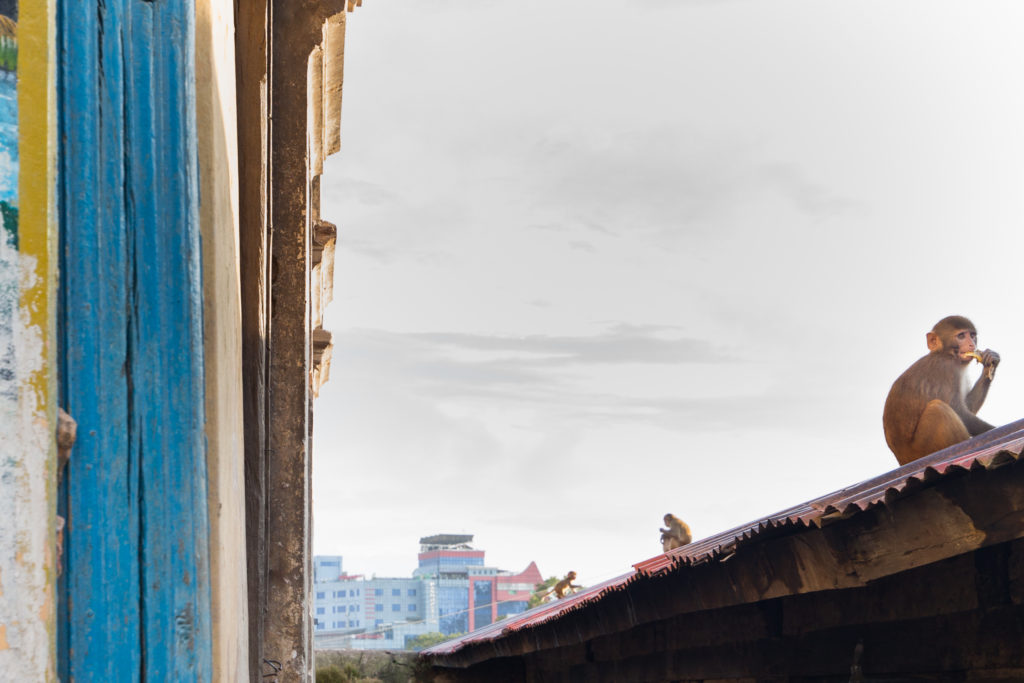 Three (3)
monkeys sit on a roof; apparently, they enjoy taking in the scenery and people-watching as much as we do. Photograph courtesy of Marcella Herington.
I can't imagine my life without travel in it. It's made me a better human being, capable of more compassion, empathy, love, and understanding because I experienced a far-away place with open eyes and an open heart. I can now see how connected we all are and how there are such beautiful possibilities just around the corner.
Although there can be barriers when traveling, a smile and some laughter communicate wonderful things, as well as a willingness to understand each other and to learn something new. I am so grateful for this trek and what it brought to my life. My only hope is that my story inspires someone to take a risk, a leap of faith, and to travel to a place that inspires them. Go explore, be bold, and seek out happiness! Embrace adventure and the unexpected, greet obstacles with grace, go after the things you want, and be open to whatever life throws you. I promise you, you'll be a much happier person because of it.
To read more of Marcella's words or view more of her wonderful photography, please visit her digital channels...
Website: marcellajophotography.com
Instagram: @marcella.jo.photography
*The adventure continues next weekend when Anywhere+ trek leader, Karl Nesseler talks about how going on a trek is not an insurmountable challenge. Learn how you can start preparing your own mind and body for this incredible experience.*