One couple explores Costa Rica for the first time, and find themselves falling in love with the country — and deeper in love with each other.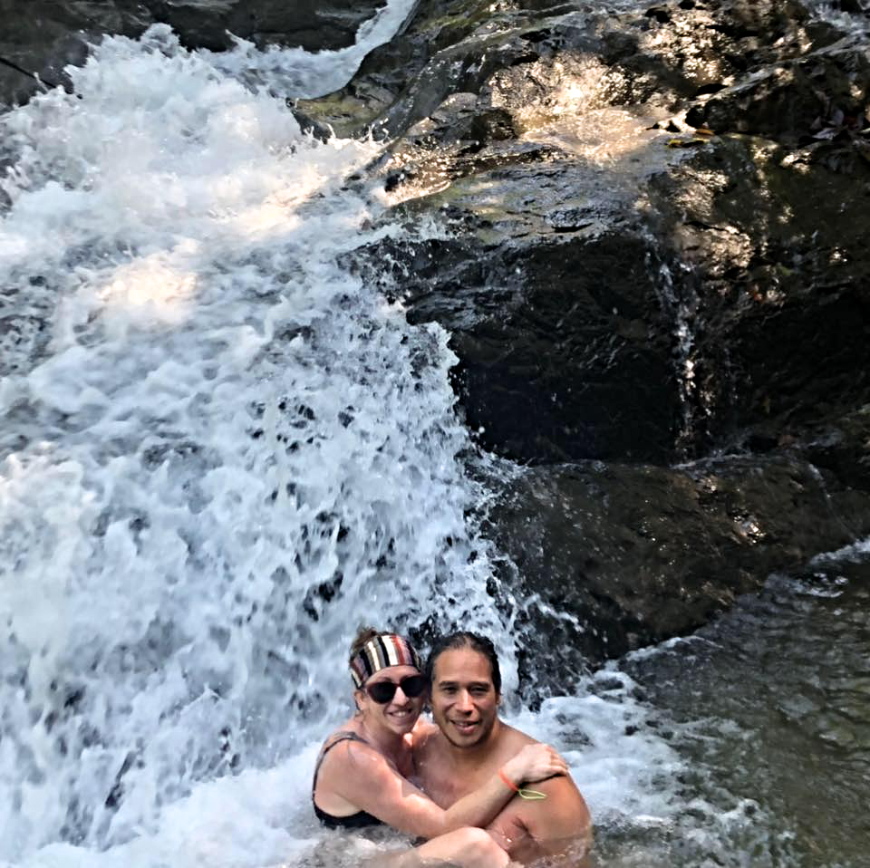 Tina Pearson and Aaron Lepine embrace without a care in the world as clean, crisp water cascades around them. Who WOULDN'T smile in that photo?!
A Guest Post By: Tina Pearson
Nothing prepared us for the next 10 days of exceptional beauty, adventure, and love waiting for us in Costa Rica. Arriving in San José, we were greeted by our private driver with our names being held up on a sign (cheesy I know but you gotta have that at least once in your lifetime). From the airport, it was a breathtaking drive to La Fortuna — otherwise known as the Arenal region. We stayed at Hotel La Pradera. Great food and atmosphere, and we loved our room with a patio with a view of Arenal Volcano! The volcano is stunning but you need to be patient. It wasn't until the day we were leaving for Monteverde that we were rewarded with crisp blue skies and a surreal view of the top/crater of the volcano.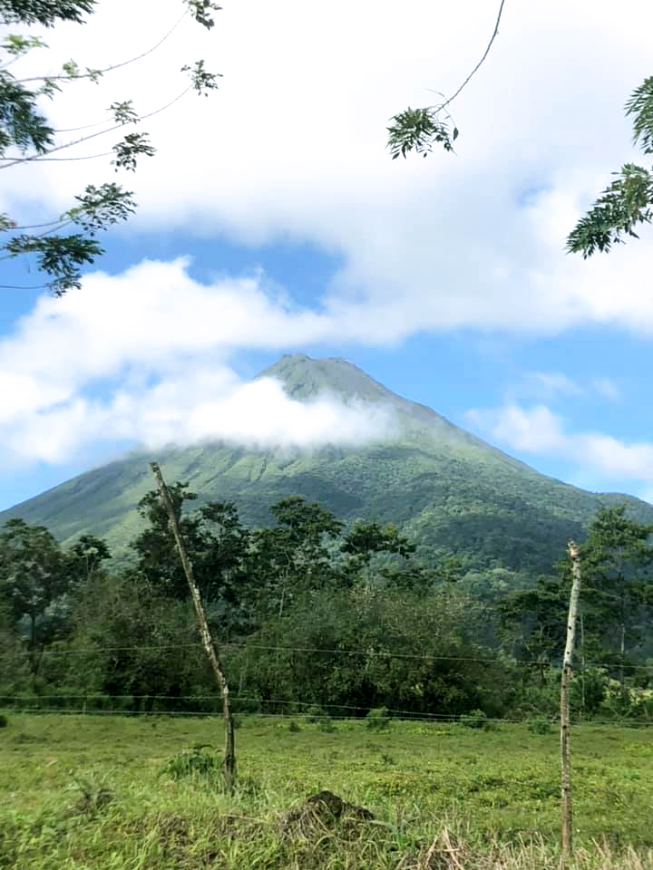 As beautiful as photographs are, they still don't do Arenal justice. That's why you must see it for yourself!
Living and loving in La Fortuna.
From mountain biking in Arenal Lake to El Castillo with our amazing guides; to sharing pineapple, and experiencing our first encounter with a pizote (white-nosed coati); the fresh air and the excitement of arriving in a new country, to us, was phenomenal. We decided from the beginning that this was going to be our dream vacation. Sirleny and her team at Anywhere did not let us down. Each day was planned out perfectly from beginning to end. When our whitewater rafting tour was canceled due to low water levels, they notified us right away and planned an alternative tour with a traditional Costa Rican lunch, coffee and sugar cane tasting, and we also sampled moonshine in its purest form. We met other amazing people traveling and had an amazing day.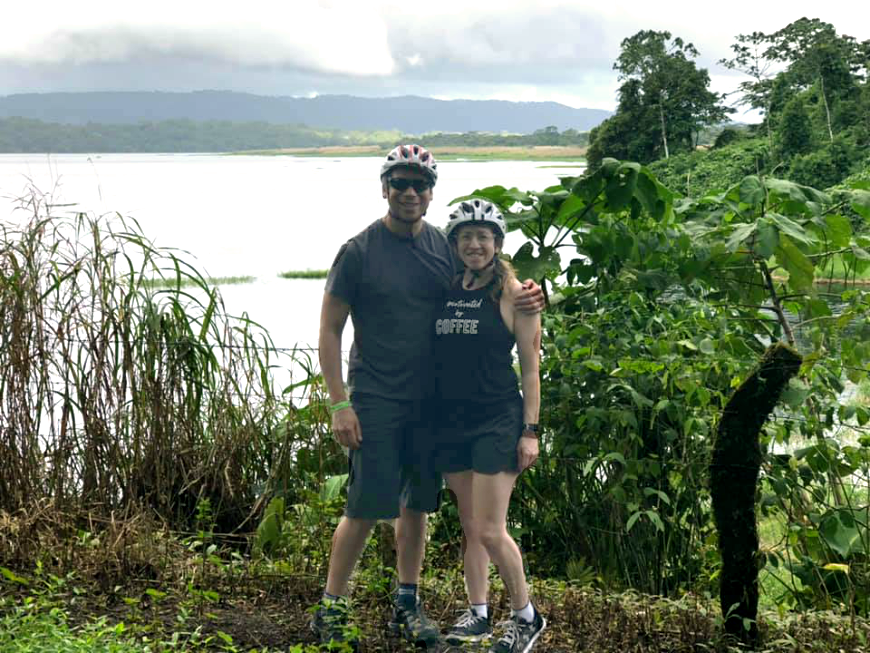 You can tell from the helmets that this was the happy couple in the midst of an active adventure.
Our hike to La Fortuna Waterfall and a nature walk left us speechless. Swimming in the cool water with a magnificent waterfall is something we will never forget. This was followed by a guided afternoon hike around Arenal Volcano. So much history and many facts — there is no better way to learn about and embrace the history of the volcano, the region's people, and how it impacted the surrounding communities. Following our day of hiking, we relaxed at the Tabacón Hot Springs with dinner and wine. (Psst! When I let our driver know that we needed an earlier pickup from dinner because I had booked a spontaneous tattoo appointment in La Fortuna, he was more than happy to accommodate my adventurous personality.)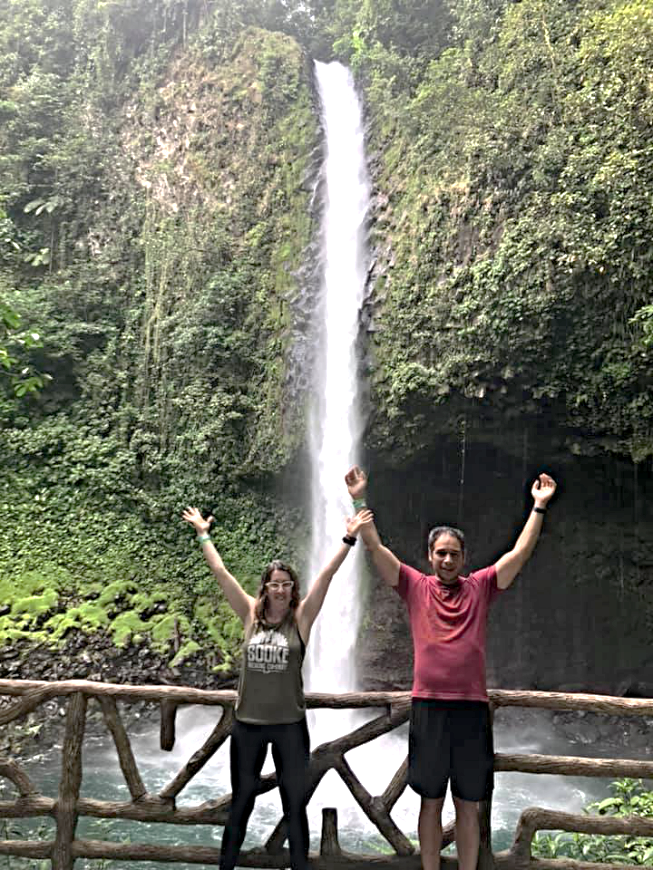 Ta-da! We made it to La Fortuna Waterfall!
We fell in love with the sloth and enjoyed all the local La Fortuna shops within walking distance of Hotel La Pradera.
Making Memories in Monteverde.
For the next leg of our trip, we decided on a shared shuttle to Monteverde. There, we stayed at the Cala Lodge and had our first encounter with the white-faced capuchin monkey. We enjoyed our morning coffee on the balcony while watching him in awe. Sky Tram, Sky Trek, and Sky Walk were once in a lifetime experiences. Soaring through the cloud forest independently was a feeling we will never forget. We had huge smiles all day. We also had a chance to do a couple of zip lines together at the same time. To share that experience with the person you love is something we'll never forget.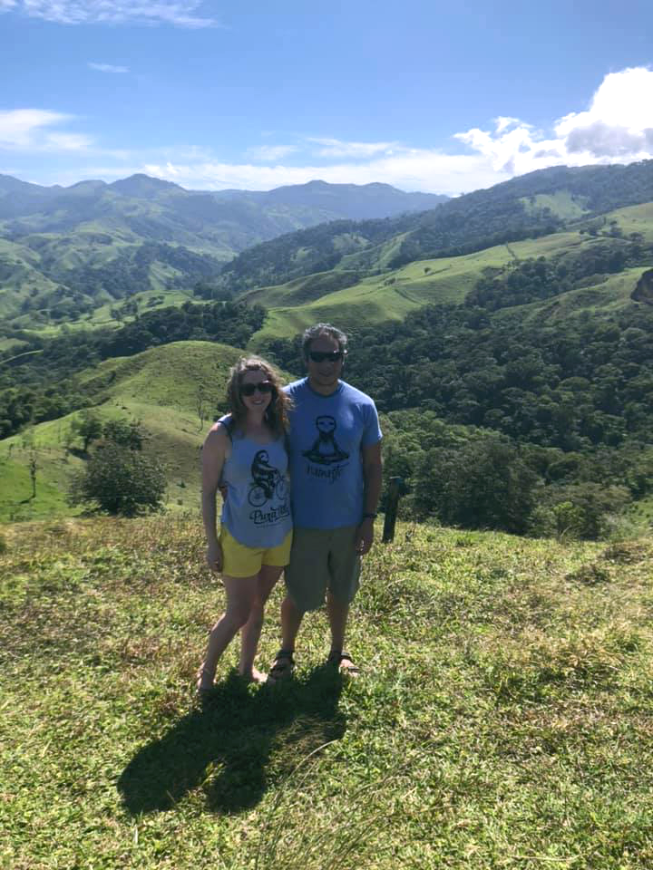 The Pearson-Lepine family's Costa Rica adventure reminds us of what happens when we tune out everyday life and tune in to each other.
Christmas magic in Manuel Antonio.
It was a quick stay in Monteverde and we were off again in a shared shuttle down the windy mountain road to Manuel Antonio to stay at the Hotel Costa Verde. Sirleny and the team at Anywhere outdid themselves when they booked this accommodation for the last 4 days of our trip. We planned an ocean kayaking and snorkeling tour, and our guide was full of knowledge and historical facts. We decided to see if it was possible to go horseback riding on Christmas Eve morning, and in a couple of hours, it was planned. Sirleny made sure that we had a couple down days to explore and spend on the beach. We took this opportunity to go paragliding. Again, our hearts were overwhelmed with the beauty of Costa Rica from a birds-eye view. We spent our evenings discovering the local restaurants and their delicious foods. The atmosphere and spirit of La Cantina, El Wagon, El Avion made us feel like we were being welcomed home for lunch or dinner.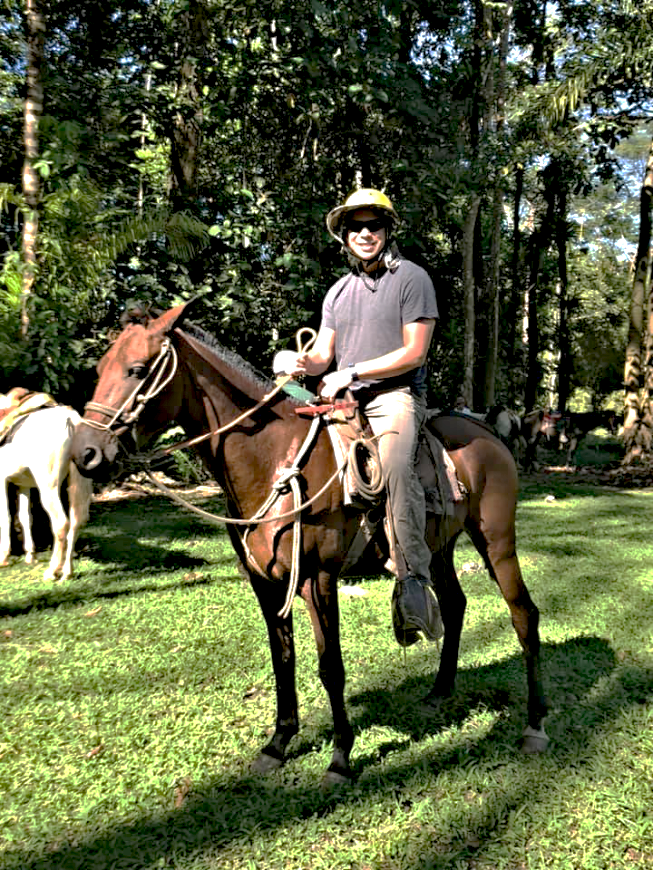 The dashing Mr. Aaron Lepine astride a horse on another sunny day in Costa Rica. Best. Christmas. Eve. EVER!
Letting your vacation dreams take you Anywhere...
This was our first trip to Costa Rica and we can't wait to go back with our children to share with them the beauty of this country. Costa Rica, you filled our buckets full of love, life, and memories that we will forever hold in our hearts. Our trip was planned beautifully, and we couldn't have done it without the team at Anywhere.
Oops! I forgot to mention: I dropped my wallet at the Hotel La Pradera. Thankfully, they found me before I left on the shuttle for Monteverde and made sure I had it. While I was in transit, I was contacted by one of the team members via email from Anywhere confirming that I had my wallet. Above and beyond!!!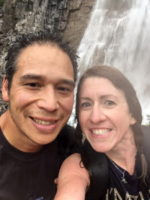 Author: Tina Pearson, and Aaron Lepine.
Learn more about the Pearson-Lepine family's adventurous and heartwarming life when you follow them on Facebook and Instagram.