Join the Lewis family—a father/daughter duo—as they discover that a little rain during Costa Rica's 'green season' doesn't prevent you from having a big adventure.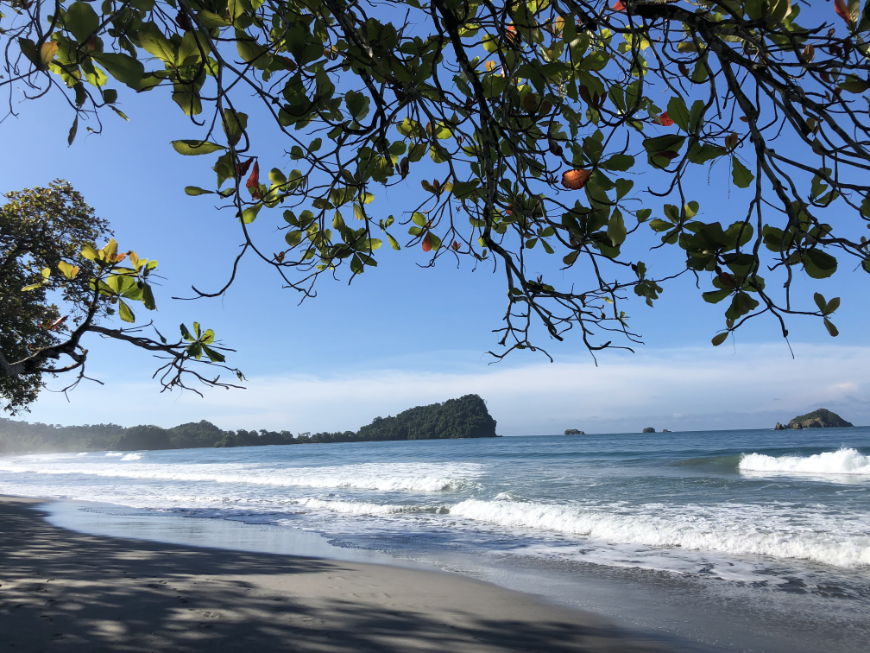 Just because you book your vacation during green season doesn't mean you won't get to enjoy bouts of sunshine! This photo of Manuel Antonio's beach was taken by Hayley Lewis during Costa Rica's rainy season.
A Guest Post By: Hayley Lewis
Usually I like to plan and figure out my trips totally independent from any type of travel agency, but when I found cheap flights to Costa Rica during green season and my dad found a company that would help us plan everything, I figured I would at least check out the website. As soon as I landed on the Anywhere homepage I was impressed with how easy it was to customize everything and how quickly they responded to everything. They worked with us to make our ideal vacation a reality, but also weren't afraid to let us know when we were stretching our time a little too thin. By the time we confirmed and booked, we couldn't believe how affordable and easy everything had been.
Going Everywhere With Anywhere
One of the biggest factors in our decision was the fact that transportation was included, as we had heard it could be a little difficult to get around on our own. We were picked up from the airport by an Anywhere driver and were off to La Fortuna! The drive there was great, as our driver answered all of our questions and gave us a bit of history about each little town we passed through. He even pulled over and helped us rescue a sloth that was trying to cross the road – an unforgettable experience and an amazing welcome to the country.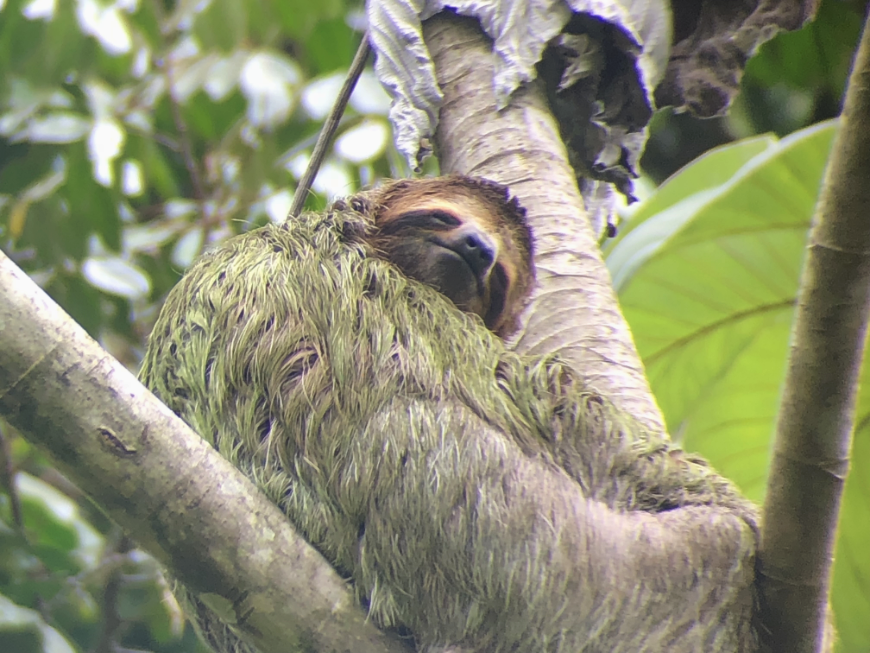 This happy looking three-toed sloth sure seems to be enjoying Costa Rica. You will too when you book your vacation with Anywhere.
Volcanic Views and Nature's Neighbors
Our hotel in La Fortuna was a quick walk into town and had an amazing view of Arenal Volcano. We stayed in one of the cabins and had a great time spotting all types of creatures from our front porch. Our first full day incorporated a volcano hike, which ended up being a private tour as no one else booked the same time. It was a beautiful hike and we had an amazing guide who taught us all about the history of the volcano and the surrounding towns. Possibly the only con of the trip was the second portion of this excursion, which included a stop at a natural hot spring. The hot spring felt more like hot tubs – we couldn't see the volcano or even the sunset. We would have rather stopped to swim in the naturally heated river.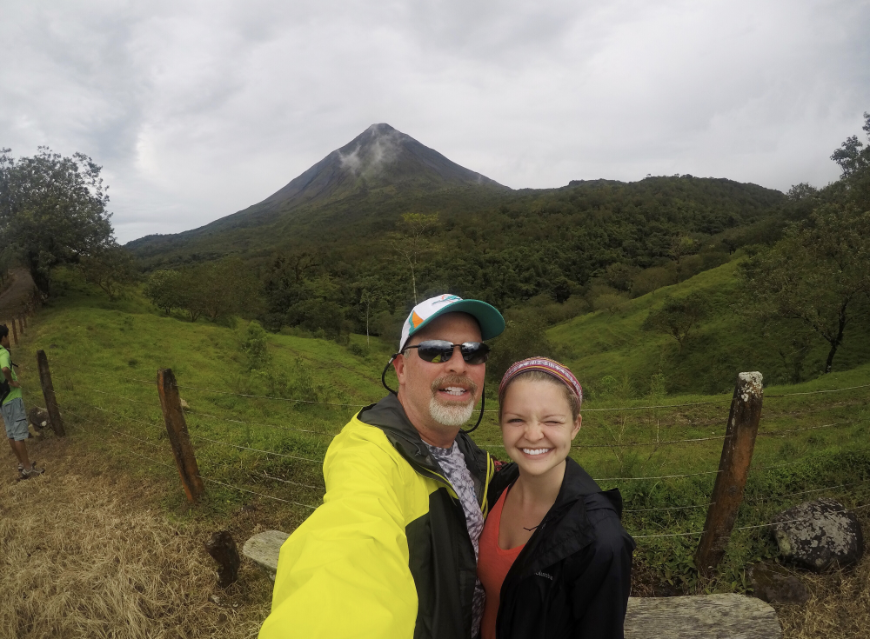 Casually stopping to pose for a photo op with a volcano? Green season isn't the only thing that's cool on this father/daughter vacation.
The Lewis Family's Best Of's
The next day was full of adrenaline. We started off ziplining, where yet again we lucked out with an impossibly tiny group that definitely would not have happened in the high season. It was so much fun zipping down some of the longest and fastest cables in the country. Later that day we went whitewater rafting on the Balsa River, which may have been the top highlight of the entire trip! It was way more fun than we ever could have imagined and the guides were great. We also stopped at a small family farm for what ended up being the best meal of the trip. The action-packed day ended a little ahead of schedule, but our Anywhere driver was incredibly accommodating and agreed to pick us up an hour and a half early so we could be on our way to our next destination.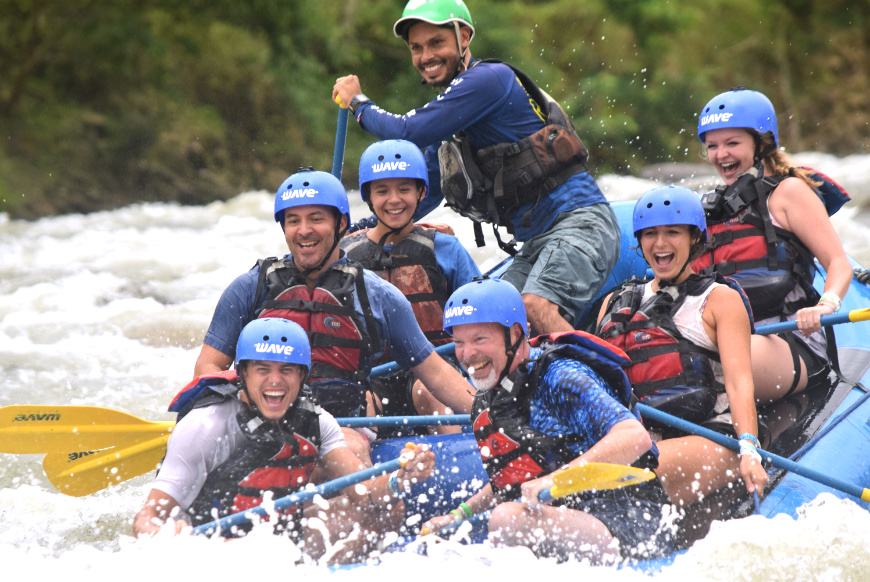 Follow the example of the Lewis family: Activities such as whitewater rafting are great during green season. If it rains a little, it's no big deal — you're already getting wet!
National Parks and Beachside Adventures
In Manuel Antonio, we woke up early to check out the beach and our first glimpse of the Pacific before heading to the national park on a guided nature tour. The popularity of this park cannot be emphasized enough — even during the off-season, the park was, admittedly, much more crowded than we expected. We were never far from another group, but once again, it was only us and one other duo assigned to our guide, which we really appreciated. We saw every animal we had hoped to (including a toucan!) and the secluded beach was absolutely beautiful. The next morning, we went snorkeling and, yet again, we were pleasantly surprised to see it would be a tiny group with us – which is a huge bonus when snorkeling. While the visibility was not as great as we expected, we still saw a bunch of fish and even spotted dolphins and manta rays jumping out of the water as we headed back to the harbor.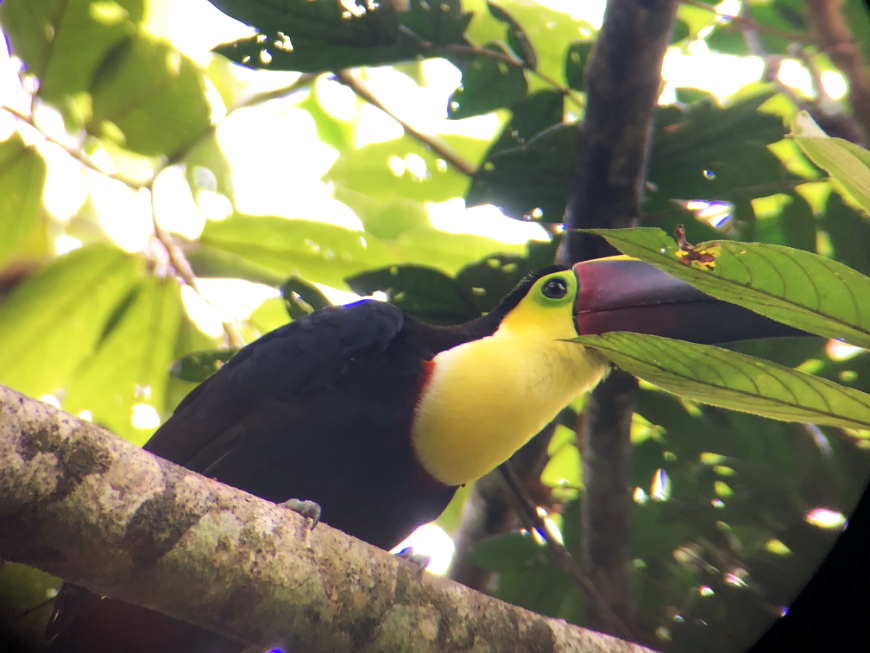 This colorful Chestnut-mandibled toucan is one of 850+ species of bird found in Costa rica.
Rainy Forests Give Life to Amazing Creatures
Our last night gave us one of the other top highlights of the trip – a guided night tour in the Rainmaker. Everyone else who had booked our time slot dropped out, so we got a private tour. The sound of the frogs was deafening and incredible. We saw so many different types and best of all, for me, we spotted four Red-Eyed Tree Frogs (my favorite animal!). While we did not find any poisonous snakes as we had hoped, our guide was absolutely incredible and we had a blast exploring the jungle at night.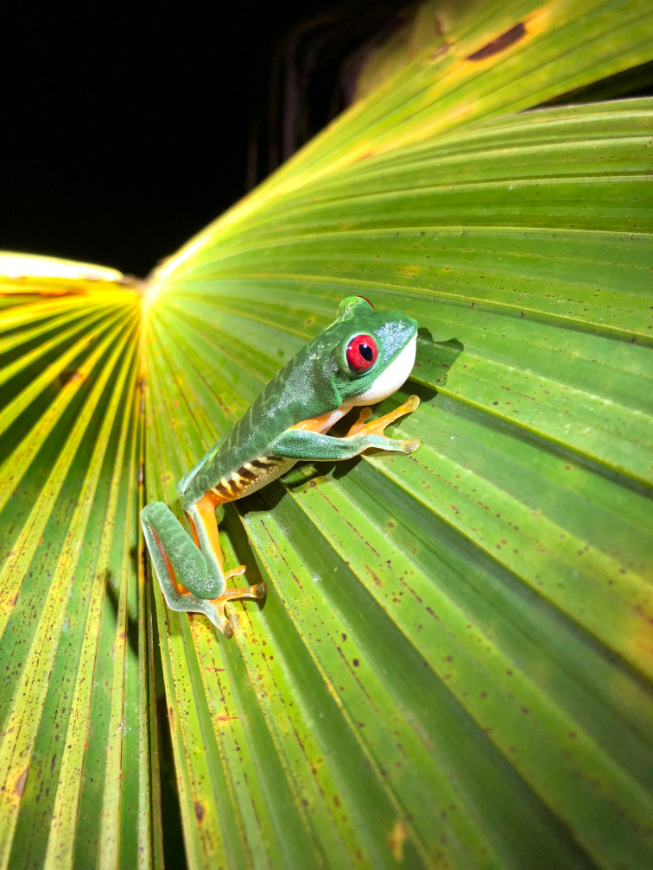 Hayley was able to see her favorite animal, the red-eyed tree frog. What will you see on your adventure?
Overall, we have zero regrets booking our trip with Anywhere during the rainy season. Yes, it rained every day, but it never lasted long and it never affected any of our planned activities. Even when it did rain, it was still beautiful and never prevented us from doing what we wanted. We were so grateful to have gone during the rainy season as we got to avoid the crowds and had some really personal experiences that never would have happened if dozens of other people had been around. Anywhere made everything so easy and simple. We will definitely look at their other destinations for our next father-daughter trip!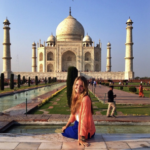 Author: Hayley Lewis
Hayley lives in Boston where she is always planning her next trip. To read more about her adventures, visit her blog at lewishayley.wordpress.com.