This winter, plan an itinerary that takes you beach-hopping down Costa Rica's Pacific and Caribbean Coasts. This sun-soaked tropical adventure will have you stopping to see fascinating wildlife and friendly beach culture along the way.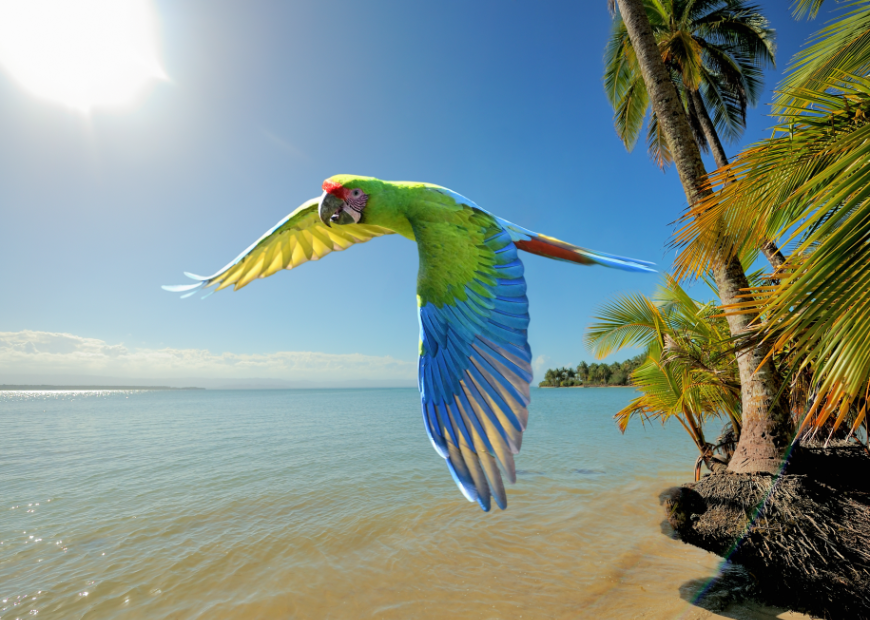 Graceful and colorful macaws are just some of the beautiful animals you can expect to see roaming free all across Costa Rica.
If you've got beaches on the brain, chances are you're thinking Costa Rica. Travelers have put it on the map with its incredible shorelines on both the Pacific and the Caribbean coasts.
We'll take you through some of Costa Rica's best beaches for relaxing, exploring nature, staying in the lap of luxury, and getting off the beaten path. It's worth visiting both coasts, but if you can only pick one, this list can help you start narrowing it down — but you should know going in, it may not be an easy call to make!
Pacific
Relax on Playa Hermosa Guanacaste
Playa Hermosa Guanacaste (not to be confused with other Playa Hermosas in Costa Rica) is best known for its tranquil vibes. Come here when you're in the mood for something that isn't too overdeveloped, in spite of the fact that the beach gives the other pretty Guanacaste beaches a run for their money. Leave from the shore to take surfing, snorkeling, and sport fishing tours to see more of the brisk, blue ocean.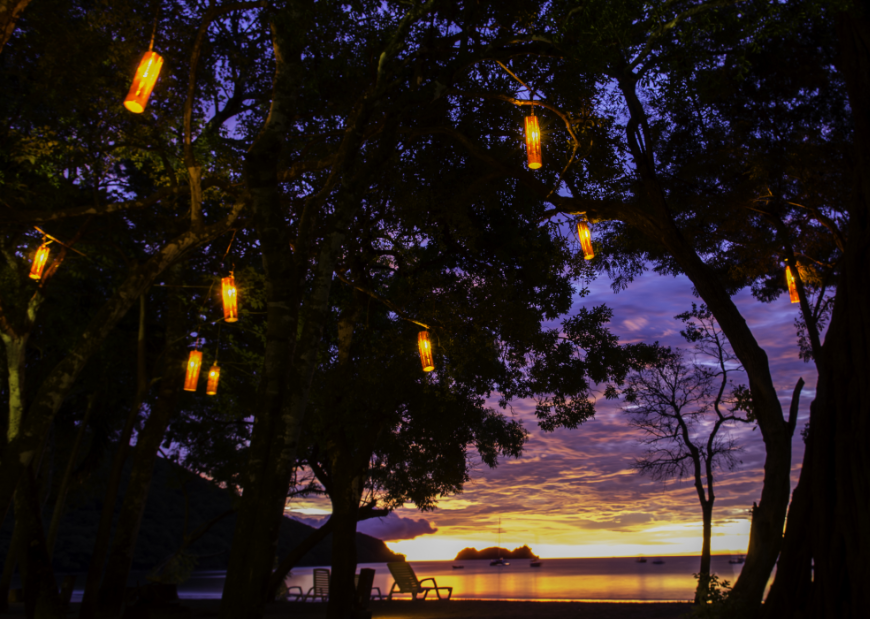 The sunlight of Playa Hermosa is a thing to behold, but so is the beach when illuminated at night.
Nature in Manuel Antonio National Park
The beaches at Manuel Antonio National Park may well be the crown jewels of the Pacific Coast, and not just for its picture-perfect white-sand beaches. Jungles bursting with wildlife crowd the shores — get a new perspective of the environment on an intriguing nighttime tour.
Playa Manuel Antonio gets quite a bit of attention for its offshore coral reef. Arrange for a snorkeling trip and spend a memorable day among the blowfish and angelfish. For your best chances for spotting wildlife, make your trip between December and March, when the underwater visibility is best.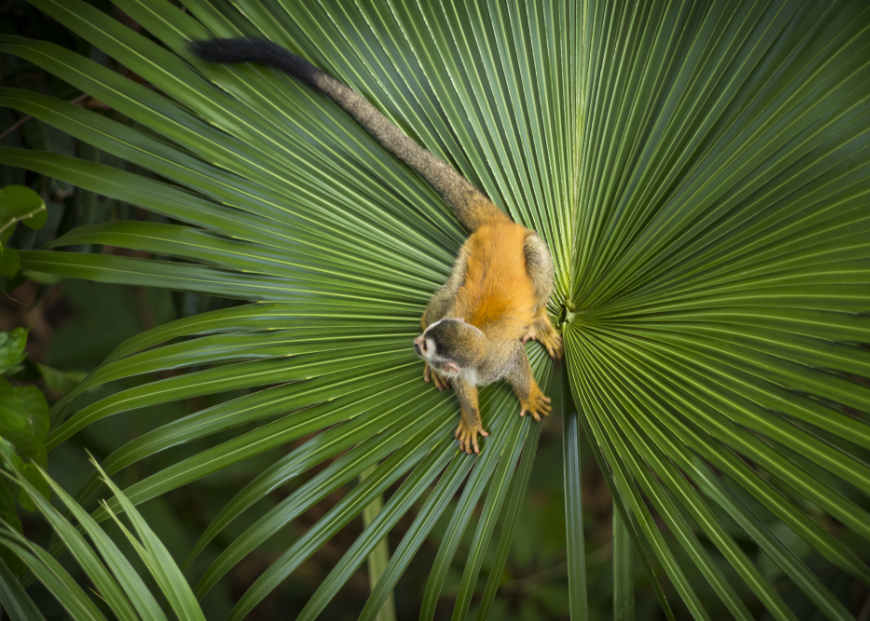 Squirrel monkeys are one of the many types of primate found across Costa Rica.
Luxury Stay at Playa Flamingo
This is a popular spot for travelers looking for the star treatment in a luxurious, beachside hotel. Find spots that put you right near the beach — some properties have their very own section of beach. Go a short distance down the shore to find similar destinations in the area, like the resorts at Playa Conchal.
You can break up your massages, pedicures, and fruity cocktails with trips to the national parks in the area. Palo Verde Biological Station provides a fascinating destination for observing the wetlands. It's also nearby other popular beaches, like Playa Panamá, where you can rely on the gentle waves for a day of easy surfing.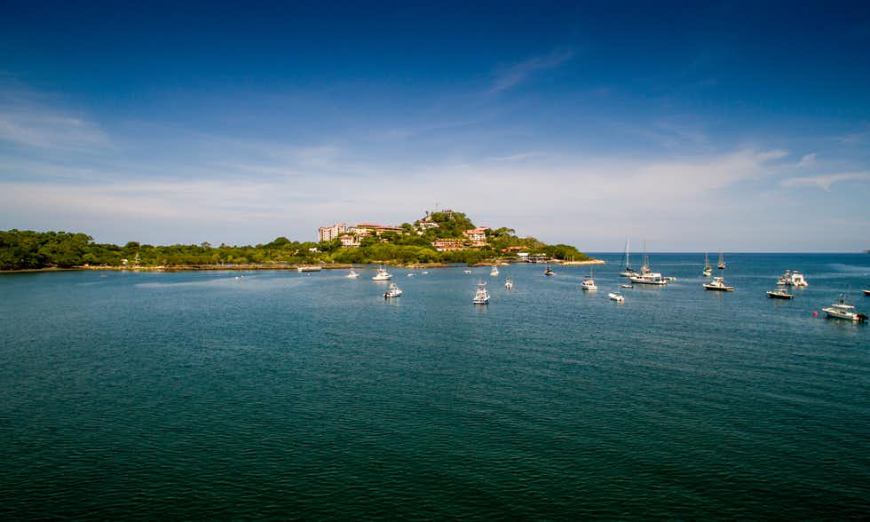 Flamingo Beachfront is even lovelier in person. Book your trip and see for yourself...
Off-the-Beaten Path in Sámara
Sámara is the best of the both worlds — it's a popular beach town that still manages to feel like an off-the-beaten path destination. Along the beach, you'll find shallow water that's perfect for swimming, and waves big enough for a surf lesson. This beach is located on the Nicoya Peninsula, just a short boat ride away from islands that make beautiful destinations for boating trips.
Don your snorkel gear for the chance to see what lies beneath the waters near Chora Island, an island known for its pink sand. On the way, you might get the chance to see dolphins. Try something a little different with a tour that takes place on a stand up paddle board — these types of tours are especially fun for groups with younger travelers, or at least the young at heart.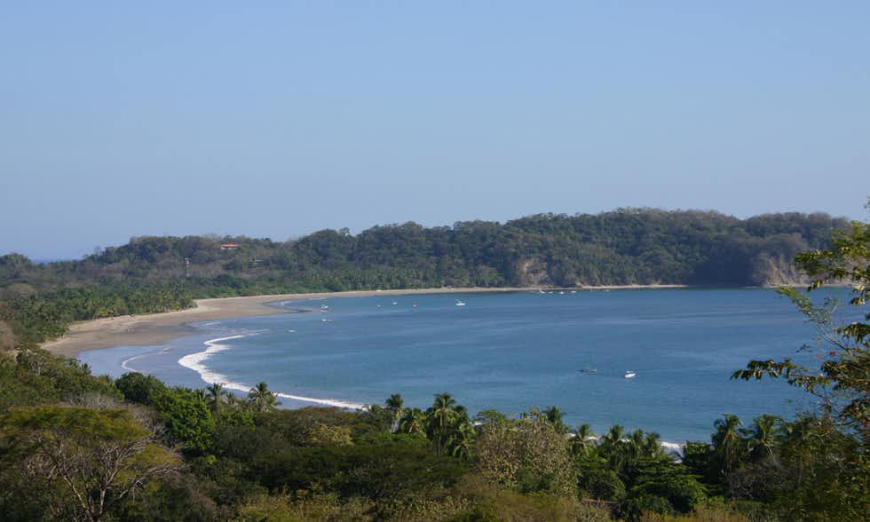 Experience the legendary beauty of the Nicoya Peninsuala when you visit Sámara.
Caribbean
Nature in Tortuguero
In the town of Tortuguero, you'll get to know the the Caribbean culture that gives these beaches their distinctive vibe. And in the national park, you'll have the chance to observe the sea turtles that rely on the beaches here as a vital part of their life cycle. Various species come ashore; hawksbill, leatherbacks, loggerheads, and green sea turtles all lay their eggs here. Egg-laying takes place from March to October. The peak seasons for spotting sea turtles last from February to April and July to October. Green sea turtles are quite endangered, and this is one of the few places in the world where you can see their enormous, 400-pound (180-kg) frames lumbering across the sand.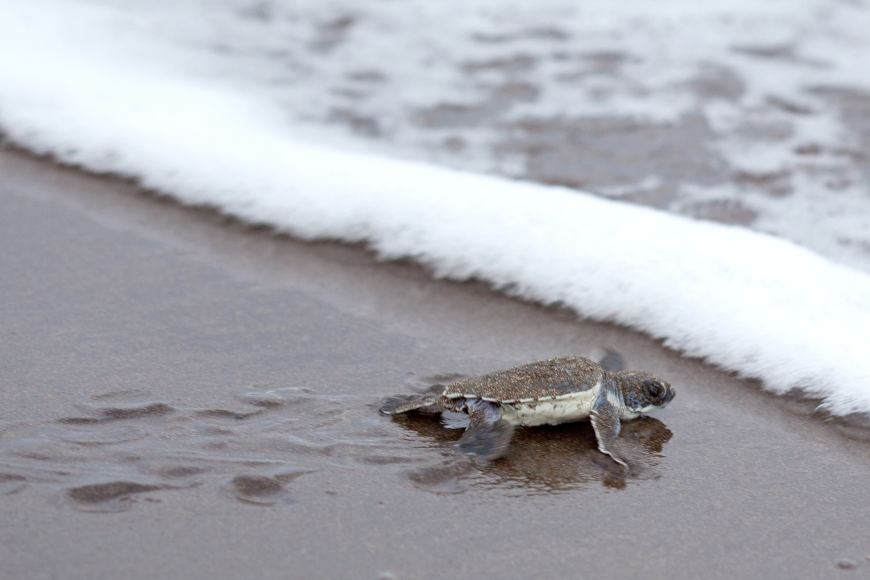 Tortuguero lives up to its name — "tortuga" means "turtle" in Spanish, and this region is an important nesting ground for sea turtles.
Off-the-Beaten Path in Cahuita
Cahuita doesn't have the same level of development as the rest of the country. While you're here, you can experience an especially authentic slice of life on the Caribbean. Lodges here are surrounded by rainforest, and it's possible to find beachside B&Bs that offer you easy access to the area's famous black sand beaches.
Cahuita National Park protects the untrammeled beauty of its white sand beaches. From the beach, you can access an enormous coral reef that covers a stunning 600 acres (242 ha). On hikes through the forest, keep your eyes out for sloths and poison dart frogs.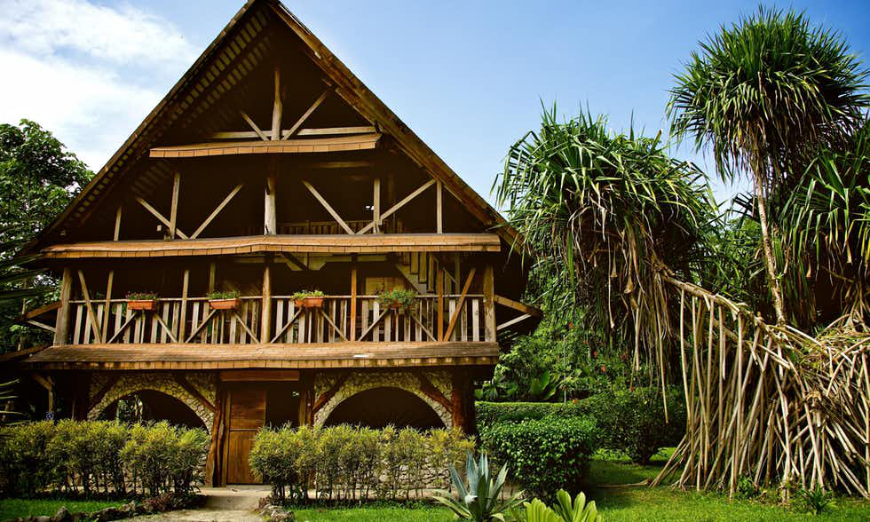 The traditional tropical wood exterior of Cahuita Suizo Loco Lodge adds to its charm.
Relaxation and Luxury in Puerto Viejo
Puerto Viejo offers a mix of indigenous people and laidback expats. And the white sand beaches offer a sunny place to experience the bright blue water. Fill your days with sunning on the beach and taking nature walks to look for exotic birds.
The Caribbean doesn't have as many luxury options as the Pacific, but there are still beautiful properties where you can enjoy a beautiful stay with staff who can cater to your needs. In addition to modern, stylish resorts, you can find lovely private cabins on a jungle property near the beach. For convenient nature tours, you might consider staying at a property near Cahuita National Park. Surround yourself in nature at somewhat less luxurious (but still quite comfortable) accommodations that offer a boutique atmosphere and design that echoes local indigenous culture.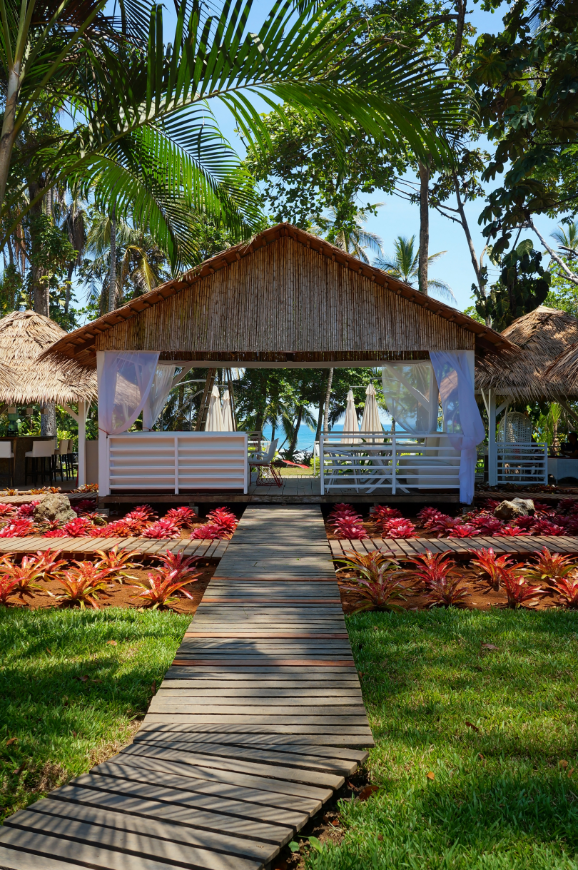 Relax in the cabanas of Puerto Viejo.