Peru boasts award winning cuisine, but what is mealtime like when you aren't dining in fine restaurants? *Spoiler alert*: What you eat in Peru on a day-to-day basis is anything but boring!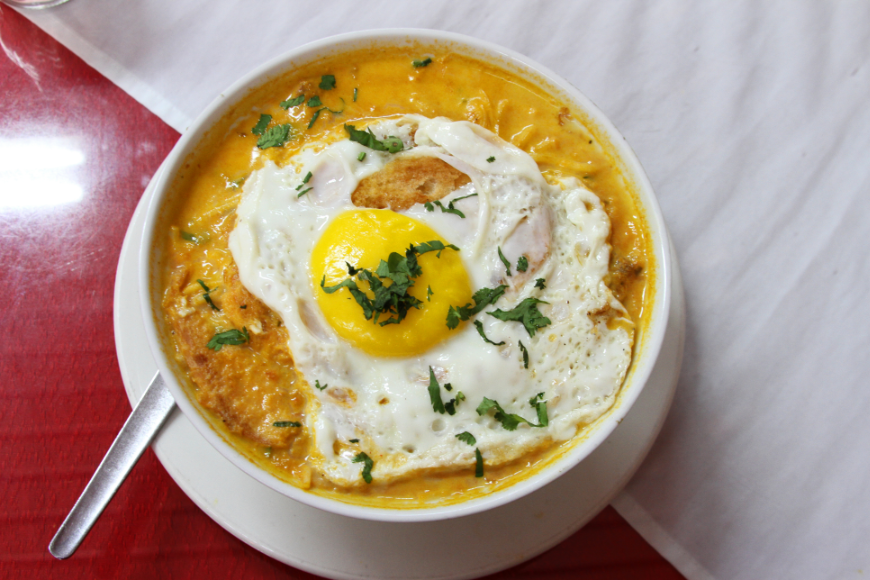 Peruvian Criollo cuisine: a bowl of beef soup with spaghetti and a fried egg.
Featuring Anywhere Expert: Percy Coll
When you think of Peru, you probably think of Machu Picchu, but the country also has an impressive and award winning culinary scene. Dive into some delicious text and tantalizing photographs as Percy Coll, travel specialist of Anywhere Ecuador & Peru, takes you on a digital tour of Peruvian cuisine...
A brief history of eating in Peru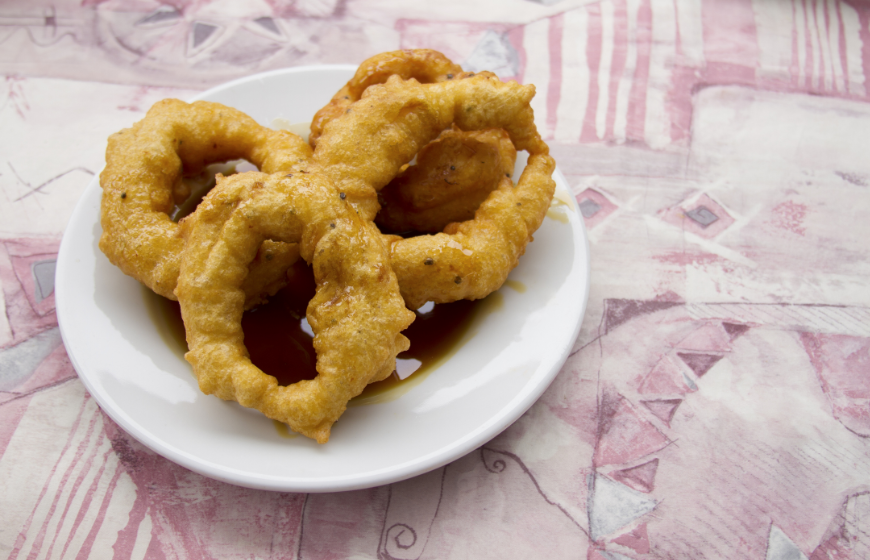 Picarones are warm squash donuts served with a sweet, syrupy sauce.
Everyone says, "In Peru, you eat tasty." This is true, and there is an explanation for it, our culinary variety is not limited to the fusion which took place between native Peruvian cuisine and the cuisine brought by Spanish conquistadors. Peruvian cuisine is a byproduct of the contributions of colonists from many countries—viceroyalties at the beginning of [Peru's] republican life. The cuisine of these foreign colonies merged with native Peruvian and Spanish cuisine; now, this food is so ingrained in our culture that we no longer know the exact origin of a dish. So, we believe that its origin is simply Peruvian.
As a consequence of this extraordinary fact (a fact we Peruvians tend to overlook), in Peru, we do not have to leave our homes to try international fare. Best of all, it does not have to be a special day to enjoy foreign cuisine—we eat a variety of international foods daily.
What do you eat in Peru for the week?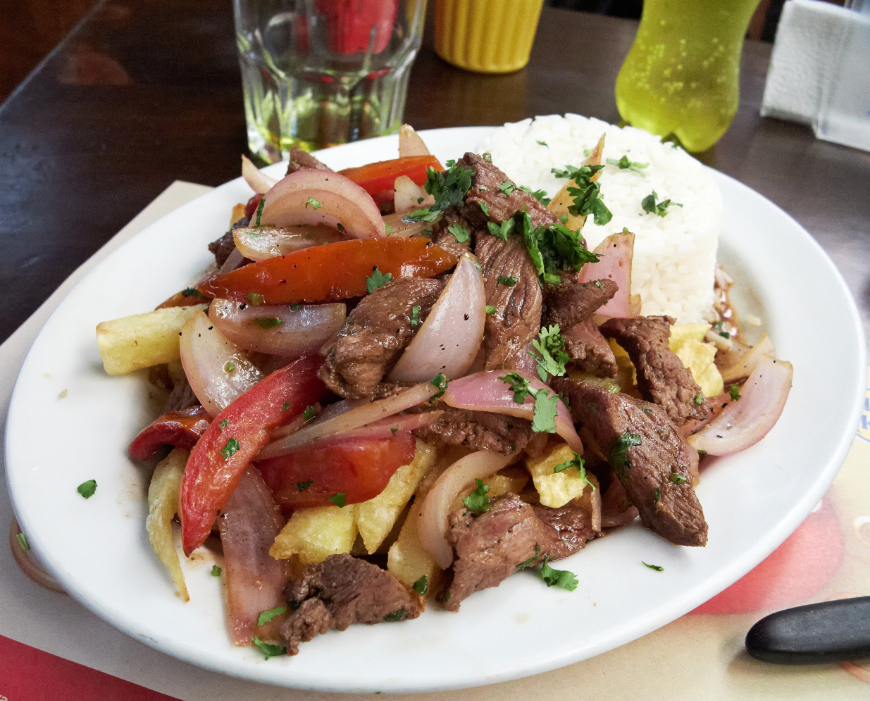 Lomo saltado is a traditional Peruvian dish—a savoury stir-fry.
Let's look at an example of a weekly menu; in a typical family in Peru, the main dishes of the week might be:
Monday: Osso Buco Stew (Italian influence).
Tuesday: Tallarines Verdes or "Green Noodles" (the correct name is "al pesto," and is clearly an Italian influence).
Wednesday: Arroz Chaufa (fried rice—Chinese influence).
Thursday: Lomo Saltado (loin, salted basically with onion and tomato; created by Chinese people in Peru).
Friday: Olluquito (Andean tuber, indigenous).
Saturday: Tiradito de Pescado (like ceviche but without onion; some say the dish's origin was created by the Japanese in Peru).
Sunday: Barbecue of beef, pork, or chicken.
This is not even counting the first dish you may be served, such as cream of asparagus [soup] (the creams are of French origin). Or Chucrut [sauerkraut] (a dish of German, Polish, and Russian origin) accompanying the main dish. An additional fact: in Lima and other coastal cities, the main garnish for each dish is usually white rice (Chinese and Japanese influence).
What is Afro-Peruvian food like?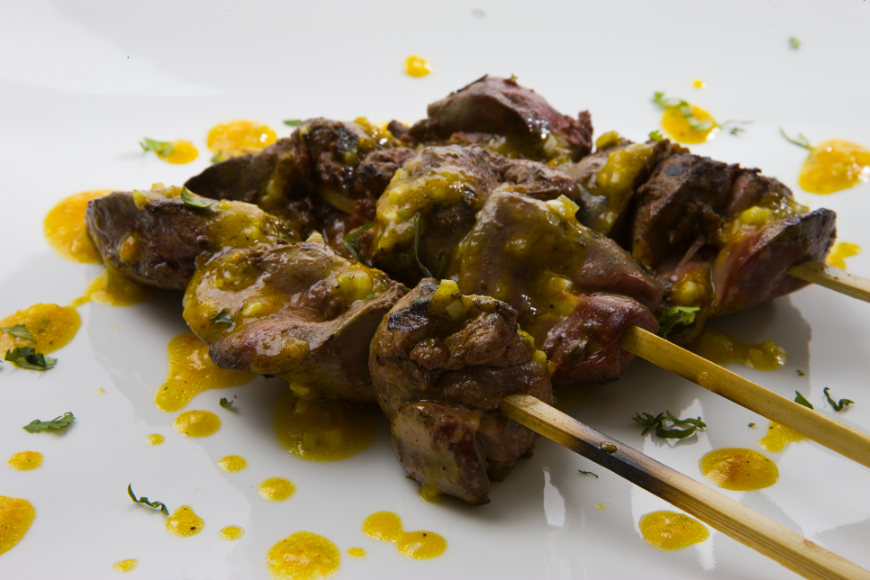 Anticuchos are savoury kebabs or skewers.
It is important to highlight the influence of African slaves in the time of the viceroyalty and Peru's early republic (in Peru, slavery was abolished in 1854)—our so-called "Criolla" food. Dishes like the Anticuchos [meat kebabs], Choncholi [a saucy octopus dish], Chanfainita [hearty stew], and in general, the preparation of all stews based upon visors spaced [cow heart, liver, kidneys, or lungs cooked with local spices such as aji colorado or aji amarillo (hot spices) and other spices such as pepper, garlic, and cumin] are due to the influence of the Afro-Peruvian culture.
What do you eat in Peru for Dessert?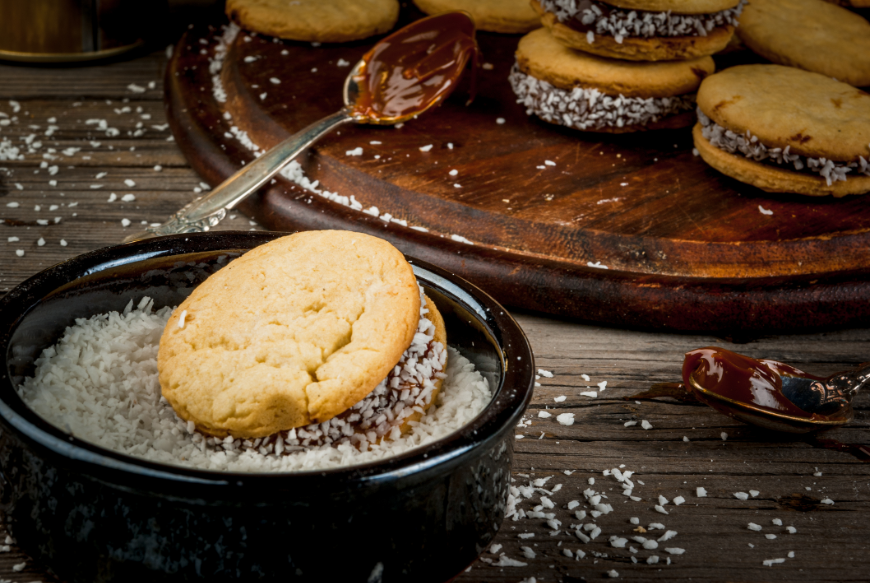 Alfajores are delightful shortbread sandwich cookies, with a dulce de leche filling doused in coconut.
After the main dish, there is almost always a dessert such as Mazamorra [corn pudding] or Alfajores [a delicious cookie] (Arabic influence), Picarones [squash and sweet potato donuts] (native and Spanish fusion), Apple Strudel (German influence), or a Lucuma Mousse (French influence; the lucuma is a native fruit of Peru). The list is as extensive as the tastes of Peruvians…
What do you eat in Peru with friends?
There's nothing like sipping a cup of tea after a great meal with a friend.
The next time you are in Peru, I recommend that you make friends with a Peruvian. If he invites you to lunch, ask if you may dine at his house, and request that he, "…not prepare anything special." Ask that he offer what he normally eats. I assure you, this experience will be unique and very pleasant, but do not be surprised by the portions served. Something which characterizes us Peruvians is the amount of food we offer. Dishes here are "served with love." Portions are abundant, and it is an offense to the family if you do not eat everything that is offered. Don't worry, I'm sure you're going to eat every tasty item, with great pleasure!
If you eat too much, you can drink a cup of pisco or aniseed as a bajativo (digesif). If you do not drink alcoholic beverages, a "maté" (herbal tea) made from Hierba Luisa [lemongrass], Manzanilla [chamomile], or Coca will aid your digestion.
Food is life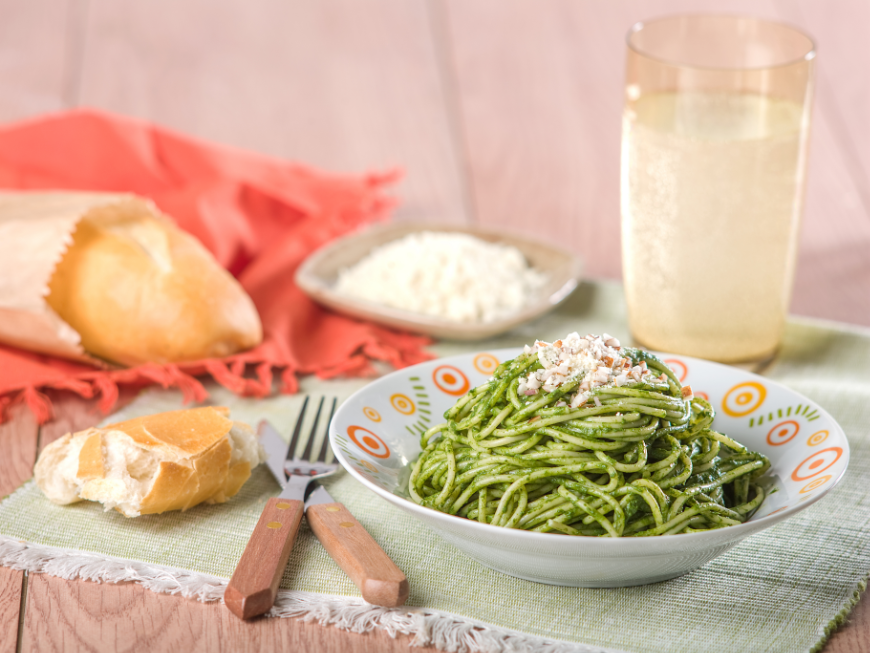 You might think this pasta al pesto is Italian, but it is tallarines verdes (green noodles)—courtesy of Peru.
As you can see, the kitchen occupies a very important place in Peruvian society. Food is an essential part of our lives, not only because it feeds us, but for the pleasure we experience each time we sit down to eat. Mealtime is a moment in which we chat with family, friends, co-workers, couples, guests…It is a time of day that we hope to enjoy, because in Peru, you do not eat to live—you live to eat.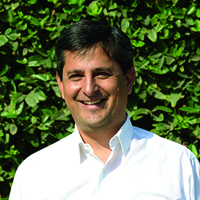 Percy Coll, Travel Specialist - Anywhere Ecuador & Panama