For every one destination or attraction that you can name in Peru, there are ten that you have never heard of. Here are a few to whet your appetite for adventure…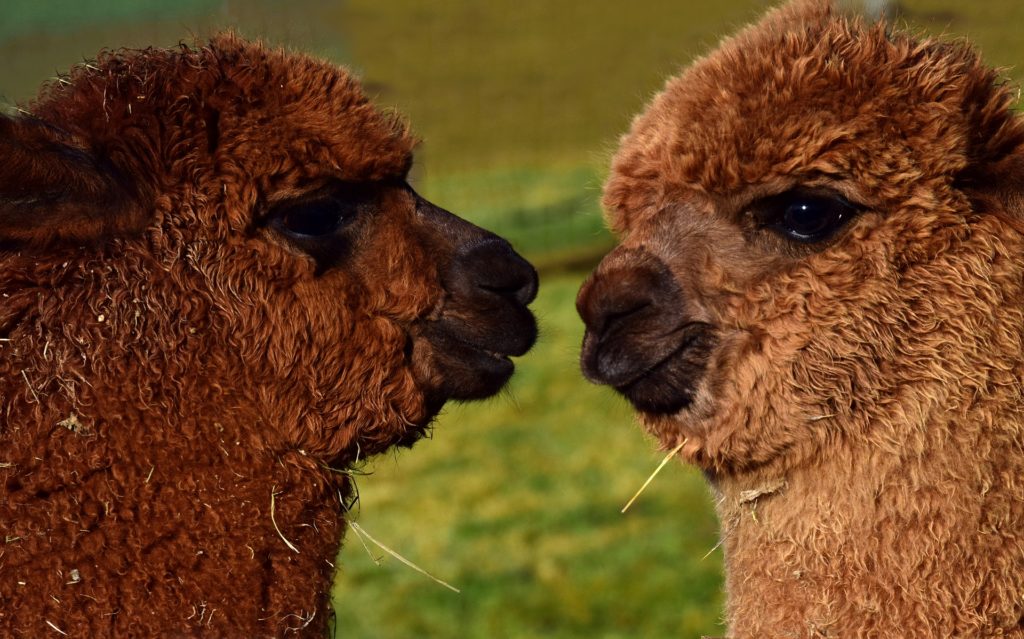 These little alpacas are just a couple of the friends awaiting you when you visit Peru off the beaten path.
Ah, glorious Peru. Just the thought of it is enough to conjure up images of vibrant colours. The softness of alpaca. The sound of a pan flute (zampoña) carrying on the winds of the Andes; but this is only the beginning. An intriguing country which serious travellers and academics appreciate, many people are unaware of the fact that Peru is home to a level of natural wonder that would rival the Galápagos Islands. There are also amazing engineering and design feats, courtesy of the ancient civilizations who once thrived here. If you take vacations to have adventures and enjoy authentic cultural exchanges, then you will definitely want to explore Peru off the beaten path.
Arequipa: City of the perpetual welcome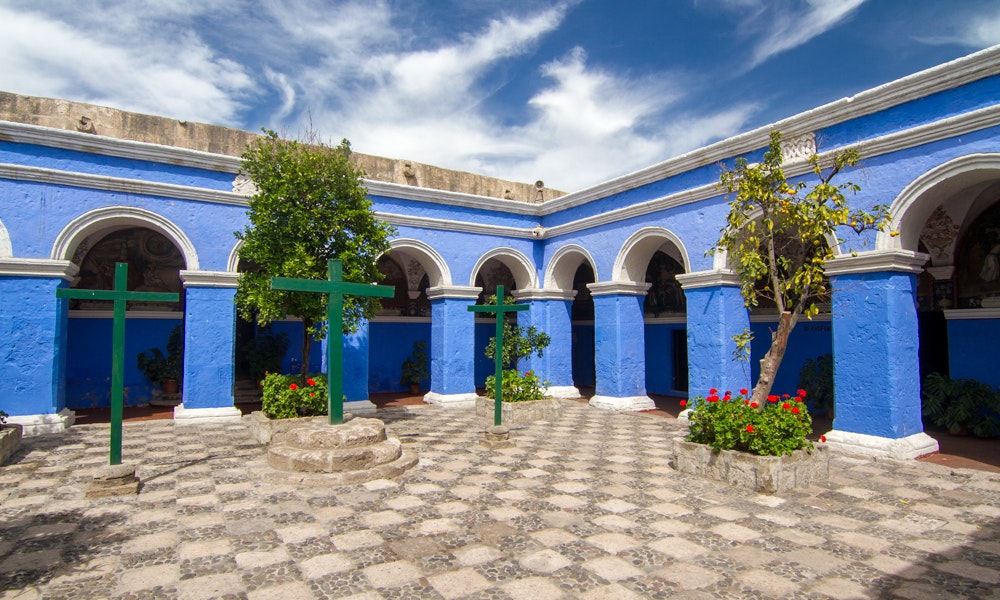 Beautiful architecture and beautiful skies—what more can one ask for whilst on holiday?
"Yes, you may stay." That is the translation of "Ari, quepay" in the local Quechua language; this friendly welcome is where the city of Arequipa takes its name from. Once you accept the city's gracious invitation, there is much beauty and history for you to discover. First and foremost, the historic city centre is a designated UNESCO World Heritage Site (2000). One look at the beautiful buildings constructed of white volcanic sillar rock, and you'll understand why. The region has smartly leveraged its natural surroundings; the famous building material comes from Arequipa being seated at the bottom of the now dormant Misti Volcano. Mount Chachani and Mount Pichupichu further surround the city.
Arequipa has something of a tumultuous relationship with its structures. This is reflected in the various architectural periods seen throughout the city. This is not merely a result of societal taste changes, but nature once again influencing building. UNESCO elaborates on how the major earthquakes subsequently led to significant changes in the architecture found throughout the city:
It is thus possible to identify five periods of development: foundation as a village (1540-82), Baroque splendour (1582-1784), introduction of Rococo and neoclassicism (1784-1868), modern empiricism and neoclassical fashion (1868-1960), and contemporary design.
You don't have to pray to appreciate...
You would be remiss if you didn't pay a visit to Arequipa's Santa Catalina Monastery, which takes up an entire block. The colorful houses decorated with murals, frescos, and religious art are a must see. Surprisingly, so is a flour mill. Molino de Sabandía was constructed in 1785 out of (you guessed it) white sillar stone. Although reconstructed in the 1970s, the mill continues to use the old-fashioned method of using water's force to mill flour. It makes for a very scenic picnic area.
Intrigued by the commerce that keeps a city bustling? According to Encyclopedia Britannica, Arequipa isn't just a city in Peru off the beaten path, it's also a prominent processing center for sheep, llama, and alpaca wool. Accessibility via highway, rail, and air has made it "the commercial, political, and military centre of southern Peru." Agriculturally, potatoes, corn, hot peppers, leeks, and asparagus grow well within the region. For a bit of traditional vacationing, Peru's second largest city offers easy access to Inca ruins and hot springs.
Paracas: A beautiful study of nature at work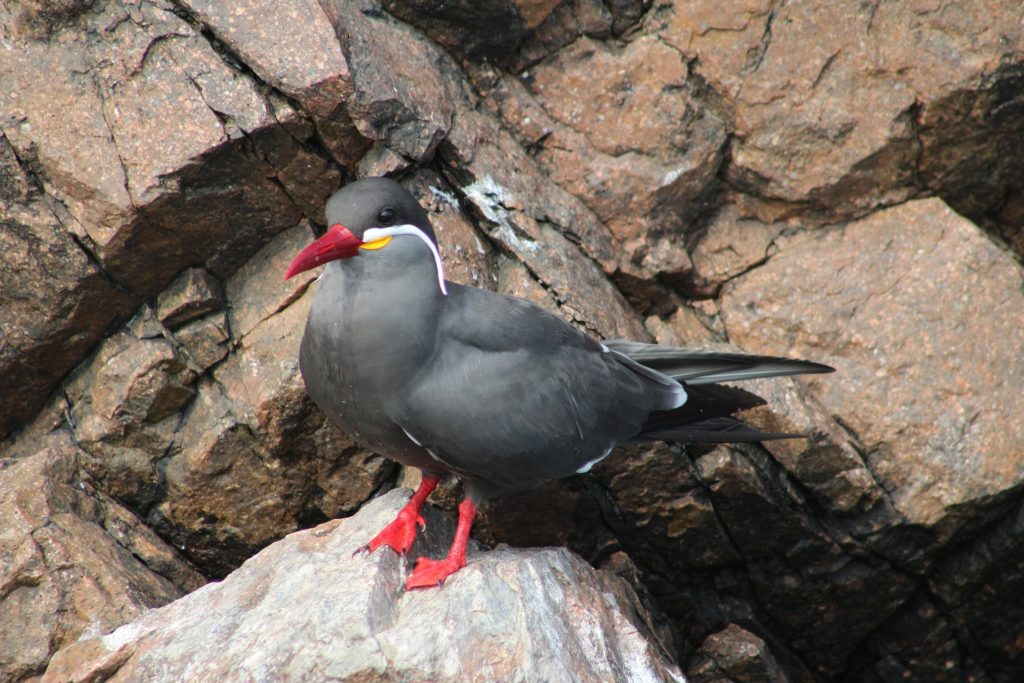 An Inca tern is one of the amazing animals you might see if venture outdoors during your Peruvian holiday.
If you have a penchant for exploring the natural world and history, then you will enjoy Paracas. Located on Peru's southern coast, this region is home to the Paracas National Reserve—a curious blend of subtropics and coastal desert. The area's Humboldt Current is largely responsible for the seemingly unending supply of fish that feed sea lions, Inca Terns, Humboldt penguins, flamingos, migratory birds, and endangered condors and black ostriches.
In addition to its impressive biodiversity (and extensive amount of photo opportunities, such as the Red Beach), it is an excellent place for trying your hand at being Indiana Jones, as Paracas National Reserve also protects nearly 100 pre-Incan archaeological sites. This unique environment and its peculiar mix of desert, water, nature, and ancient man make it an ideal destination if you believe that ecological preservation and exploration can peacefully coexist.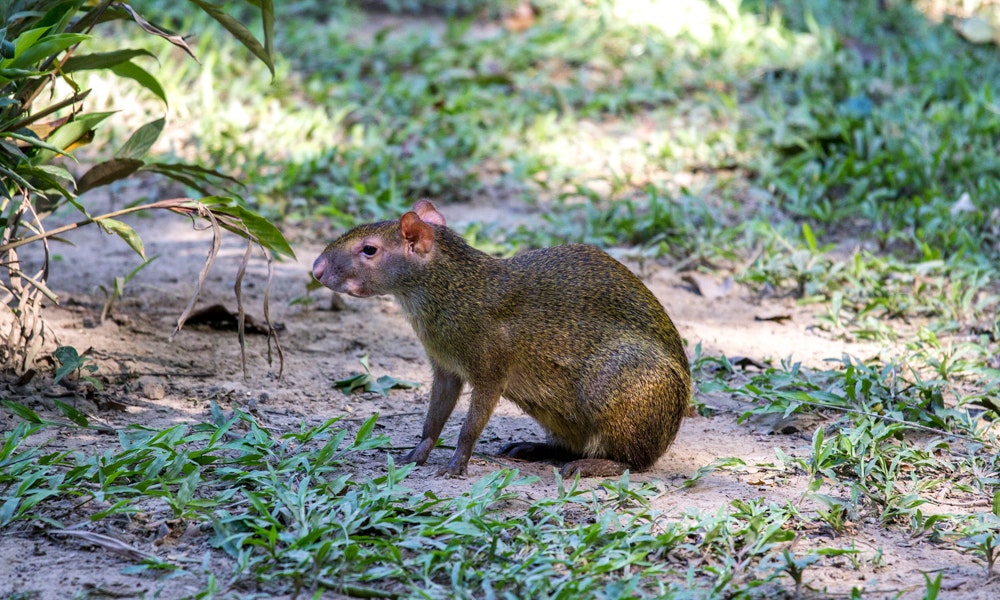 One of the residents of Puerto Maldonado is enjoying the local scenery, and you should too.
Do you have the soul of a pioneer? If you answered, "Yes!" then you'll feel at home in Puerto Maldonado—an area that developed amidst a rubber boom in the early 1900s. Unfortunately, like so many commodities that go boom, eventually, the industry went bust. The community was then forced to shift its focus to timber and gold mining. Oddly enough, what made this city notable was stripping away its focus on commerce, and instead, caring for nature.
In stark contrast to the city's early industrialization efforts is the fact that Puerto Maldonado is now surrounded by two protected areas within the Amazon's basin. The first is Reserva Nacional Tambopata (Tambopata National Reserve); a modest 678,774 acres (274,690 hectares). This reserve boasts 1,700 species of flora and fauna; it protects the rainforest all the way to the border of Bolivia. It also borders Parque Nacional Bahuaja-Sonene (Bahuaja-Sonene National Park). Created from Tambopata, Bahuaja-Sonene is an astounding 2,696,948 acres (1,091,416 hectares). It is home to such rare species as the giant otter, spectacled bear, black caiman, marsh deer, and maned wolf. According to a 2012 article by "The Huffington Post," overall, the park contains "more than 600 bird species including seven different types of macaw, more than 180 mammal species, more than 50 reptiles and amphibian species, 180 fish varieties and 1,300 types of butterfly."
8-zone biodiversity
A profile completed by Parks Watch indicates that the total protected area consists of eight life zones: subtropical humid forest, tropical humid forest, subtropical high-humidity forest, subtropical high-humidity foothills cloud forest, subtropical rainforest, tropical cloud forest foothills, subtropical lower foothills cloud forest, and semi-flooded subtropical lower foothills cloud forest. You can take it all in even when you're at your hotel—if you're a true outdoor enthusiast. Rustic jungle lodges will grant you luxuries such as hot water in a private bathroom; this is an indulgence you can suffer. What will really make this a memorable stay is peering out of your windowless veranda directly into the rainforest…imagine spying birds and monkeys from the comfort of your lodgings! Add this experience to your list of unique things to do in Peru.
Nazca: A history written in the land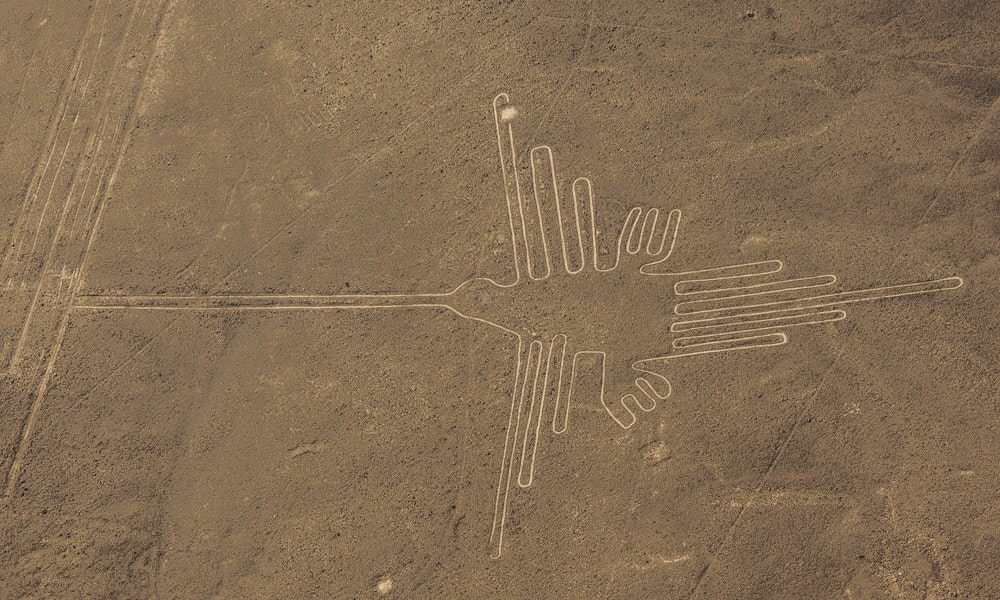 An ancient depiction of a hummingbird in the landscape.
If you're curious about how other cultures lived, and want to observe what human beings were capable of before smartphones were even thought about, then you should pay a visit to Peru's southern coast. C. 200 bce–600 ce, this region was the home of the pre-Columbian Nazca civilization; it is now the canvas of one of the greatest and most awe-inspiring remnants of their culture. Engineers, architects, artists, and designers will be intrigued and confounded by the Nazca Lines—geoglyphs etched within 190 square miles (500 square km) of the landscape. Plants, trees, flowers, animals such as a hummingbird, lizard, and monkey have all somehow been drawn into the landscape, and remain visible to this day. Though best observed from an airplane, if you'd like to get a little more exercise, you can also appreciate a partial view by hiking up a hillside.
Equally fascinating is the level of detail and craftsmanship which went into the Nazcas' ceramics and textiles. As for their knowledge of irrigation—some of their underground aqueducts are still in use today. Who were these people, and how did they acquire the knowledge to achieve such feats?
Modern day Nazca is a tale of two cultures; when you're ready to rejoin modern civilization, exit Nazca's valleys and return to the city centre. There, you can get a taste of the country's Afro-Peruvian culture—a by-product of the slave trade era. This fusion has led to positive change over time and influenced music, dance, and cuisine. There's a very good chance that an estate which divided people into master and servant is now a hotel or club; one where people of cultures from all over the world come together to stay, dine, and dance until dawn. Or, you can get a two-for-one experience by staying at Nuevo Cantolloc—although not quite as rustic as some of Peru's other venues, you can excuse the luxury of a(n) 88 foot (27 kilometer) swimming pool, soccer field, and bilingual library by observing the alpacas, ostriches, and peacocks living on the grounds. For a more educational experience, you can visit the nearby underwater aqueducts the hotel takes its name from.
Sacred Valley: A Peruvian paradise on Earth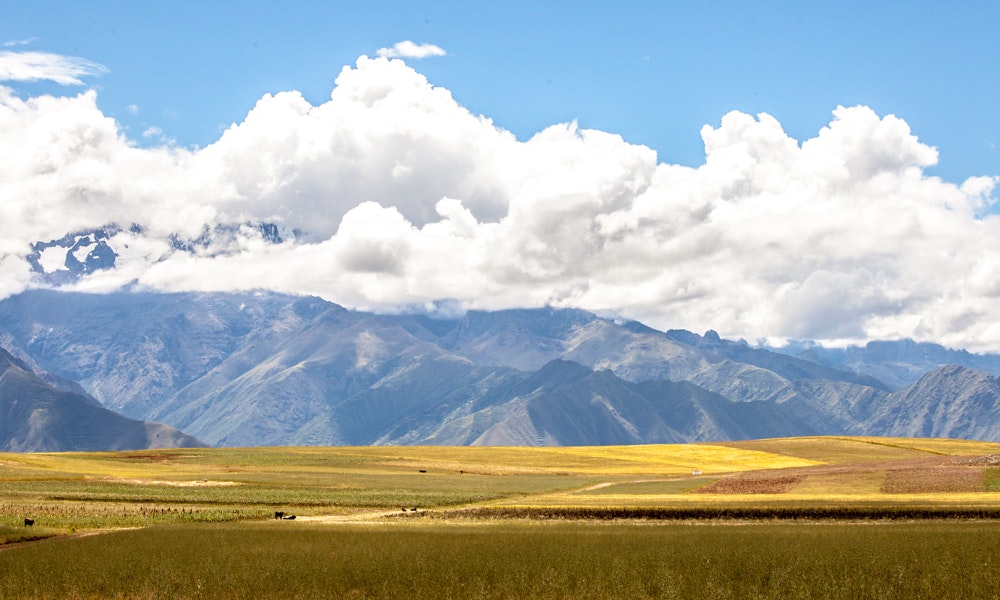 Blue skies, white clouds, and fields of green and gold—it's easy to see how the Sacred valley earned its name.
Located in Peru's southern highlands, one look at the sweeping landscape and you'll understand how the Inca's came to view this region as a mountainous paradise. Sacred Valley spreads all the way from Ollantaytambo in the north, Urubamba in the valley's center, and Pisac at the end. Framed by the Urubamba mountain range, and graced by the flow of the Rio Urubamba (Urubamba River), the land is a series of highs and lows in the best sense. Explore the lush green valley on foot; later take in its full magnificence by hiking to obtain a scenic view.
Here, you'll find many remnants of the Incan civilization, and one of the most striking is the Princess Bath. This system of internal aqueducts taps into a water source which flows amongst a system of beautifully carved stone. The result? A series of self-filtering whirlpools and fountains. Video can be seen showcasing how you can diminish the flow of the namesake bath with your finger—almost something of a natural shutoff valve, and then "turn the water back on" by touching the stream or flicking water back at the "faucet." Captivating on its own, this system is especially impressive when we consider that the flow of the water itself and the carvings were all created without the use of modern tools and CAD.
Creating one of the world's oldest commodities
More of the Incas' handiwork is seen in the small towns of Maras and Moray; they have an ancient pedigree of harvesting commodities. Though both have retained their agricultural roots, in the era of the Incas, Maras housed a salt mine, whilst Moray is believed to harbor a growing experiment—reflected in concentric circles dug into the ground which form a series of steps. Experts think this was part of a study to assess how crops grew at varying elevations. In need of a break from civilization (even the ancient kind)? Explore the valley's natural beauty by biking, horseback riding, and mountain climbing.
Many more ruins, views, and one of the largest craft markets in Peru await you in the Sacred Valley, making this locale one of Peru's hidden gems, and definitely one of the best off the beaten path destinations in Peru.
Huaraz: A city in the clouds
The natural beauty of Huaraz isn't that much of a secret. It just seems that way because it's a unique destination.
With an elevation of 10,142 feet (3,091 meters), this city within Peru's central highlands was once rich with colonial architecture. Unfortunately, much of it was lost (and rebuilt) following a devastating earthquake in 1970. Today, Huaraz is a lively place of plazas boasting many shops, restaurants, and bars for both tourists and locals to choose from. One of the most prominent venues to pay a visit to is the local shopping market; here, you will feast upon authentic Peru by treating yourself to fresh fruits and juices, vegetables, cheese, honey, and sweets. The city is an excellent place to absorb culture whilst acclimatizing.
"Acclimatizing for what?" you ask. Well…
Beautiful on its own, Huaraz is usually the first stop for those pursuing the Santa Cruz Trek. The Santa Cruz Trek is a multi-day hike of the surrounding mountains and Santa Cruz valley. This 31 mile (50 kilometer) trail will take you past a variety of scenery, but it's not an experience for the faint of heart, as indicated in the travel diary of "The Adventure Junkies" Amanda Zeisset. Still, if her commentary on the "open valleys,…snowcapped mountain peaks" and lagoons creating "an ultramarine colored puddle" are anything to go by, then you shall be richly rewarded for your efforts. After your trek, you can enjoy a nice soak in the Monterey Thermal Baths before retiring to your hotel room—this time, appreciating the view from a far more luxurious setting.