This summer, cool off in a cave. From canoeing, to wading, to cave tubing, there's an underground experience for everyone. Let's go cave floating!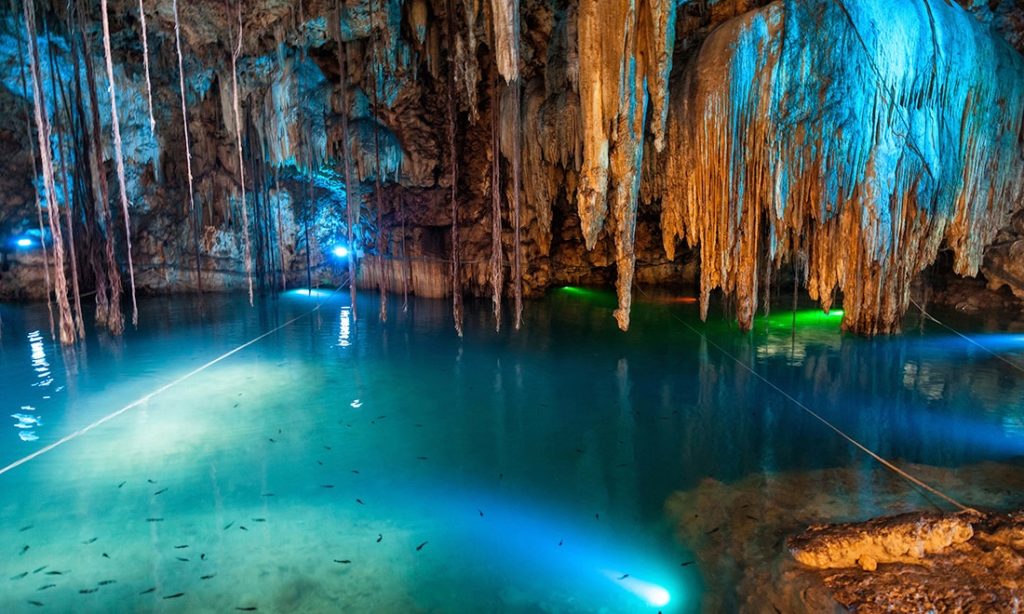 Discover why caves get a bad wrap when you have an amazing time floating down watery caverns.
Deep, dark, and foreboding… Yep. That pretty much sums up what comes to mind when you hear the word "cave," which is a shame. The fearless know that these underground chambers are fun, mesmerizing, and not nearly as scary as they're made out to be. Find out for yourself as we explore four (4) of them. Ready to add a wet and wild element to your holiday?
Spelunking, or Caving, Explained
What keeps people from having adventures? Aside from fear, it's misunderstanding technical terms. Hear the term 'spelunking' and you think you've got to be some serious hiker and mountaineer—possibly boasting a scuba certification, because you can't explore caves without your headlamp, rope, carabiners, and a wetsuit in case the cavern floods. This is only one form of spelunking because even children sometimes go caving. 'Spelunking' or 'caving' is defined as: Noun - the exploration of caves, especially as a hobby. Verb - explore caves as a sport. In other words, if you enjoy wandering through caves when you find yourself outdoors, then you enjoy a form of spelunking.
Additionally, there are many ways to explore caves. In this article, most of those ways will be to go cave floating, which is exactly what it sounds like. The medium may change, but you will float your way through caverns which are prone to flooding or contain sections of rivers which flow through them. So, if you have a good pair of shoes and a childlike sense of curiosity, you have almost everything you need for some spelunking of the cave floating variety. On to our first stop…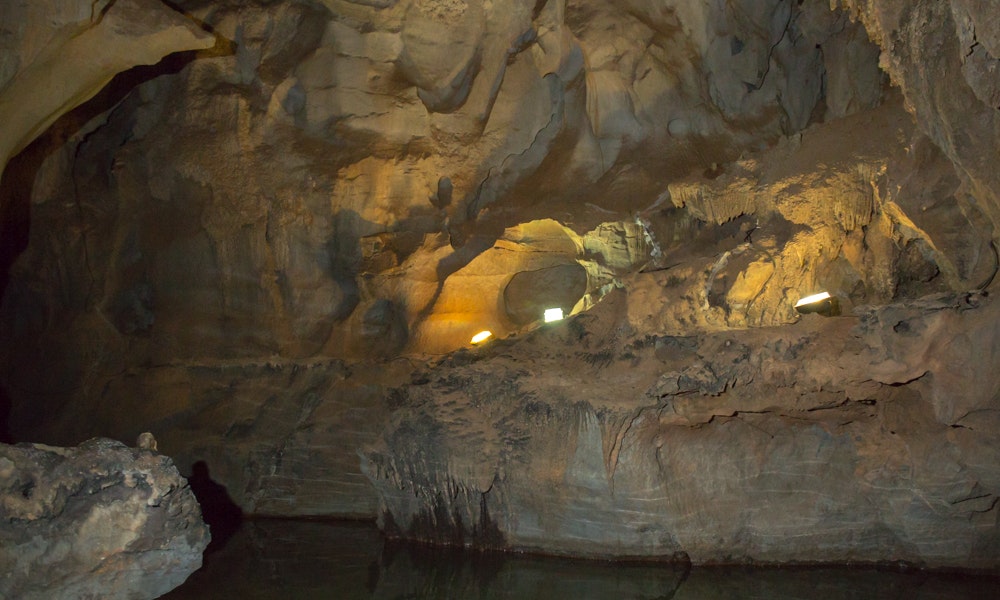 This may not be an iconic image, but we're still in Cuba. Trade in the sun and sand for a cool subterranean adventure.
The surprising first stop on our expedition is Cuba. There, you'll explore Indian Cave. Though this cavern somewhat ominously gets its name from the human remains of Guanajatabey Amerindians, it should be noted that this indigenous group once used this cave for shelter, and there are no more artifacts or remains to be found. Instead, a well-lit path will lead you to a pier. From there, a motorboat will take you on a guided tour of the cave's subterranean river.
If you're travelling with children, this excursion is a unique opportunity to take them on a mysterious (yet educational) adventure. The guide will discuss cave formations, and everyone will have the chance to identify creatures which are similar in shape but vastly different to the animals they're familiar with above ground. Fish, crabs, and other aquatic life take on a transparent appearance and live sightlessly, as the dark home they're accustomed to has rendered pigment and eyes unnecessary.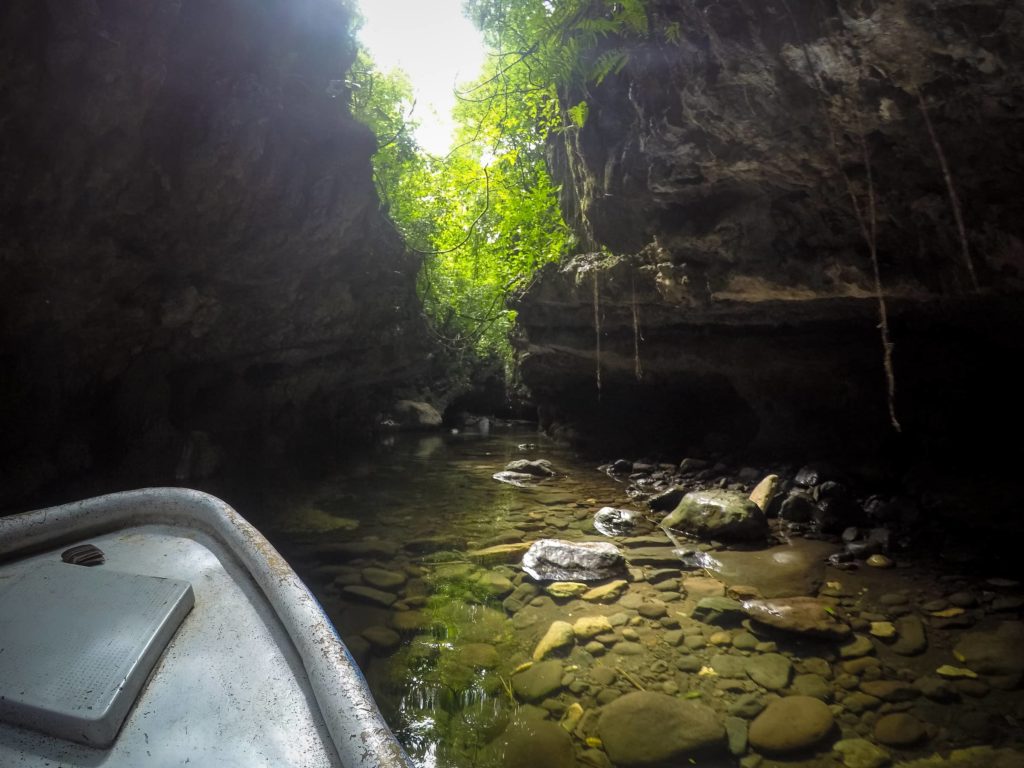 Photograph courtesy of Michiel Dros.
Next, along the shores of Lake Bayano, Panama we'll explore Bayano Cave. Though the lake provides access to three (3) caves, like many visitors, you'll likely find the first cave (1.5 miles / 2 km long) to be enough of an adventure. During Panama's rainy season, it's possible to float into the heart of the cave by boat. When the water recedes during the dry season, you'll enjoy a combination of cave floating and traditional spelunking as you exit the boat to continue your adventure on foot.
Michiel Dros of "Around The Globe.Me" titled the tale of his personal excursion "Lago Banyo Cave: Panama's Best Kept Secret." Dros details how pleasant and enthralling his entire experience was—from the animals seen en route, to the subtle thrill of emerging out of the darkness and into the light. Read his story, then book your own adventure!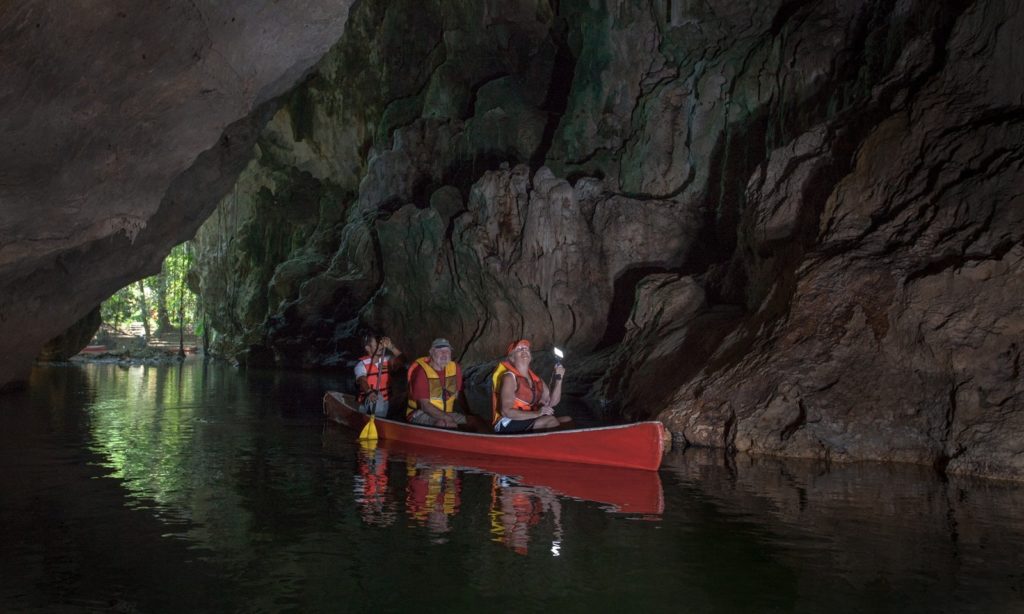 Make your way down the depths of a cave from the comfort of a canoe—a great low impact activity.
Now, we're heading to Barton Creek Cayo (Cave) in San Ignacio, Belize. The Barton Creek Tour will have you canoeing through a system of underground water caverns. This particular tour will be a little bit like playing Indiana Jones by boat—you'll encounter cultural artifacts and natural formations. Be forewarned, you may come across skeletal remains as well as cultural remains, because this was once a site for Mayan burial rituals. This cave float will have you gliding your way into a unique adventure that's part archaeology and part eco-adventure.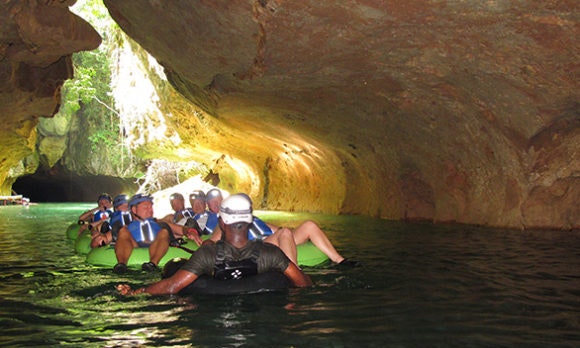 Drift and glide down the magnificent caves of Belize—crystal clear waters beneath you.
As the American indie rock band "Modest Mouse" sang, "And we'll all float on…" especially if we're cave floating in Ambergris Caye, Belize. This time, your adventures are going to take a wild turn, because you're going on a full-day adventure! Your morning will start by enjoying a breakfast where you may be greeted by crocodiles, iguanas, and manatees as you cruise up the Belize River. Once you reach the mainland, you'll head to the Belize Zoo and meet native animals.
Soon, you'll have to leave your exotic new friends to make your way to Caves Branch for a lovely lunch. Finally, after dining, it's time for your guided tour through the Belizean jungle. When you reach your destination, you'll climb into an inner tube; armed with a headlamp, you'll float on down an underwater cavern. Does it get any better than cave floating amidst the crystal clear waters of Belize? Maybe, but this activity is definitely high on the list.
One Final Note...
No matter which cave float you choose or which country you visit, please remember to leave nature as you found it. This should be an implicit expectation, but unfortunately, it is not. Some foolish tourists (not you, of course) have caused damage to caves in Belize. The do's and dont's of good cave etiquette are fairly simple:
Don't - literally leave your mark; resist the urge to leave your own 'cave art.'
Do - take nothing but amazing memories. These caves are someone else's home—be a good guest.