Eco-tourism activities in Costa Rica are a dime a dozen. We opened up an investigation to find the best eco-lodges for planet loving travelers to book.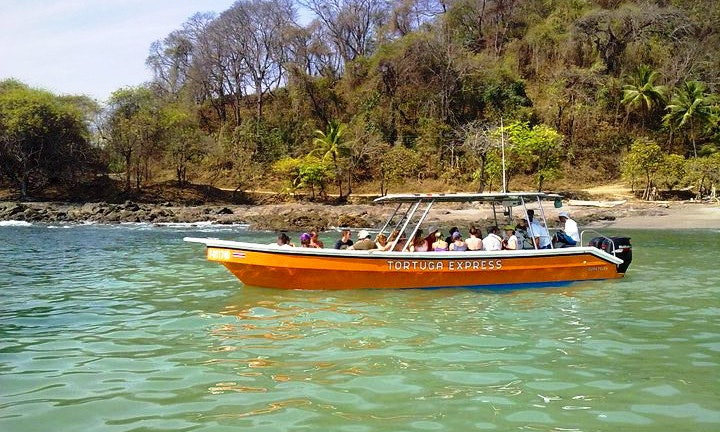 Who says doing your part for the planet can't be fun?
Adventure awaits you when you have an eco-adventure in Costa Rica. ENDCAPTION
These days, running a good eco-lodge is not just about offering solar power—it's a complex and holistic process that takes many years to perfect. So, to save you the research, we went on a hunt to find the best eco-lodges in Costa Rica, and discover why this little country has become such a global leader in eco-tourism.
We examined many factors; firstly their design and infrastructure to assess the level of land protection they offer the natural environment. Then, we asked them what they give back to the local community and finally, how they are spreading the ethos of eco-tourism awesomeness with their guest education programs.
The results are super inspiring, so read on to make sure your next eco-tour is not just packed with wildlife adventures, but also gives you a chance to nurture the environment and give back to the incredible country of Costa Rica.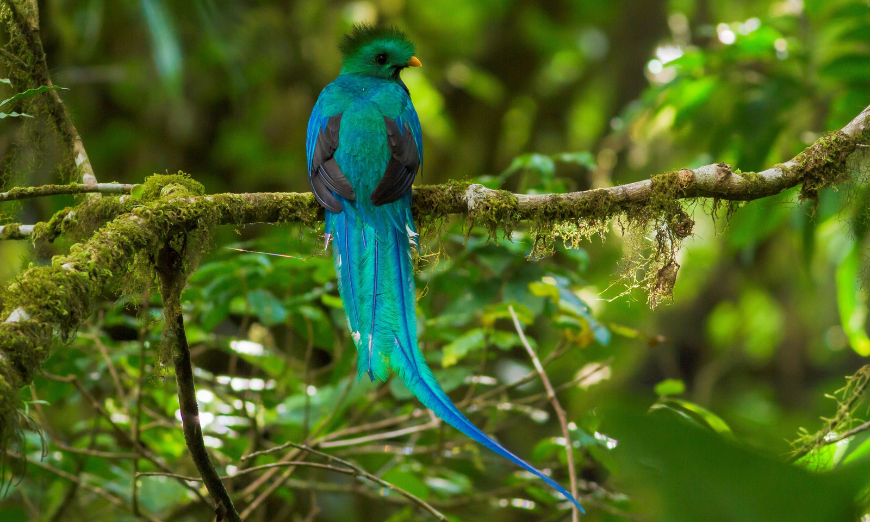 The resplendent quetzal is a rare bird, but you may be able to see one during your tour in Costa Rica.
The History Of Eco-tourism In Costa Rica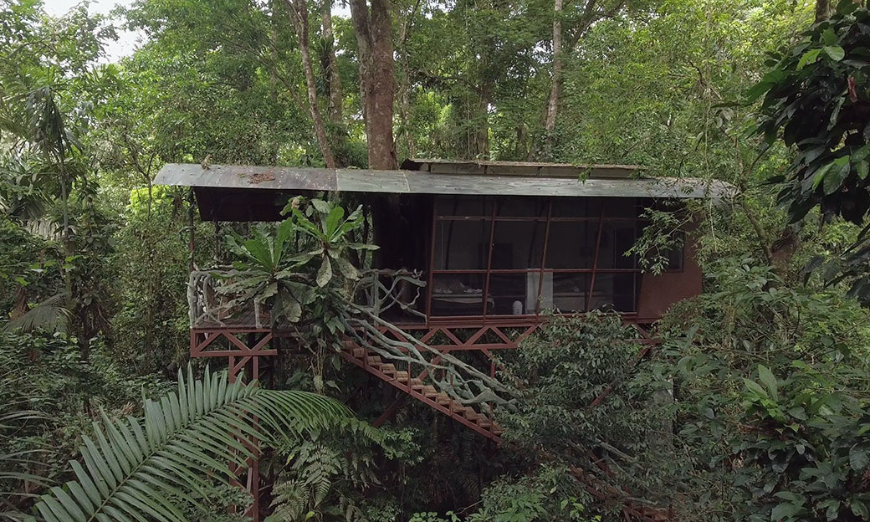 Dreams come true at eco-lodges. Ever want to spend the night in a treehouse but your Mum always said, "No!"?
Eco-tourism is bigger than religion in Costa Rica and in recent years, this gorgeous little country has become a global leader in sustainable practices. To give you some context, Costa Rica is around the same size as Denmark (very small!), but it contains an incredible array of thriving wildlife, flora and fauna on its tiny land mass.
Costa Rica Leads The Globe In Ecotourism
Did you know?: Some Costa Rican ecolodges grow food for their restaurants hydroponically? It's true! This is one more reason why Costa Rica remains a leader in sustainability.
The Journey To Land Protection In Costa Rica
[embed]https://youtu.be/DNQw07Lt12E[/embed]
Costa Rica may be a hub for eco-tourism these days but this has not always been the case. In the 1940's, three quarters (75%) of the country was covered in rainforest. But in just forty years, by the late 1980's, the rainforest covered only a fifth (21%) of the country. This huge loss was caused primarily by farming and agriculture practices which the government allowed to flourish on what they then considered an unproductive jungle climate. Eventually, the soil became infertile forcing Costa Rica's leaders to find another solution for both the future of their country's clean water supply and the economic security of its citizens. It was the 1990's by then, but the government stepped up with a range of conservation ideas to both stop the degeneration of the land and ensure economic health
The Emergence Of Costa Rica's Best Eco-Lodges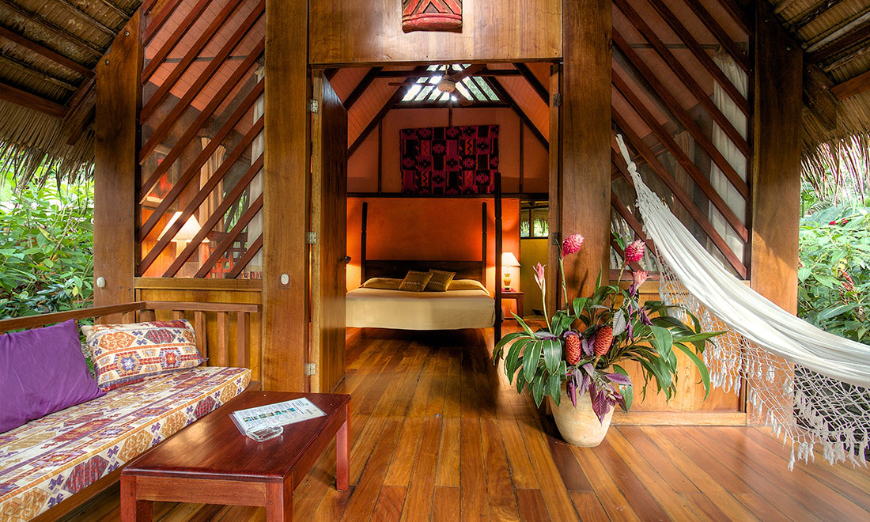 Think supporting ecotourism means sacrificing beauty and luxury? Think again.
These new government initiatives set the scene for the emergence of some incredible eco-lodge and eco-tourism programs throughout the country. The goal was to take a fully holistic approach which required eco-lodges and eco-tourism activities to meet three sustainability factors. Environmental, economic and cultural sustainability. You can read more about this approach here.
Over the years, several different sustainable programs were established to measure and recognize operators who follow best practice systems in eco-lodge management and the results have been amazing, with many operators finding a workable fusion of environmental, economic, and cultural health concerns within their business.
You can find specific information on Costa Rica's internal eco-tourism governance and certification programs at the links below. Or you can just read on because we've done the research for you and found some eco-lodges that meet international sustainability standards and offer fulfilling adventures for the intrepid eco-tourist.
Our Vote For Eco-lodges That Truly Make A Difference
In judging the best eco-lodges we looked for the following factors:
Amazing Wildlife Adventures
If you're going to trek into the middle of nowhere, we reckon it's important to make sure you find activities, wildlife, and adventures that you'll remember for a lifetime.
Infrastructure
The eco-lodge you choose should be built in harmony with the environment, which means established processes of water and energy conservation, use of renewable energy, great waste management practices, and a general policy of buying organic and biodegradable products to run the place.
Natural Environment
We think the eco-lodge you visit must be sustainable in its natural surroundings which means they need to give back what they take away with environmental preservation programs like tree-planting.
Socioeconomics
The eco-lodges we like are interacting with the communities that surround them. While each eco-lodge will likely provide jobs for locals, we also think it's important that they give back by supporting local businesses with a collective ethos of service to the community.
Education!
The best eco-lodges should be actively educating guests as well as the local community on how to best care for the environment. To us, that means running teaching programs where guests can participate and take home a new set of standards to aim for.
Costa Rica's Top Three Eco-Lodges
Drum roll, please…. In no particular order, we've put together our pick for the best eco-lodges in Costa Rica. Each has something different about it and each can be booked through Anywhere Travel.
Luna Lodge
Stay in your own thatched roof bungalow at Luna Lodge.
Luna eco-lodge fulfills every one of the above categories. It's built in a secluded spot in the Osa Peninsula, where Corcovado National Park is located. You'll find yourself sharing space with many endangered species including sea turtles, puma, and the harpy eagle, amongst others. The lodge is beautifully built in harmony with the environment and offers educational tours for guests where you can learn more about sustainability. You're sure to leave inspired with an ecologically aware attitude. They support the local community and their infrastructure meets world-class ecotourism standards. Luna Lodge is also recognized by the CVT program as mentioned above. Find out more about Luna lodge and how to book your spot here.
Finca Luna Nueva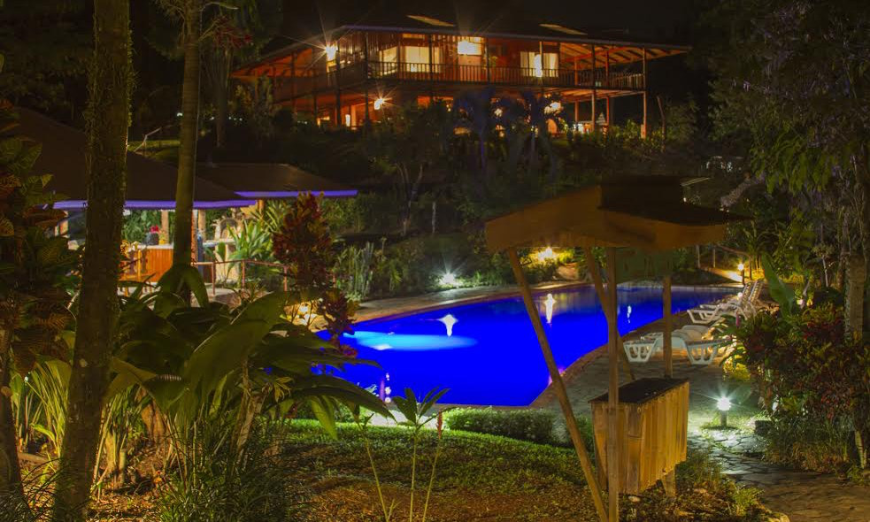 Finca Luna Nueva is located just outside La Fortuna in the central highlands of Costa Rica. It contains a certified biodynamic farm and is known by guests as a living classroom where you can learn permaculture and organic farming techniques while living in rustic but luxurious conditions. The eco-lodge is a retreat location with a holistic beauty spa, yoga classes in the hand-built natural shala, and rainforest treks rich with rare bird life. This eco-lodge meets all of our categories for excellence and we especially recommend getting involved with the Sacred Seed Sanctuary that's on site. It has over 300 medicinal plants which are native to this incredibly biodiverse region. Click here to find out more about spending time at Finca Luna Nueva.
Pacuare Jungle Lodge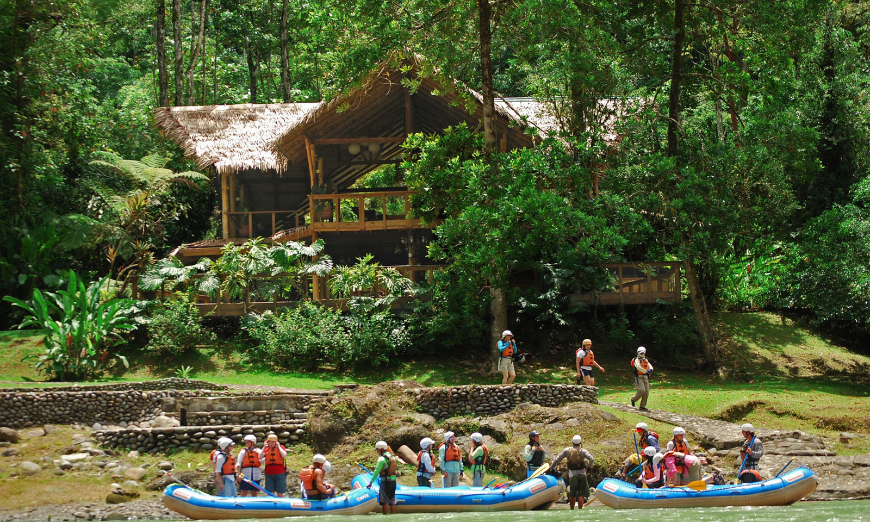 Have an amazing adventure at Pacuare Jungle Lodge.
Built alongside the Pacuare River, this eco-lodge is not only an incredible spot for white water rafting, but it fulfills all of our categories for ecotourism excellence. You can take treks with the hope of spotting jaguars, ocelots, monkeys, sloths, and many other species which are native to the area—or you can just hang out and relax in the simple but luxurious lodging.
The World Tourism Organisation has recognized Pacuare Lodge as a leader in ecotourism and there are many reasons why. Firstly, none of the trees in the area were cut down to construct the lodge, and the buildings include thatch roofs made by local Cabecar Indians. The owners of Pacuare eco-lodge have also purchased 340 hectares (840 acres) of rainforest along the river to offset the carbon created by vehicles.
Their goal is simple preservation. So, even visitors to the lodge aren't allowed access to the area which remains an untouched rainforest paradise. Furthermore, Pacuare Lodge uses state of the art waste management to avoid polluting the river, and clean energy generated by a turbine in a local stream. The lodge also donates to three primary schools and runs a support program for the local community. Follow this link to book your spot on the river at Pacuare Jungle Lodge.
See the beauty of nature, and protect it—choose to support ecotourism on your next holiday.
Ecotourism may have come late to Costa Rica but government policy changes and the eco-tourist dollar have both helped the country to become world leaders in sustainable travel. Eco-lodge design began 20 years back, but as we've discovered, a good eco-lodge needs more than just sustainable building. During our assessment, we found that most of Costa Rica's eco-lodges are amazing in one way or another. But it was the unique holistic approach that caught our attention with Luna Lodge, Finca Luna Nueva Eco-lodge, and Pacuare Jungle Lodge. These were our top picks as leaders in the eco-tourism industry because they constantly strive to fulfill not just environmental and economic goals, but to answer social, educational and community concerns while offering the intrepid traveler an incredible experience in nature.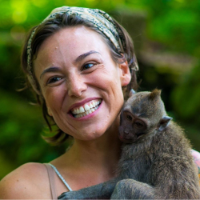 Emma Harrison-Clark, Anywhere Contributor
Emma Harrison Clark is a Bali based writer and adrenaline junkie who loves to travel. When she's not diving, riding fast motorcycles or fighting at mixed martial arts gyms you can contact her at www.emmaharrisonclark.com.