Luna Lodge is a secluded eco-lodge set in the pristine and fascinating Osa Peninsula. Within the 700 sq. miles of the Osa Peninsula, a staggering 2.5% of the worlds total biodiversity is contained. Home to the Corcovado National Park, the Osa Peninsula is one of the most bio-diverse places on Earth and has become known as the premier eco-tourism destination in Costa Rica.
Featured in:
Eco Lodges, Hilltop, Yoga, Isolated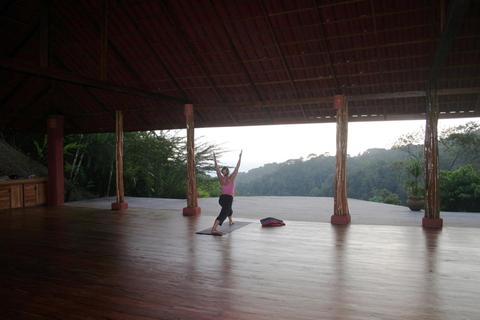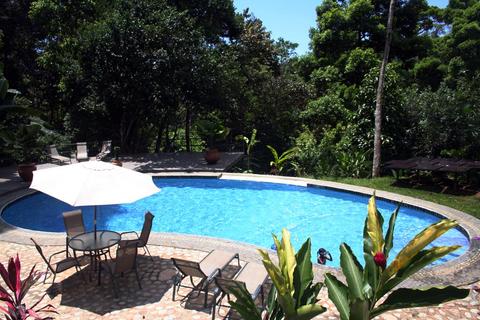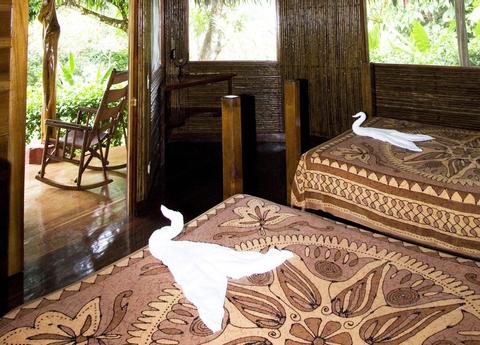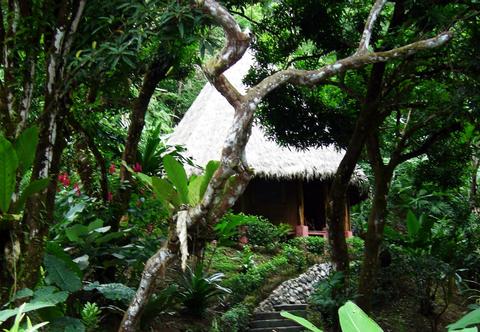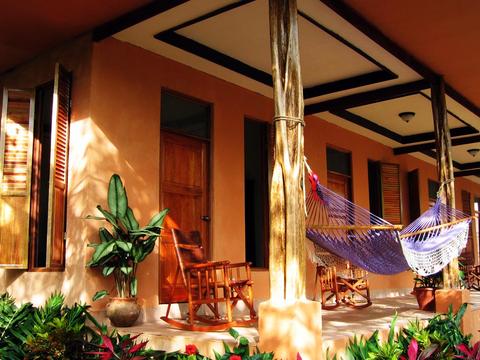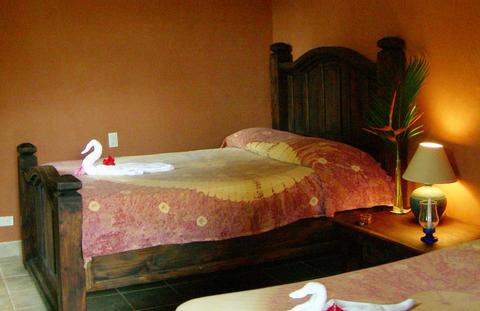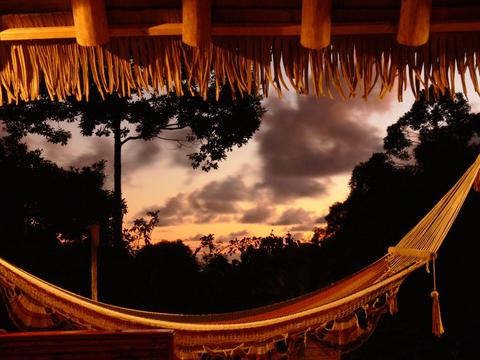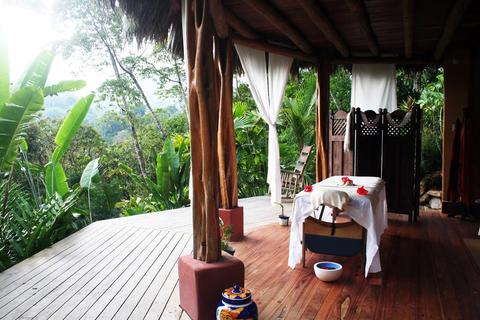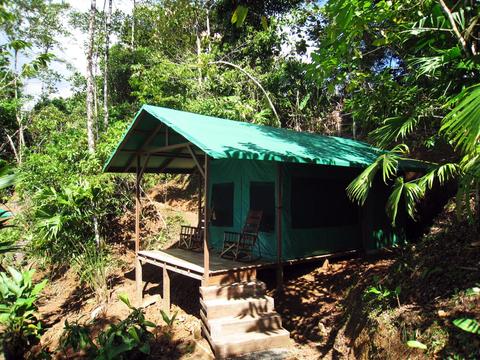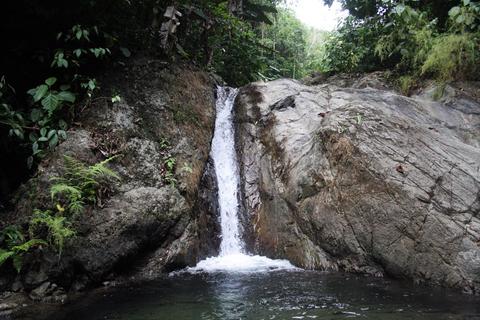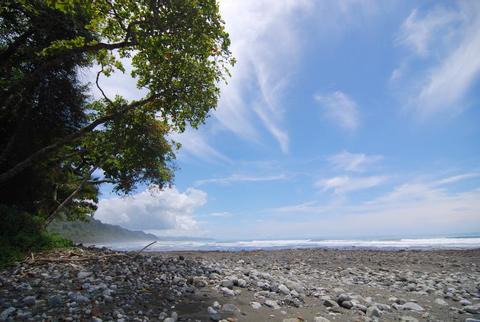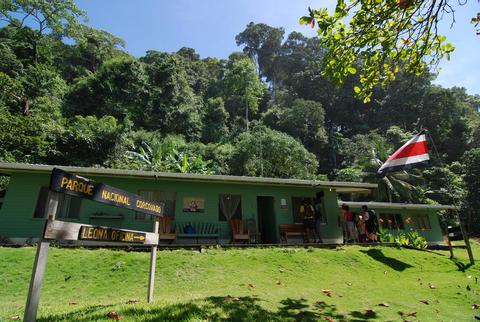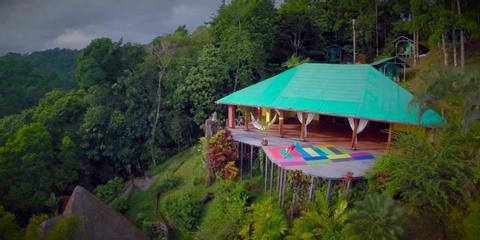 9:00 a.m. check in
10:00 a.m. check out
Swimming Pool
Spa Services
Restaurant in Hotel
The Osa Peninsula is a nature-lovers dream come true. The 13 major ecosystems found within Corcovado National Park protect endangered species such as the puma, American crocodile, Baird's tapir, poison dart frog, and harpy eagle. The jaguar, an animal extremely vulnerable to habitat loss, also thrives in the Osa Peninsula; an estimated 40 to 50 jaguars are thought to be roaming the peninsula, a number which starkly contrasts other areas in Central America. In addition to the biological intensity of Corcovado, the beaches along the Osa Peninsula are also major nesting sights for several species of sea turtles. A wide range of activities can be enjoyed within this area, including hiking, swimming, surfing, kayaking, and sport fishing.
Luna Lodge is situated on 150 acres of privately owned tropical wilderness. The lodge offers a dynamic range of services that include rare wildlife encounters, yoga sessions, dance classes and a full-service spa. The deck of the large communal rancho offers a space where guests can relax while taking in views of the Pacific and listening to the cacophony of rainforest rhythms. Bird species such as the scarlet macaw, red-legged honey creeper and slaty-tailed trogon can be spotted around the lodge's property, as can the shy and slow-moving sloth. The lodge is lushly landscaped with an abundance of fruit trees, and intoxicating aromas of night-blooming jasmine and ylang-ylang permeate the air.
Accommodations at Luna Lodge consist of eight cool and spacious bungalows, each with a vaulted thatched roof. Each bungalow comes equipped with two double beds, a private deck and a private bathroom, complete with a bathtub. The bungalows are warm and inviting, with domed ceilings and plenty of windows. White cane walls provide a decorative touch while still keeping with the rustic atmosphere of the area. The bathrooms are uniquely designed with warm-hues and deep tile tubs that look out toward a lush private garden. A new addition at the lodge is three hacienda-style rooms, which are equipped with the same amenities as the bungalows but more centrally located.
The huge communal rancho houses the restaurant, bar, reception, library, and gift shop. The on-premise restaurant, El Eclipse Total, uses produce and herbs grown on the property, such as basil, ginger and cilantro, to create a distinctly unique twist on international and local cuisine. Vegan and vegetarian options are always available. The dining area is open-air, with boho-chic dñcor and an extensive wine selection. The pool area is in a bright and beautiful garden that sits alongside the rancho. The pool is the perfect place to sunbathe, cool off, and enjoy the bountiful natural charms of Luna Lodge.
A commitment to preservation is a key part of Luna Lodge's philosophy, and many of the lodge's tours are led by knowledgeable naturalist guides. Available tours include bird watching, horseback riding, lagoon kayaking, and shore fishing at the mouth of the Carate river.
Luna Lodge also has a full-service spa that focuses on holistic treatments such as mud wraps, massage therapy, aromatherapy, hot stone massage, sensual tantra massage, coconut body scrub, and chocolate therapy. There are also daily yoga sessions and Latin dance classes where guests can learn the basic steps of salsa, chacha and cumbia.
Luna Lodge also has a retreat center. Situated on a hillside platform that offers sweeping views of the Pacific Ocean, the retreat center has over 1600 sq. feet of covered open-air space, and is ideal for groups wishing to explore activities such as yoga, tai chi, massage therapy, mediation, or language study.
More Property Amenities
Jungle View
Hiking Trails
Hammocks
Gardens
Bar
Hot Water
Similar Hotels