Don't forget your eco-conscious hat when planning your destination wedding. Here are a few ways to show the planet some love as you celebrate your special day.
last updated: 01/23/2020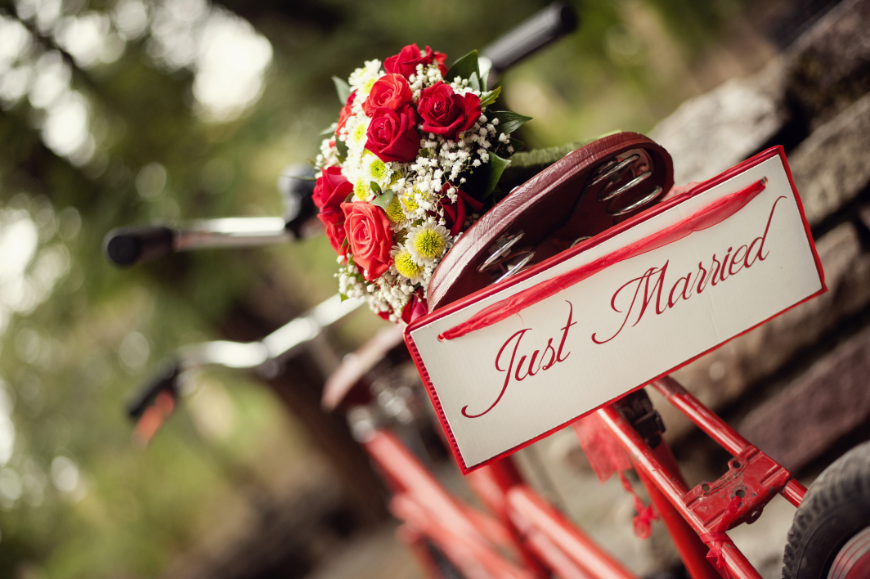 Why rent a Rolls Royce if you'd prefer to ride off into the sunset on a bicycle?
The destination has been decided. The guests have booked their flights. You've got the dress (or suit) of your dreams, and you are already drooling over the menu that will be served. But there is one thing still on your mind about your destination wedding. Is it eco-friendly?
If you are an eco-conscious traveller who tries to live as green as possible, you'll no doubt want to reduce the impact of your destination wedding too. With all the guests, air miles, decor and extravagance it can seem difficult to organise an eco-friendly wedding in another country. But, with a little planning and effort, your big day can be as green as you!
Here are a few tips to plan an eco-friendly destination wedding...
Choose a green hotel for your destination wedding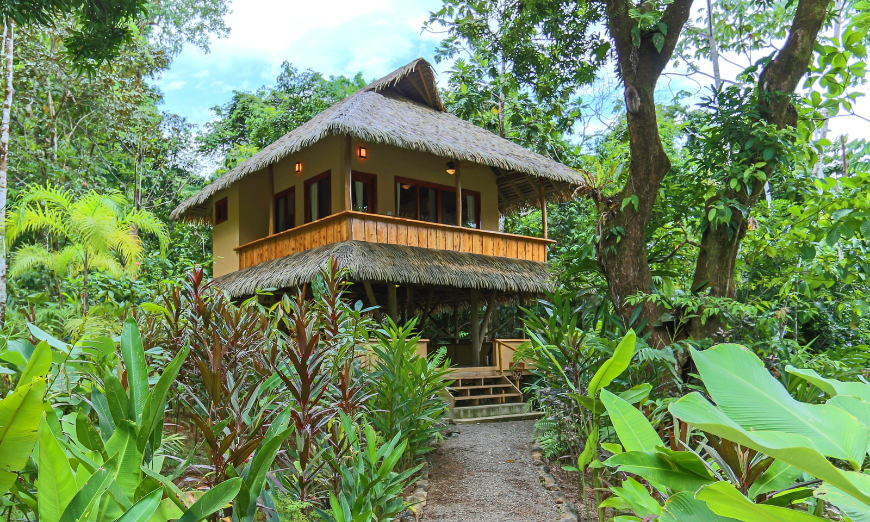 Eco-resorts such as Copa Del Árbol
are 'off the beaten path,' but offer plenty of honeymoon magic.
Choosing a hotel that mirrors your values and has a passion for the environment is half the battle in creating a greener wedding. Thankfully, there are now more green hotels than ever before. When choosing your hotel, make an effort to ask about responsible tourism initiatives and find out how they are helping to keep their impact low. A particularly innovative program may sway your decision and help you on your way to a green destination wedding that you and your guests will love.
This list is just a portion of the sustainable accommodation options in Costa Rica, a true eco champion of a wedding destination.
Plan eco-friendly wedding transport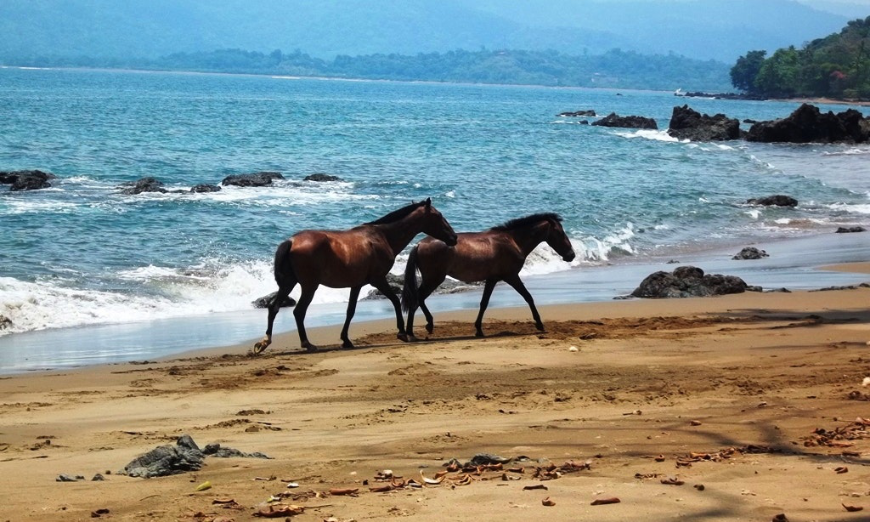 One of the earliest modes of transportation, riding a horse is incredibly green — and memorable.
One great thing about destination weddings is that they are usually organised in one location, negating the need for wedding cars and travel between destinations. Experiencing the whole wedding under one roof makes planning really easy and stress-free. However, depending on how far the location is, many people will still need air travel.
It's no doubt that air travel is a huge contributor to carbon emissions but this isn't something you can avoid with far-flung destinations in Central and South America. There are two great ways to reduce your transport impact. One is to get your guests to sign up for a carbon offset program to balance their air miles. The second is to help organise ride sharing between guests taking a taxi from the airport. This is infinitely easier when your wedding party works together with a travel agency such as Anywhere, who can coordinate all the logistics for you. A little bit of pre-planning goes a long way and then guests will be able to meet before the big day.
Reduce your wedding waste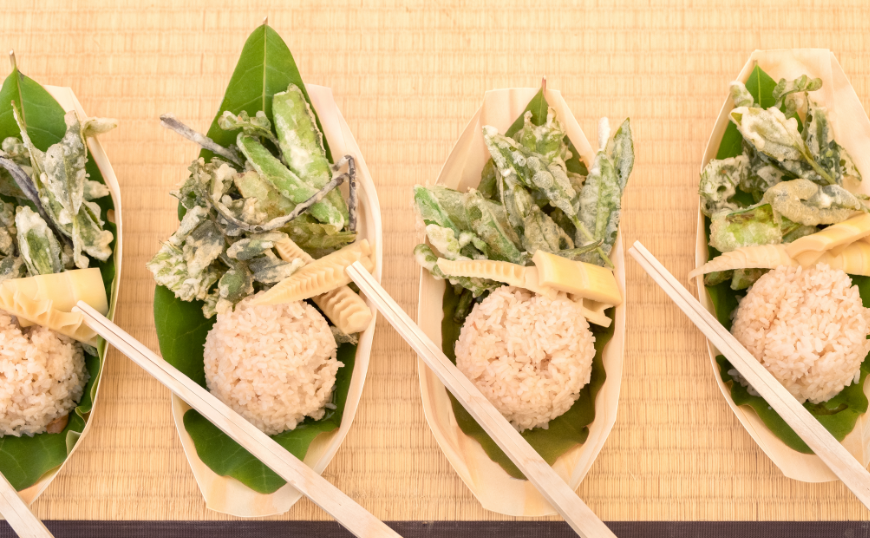 Your wedding meal can be delicious and green when you serve your food with compostable or biodegradable dishes and utensils.
One of the easiest ways to be more eco-friendly when you travel is to reduce your own waste, especially plastic waste. This is particularly important for a big wedding. For your wedding meal, consider buying natural fibre disposable plates and cutlery. You may have to bring these from home if your destination does not have such an option or you can make sure your hotel/ restaurant uses china instead of disposable.
For drinks, it is even more important to avoid plastic cups and straws. Why not buy your guests a reusable water bottle and/or cup or a metal/ bamboo straw to use while they are away? This is a great eco wedding favour that will encourage your guests to be more eco-friendly in the future. If you can buy these items on location, then even better. Your guests will have an eco-friendly travel item, a souvenir, and wedding memorabilia all in one.
Considering the wedding-specific details, you can also find eco-friendly wedding decor and confetti. There are plenty of lovely eco confetti options, such as fresh petals! Try also using decor that you can reuse or which is made from natural materials, rather than plastic and paper.
Minimise water use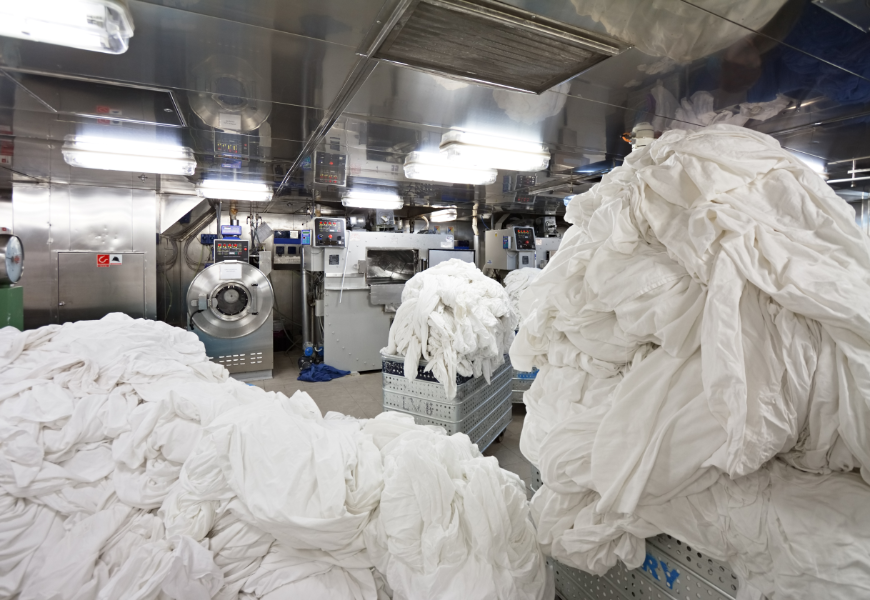 There is no need to add to this already massive amount of laundry — your bed and bath linens are good for more than one use.
Most hotels have a system in place to reduce unnecessary laundry for towels and sheets. You wouldn't wash these items every day at home, so why do this while you're away? Encourage all your guests to do the same and you'll make a big impact on the hotel's water and power usage. Short showers are also helpful!
Help your guests be eco-warriors too
There are all kinds of ways to make your wedding stationery more green — including paper materials embedded with seeds. Plant them and watch them grow.
The reason it is so important to consider eco-friendly options for your destination wedding is that your guests also have an impact, and they may not share your knowledge of sustainable travel practices.
When you send your guests their (recycled paper) invitation, add a note about all the ways they can be a more responsible traveler during the wedding. Include a link to this article about carbon offset programmes and choose advice from our guide to sustainable travel.
"In the end, we will conserve only what we love; we will love only what we understand and we will understand only what we are taught."
To go a step further you could also suggest a donation to a local charity within your destination as a unique wedding gift.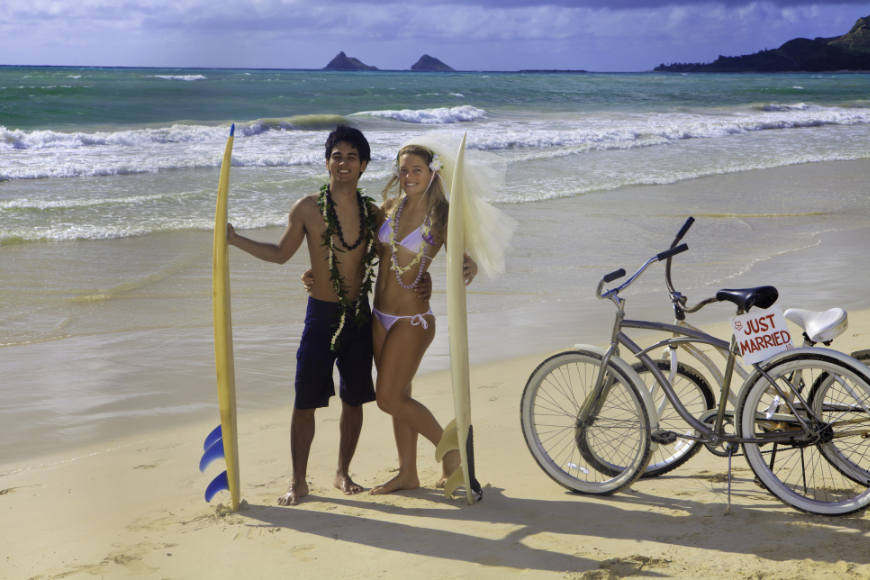 Make your wedding your own — celebrate your love your way, and do what you most want to do.
Your destination wedding should be all about love. It should be about you, your love for one another, and your family and friends. Making your wedding eco-friendly helps share this love with your wedding destination's country, too. And we think that will make it extra special for everyone involved.
Jade House, Anywhere Contributor
Jade House is a freelance writer who has spent the last few years living in Asia and exploring as much as possible. This year you'll find her closer to home, taking camper van adventures across Europe with her fiancé and their dog. Follow the day by day journey on Instagram (@jade_house) and read more from her at journey-count.com.