Do some good for the planet and for yourself when you make your holiday in Costa Rica extra eco-friendly.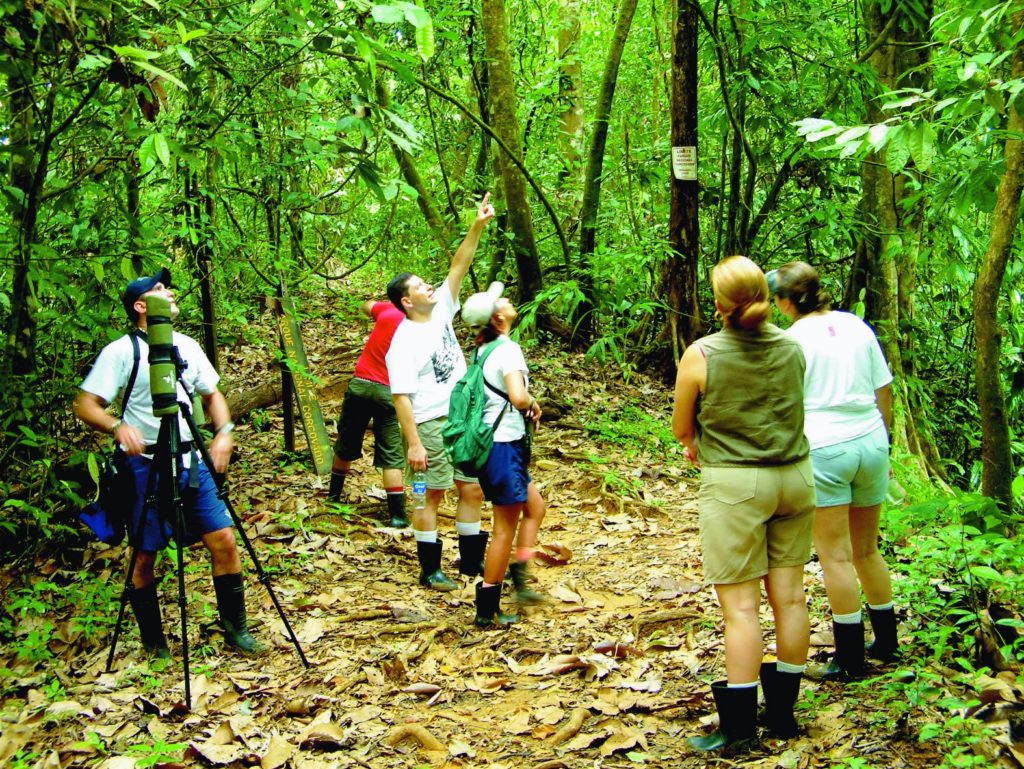 Costa Rica boasts a wide variety of natural beauty. Pay the country a visit, and see what you discover!
Environmentally friendly vacations are increasingly popular. They're easy to plan if you choose a green country like Costa Rica. Costa Rica is one of world's leaders in sustainable travel, and they go way beyond recycling.
Today, Costa Rica gets 94 %of its power from renewable resources. The government's goal is to have 100% sustainable energy by 2021. Costa Rica' Blue Flag (Bandera Azul) program makes it easy to recognize businesses that have made sustainability a priority. Sustainable providers also make sure to engage the local communities, using local products and services as often as possible.
Reforestation

These little plants will one day grow up to make the world a better place—literally.
Offsetting your carbon footprint is easier than you might think. Scientists estimate that one tree can offset a ton of carbon in 20 years. Contribute to Anywhere's reforestation fund and get your vacation one step closer to carbon-neutral.
Volunteer Reforestation and Recycling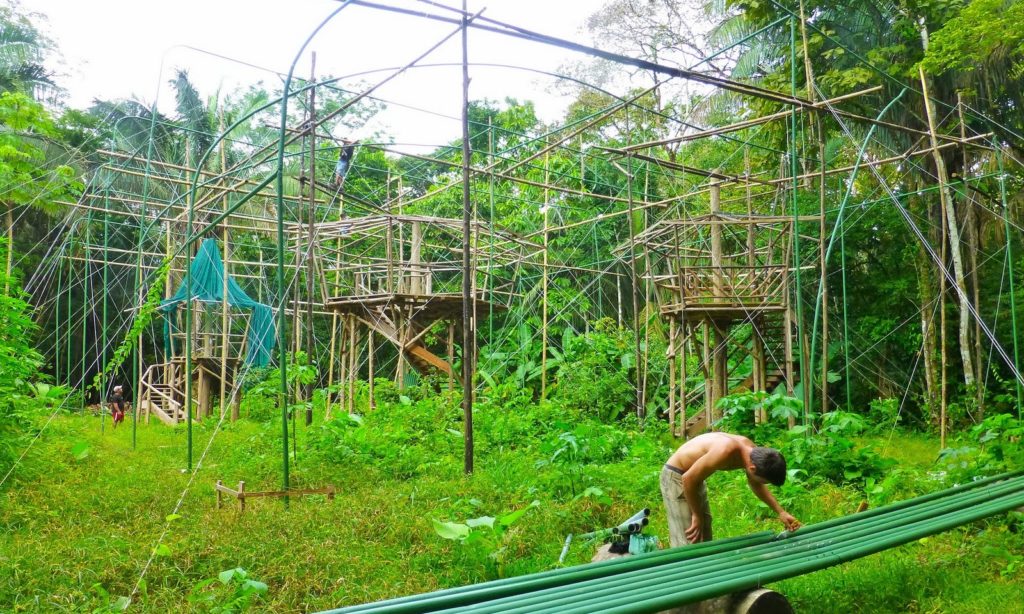 Recycle, reduce, reuse, and go green as much as possible!
Experience eco-tourism on a volunteer tour in Costa Rica. This volunteer project is for visitors who really want to make a point of giving back to the environment. On this trip, you'll sort recycling and look for seedling trees. Sign up with your family or a group of friends and delve deep into the Alexander Skutch Biological Corridor.
Osa In-Water Volunteering

Make an amazing memory when you do something kind for sea turtles.
Join a group called Latin American Sea Turtles (LAST) to help gather information about sea turtles during their brief time ashore. You'll help clean the tanks, pick up the sea turtles as needed, and collect biometrics. Volunteers also gather information about the surrounding mangroves and monitor the health of the seagrass.
You'll stay in cabins near the conservation center. These accommodations get all of their power from solar panels, and guests use bikes for transportation. This isn't a luxurious vacation, but an opportunity to get involved with hands-on conservation.
Espiritu Santo Coffee Plantation Tour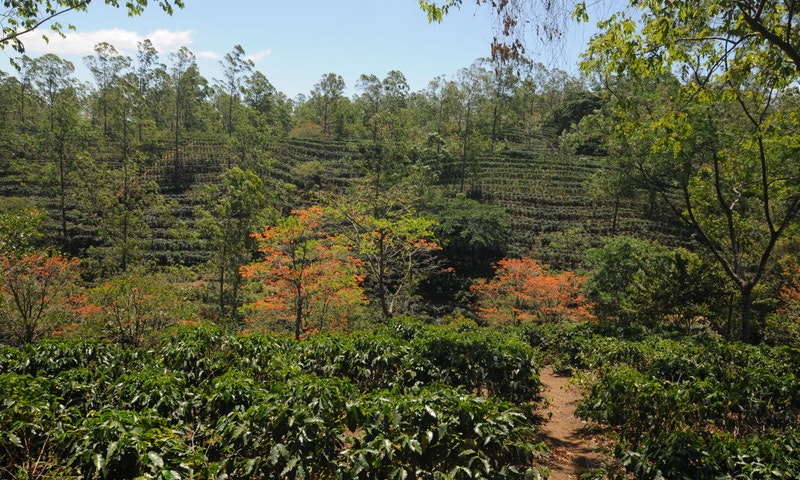 Green—as a coffee plantation should be, both in appearance and in growing practices.
Espíritu Santo Coffee Plantation won the Rainforest Alliance award in recognition of their sustainable coffee harvesting. They're known for brewing coffee with a traditional chorreador — a pour-over coffee maker that uses a fabric filter. The chorreador makes a fresh, smooth cup, and the reusable fabric keeps it eco-friendly.
Tours of this plantation include a coffee tasting, as well as a closer look at traditional methods of harvesting and roasting coffee beans.
Pacuare Jungle Lodge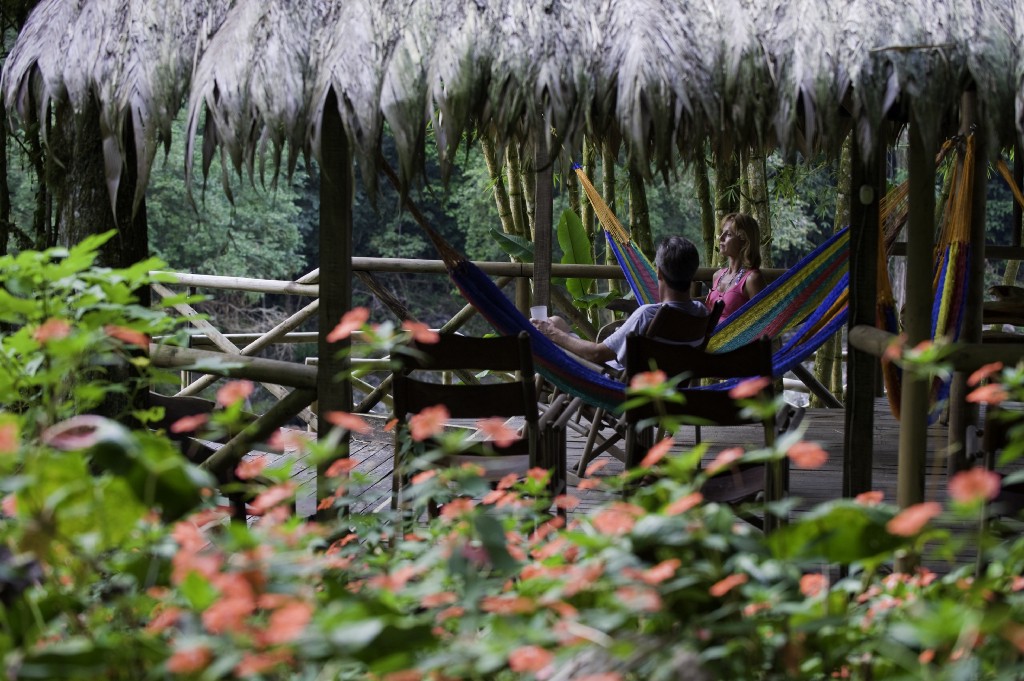 Hang out in the jungle whilst hanging out in a hammock!
The Pacuare Jungle Lodge is eco-tourism at its finest. The World Tourism Organization has recognized this lodge as one of the leaders in eco-friendly accommodations. You can choose from immersive wildlife experiences, like dinner in the treetops. Pacuare Jungle Lodge uses local ingredients, and even more importantly, local chefs.
Bodhi Tree Yoga Resort, Nosara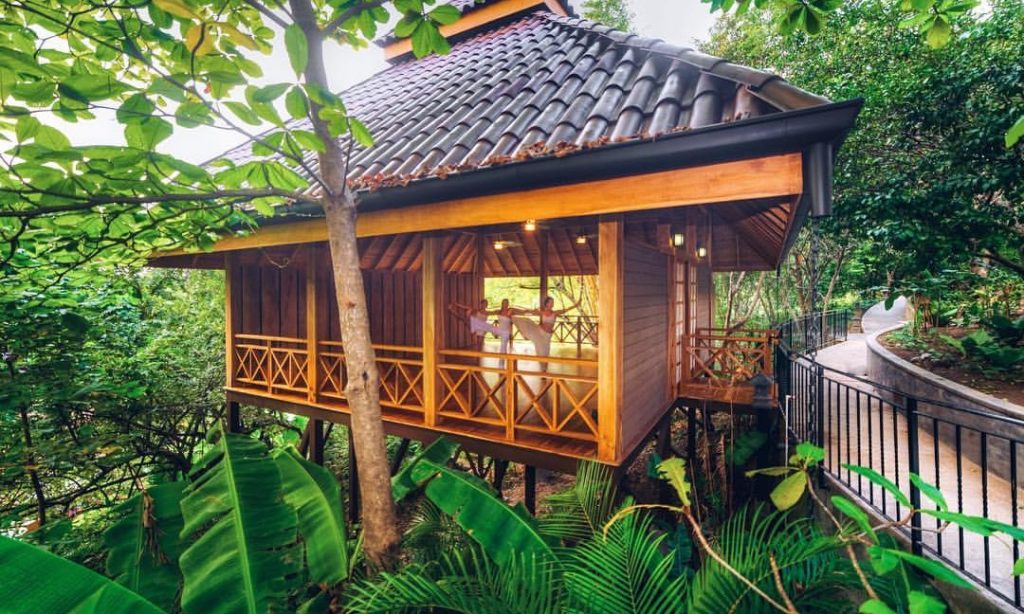 There's not really any wrong place to practice yoga, but this gorgeous scenery doesn't hurt.
Bodhi Tree Yoga Resort combines sustainability and yoga. Nosara's beaches radiate calm — one of the many reasons yogis love to call this spot their home away from home. Bodhi Tree Yoga Resort is especially conscientious when it comes to sustainable hospitality. Sunshine powers the facility, while inner light powers you through daily yoga classes.
Streams near the resort create a serene atmosphere for meditation. In addition to yoga, you can sign up for pilates classes, take long walks on the beach, and order drinks from the fresh juice bar.
Aguila de Osa Inn, Drake Bay, Osa Peninsula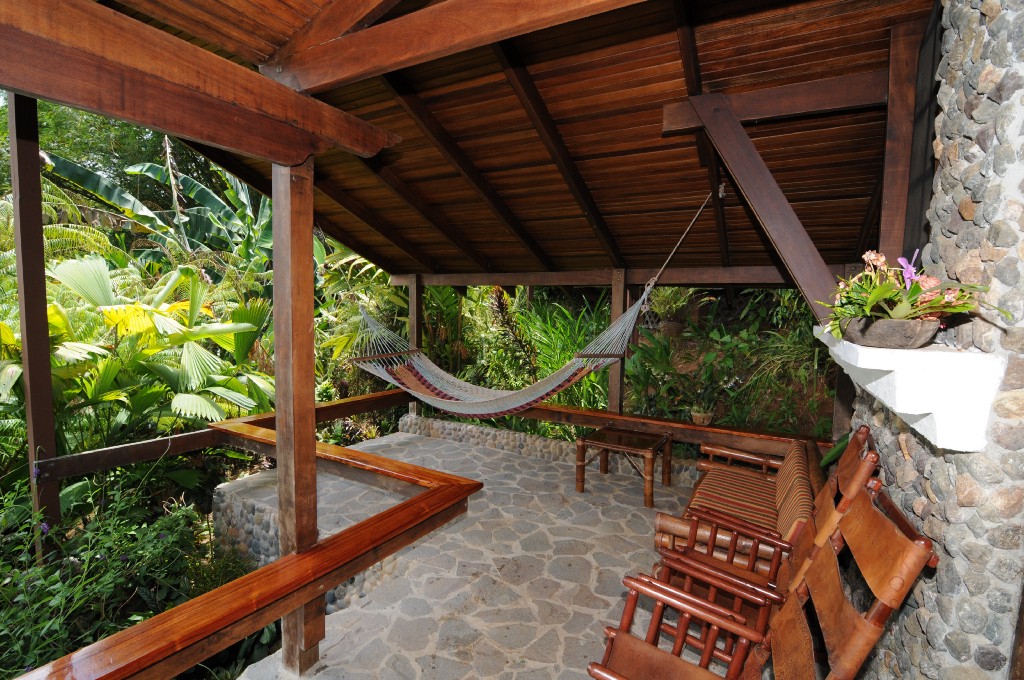 Green and serene, that hammock is beckoning you to take a nap.
Rooms at Aguila de Osa have views of the Drake Bay. Guests feast on freshly caught fish in the dining room. From here, it's an easy trip to to Corcovado National Park, which has the most old-growth rainforest of anywhere in the world. This old growth contains multitudes of biodiversity. Guests can also set sail for scuba diving around Caño Island. No matter whether you pick tours of the land or sea, you'll see some of the rarest and most ecologically important environments in the world.
Villa Blanca Cloud Forest Hotel and Spa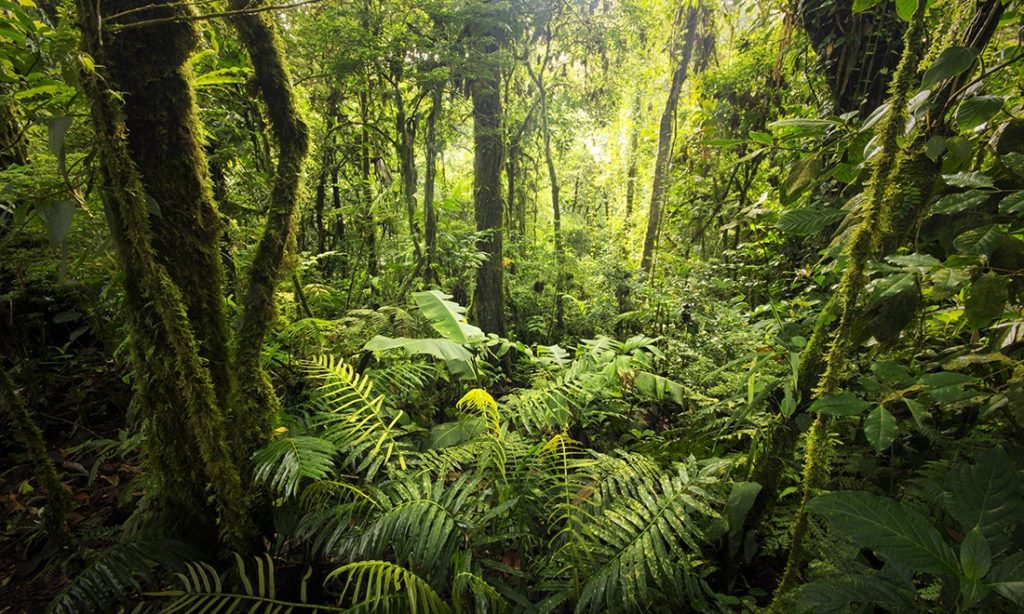 Support eco-friendly accommodations as much as possible—they help keep rainforests (and cloud forests)
looking like this...
Villa Blanca Cloud Forest Hotel and Spa has won Costa Rica's Blue Flag Ecological Award, which only goes to businesses that meet high environmental standards. The dining room has an upscale menu and an incredible view of the cloud forest. Cloud forests are exceptionally rare environments. They have high humidity, making them the ideal place for orchids, ferns, and bromeliads to bloom.
Experience nature in Costa Rica however you want—get your hands dirty, stay in 5-star accommodations, or both! We're here to help you plan the sustainable vacation of your dreams.