Some journeys have a way of staying with you. Anywhere Plus traveller Dean Collver learned this when he experienced the incomparable beauty of Nepal during the Everest Base Camp trek. Now, his experience will never leave him.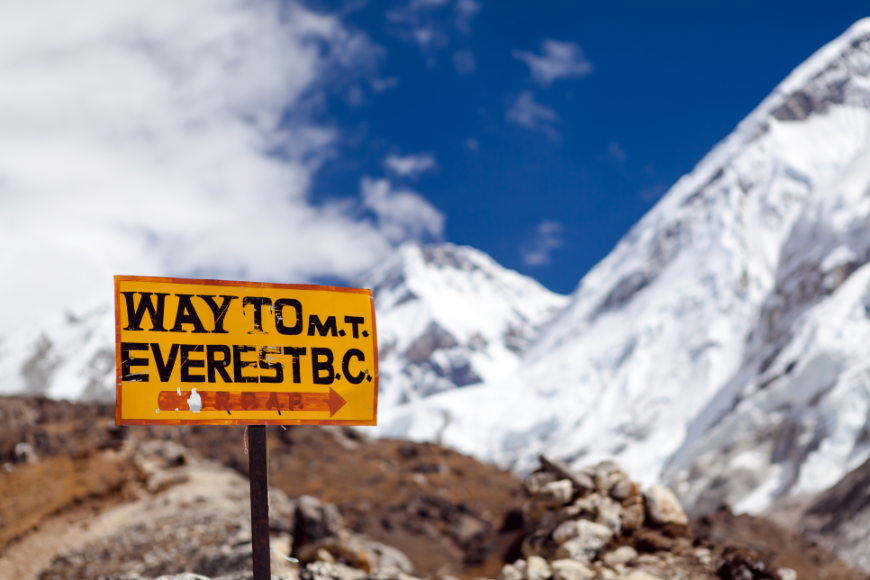 If only every path in life could be marked this clearly...
A Guest Post By: Dean Collver
In 2016, I had a career I loved, was caring for three incredible children, and looking forward to the following year — my 25th wedding anniversary with my beautiful wife, Kelly. I was also struggling to not feel overwhelmed by a daily bombardment of issues, circumstances, problems, and concerns stemming from many sources — the primary being my own cluttered mind. Depression has always been a warm blanket to wrap around my shoulders and in 2016, despite everything in my life that I could logically and authentically celebrate, I was struggling to find perspective within my life.
Kelly and I had recently taken up recreational hiking in our area and discussed using our pending anniversary as an excuse to target an actual trek. We looked at options ranging from the ECT (East Coast Trail) in Newfoundland and Labrador, a portion of the Appalachian Trail, and a portion of the John Muir Trail. We looked farther from home at the Tour du Mont Blanc, the El Camino, Ireland's Wicklow Hills, and others. It was through following the blog of outdoor enthusiast, Kristen Bor, and her writings at "Bearfoot Theory" that we found Anywhere Plus and the opportunity to trek through Nepal to Everest Base Camp.
The journey begins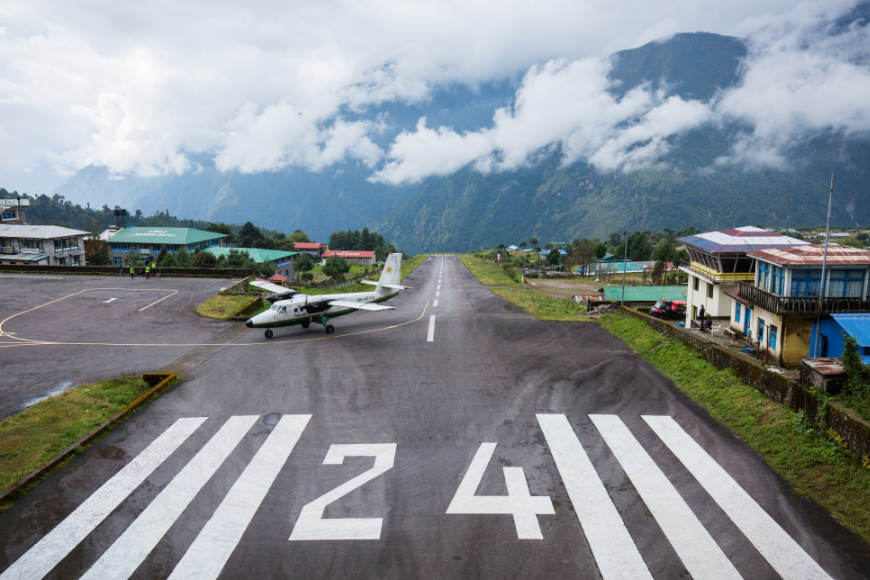 From the moment you arrive in Nepal's Lukla Airport, you can't escape the reason for your journey...
The Anywhere Plus Everest Base Camp option was perfect in every regard. It was guided by a company that believes in sustainability and ethically supporting the local hosting peoples. We were offered an immersive experience that would allow us to shed preconceptions, and approach somewhat of an understanding of the complex Nepali culture. This was epic, guaranteed to provide perspective in my life, and promised to be a very memorable way to celebrate 25 years of marriage.
At this point, I will skip a description of the trek itself. In truth, I could spend (and have spent) a large number of words on the revelations of Kathmandu, the grandeur and excitement of the flight to Lukla, the surprising bustle of Namche Bazaar, the incredible footpaths amongst majestic peaks, the spiritual resonance of the Buddhist monasteries, the beautiful challenge of the lodge accommodations, and mostly … very much mostly … the people that we encountered along our journey.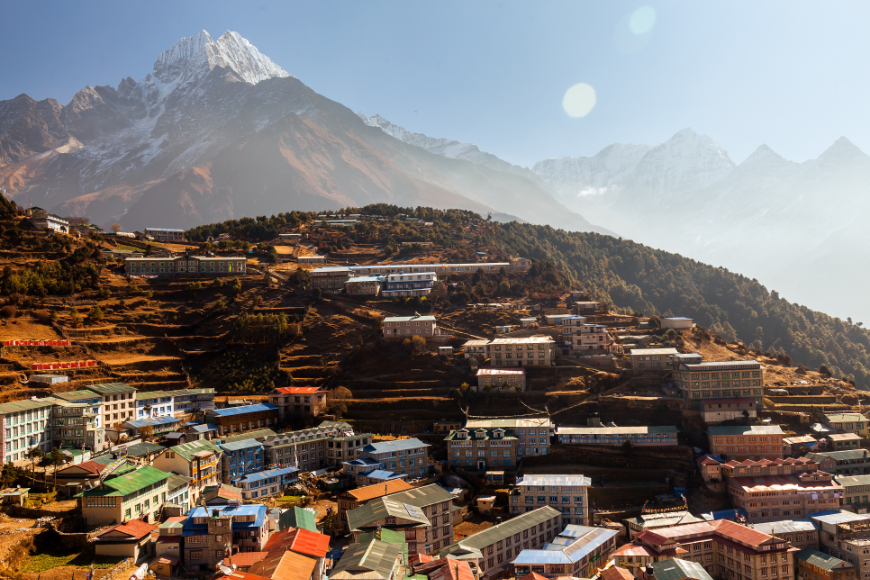 In Nepal, everything exists in the shadow of mountains — including the Namche Bazaar.
The people, more than the mountains, are what gave me perspective.
"Om Mani Padme Hum" is a mantra recited almost ubiquitously throughout the country, and especially the countryside. It was explained to me that, very simply put, the sounds roughly translate to "wisdom and compassion." I now know that I was being given the simplest way to understand, because truly understanding Om Mani Padme Hum requires a lifetime of work and a commitment to a cultural ethic that was not foundational in the places I grew up.
Returning with more than memories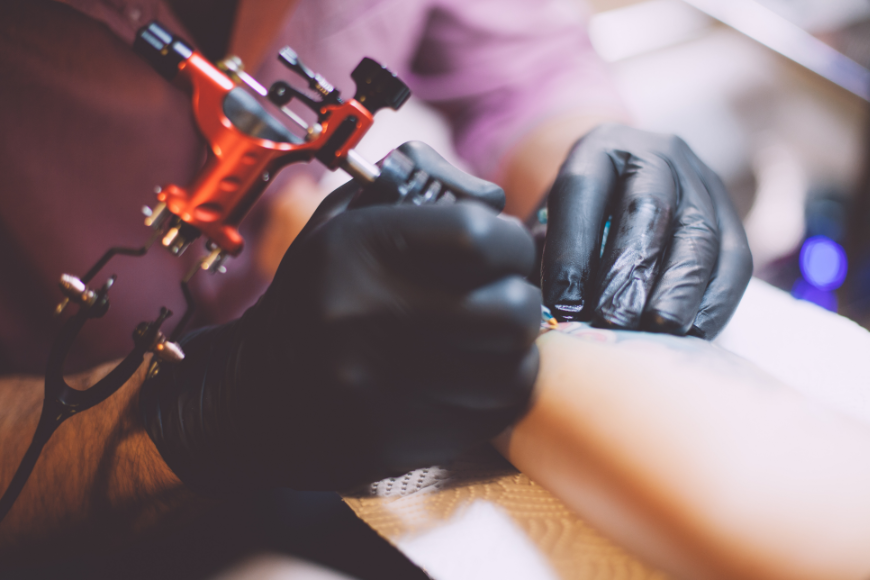 Sometimes, a memory is best paired with a permanent reminder.
But while I only understood the mantra in the simplest possible way, the sounds had an effect — as did the idea of "wisdom" and "compassion" as the basic guiding principles in one's life. It's so simple: approach life with wisdom, thoughtfulness, understanding, learning, caring, concern for others, and compassion. It takes a commitment and training, lots of training, but it's basic enough to be instinctive if one allows it to be.
By the time I got home with my newly expanded perspective, Om Mani Padme Hum had burrowed itself into my psyche. I craved achieving the straightforward openness of the Nepali people, and the confidence in self that comes as a side dish to that transparency. In short, I had been branded with Om Mani Padme Hum, and it seemed natural to contemplate a tattoo which would become the literal manifestation of that branding.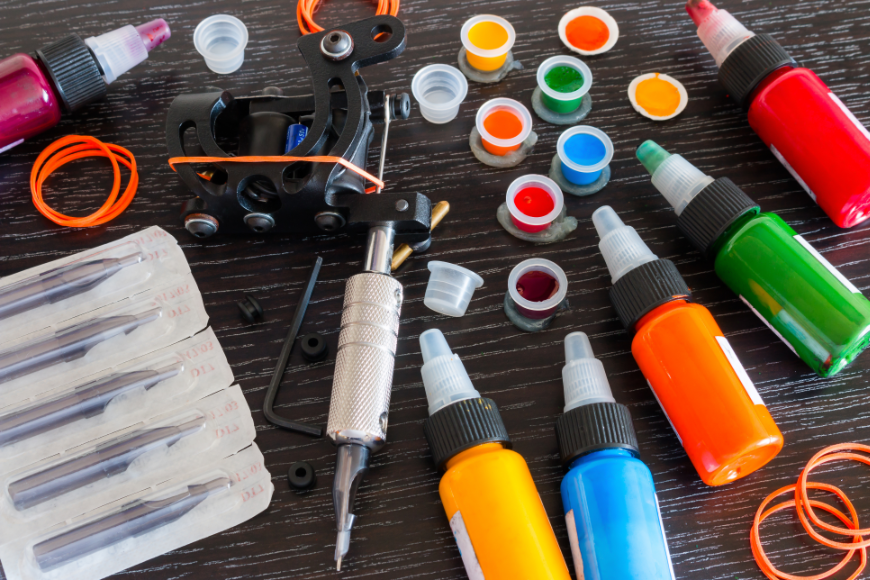 The tools of the trade — an artist's supplies; your body is the canvas.
Here's the thing: I had never previously even considered a tattoo. That kind of permanence was unsettling to me and, to top it off, I have always been extremely needle-phobic. But the more I considered it, the more it became a holy grail that I felt compelled to pursue. I wanted there to be a constant reminder of the ethos of using "wisdom and compassion" in every exchange in my life. I didn't want the clarity of that vision to go away, and I felt drawn to a powerful gesture that would cement this way of thinking for me. Overcoming my phobia became a part of that journey.
Recognizing that a tattoo can be a symbol of oneself, but is also largely a decoration, it was important to match my mastery of my needle-phobia with something that would be more meaningful than an aesthetic decoration.
Braving the needle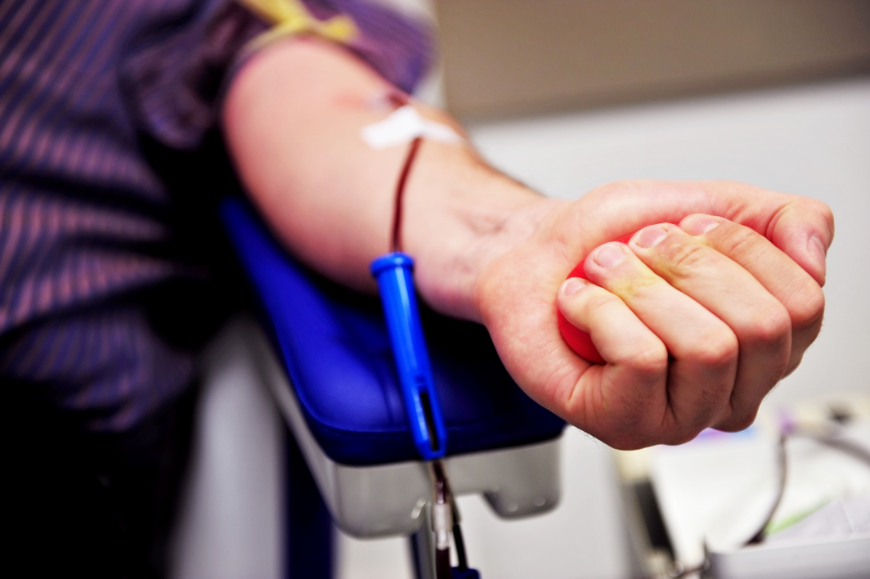 Needles are yet another reminder that many things in life are small, but powerful.
I have never given blood. Despite knowing how important it is, and how many lives are affected by a single donation, my aversion to needles penetrating my skin causes a hard stop on the idea of performing this simple, easy, and highly impactful act. Before I could allow a tattoo artist to decorate my skin (even with something that would be meaningful to me, personally), I had to give blood at least once and overcome my fear for a purpose that mattered to others, not just me.
In a display of irony, my first attempt at giving blood was thwarted by my somewhat recent trip to Nepal. The Canadian Blood Service protocols dictated that I had to be back in Canada for at least 12 months before I would be eligible to donate. I was rejected on my first attempt on June 14 of 2017, and told to come back in November. It was December of 2017 when I made my first blood bank deposit. It may have been the adrenaline, but the experience was beyond pleasant, super efficient, and I will definitely be back again — as frequently as possible.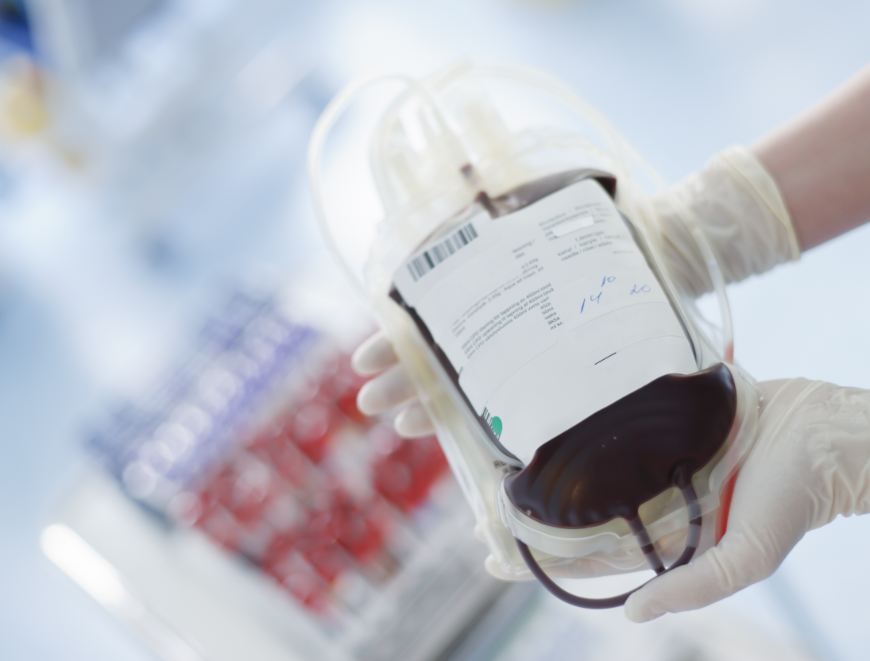 Dean Collver's journey was an eye-opening gift; for him, giving blood was a way to pay it forward.
The next step in getting the tattoo was making sure that I was not doing something culturally inappropriate. Again, it would be contrary to the intention of "wisdom and compassion" to decorate myself with an icon that stepped on Buddhist or Nepali values. I read a lot and reached out to the Buddhist Centre that serves my community. I even attempted to reach out to the Sherpa guides that had helped lead us to Everest Base Camp via Facebook; I didn't get a response, but I assumed that the language barrier and maybe even the crazy concept of branding ink into skin, may have left them puzzled by my questions. Finally, I received a response from a monk practicing Tibetan Buddhism in Canada who informed me that that a tattoo is acceptable within the Buddhist practice, but that I should choose my symbols carefully. Using his advice, I started leaning toward artwork that would be script-based, as opposed to attempting to replicate one of the many versions of Om Mani Padme Hum icons that have evolved over thousands of years. The final choice was to use contemporary Tibetan script, scribed as calligraphy, and effected as if painted brushstrokes. My Buddhist monk friend confirmed it was a good choice.
Etching in a new path and tattoo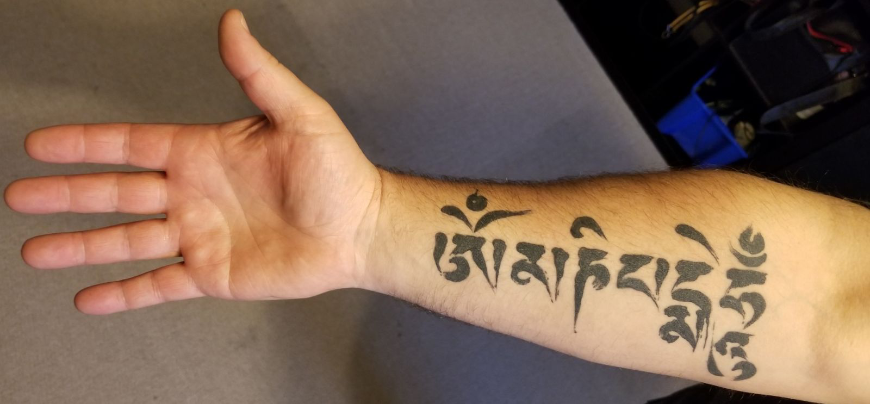 The author's tattoo — a relic of his travels more meaningful than any tchotchke could ever be.
In February of 2018, after choosing a tattoo artist and discussing size, colour, location, and style, I settled on solid black on the inside of my forearm. The tattooing process itself was intense, painful, and maxed my nerves and psychological stamina to their capacity. For anyone who has multiple tattoos, I know this probably sounds like an overstatement, but I was exhausted at the end of the session. I was also incredibly proud.
I don't know if I will ever get another tattoo because, at this time, I can't imagine doing anything as significant as my trip to Nepal — it literally both changed and defined my life. For that, I need to thank the folks at Anywhere Plus, especially my good friend and prime guide, Karl Nessler; and Kristen Bor from Bearfoot Theory, who connected us with Karl. I'll also eternally thank my wife, Kelly for supporting and enhancing the life and family we've built together over the past 25+ years — and for supporting my side trips into stuff that really only has meaning to me. I hope to continually repay her and everyone else with "Wisdom and Compassion."
This guest post was brought to you by Dean Collver — devoted father and husband, adventurer, and a man whose new path in life lead him to face and conquer old fears.