In the cultural and culinary heart of Peru, there is plenty to keep you entertained in the evenings in Lima. Here's our guide to Lima's nightlife.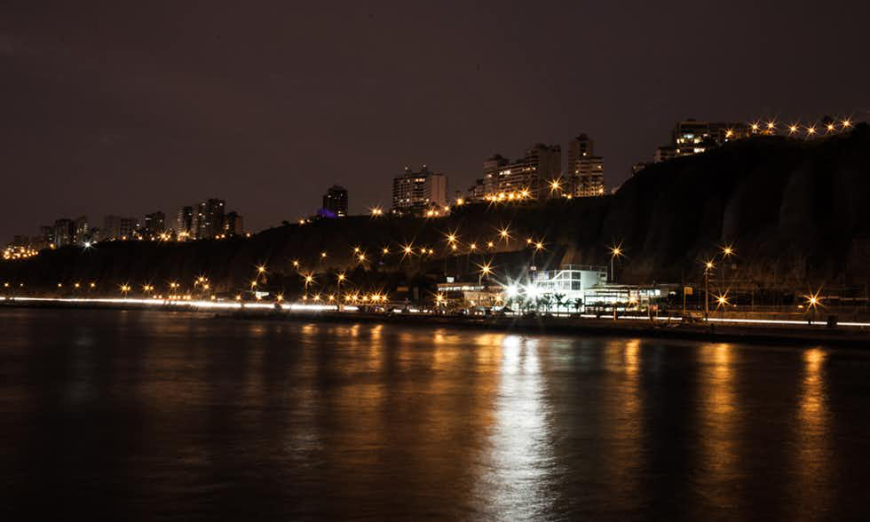 When the sun sets on Lima, Peru's day, Lima's nightlife scene is just beginning.
When it comes to nightlife in Peru, Limenos — the locals of Lima — know how to show you a good time, and there is plenty to keep you entertained in the city after the sun sets into the South Pacific. Nightlife in Lima includes gastronomic delights, hole-in-the-wall live music bars, architectural wonders, and soaking in the local atmosphere on the city streets. Here are a few fantastic ideas for Lima nightlife adventures.
Sunsets over the South Pacific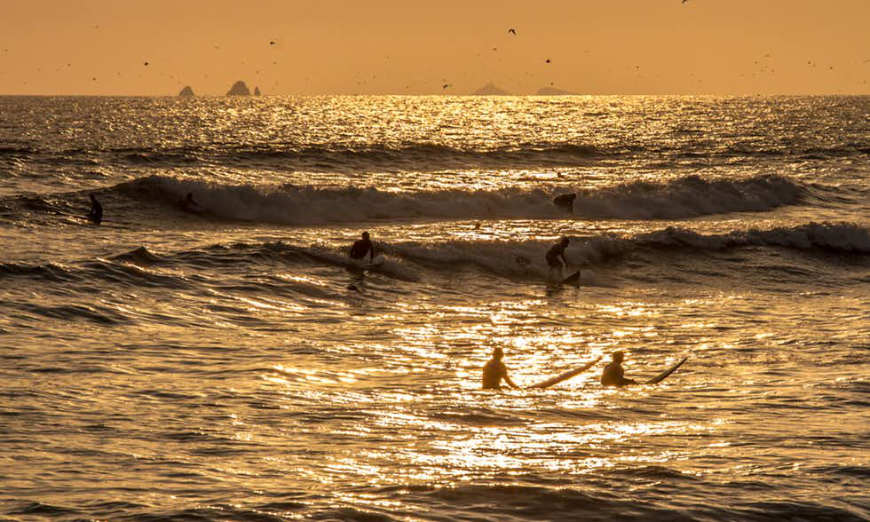 These surfers know that a golden sunset means new activities are about to begin in Peru...
There's no better way to start an evening in Lima than on the city coastline — watching the sunset over the ocean. You can make your way down to the beaches near Barranco, or the cliff top parks near Miraflores, and watch the sun go down while the last of the surfers catch their final waves.
Pre-drinks with Pisco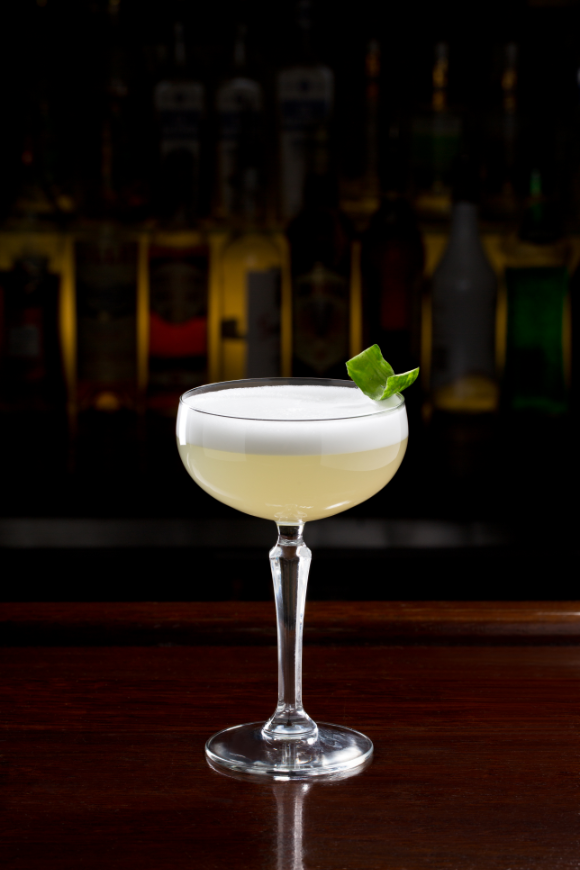 If you're going to enjoy Pisco, try a 'Pisco Sour' — a classic Peruvian cocktail.
For those who like to enjoy local tipples, no evening in Lima is complete without trying Peruvian Pisco. Most Lima bars and restaurants will have pisco on the menu in various forms, but we recommend a classic Pisco Sour. If you fall for this iconic national drink, then you can also find Pisco tasting tours and Pisco mixology classes in Lima, and in Cusco, you can visit the Pisco Museum!
This gourmet Lima food tour combines sunset on the coast with a Pisco Sour to begin an evening of culinary highlights.
Gourmet dinners for all kinds of tastes
While Peru may not be best known for its cuisine, the country actually boasts an internationally award winning culinary reputation. So, there are plenty of incredible dishes to try when you travel to Peru, and Lima has some of the best restaurants in the country. Top on your must-try list should be ceviche. Sample this decadent raw fish dish in Lima; the fish is freshly caught from the neighbouring ocean. With such fresh seafood, Japanese restaurants are also fantastic in Lima, and there are many more international cuisines excellently represented here. Alongside traditional Andean, criollo, and Amazonian restaurants, there is plenty of choice for hungry diners in Lima.
Post-dinner strolls in Lima's plazas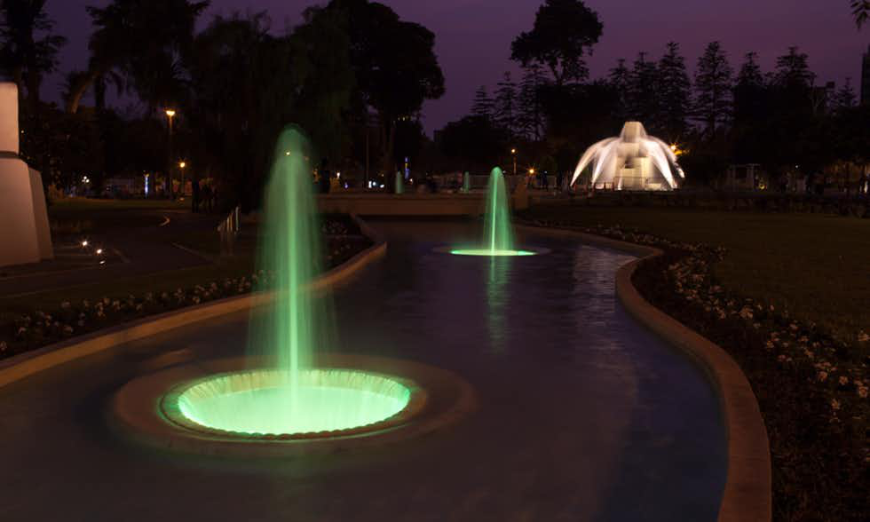 Lima has beautiful fountains, and they are downright magical when illuminated at night.
While you'll need to go sightseeing in the day to step inside Lima's top attractions, there are a few places that you should visit at night in Lima. Head to the Plaza de Armas after dark and you'll see the astounding architecture of several famous sights all lit up against the night's sky. Wander past the Government Palace, the Lima Cathedral, and the Archbishop's Palace and soak in the atmosphere as the evening begins.
Another amazing spot is the Parque Reserva where an elaborate collection of fountains put on a show with coloured lights creating sculptors in the spray. This evening city tour takes in these two beautiful areas.
Live music in the local peñas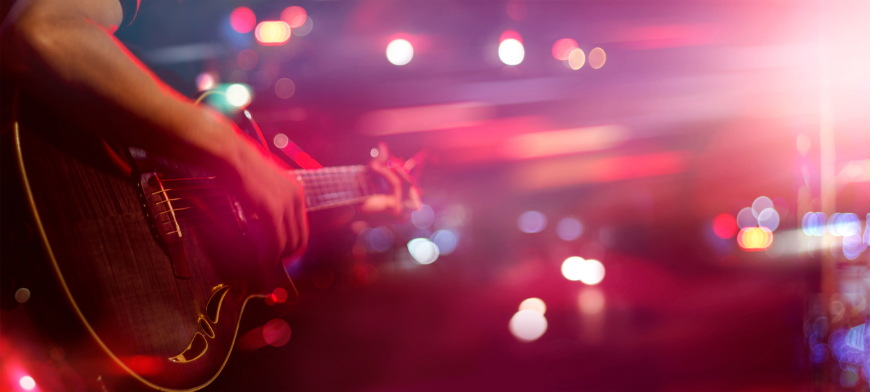 An evening is almost always better with the addition of live music.
Lima's peñas are small live-music bars playing local marinera and criollo waltz music to crowds of locals and tourists alike. Food is sometimes served, alongside plenty of beer and pisco, and the audience is invited to get up and dance whenever the mood strikes. This is a quintessentially Peruvian evening and one you'll likely remember for a long time. La Candelaria and Don Porfirio are regarded as two of the best peñas in Lima.
Late night drinks and dancing in South Lima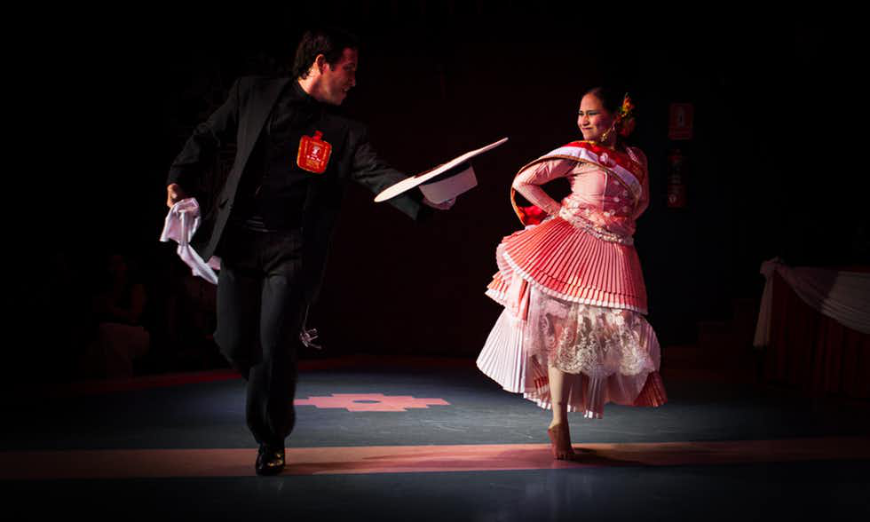 See how the professionals do it at dinner and a show; try out their moves on the dance floor later in the evening.
As the clock ticks closer to midnight, it's time to head to Miraflores and neighbouring Barranco. These two neighbourhoods boast the best bars in the city and are popular with locals as well as tourists, creating fun vibes with lots of options. Things don't kick off until past 11pm and go on late into the night.
Nightlife in Lima is all about taking your time. Extend your sunset with a few sundowners. Take long, relaxed strolls through the streets and plazas, linger over dinner with friends, and dance into the early hours with the locals. Your trip to Lima won't be complete without experiencing Lima's nightlife culture.
Jade House, Anywhere Contributor
Jade House is a freelance writer who has spent the last few years living in Asia and exploring as much as possible. This year you'll find her closer to home, taking camper van adventures across Europe with her fiancé and their dog. Follow the day by day journey on Instagram (@jade_house) and read more from her at journey-count.com.