Wondering what special Peruvian souvenirs to look out for on your travels through the Andes, the Amazon, and the South Pacific coast? Our Anywhere Globetrotter has the lowdown.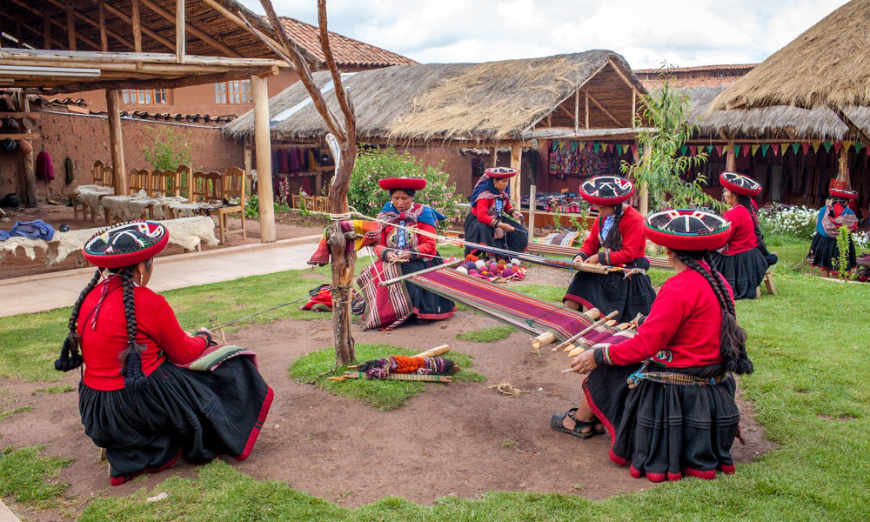 What's more amazing than witnessing this textile circle? Purchasing a finished product as a souvenir?
Whether you love or hate shopping, there is no denying the excitement of finding that perfect souvenir that will remind you of your trip for years to come. We are not talking about tacky and forgettable trinkets and charms but items unique to the culture and country, and ones that you'll actually use in everyday life back home. This guide will help you keep an eye out for the best souvenirs in Peru.
Gifts from Peru for your home
One of the best ways to search for souvenirs is with your home in mind. Find something beautiful to hang on your walls or something useful for the kitchen, and you'll have a daily reminder of your Peruvian adventure.
Peruvian Textiles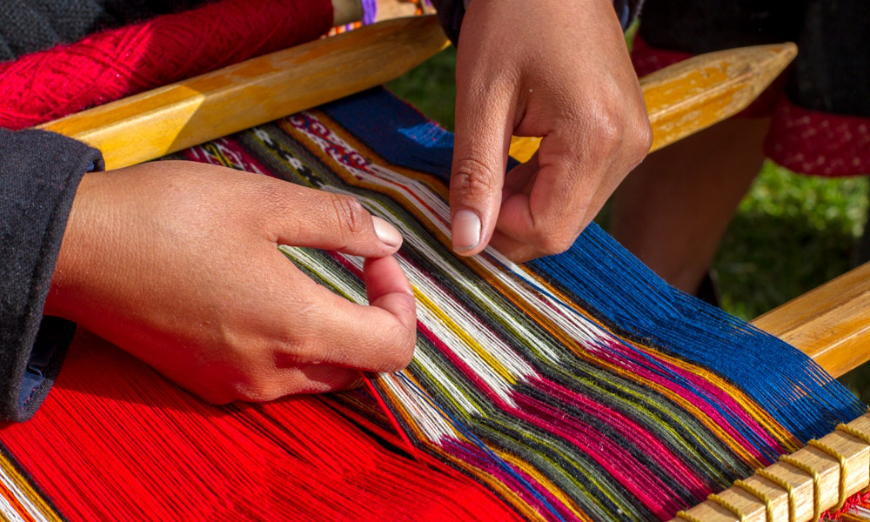 You will appreciate the intricacy that goes into crafting handmade textiles more when you've witnessed their creation.
The vibrant colours and distinct designs of Peruvian textiles are hard to miss. Wander through any local market and you'll see piles and heaps of rugs, wall hangings, blankets, scarves, and clothing, each one handmade by the skilled hands of a traditional weaver.
Peruvian textile production dates back over 10,000 years, and each region has a unique style and technique. Buy a Peruvian woven rug or blanket and you'll be taking home your own piece of Peruvian history and culture.
Where to buy Peruvian textiles: you can buy all sorts of textiles everywhere you travel in Peru. The Chinchero market and Pisaq market outside of Cusco are great places to peruse local textiles.
Lake Titicaca Souvenirs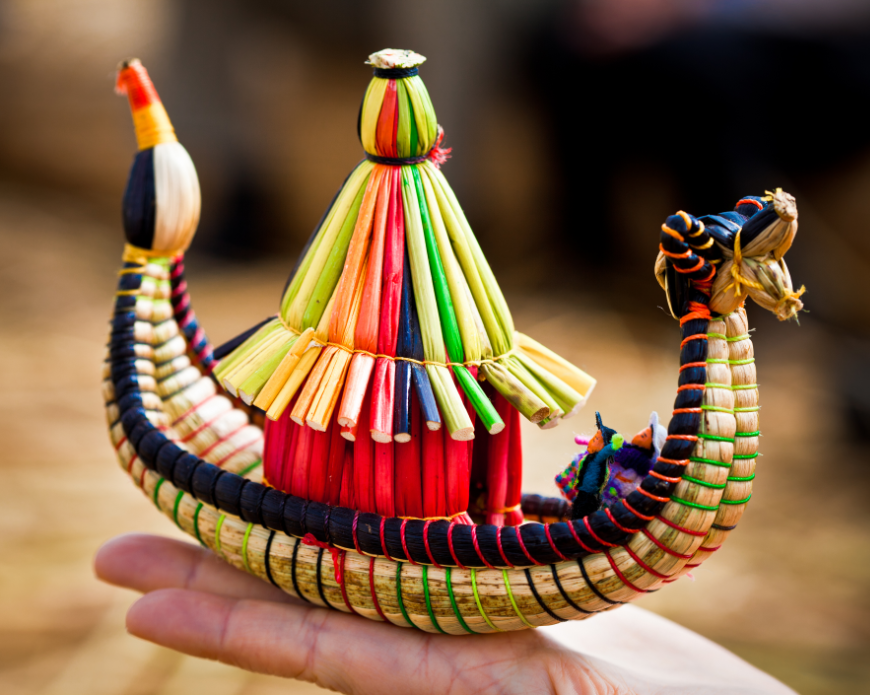 This little reed boat would make a lovely Peruvian souvenir—you can hold your memories in the palm of your hand.
On the magical floating island of Uros in Lake Titicaca, you will find a community who have mastered one particular material: water reeds. The families who live here use the reeds to create the island itself, their homes and transport, for food, and also to create unique handicrafts. Buying a souvenir here is a great way to contribute to the local community and acknowledge the skills of the Uros people.
Peruvian Pisco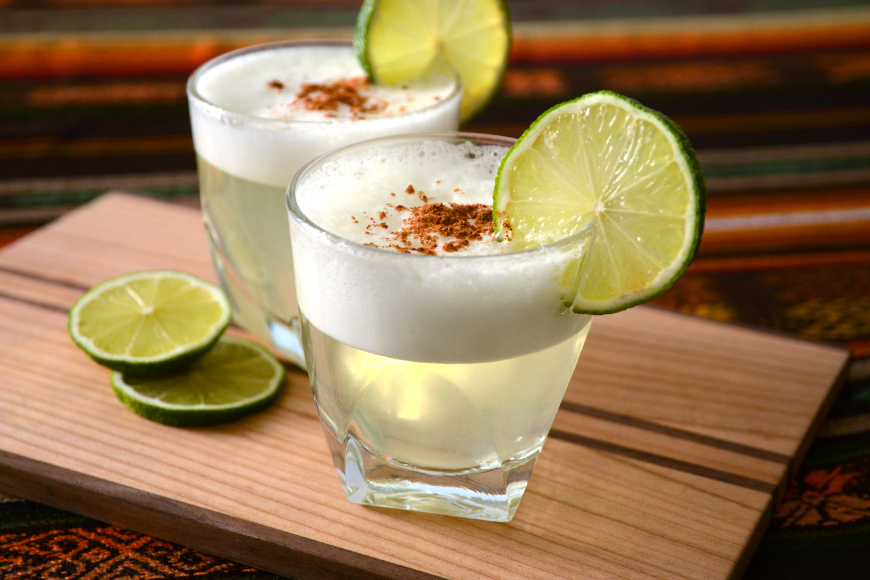 A little pisco, some fresh lime juice, a splash of simple syrup, an egg white, a dash of bitters (optional), and a lime for garnishing. Voilà! A pisco sour.
Nothing brings back fun travel memories quite like the drink you consumed while having all the fun on your travels! If you are a discerning drinker, you'll likely have tried a few pisco sours while in Peru, so why not take a bottle back with you? Better yet, take a pisco sour mixology class and then wow your friends at home with the drink itself. If you can find some alpaca meat back home, you'll have the makings of a fun post-trip dinner party that will help you relive your adventures.
Where to buy Peruvian Pisco: you can buy pisco everywhere, but it is probably cheapest in Lima.
Gifts from Peru for you
Souvenirs aren't just something to buy for the ones that missed out on the trip. The souvenirs you buy for yourself are the most fun!
Alpaca wool clothing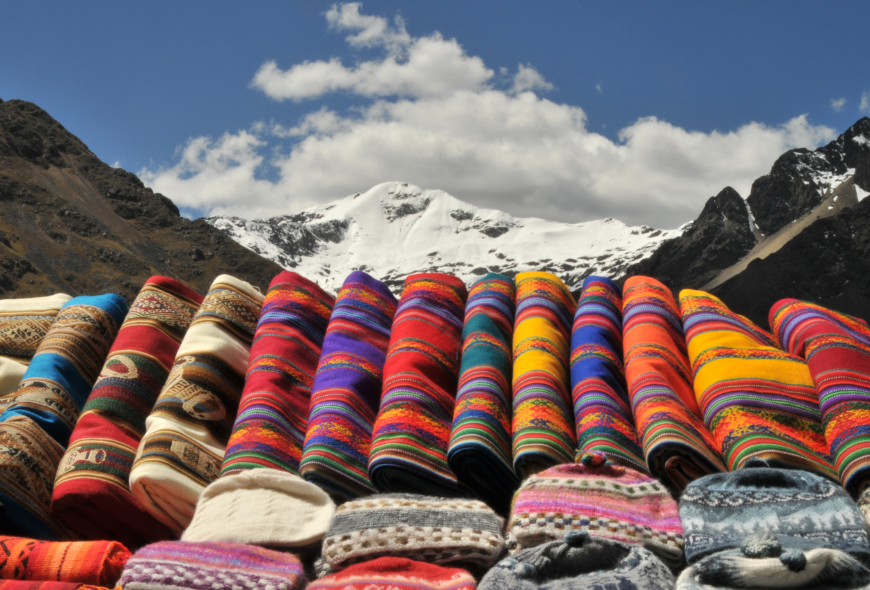 Save some room in your travel bag—purchase soft and warm alpaca apparel when you arrive in Peru.
Alpaca wool is super soft, non-itchy, hypoallergenic and lightweight, with as much warmth as much pricier cashmere. You can pick up jumpers, hats, scarves, gloves and socks in an array of colours and styles for really reasonable prices in Peru, and they are incredibly long-lasting.
If you are going trekking at any point on your trip, then consider waiting until you arrive to buy warm clothing for the journey. This way, you'll stay warm and have a souvenir that holds a lot of great memories.
Where to buy Alpaca clothing: anywhere in Peru at altitude is likely to sell quality alpaca wool clothing.
Chullo Hat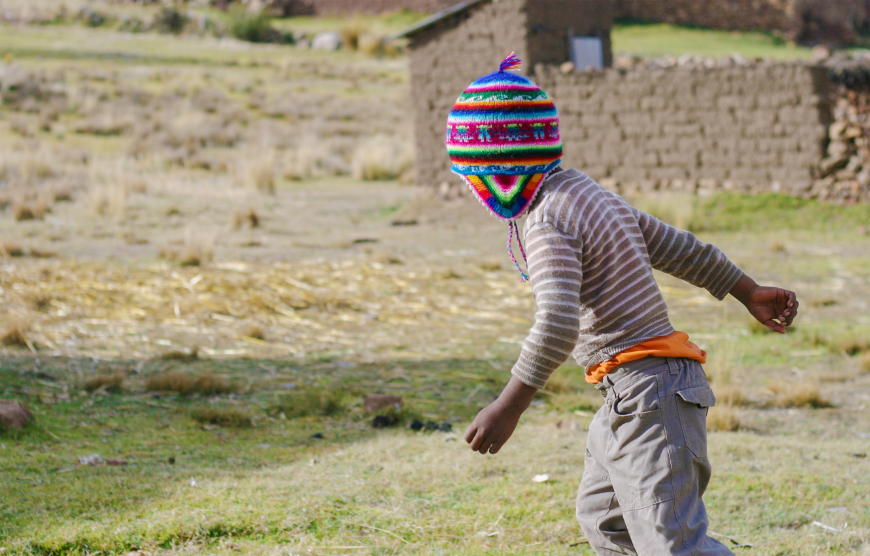 Peru Souvenir Image: Colorful, traditional fabrics displayed on a stall on La Raya pass in the heart of the Inca land, Andes, Peru. Snow and glacier covered peak of Chimbuya (5600 m)
visible in the background.
Chullo hats are the ultimate in Peruvian clothing and really are the best headgear for cold weather. Covering the ears with little flaps and often adorned with bobbles and tassels, you can find a chullo hat that is just the right colour and design for you. They are usually so affordable that you will likely want to pick one up for everyone in your family too.
Where to buy chullo hats: the Sacred Valley and most city markets.
Gifts from Peru for kids
As well as adorning your children (or your friend's!) in tiny versions of the hats and jumpers mentioned above, there are a few more kid-specific souvenirs you can buy in Peru.
Alpaca dolls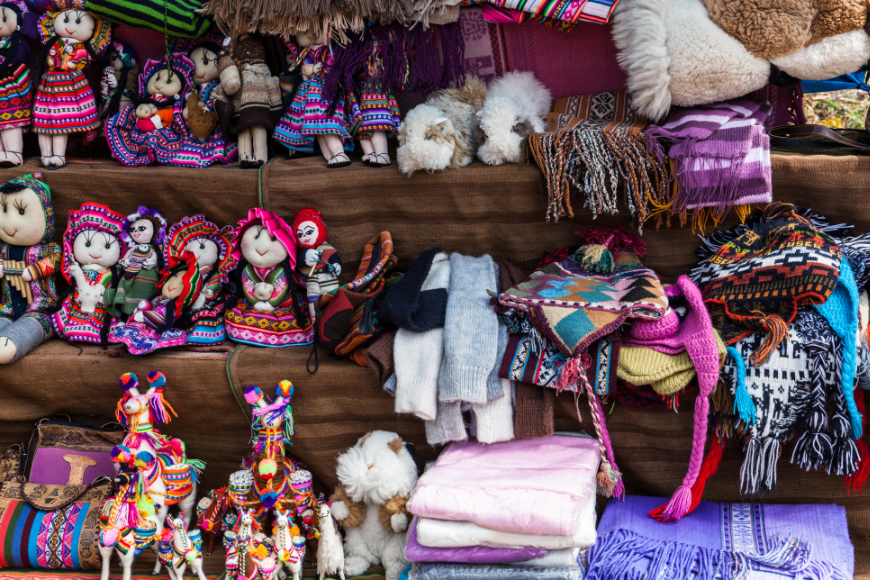 Alpaca dolls don't just come in the shape of their namesake, you can find all kinds of alpaca fur dolls that make great Peruvian souvenirs.
Ok, so we said we weren't going to include anything cheesy or cliché and usually stuffed bears would fit this category… but alpacas are always a good choice, right? You can find adorable stuffed alpaca dolls in most markets across Peru but if you want the real deal, made with super soft alpaca fur, then seek yours out while travelling close to the Andes in Cusco and Ollantaytambo.
Where to buy an alpaca doll: all over the Andean region.
Peruvian Chocolate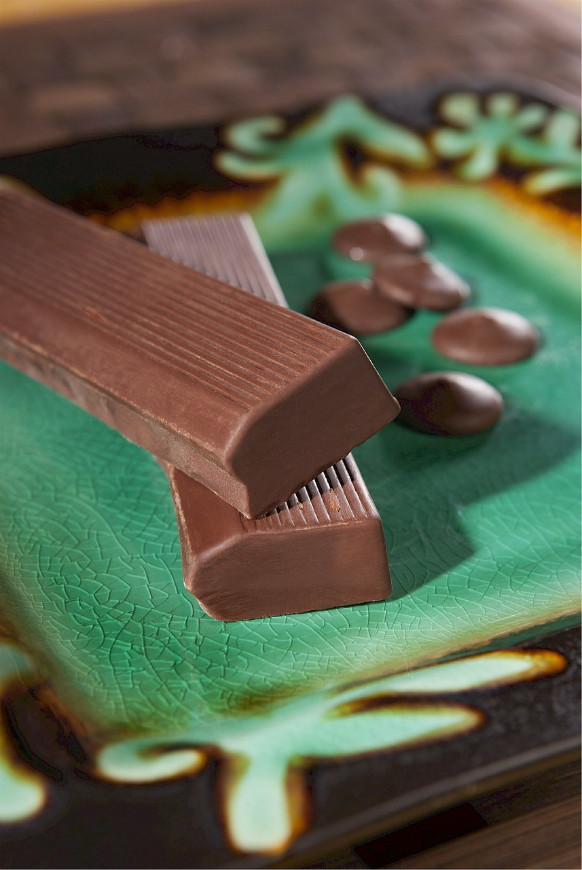 Fine chocolate is almost always a welcome gift—consider picking up some Fortunato No. 4 for the aficionado in your life.
If you read our recent article about Ecuadorian and Costa Rican chocolate, then you'll know that some of the best, but least well known, chocolate comes from Central and South America. What the article didn't mention is that Peru is the 9th largest producer of chocolate in the world and the bars you can buy across the country are absolutely delicious. There is even a chocolate museum in Cusco! We urge you to have fun sampling a few different brands to find the best kind...
Of course, this is not just a treat for children, but it would be a great way to teach the young people in your life about where the food they eat comes from.
Where to buy Peruvian chocolate: all over Peru, especially Cusco.
We hope this guide has given you a good idea of what traditional souvenirs to look out for on your travels in Peru.
Jade House, Anywhere Contributor
Jade House is a freelance writer who has spent the last few years living in Asia and exploring as much as possible. This year you'll find her closer to home, taking camper van adventures across Europe with her fiancé and their dog. Follow the day by day journey on Instagram (@jade_house) and read more from her at journey-count.com.