Rain doesn't feel the same everywhere; one couple abandons a damp Finland for a wet and wild adventure in Tortuguero, Costa Rica.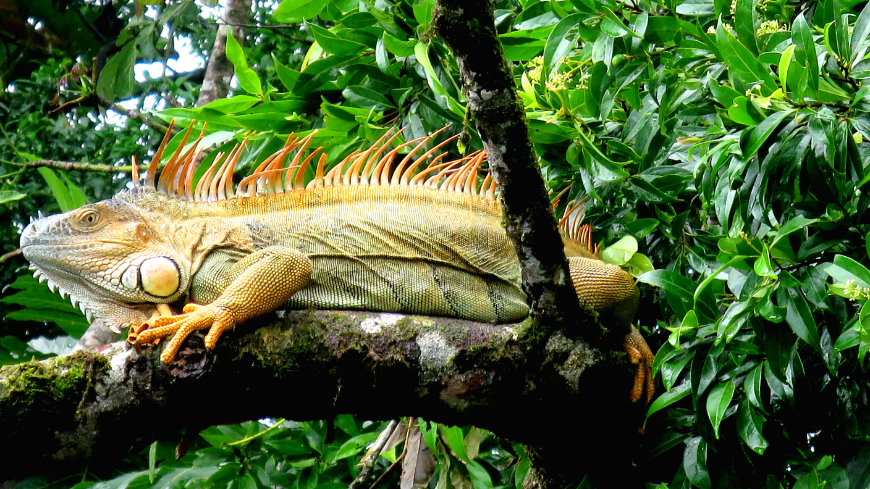 Sometimes, the friends you make on vacation aren't human, but that doesn't make your memories of them are any less fond. Photograph courtesy of Irmeli Westermarck.
A Guest Post By: Irmeli Westermarck
"So, what will be our next travel destination?" I asked my husband.
He had had his quarterly health check-up and the doctor's message was, "The tests were ok, the status is stable." That was good news and we felt it was time to make future travel plans.
"What about Costa Rica?" he answered.
I opened my laptop and googled 'Costa Rica.' On the screen, hundreds of hits popped up, and I scrolled up and down for some seconds. The link 'Anywhere' caught my interest and I clicked it open. That was the moment our adventure began...
Six months later, we stood with our luggage at the check-in desk of Holiday Inn Express at San José International Airport. I asked the desk officer if there was a reservation with our name.
"Oh yes, we have," she said "One room for one night, and here is a message for you…"
The first of many adventures
The letter was from a local travel agent, and titled, "Activity no. 1: Transfer to Tortuga Lodge, pickup time 07:45 AM." I was wondering whether the transfer would be by bus or by air, but the desk agent could not tell. So, we went to our room and unpacked just a few things for the night. The king bed was inviting and we fell asleep instantly. Happily, no jet lag disturbed our sleep, even though there was eight hours time difference between Finland and Costa Rica.
7:45 a.m. sharp, we stood outside at the hotel's entrance to see how the trip was going to start. A shuttle curved in; a smiling guy jumped out and presented himself as the representative of Costa Rica Expeditions. He told us that he was going to drive us to the domestic airport where the plane to Tortuguero was waiting.
"Wonderful!" we said with one voice. So the whole day's trip was not going to be by bus and boat to the lodge.
We sat in the back seat of the shuttle and looked out curiously—trying to catch the first impression of Costa Rica and San José. Not very different from any other big city we had seen around the world. The traffic was jammed and the guide told us that this was an everyday traffic jam; people were driving downtown for shopping and business.
A little relaxation, a whole lot of exploration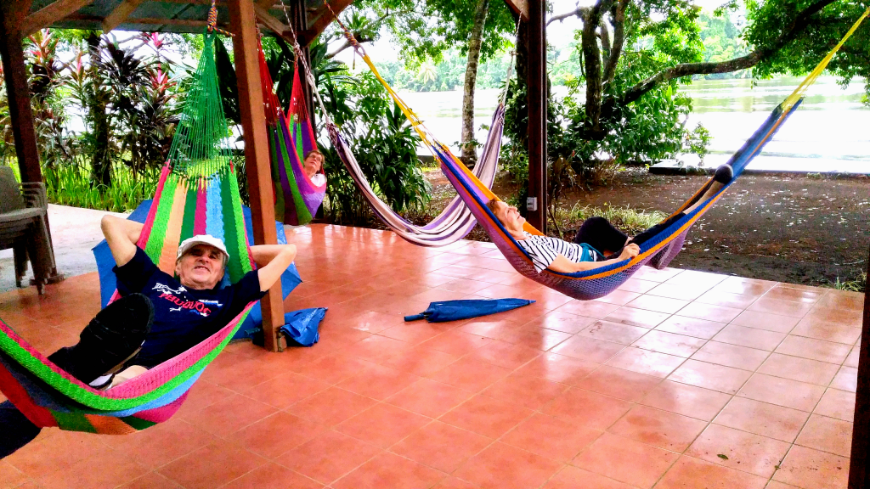 Do engage in fun activities whilst on holiday, but also take time to engage in a little vacation relaxation. Photograph courtesy of Irmeli Westermarck.
[At the airport] it was almost as if we had a private plane—only three other passengers boarded with us. From our bird's-eye view, we could see the suburbs of San José, and green countryside with coffee plantations. After thirty minutes flight, the plane started to descend but we could not see any airport. Suddenly, an airstrip popped up from the rainforest; soon, the plane touched the ground smoothly.
At the quay of the canal, a boat was waiting to take us across to Tortuga Lodge and Gardens. The staff welcomed us warmly, and we were introduced to the place. The lodge really was something like a luxury safari camp. As the room was not yet ready, we took a walk around. The path led to a patio at the waterfront with hammocks. It was time to take a nap.
A staff member named José woke us up and told us that our room was ready. We stepped into a spacious room with terrace. The large windows were enclosed with mosquito nets rather than glass, so we could hear the birds singing and the monkeys shouting. We unpacked and changed into lighter attire. After travelling and sitting so long, we wanted to move around but to our disappointment, trails around the lodge were closed because of the rainy season. So, the other option was to go and explore the Caribbean seashore.
We waived to the boat driver to take us over the canal again, and walked across the airstrip to the beach; no fences restricted walking on the airstrip. However, swimming was forbidden because of sharks and crocodiles. Huge whitecap waves were rolling in, and swimming did not look inviting at all. Even though it was not turtle nesting time, it was fantastic to imagine how the turtles come from the sea, dig holes for eggs, and return back. Maybe there were hundreds of turtle nests with eggs under our feet. On the sand, one could only see strange curved lines and holes, but soon I saw small crabs running into the holes.
Grey skies that don't make you feel blue
The skies were clear blue the next morning. The garden was shining in shades of green and red, and I tried to save the beauty with my camera. I wonder if I have ever enjoyed breakfast so much—sitting at the waterfront and seeing boats float up and down the canal. The sun, however, was sparing; soon we had to pull on raincoats as dark grey clouds covered the skies. Our wildlife watching tour was postponed for one hour because of bad visibility. Finally, Elvis, our naturalist guide told us it was time to board the boat. I was curious about his name. He said his mother loved Elvis Presley, so she named her son after her idol. He gave me a charming smile and looked like the real Elvis.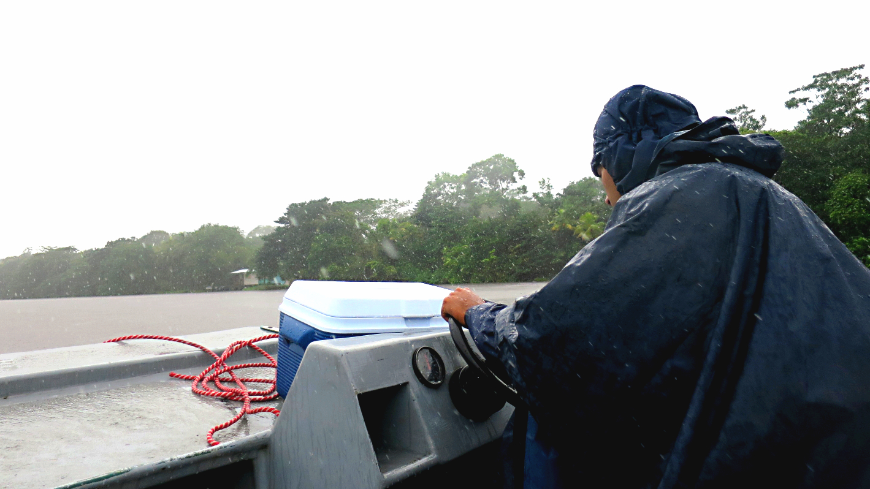 Perhaps this IS the real Elvis! Tour guide Elvis skillfully navigates through the rain and point out Costa Rican wildlife on a floating safari. Photograph courtesy of Irmeli Westermarck.
Eight raincoat-hooded people looked like elves—sitting in the boat, turning their heads obediently in the direction Elvis pointed out. First, we couldn't see anything, but gradually, our sight sharpened and we saw a bird sitting on a branch. Although we were told there were a wide variety of birds around, I only recognized some of them, like Amazon Kingfishers, Egrets, Herons, Anhingas, and Toucans. I was so confused trying to remember all the names and types of birds**.**
The rain ceased for a short moment, then the skies went dark again and water drops lashed down. Actually, rain didn't feel so bad—more like taking a warm shower. In our country, it rained a lot this time of year too, but the weather was chilly and outdoor life was not nice. We sat crouched on our seats and tried to keep our cameras dry. Elvis checked every bench of the river and then pointed up to the branches. The howler monkeys were sitting there. Elvis tried to start a dialogue with them. He uttered sounds, imitating the howling and after some time, the monkeys answered him.
As we were waiting for the monkeys to come closer, I saw the leaves shaking in the nearby bushes. A brownish animal moved there, and I said to my husband that a monkey might come closer to us. I also pointed it out to Elvis. He gave a big smile and said, "This [was] our lucky day!"
It was not a monkey, but an ant bear (giant anteater), and it was not seen here very often. I was so proud that I had detected a wild animal with my own eyes. We took our time watching the ant bear look for something to eat and got some nice pictures, then it was time to move on. Elvis let the boat float slowly trying to detect spider monkeys. An orange coloured iguana was resting in a tree—quiet, like a petrified animal. Spider monkeys showed up, and we had fun watching them jump from branch to branch. Elvis drove the boat deep into the reeds and was quietly staring into the vegetation. Soon, he whispered that a caiman was lying there among the weeds. First, you saw the tail, then more of the body, and finally the jaws. I was startled when it suddenly moved and slipped into the water right at the boat.
A dark and stormy night
We were wet and a bit tired of sitting quietly for so long on the boat; it was good to hear that Elvis would be driving back to the lodge. When stepping off the boat, we realized how water was dripping from our noses, fingertips, hair, and clothes. In our room, when we unpacked the backpack, our camera was wet and not functioning. Fortunately, all the pictures taken were on a memory disk and that was not damaged by water. We hoped that our travel insurance would cover the damaged camera.
We tried to get the most out of our last night at the wonderful Tortuga Lodge. The atmosphere at the restaurant was fabulous. In the bar, people were having drinks and talking about their experiences, what animals they had seen and how the humid weather had been. We ordered the best dishes from the menu and had a bottle of the best white wine. Heavy rain lashed the roof and lightning was flashing in the sky, but we sat at our table dry and warm watching nature play out. There was some sadness in our minds as we thought about the next morning when the boat would take us to Pavona harbour, and from there, a long drive to Arenal—the inland of Costa Rica. The good thing was that the boat tour would last about more than an hour and we could once more explore the rainforest, and with good luck, see some animals.
Author: Irmeli Westermarck
Like Irmeli's story, and want to read more about her adventures and life in Finland?...
Website: kolumbus.fi/westerpet/
Blog: westerpet.blogspot.fi/
Facebook: facebook.com/irmeli.westermarck