Las Terrazas & Soroa, Cuba
Las Terrazas and Soroa are two small "eco-communities" set in the cool, forested hills of western Cuba. Located about an hour west of Havana, these two communities are easily accessible from the city and offer up a fine place to relax for a day or two. The air here is fresh, the mountains are lovely, and there aren't crowds of tourists around.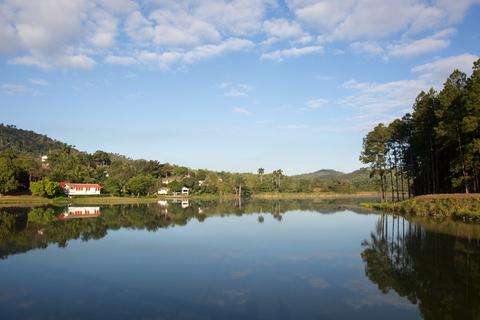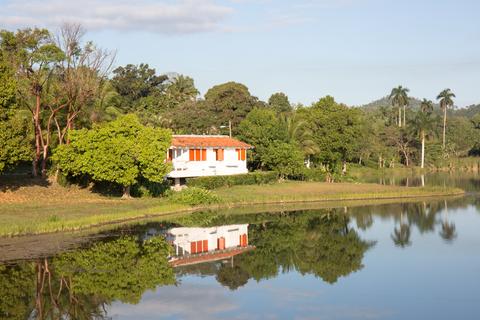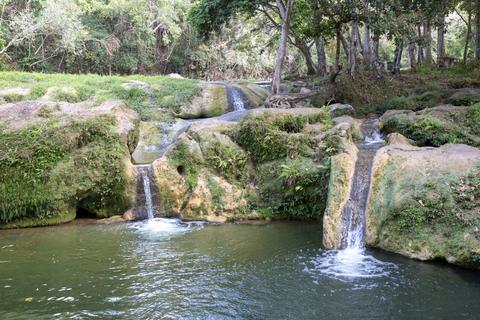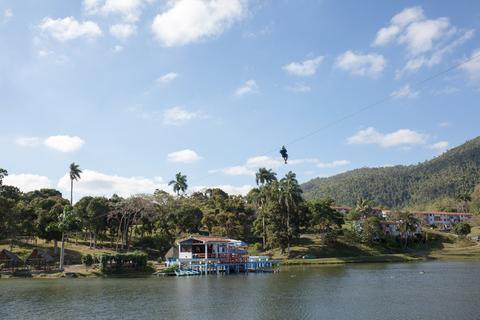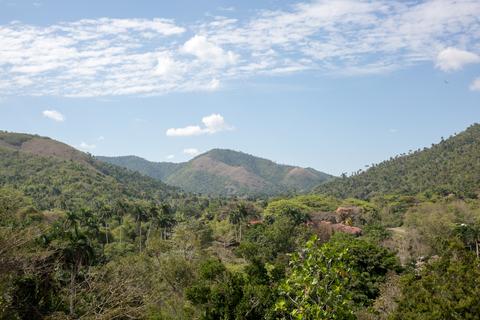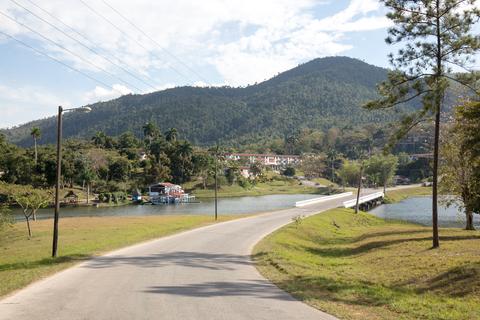 French Haitians originally settled the area around Las Terrazas in the 1790s. They planted coffee but were unsuccessful in maintaining larger operations, and eventually turned to felling trees for charcoal. Not surprisingly, the hillsides were quickly deforested and destroyed. After the revolution, Fidel's government created a large, 2,000-acre (5,000-ha) reforestation project here, employing the local campesinos and providing housing in a "model village."
Today, the village stands in stark contrast to the beautiful, mountainous area that surrounds it. The houses are made from whitewashed concrete, and are now somewhat dilapidated. They spread out in terraces along the hillsides above Lago San Juan. Locals still live and work here—you'll see them walking the hills and drying laundry on their small balconies. The village is a fascinating juncture between the communist projects of post-revolution Cuba and the eco-tourism movement that is beginning to take hold in Las Terrazas.
The area is undoubtedly beautiful and nature lovers will find it appealing. The lake and mountainous backdrop are photogenic, and there are ample ways to get outside and have fun. In fact, Las Terrazas is home to Cuba's only zip-line canopy tour. Built by Costa Ricans, the canopy tour extends over the surrounding hillsides and includes a total of 6 zip lines. It starts at the hotel and zigzags its way over the village, eventually crossing the lake twice. It's a fun activity and is popular with both foreigners and nationals alike.
While here, travelers can also visit the ruins of several French coffee plantations. The best is at the Cafetal Buenavista—this coffee plantation that was built in 1801 and now houses the remains of drying terraces, former slave quarters, and an ox-powered coffee grinder. You can enjoy wonderful views from here, and there's an onsite restaurant as well.
There are a number of ways to enjoy the outdoors in Las Terrazas. The Baños del Rio San Juan hosts several swimming holes formed by a small river. Picnic tables and cabanas overlook the pools, providing nice places to relax when you're not swimming. A handful of hiking trails wind through the mountains that surround Las Terrazas. Some trails provide wonderful views of the valley and are good for birding—be on the lookout for the Cuban tody, woodpeckers, and the Cuban trogon. Furthermore, horse rides, mountain bike rentals, and kayak excursions can all be arranged.
There is only one hotel in Las Terrazas, but it's a nice one, with contemporary Spanish-colonial architecture and handsome accommodations. A few good restaurants are scattered around the village, and there are some artisan studios showcasing sculptures, pottery, and paintings.
Soroa is another "eco-retreat" in this area. Named for a Frenchman who owned a coffee plantation here in the 19th century, Soroa is set in a beautiful valley and is about a 20-minute drive from Las Terrazas. There's also only one hotel here.
The most notable attraction in Soroa is the Soroa Orchid Garden, which was created by a Spaniard in 1943. The garden is fairly large and extends over a hillside with paths leading between large trees, ferns, and greenhouses. A nice variety of delicate, intricately colored orchids are on display in the greenhouses. The garden is home to over 20,000 plants and 700 species, 250 of which are native to Cuba. The Orquideario is best experienced with a guide.
Soroa is home to a 115-foot (35-m) waterfall. Trees surround the falls, and there's a small natural pool that's a fine place to swim. While exploring Soroa, travelers can also visit the Mirador de Venus, a lookout that has spectacular views of the valley. Other activities in Soroa include horseback riding, birding, and hiking.