What better place to celebrate love? Begin your new life together by sharing an unforgettable adventure in a unique honeymoon destination.
last updated: 01/19/2020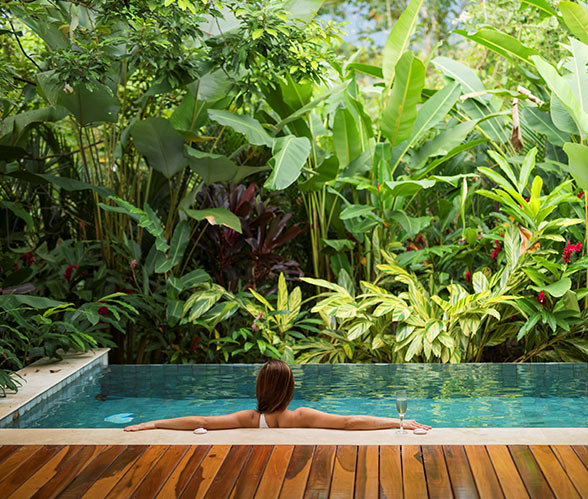 Enjoy the romantic solitude of a private pool.
Now that the wedding is over, it's time to really have some fun. You want to go somewhere nice and recuperate from the stress (and excitement) of the wedding, but what about what you'll do when you get there? Enjoying a beverage on a beach is nice, but you don't have to go abroad to do that. This is a once in a lifetime trip, so go somewhere exciting, somewhere exotic! Start your marriage off right by making a lasting memory—head for a unique honeymoon destination.
Laugh and shout as you zip line through a rainforest—feel an indescribable adrenaline rush as you whiz past impossibly green leaves. Or maybe you'd like to steal a few kisses while you explore caves and crystal clear waters. Don't worry, there will be plenty of time for romance—relax by holding hands as you walk through museums and plazas. Share smiles and romantic glances over delicious local cuisine. Dance until dawn, and then watch the sunrise. Don't forget to purchase a few souvenirs made by local artisans as a memento of your trip. Let your love continue to grow surrounded by the beauty of nature. To get started, consider staying in the midst of a lush forest…
![Unique Honeymoon Image: View from a private terrace complete with chairs, ottomans, and a hammock looking out onto a rainforest.](/blog/images/unique-honeymoon-Kura-Villas-A-10-jpg-1024x614.jpeg "It's nice to have options—will you admire the view with a cocktail or take a nap in your hammock?"")
Clearly, you're never far from style or the rainforest when you stay here...
Couples with an eye for design and a heart for ecosystems will appreciate this boutique hotel consisting of six isolated villas. Don't let the sophisticated architecture fool you—the hotel's exquisite design subtly reflects the local environment and community. Bamboo ceilings, teak shutters and local-wood furnishings grace the structure itself, while guests dine on fusion cuisine made with organic local ingredients. You can honeymoon in style, and feel altruistic about it.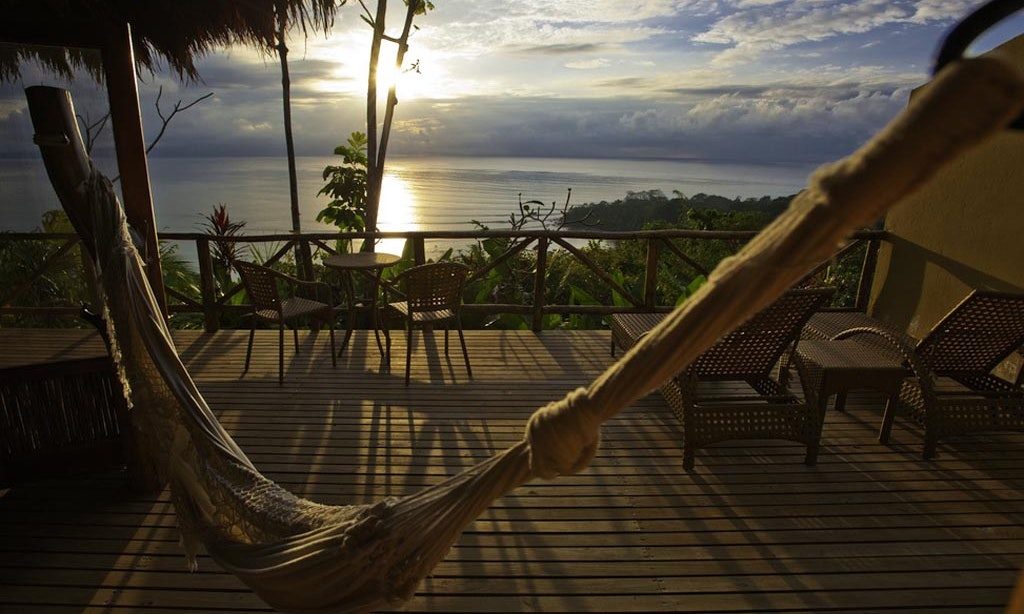 On your unique honeymoon or anniversary getaway, spend some time living outdoors.
Eco-Resorts are perfect if you want to get out and explore the natural surroundings you'll be staying in the heart of—it's like the best of camping to the nth degree, but way more luxurious than sleeping in a tent! Built with preservation and the community in mind, the owners of this lodge purchased 1,000 acres of rainforest, meaning you'll have access to plenty of secluded areas. With only sixteen thatched-roof bungalows, this is the perfect destination if you're hoping to have an opportunity to spend your honeymoon in your own little tropical paradise.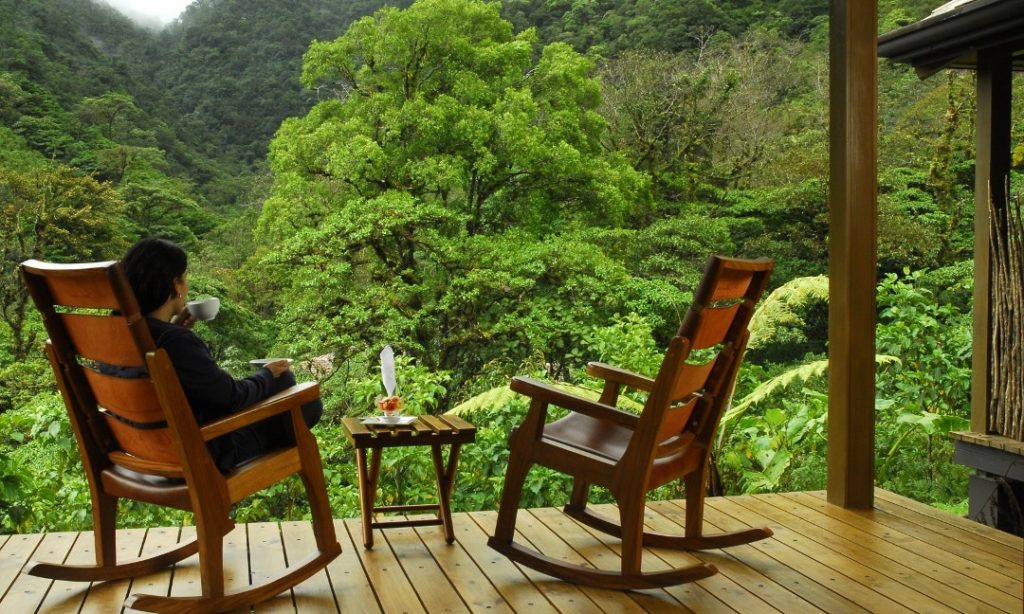 Enjoy the silence in this lush and tranquil paradise.
Translated as "The Silence" El Silencio is indeed a realm of serenity. Situated on a 500-acre private reserve, there are sixteen luxury suites offering plenty of privacy. The only sounds you'll hear will be that of conversation, native wildlife, and the flow of rivers and waterfalls. The lodge boasts such a secluded feeling that some guests say they feel like celebrities enjoying a remote holiday spent escaping the paparazzi.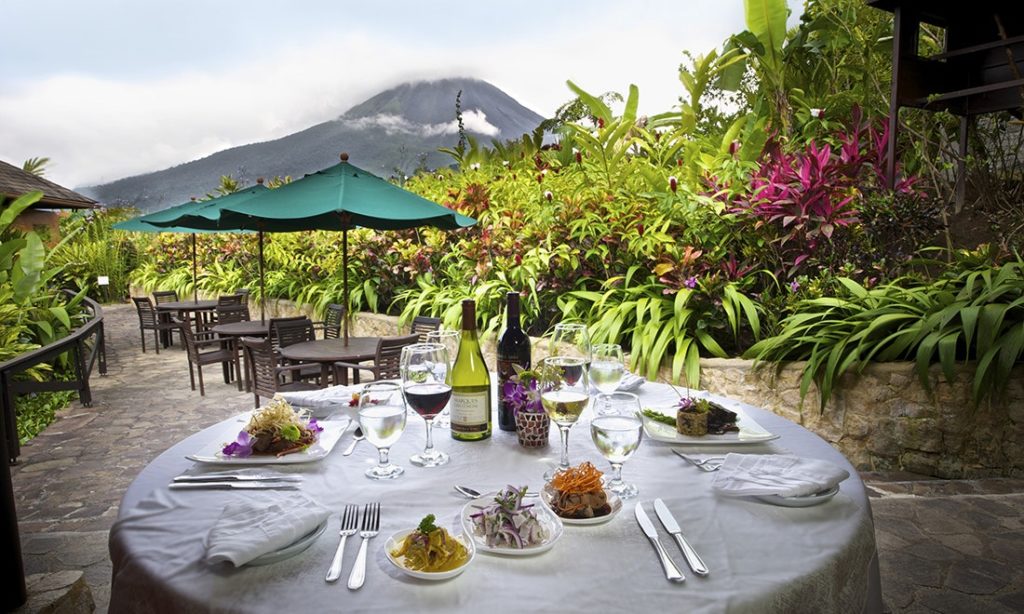 A wonderful meal, delightful company, and an extraordinary view. What more can you ask for?
A short drive from Arenal Volcano National Park, this is the place to pamper yourself and your sweetie. Offering houses and suites, this hotel includes a wraparound terrace, jacuzzi, twice-daily maid service, and an incredible spa. Take a moment to enjoy the landscaping, as it was intended to show off Costa Rica's native flora. The fauna (wildlife) are to be found in the adjacent rainforest and secondary-growth forest.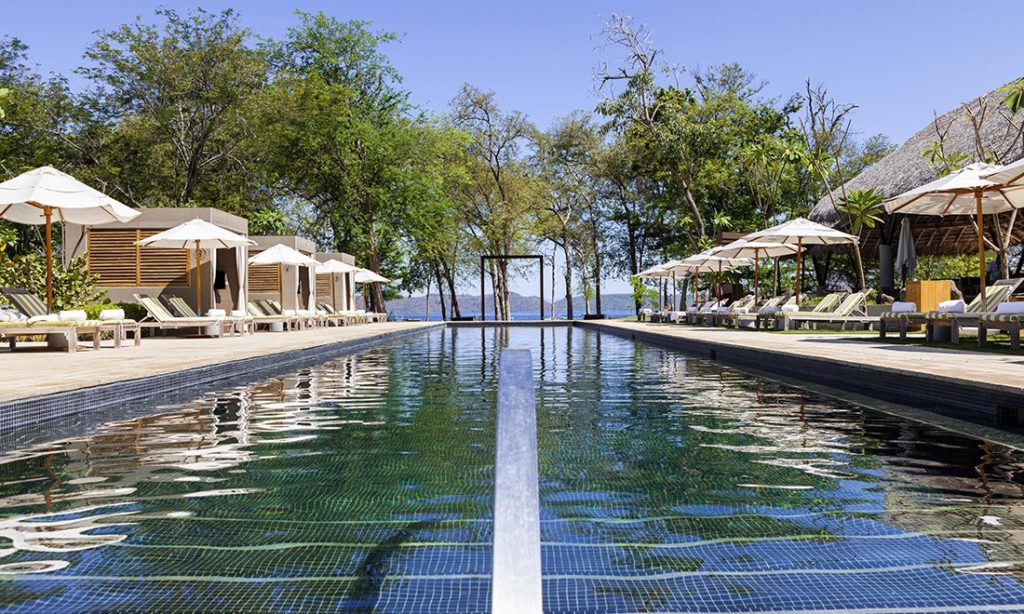 The pristine beauty of the hotel frames the natural beauty of the world beyond its gates...
Beach lovers rejoice; this new hotel is located on the Papagayo Gulf of Costa Rica's Guanacaste coastline. With a 3 to 1 staff-to-guest ratio, you can rest assured that your unique honeymoon or anniversary will be filled with all of the requisite pampering and attention you're anticipating, and the luxury doesn't end there. Of the several types of suites you can choose from, all include a private hot water bathroom, air conditioning, wireless internet, and additional amenities. Some suites boast romantic extravagances such as an outdoor rain shower, indoor hammock, or private pool. You might never leave the hotel's luxurious grounds, but you really should—the white sand beaches and dry tropical forests are incredible.