Enjoy a culinary adventure when you're visiting Costa Rica—sample these six can't miss foods recommended by our staff.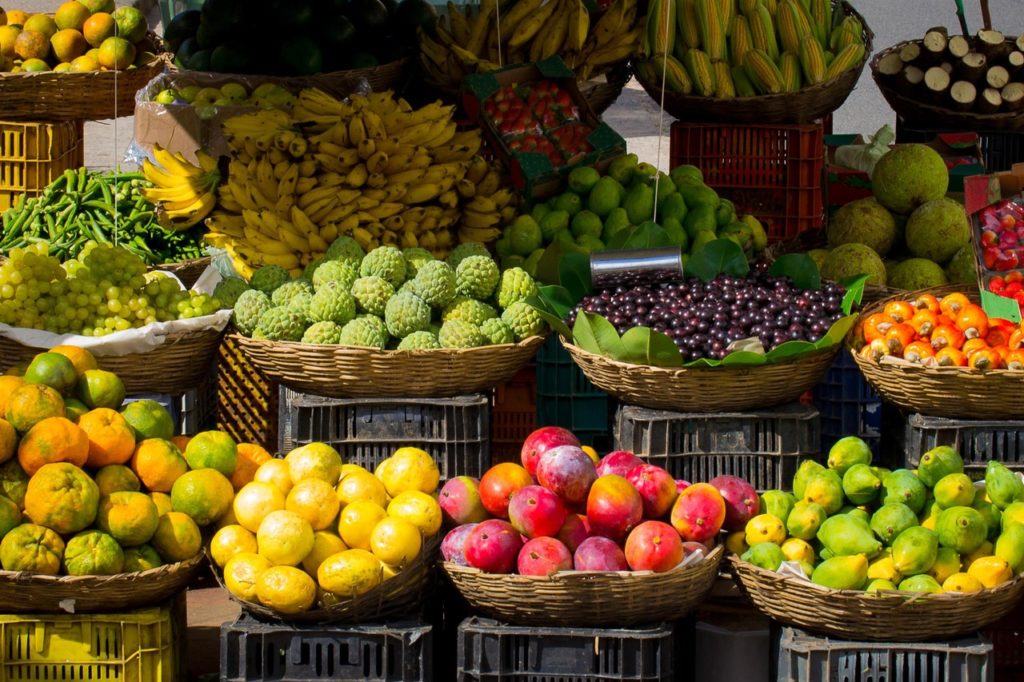 With delicious local produce and food fresh from the sea, it's nearly impossible NOT to eat a healthy and delicious meal in Costa Rica.
When in Costa Rica, eat as the locals eat. Sounds easy enough, until you realize that you're not exactly sure what that is. Latin American cuisine does have some commonalities, but each country also prides itself on unique dishes. Go below the surface and eat some authentic meals—we have recommendations from our team in Costa Rica—many of whom are natives (otherwise known as "Ticos"). Here are the 6 Costa Rican foods they say you absolutely must try...
Breakfast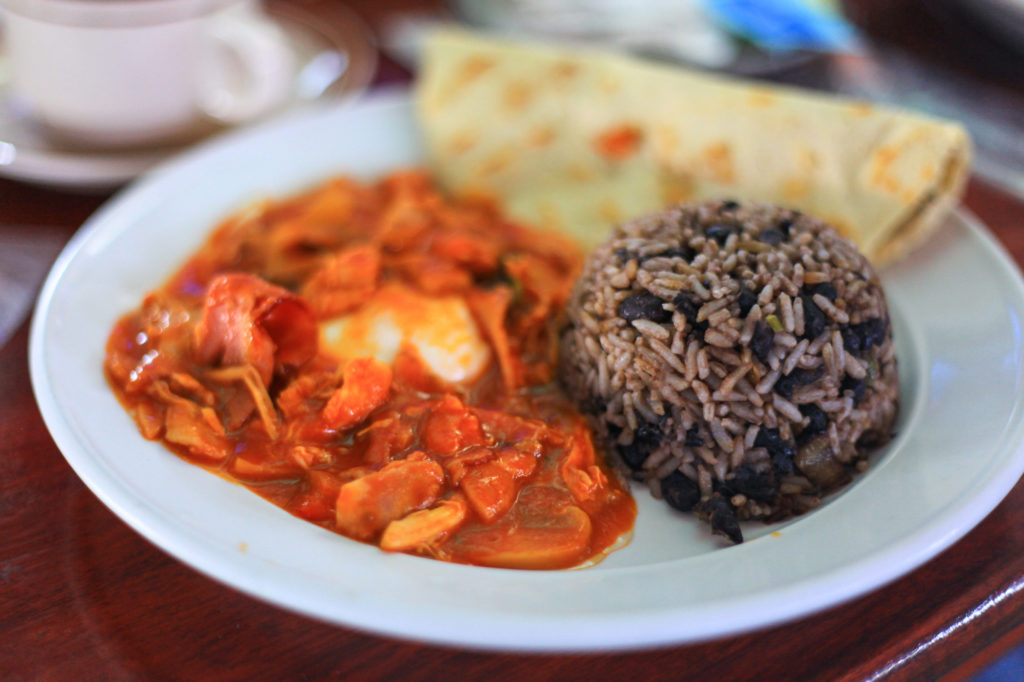 Delicious gallo pinto (black beans and rice)
are accompanied by a variety of side dishes in Costa Rica.
Start your day off right with a hearty serving of gallo pinto con carne en salsa—beans and rice with a red meat sauce. The literal translation of "gallo pinto" is "spotted rooster," and this savory breakfast will have you crowing about how you've filled up for a day of adventure. Black beans are an excellent source of fiber—which will keep you full, and the rice takes on a beautiful and unique color from being cooked with them. Although the gallo pinto (beans and rice) are seasoned, they won't be spicy. The carne en salsa is usually a delicious beef sauce served on the side.
Not in the mood to start your morning on the meaty side? Another traditional way to serve up gallo pinto is with eggs—scrambled, over easy, or whatever your preference—and plaintains. To make it the true breakfast of champions, see if there is any fresh avocado! Though you will likely scoop up heaping forkfuls or spoonfuls of everything, expect to receive your breakfast items separated on your plate so that you can appreciate how beautiful and flavorful they are on their own.
Recreate this satisfying dish at home by using this recipe from Café Britt—one of the companies we offer exciting tours with.
Lunch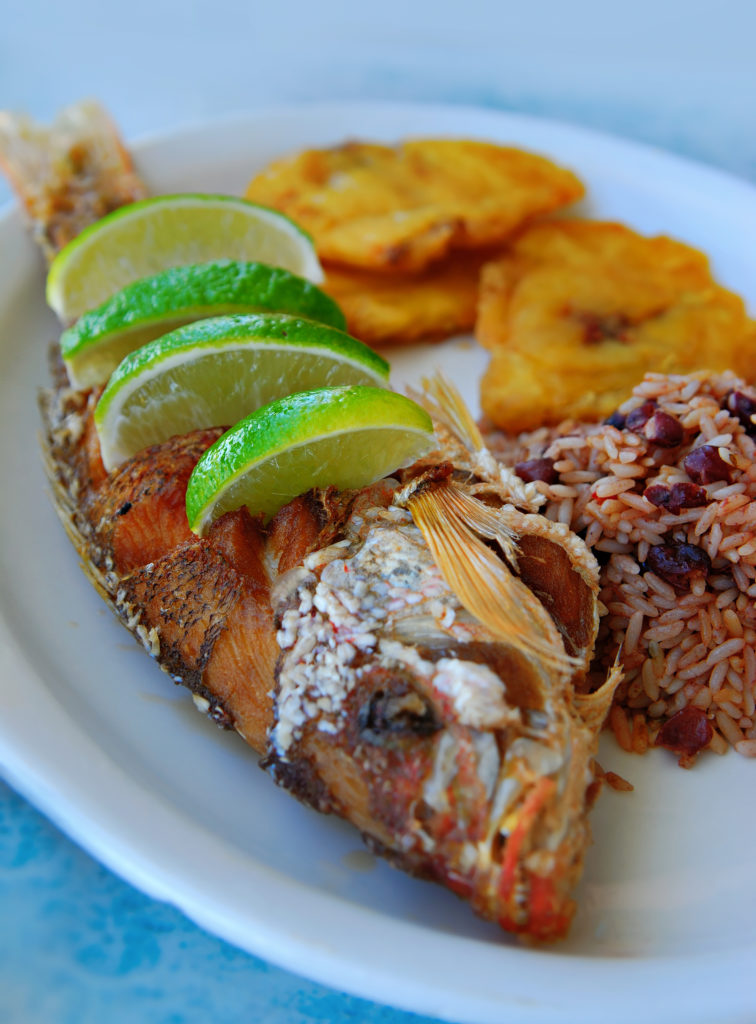 A serving of fried red snapper with pinto beans, rice, and tostones (Cuban plantains).
Mmm…time for pescado frito entero (fish fried whole). This dish is both a feast for the eyes and the stomach; the type of fish you enjoy will vary, but according to CNN iReport, you can typically expect to be served red snapper, grouper, sea bass or croaker. Not to be confused with the fish and chips you may be accustomed to eating, this hot and crispy dish allows you to taste the full fresh flavor of the fish you'll be enjoying, because save for salt and the occasional squirt of a lemon or lime wedge, there are no herbs and spices seasoning it.
Hungry for more delicious seafood dishes? Check out this video of a barracuda being prepared with a delicious Caribbean influence.
Supper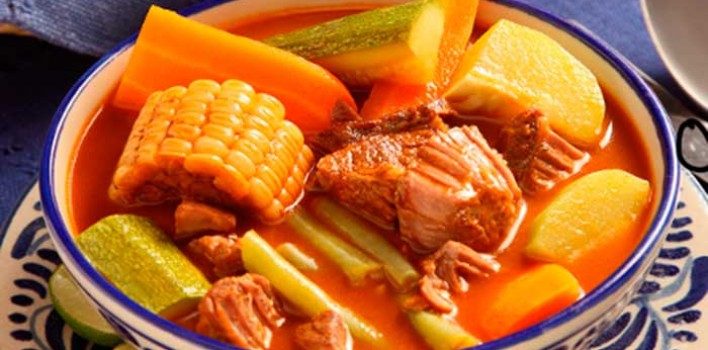 Hearty and healthy, this meat and vegetable soup will leave you feeling satisfied.
Next on the menu, we have a steaming hot bowl of olla de carne—a traditional soup guaranteed to warm you body and soul. Ask for extra napkins, because you'll be digging your hands into generous chunks of beef, corn cobs, squash, and other vegetables.Don't worry, it's not rude, it's customary; you'll likely receive an additional plate exclusively for setting down your leftover beef bones and vegetable rinds. Anticipate the succulent sea salt laced broth sliding in beads down your hands and chin. Your spoon will only do you good for slurping, and digging into the rice sitting at the bottom of the bowl infused with savory liquor. Sometimes, your rice is served on the side...this has no impact on your meal's messy deliciousness.
Beverage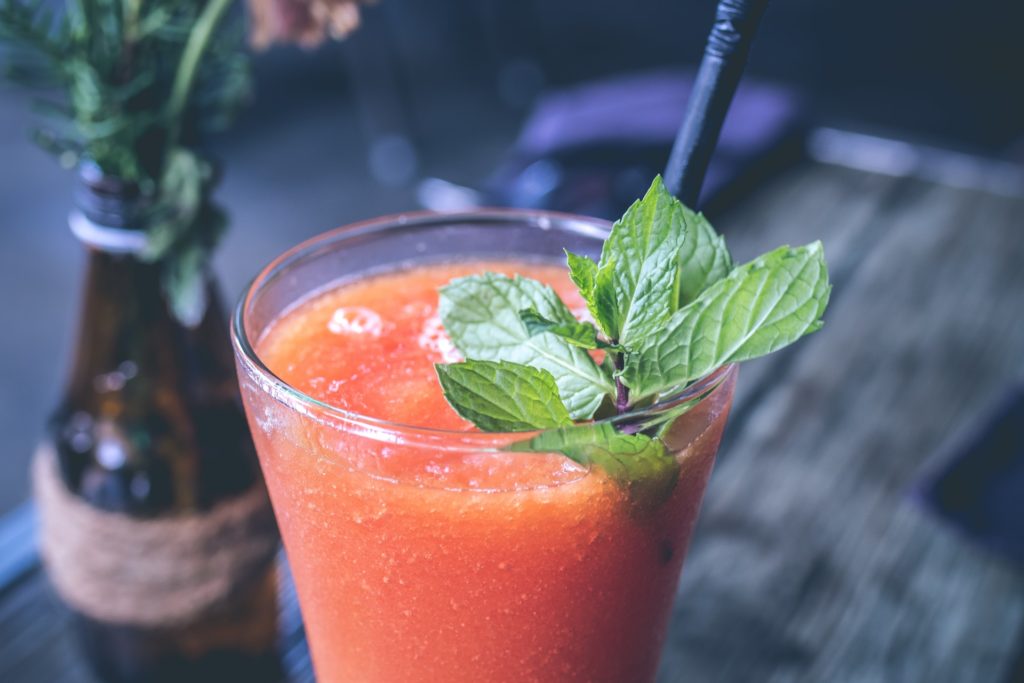 Skip the cocktail, but not the enjoyment. Paradise is sipping on a healthy and refreshing ice cold drink.
Pour yourself a nice cool glass of naranja con zanahoria (carrot with orange juice). If you haven't realized it yet, you can still enjoy a vacation where you're dining on fresh and local healthy food. Rather than a cocktail, our staff recommends carrot and orange juice; this flavorful yet healthy combination is full of good things. The carrots boast beta-carotene, B vitamins, folate, calcium, magnesium, potassium, and iron; while the oranges are rife with vitamin C, potassium, thiamine, phosphorus, folate and vitamin B-6. The refreshment does double duty—it will quench your thirst and keep you in tip-top shape during your trip!
Dessert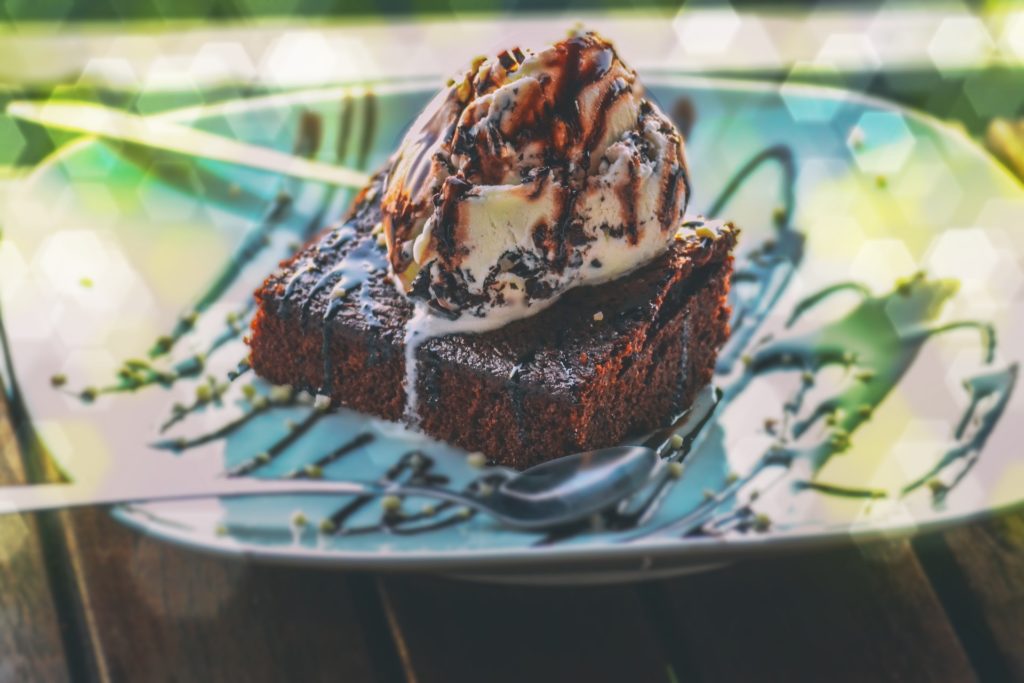 For an extra special treat, eat a brownie made with local cocoa and chocolate.
Recognize the dessert that made our Costa Rican foods list? Surprise! It's brownies. When you think about it though, it makes sense that Costa Rica would make a fantastic brownie—after all, they do grow cacao there, which is where cocoa beans come from.
Let's think about the brownie and how it is served—generally, you don't bake a pan of brownies and eat them all yourself (if you do, we're not judging); you share brownies with family and friends. This sweet treat is best enjoyed over conversation and laughter, and that is what made this dessert authentically Costa Rican in the eyes of our staff. They also recommended upping the joy factor by serving your brownies with ice cream—who are we to question the advice of the experts?
In addition to producing cocoa, Costa Rica boasts coffee plantations—the java will add a delicious depth to your brownie batter, or make a wonderful accompanying beverage when you serve them. Test out our team's brownie theory baking up a batch to share with family and friends; Café Britt offers a recipe that (surprise, surprise) uses coffee in the batter, while Lapa Rios Ecolodge boasts that they have the best brownie recipe in the world.
Staff Favorite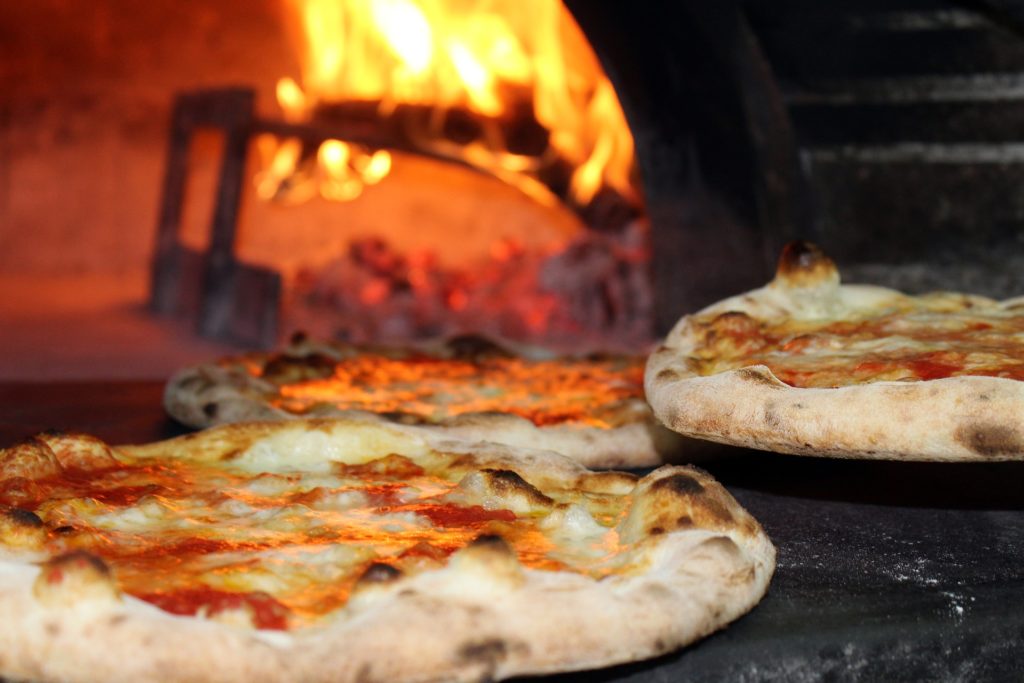 Did you know that you can easily sample authentic Italian pizza in Costa Rica?
Would you believe—pizza? Our staff didn't claim this was an authentic Costa Rican food, but instead noted that you can eat authentic and extraordinarily delicious pizza during your trip…
Anywhere Costa Rica's manager Pablo Brenes explained it this way, "You know, Costa Rica is like New York—a lot of people living here [have come] from other countries. For example, at Playa Samara there lives a large community of people from Italy; I have tried the pizza there, and [it's] really the same all over the country."
Quite frankly, authentic pizza in paradise sounds like a winning combination, so we weren't about to disagree with their choice.
There you have it, 6 of the best foods you'll find during your vacation in Costa Rica. Get started sampling this list!