Revel in the Day of the Dead with the Mayan people of Guatemala.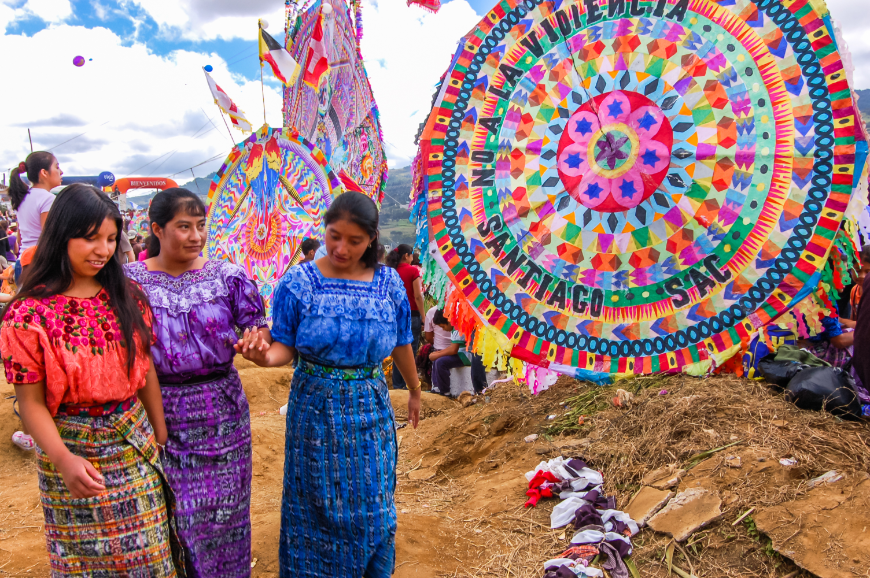 In Guatemala, the dead are celebrated, remembered, and honored in colorful — not somber — ways.
The end of October brings with it a sense of delight as the Mayan people prepare to celebrate All Saints' Day and their Day of the Dead festival. This infamous three day period of worship and celebration includes everything from horse races to costumed parades and marimba music. Traditional Mayans abstain from drinking for most of the year, but anything goes in this three day festival period of madness, color, and unashamed frivolity. Read on to find out more about this ancient Mayan ritual and discover the sacred spaces of the modern day Mayans of Guatemala.
$1
Traditonal Mayan Rituals and Festivals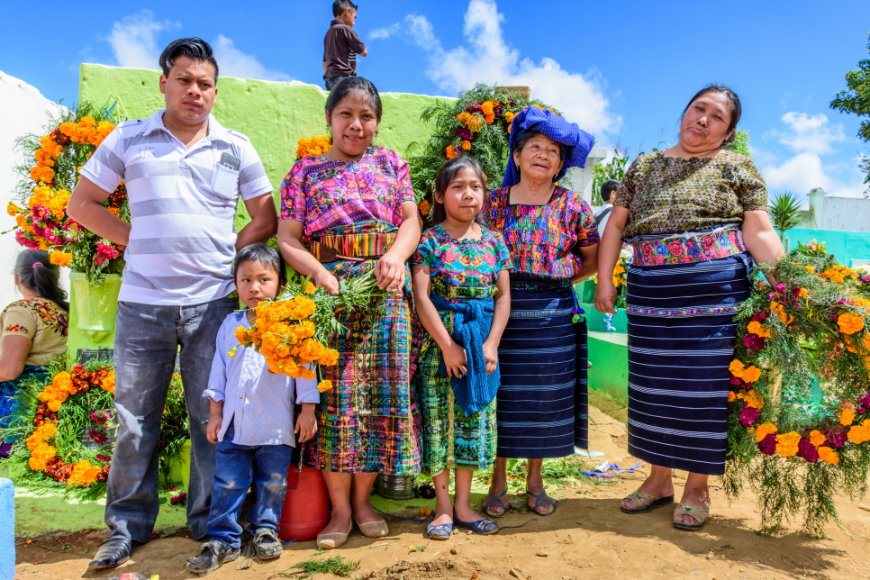 Celebrating the dead is a family affair in Guatemala.
While the Day of the Dead (Día de Muertos) is most known for its commercial celebrations in Mexico, its roots lay in the Mayan tradition. Ancient Maya civilization was run by a calendar called the Tzolkin. It clocked 260 days in a year and on every 20th day, amazing celebrations and festivals took place. Mayan people would stop all work to build intricately detailed alters to their Gods, burn incense, put on parades, play ball games, eat certain foods, and even perform animal sacrifices or bloodletting at the temples. The following day they would visit their dead and leave gifts on graves as a sign of respect for the afterlife.
Modern times are quite different, you won't find human sacrifice, bloodletting, or other harmful elements of Mayanism in practice, but there are still places where you can witness an intense commitment to celebration. Namely, the small village of Todos Santos Cuchumatán, which is located in Guatemala's Western Highlands in the department of Huehuetenango.
Experience The Race Of The Souls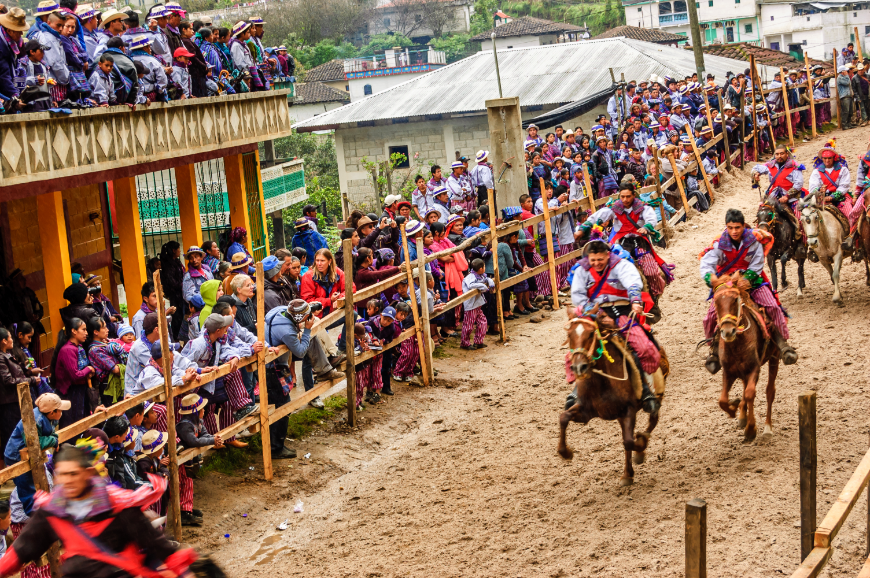 Locals cheer on the men who dare to participate in the Race of Souls.
Sometimes called the Game of Roosters, this daylong horse race and bacchanal celebration can be traced back to the 17th century when the conquistadors won a difficult victory against the indigenous Mayan's and banned them from riding horses. These days the political history of the festival has taken a back seat in favor of the more sacred practice of worshipping the dead. But, if you ask a local of the older generation, they may still see this 3-day bonanza of debauchery as a protest against colonialism.
Though you'll find candlelit churches, ceremonial dinners, parades, and locals in traditional Mayan costume, the horse race is possibly the most unique aspect of all the celebrations. The night before the race, a chicken is sacrificed to bless the course which runs from one end of the village center to the other. As the track is prepared, all potential horseman make vows to abstain from lovemaking with their wives and start drinking a robust Guatemalan liquor called Quetzalteca. Morning brings the start of the race which demands riders make it backward and forwards from one end of the course to the other while continually drinking. Alcohol is not available for the rest of the year, so locals and tourists tend to join them in this riot of color and adrenaline which lasts all day - or until the last horse rider is standing.
Soar through the Highlands of Guatemala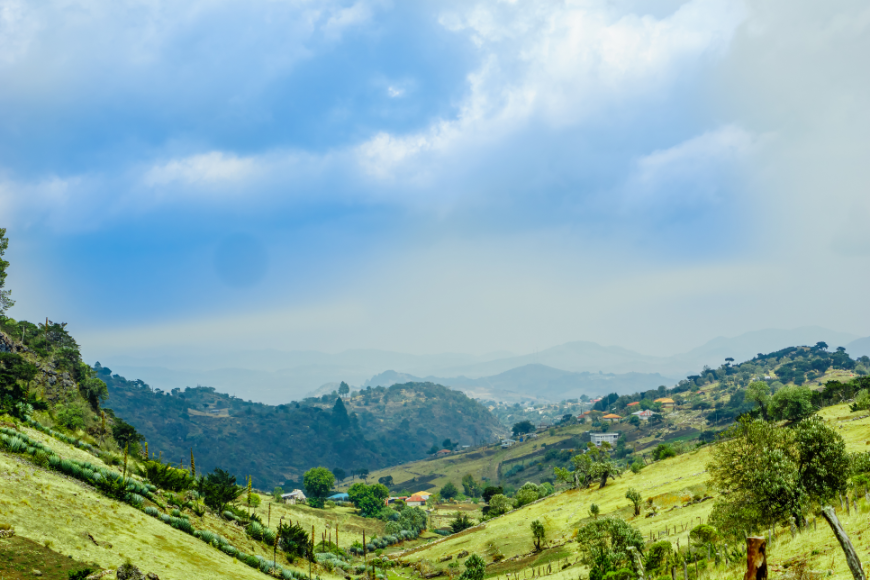 The highlands of Guatemala surround the small town of Todos Santos.
While Todos Santos Cuchumatán is an excellent place to experience authentic Mayan culture (and shop for unique local handicrafts), it's small and out of the way. If you'd like to explore more of the beauty of Guatemala as well as seeing this wild cultural event, we recommend taking a few days in the highlands and visiting some of the stunning lakes that the villages are centered around. Lake Izabal, Lake Petén Itzá, and Lake Atitlán are three of note, and you can also organize a tour of the local temples, churches and mountain hideaways. The hills of the highlands are scattered with old ruins that will fascinate history buffs, and give you a chance to see the Mayan culture more authentically than you would in Mexico.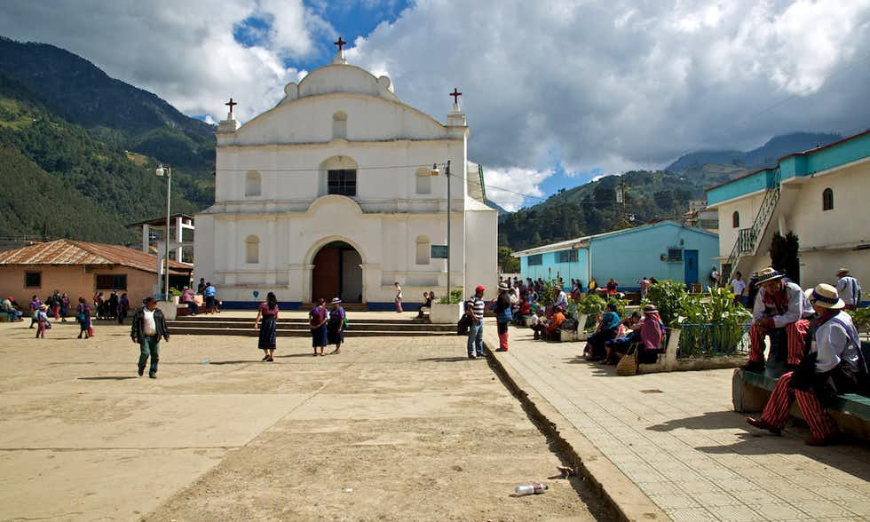 Religion is married with Mayan tradition in Guatemala.
If you'd like to pay worship or experience more Mayan religious practices up close, you can make your way into one of the colorful churches for a ceremony. The church floors are strewn so thickly with pine needles that you sink down into them as if walking across a fragrant carpet. Incense burns very thickly. Windows are blocked, but the small rooms are lit with hundreds of thin white candles. There aren't pews as you'd expect in a Catholic church, but you'll be invited to sit cross-legged on the floor and watch or quietly pray to yourself as Mayan families chant around you in the dim light.
Explore Guatemala's colonial churches on this tour.
Keeping Mayan Traditions Alive
The isolation of the Todos Santos' village is one of the reasons that Mayan traditions continue to flourish. The village is only 40 kilometers (24 miles) from Huehuetenango, a major transport hub, but that distance takes three hours on a windy trip through the Cuchumatanes mountain pass which is the highest in Guatemala and surrounded by cliffs that plunge 3500 meters (11,483 feet ) below the road.
The locals speak the Mayan language of Mam and sometimes Spanish. Even if you visit after the three-day festival, you'll find residents wearing traditional Mayan attire. Men wear red stripy pants, and shirts with colorful collars and women wear dark blue shorts with purple blouses called huipiles. You'll quite often see older women with their heads wrapped in beautiful scarfs but make sure you ask before taking a photo. Mayan people are proud of their tradition but reticent with cameras, and it's extremely rude just to snap a picture.
One amazing trip is the Saturday marketplace where you can support the local population by purchasing handicrafts or gifts. This is the primary means of survival for the village which only has a population of 2,500. Traditional, brightly-colored woven goods like handmade blankets, bracelets, shirts, and pants are available as well as more recent fixtures like placemats, wallets, and water bottle holders.
The Sacred Mayans of Guatemala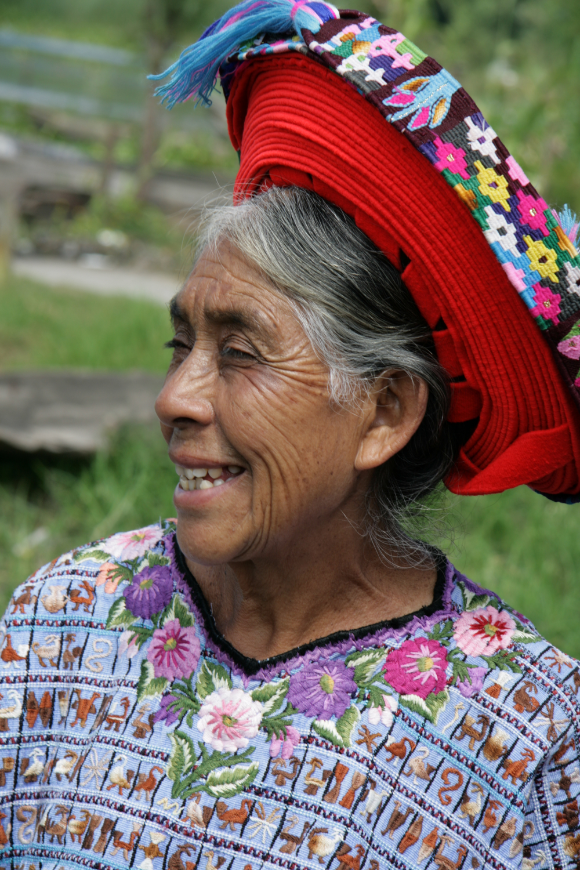 Guatemala's Mayans are still alive, well, and carrying on with their traditions.
It's true that the three day festival period in October and November has become popular with tourists, but you still won't find a sense of prepackaged or commercial religion in this part of Guatemala. Walking the streets of the village, you'll be surrounded by bursts of color as locals go about life in traditional clothes. In Todos Santos it's possible to intermingle with indigenous men and women in a small village that faithfully practices the most ancient of Mayan rituals.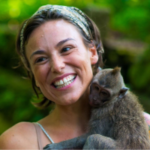 Emma Harrison-Clark, Anywhere Contributor
Emma Harrison Clark is a Bali based writer and adrenaline junkie who loves to travel. When she's not diving, riding fast motorcycles or fighting at mixed martial arts gyms you can contact her at www.emmaharrisonclark.com.