It's time to set sail for adventure and head to the Galápagos Islands with style and ease. Muchas gracias to Ecuador Manager Percy Coll-Santillan for sharing his expert knowledge!
last updated: 1/12/2020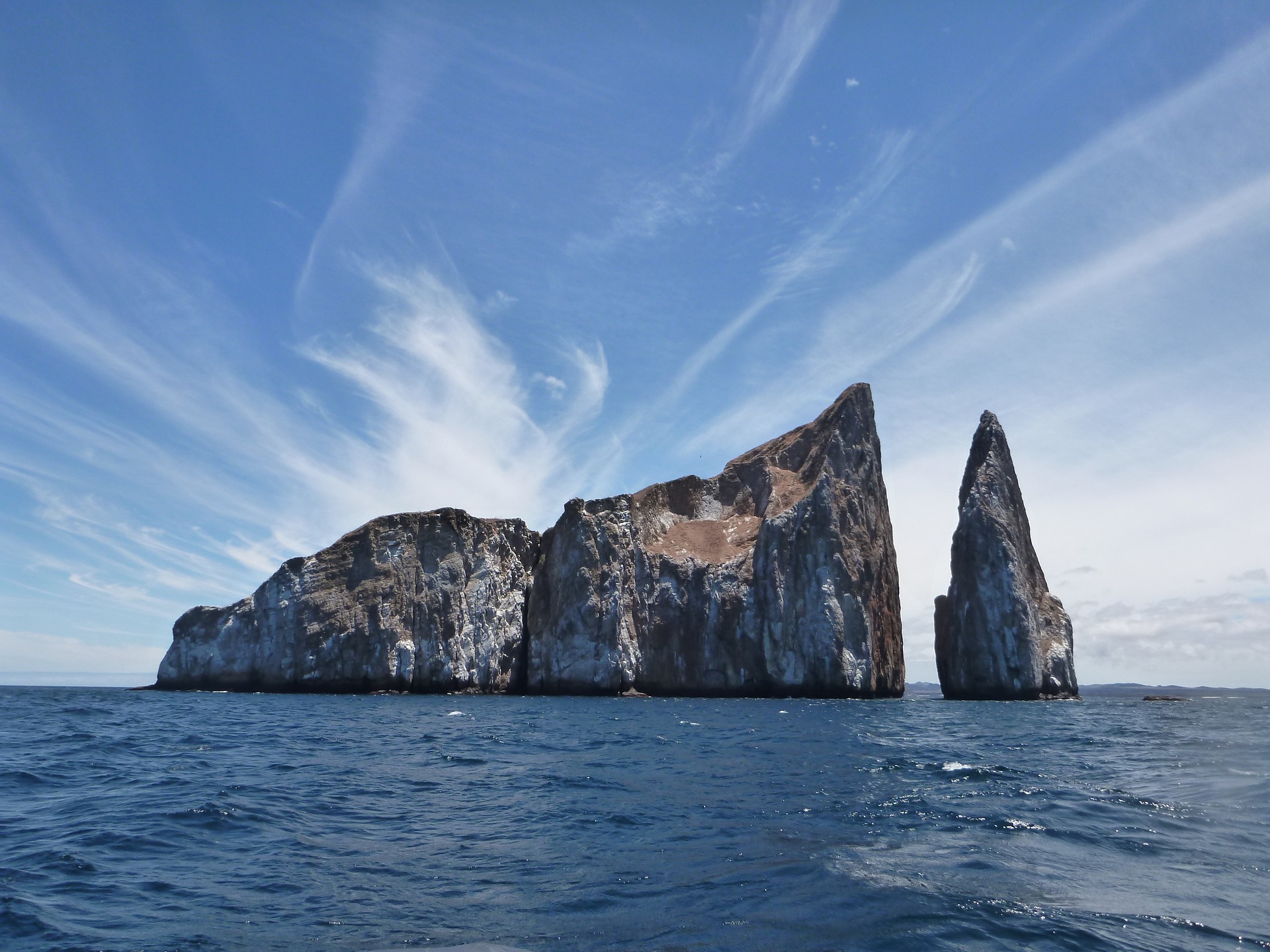 Exploring the magnificent Galápagos Islands used to involve a torturous trip, but not anymore. Seen here is Léon Dormido.
Which sounds better? Warm bottled water in a crowded room, followed by a hot and sticky bus ride; or a cool drink in a reception area with ample seating, followed by air-conditioned transportation? Okay, that was a semi-serious question. Let's face it, the answer should be fairly obvious.
In Part I, we took a serious look at what makes the Galápagos Islands so special—you learned about some of the creatures who call this unique ecosystem home, and enjoyed a brief overview of the archipelago's history. Unfortunately, you also learned of how an innocent human misstep drove a tortoise subspecies into extinction, and that the pleasure of enjoying the islands requires you to endure the misery of red tape and less than comfortable *cough-lousy-cough* transportation. But there's a beacon of hope! For our last article ended with the promise of a better journey, and new wonders. Well, dear globetrotter, consider the following a promise fulfilled…
Visiting the Island as a VIP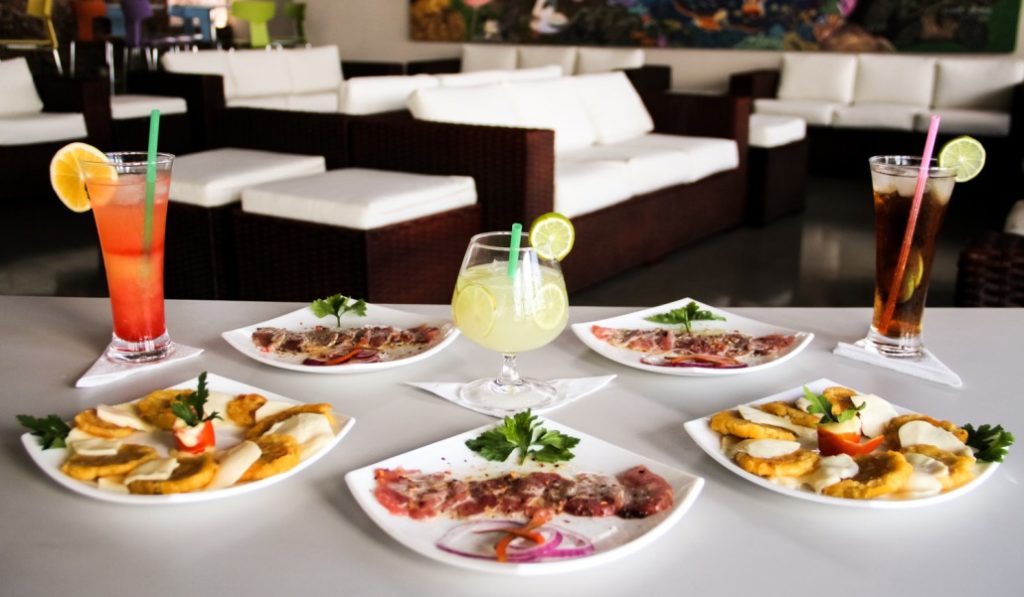 You could break up the majesty of the Galápagos Islands with a masochistic voyage out there, or you can travel in comfort. Photograph courtesy of EcoGal.
So, you've decided that you haven't lived until you've taken a Galápagos Islands vacation—wise decision. Now clearly, visiting the Galápagos Islands is well worth the trouble, but the experience is even better when you avoid the human gridlock that most tourists are forced to endure. When you book your Ecuadorian adventure with Anywhere, we can help you procure a VIP experience, ensuring that you will remain cool and comfortable throughout your voyage to the islands. How did we manage this? Our continued pursuit of excellence…
Anywhere Ecuador's manager Percy Coll Santillan, and his local team, knew how unpleasant the current Galápagos travel experience could be, and that's why in January 2017 they went on an excursion to see if Anywhere could improve your experience. As it turns out, we could. Team Ecuador discovered a VIP service offered by Aeropuerto Ecológico Galápagos (otherwise known as 'EcoGal'). Baltra Seymour Airport isn't just the first ecological airport in the world—earning ACSB (American Council of Sustainable Construction) recognition and LEED (Leadership in Energy and Environmental Design) Gold Certification—it is also the home of the Galápagos' premier service center.
In detail, our new partner's VIP service allows you to sit and relax in nice cool air-conditioned accommodations whilst their staff goes through the island entrance procedures on your behalf. You will enjoy complimentary Wi-Fi, refreshments, and no stress. Additionally, you can opt to take an air-conditioned ride from Seymour Airport to the Itabaca Canal ferry port. As for a more comfortable ferry ride, Anywhere has begun hiring private ferries to transport you to the islands.
You seem like a pro…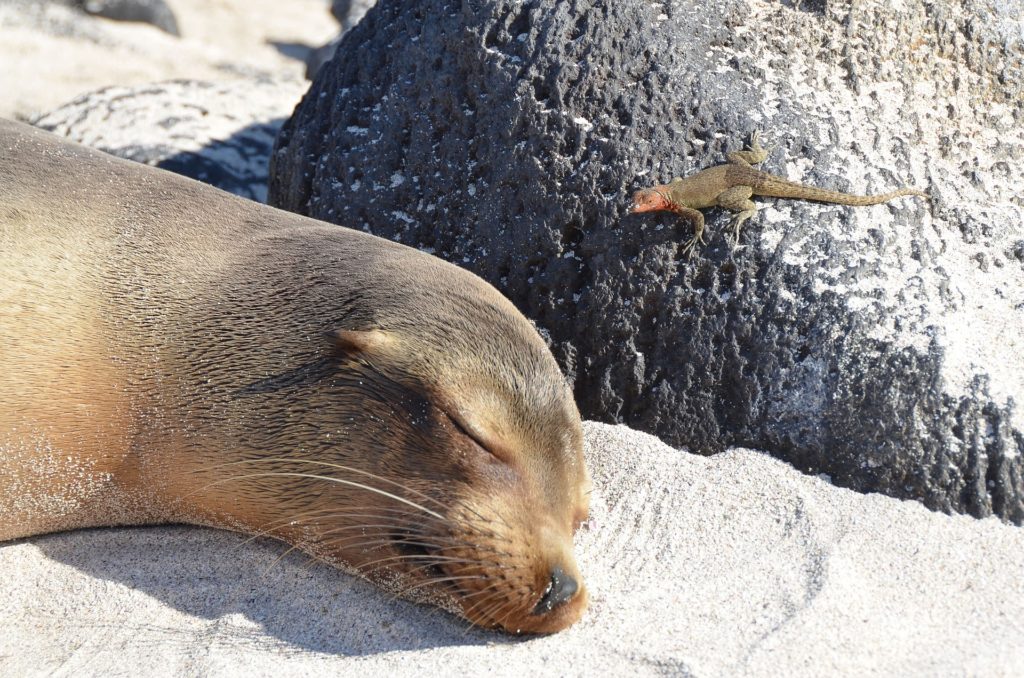 Island residents are welcome to get close to each other, but you need to maintain your distance.
Just because you're a tourist, doesn't mean you have to be a walking cliché. Mr. Coll Santillan saved the day by helping you travel as a VIP, now he's giving you the inside scoop on Galápagos Islands do's and don'ts—lucky you!
First, the DON'TS—Don't:
Overeat before an excursion to the island—you'll be approaching by boat.

Bring food from the mainlands to the island.

Take underwater photos with protective cell phone bags.

Be less than 2 meters (6.6 feet) from the animals.

Try to take away any plant, mineral, or stone from the island without authorization from the National Park Authority.
Now, the DO'S—Do:
By the way...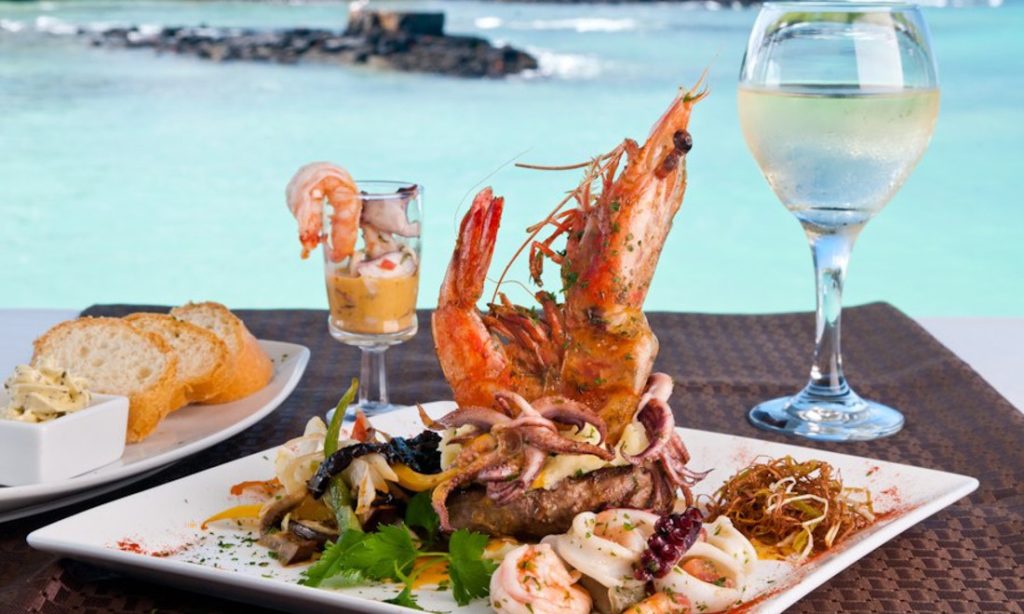 With its tropical climate and amazing coastlines, it should be no surprise that amazing cuisine can be had in Ecuador.
Though it's hard to go wrong when booking a Galápagos Islands holiday, there are specific islands and other Ecuador excursions which we cannot in good conscience allow you to miss. Let us extend our gratitude to Señor Coll-Santillan one more time, as we bring you...
Percy's list of what not to miss:
Whew! Getting through this two-parter was a bit exhausting—all the more reason to take that much-needed holiday to Ecuador. In all seriousness, one of the key reasons why the Galápagos Islands are such a travel must is because they are so very fragile. Unfortunately, their continued existence is not guaranteed; the best way to understand the importance of conservation is to visit protected regions for yourself. When you go to incredible places and see amazing sights (including wildlife found nowhere else on Earth), there's a meaning which is lost in translation when looking at abstract reports.
Make your next vacation a once in a lifetime experience—support the Galápagos Islands. Use these insider tips, and enjoy the truly unique beauty and splendor of Ecuador.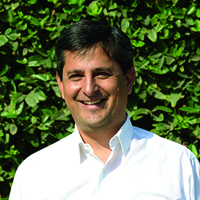 Percy Coll-Santillan, charismatic manager of Anywhere Ecuador.