Put on your walking shoes and grab your sketchbook or camera. Today, we're taking you on a tour of architecture in Panama. Whether you favour classical or modern, there's an era for you!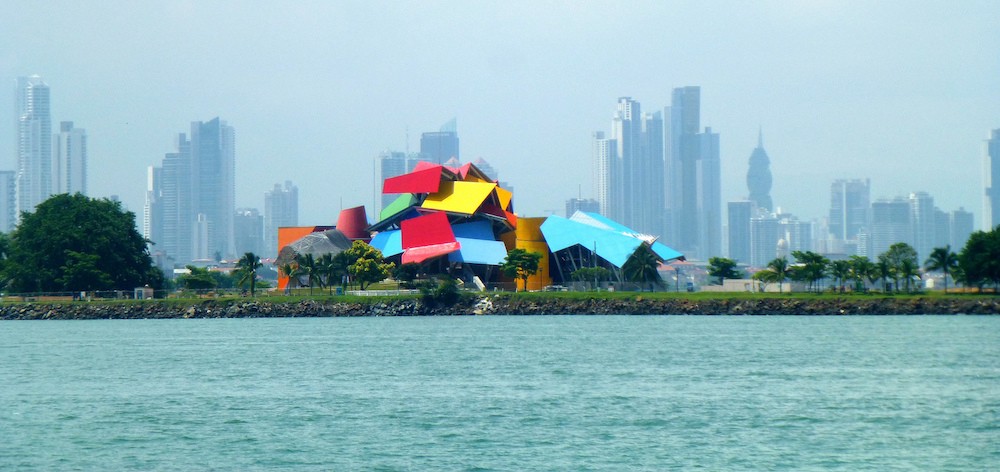 Panama boasts a surprising variety of architecture. What other surprises might the country hold for you?
Updated on 02/01/2020
When the Spanish started to colonize Panamá, they had to fight hard to hold on to what they had captured. You'll see evidence of this struggle in the forts along the Panama Canal and the Caribbean Coast. Even after Panamá achieved independence, the European influence persisted, especially in religious and governmental buildings.
But modernism has come to Panamá as well. In Panama City, you'll see buildings that prove Panamá is adding to its architectural story. On this list, we have buildings that exemplify the architecture of Panamá's past, and one that makes way for the future.
1. Portobelo
During the colonial era, Portobelo served as an important trade hub. Portobelo's forts overlook the Panama Canal, and served to protect the town from unfriendly visitors.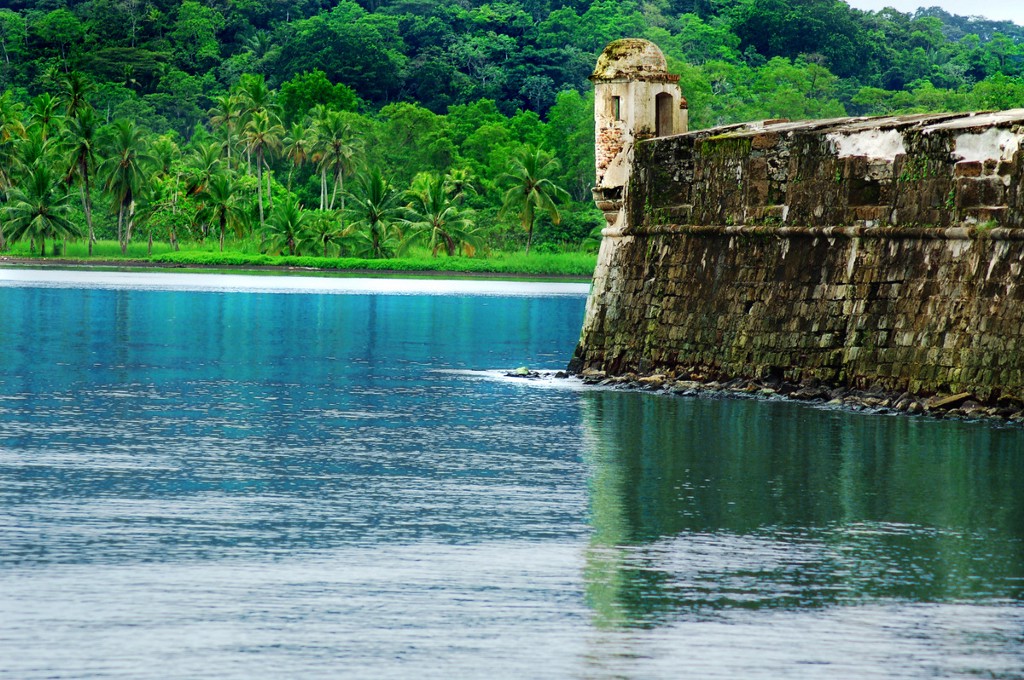 This fort boasts a quiet beauty in its old age. Wouldn't this be a lovely place to sketch, or write a story about being on the lookout?
Castillo San Jerónimo is the town's biggest fort. Visitors can walk along the barracks and explore the officer's quarters. Just outside of town you can visit another fort, called Castillo Santiago de la Gloria. The earlier structures exemplify military architecture from the 17th and 18th centuries. Later, the forts in the area took on a more stylized, neoclassical look.
2. San Lorenzo Fort
San Lorenzo Fort has a dramatic history of protecting the Colón coastline. It held its own against an illustrious list of pirates, including Sir Francis Drake and Captain Morgan. The Spanish built the original San Lorenzo Fort in 1595. It was attacked so many times that it had to be rebuilt on several occasions. San Lorenzo Fort's most recent update happened in 1779.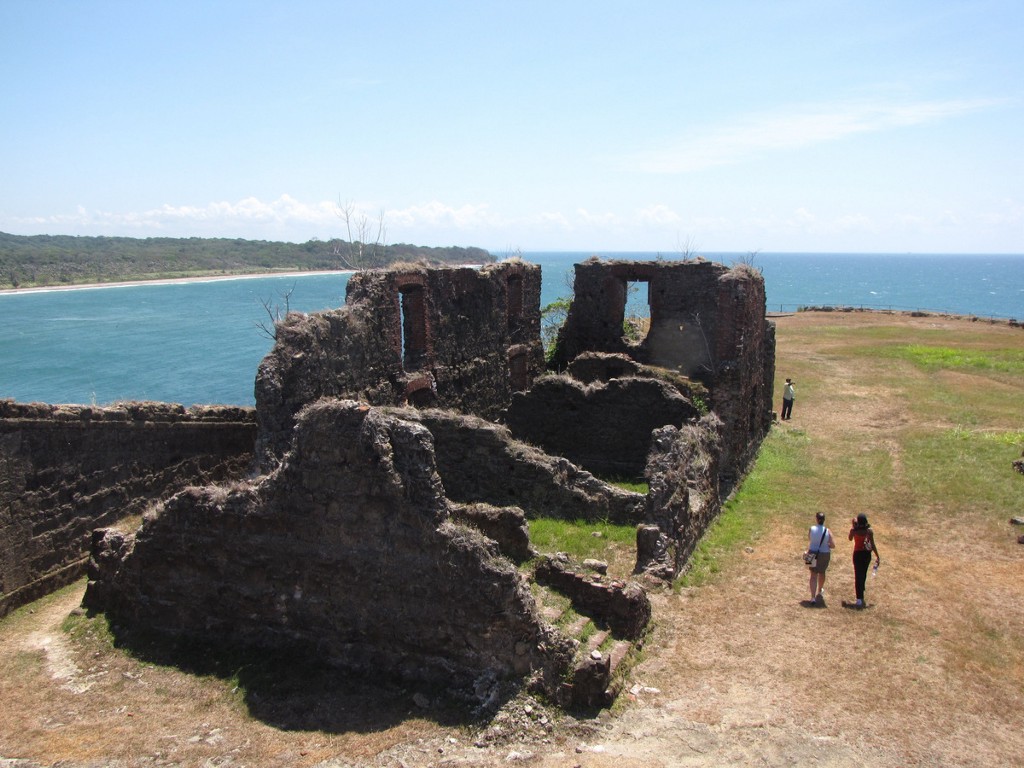 The ruins of the San Lorenzo Fort are a little bit jarring—the area looks so peaceful now.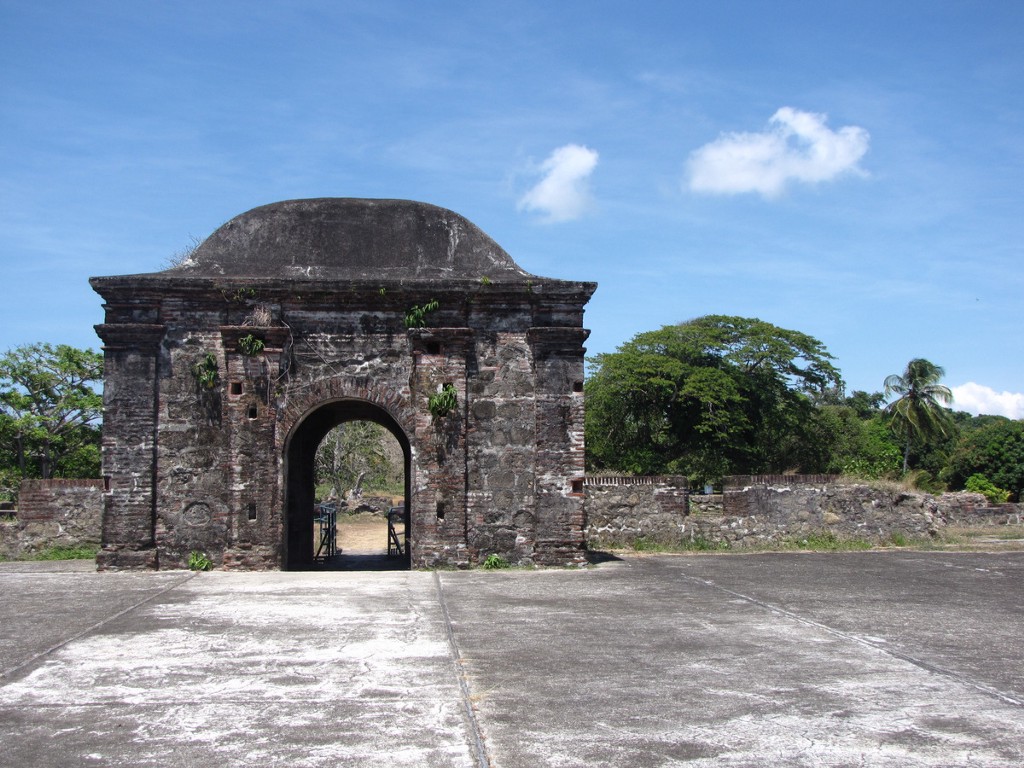 One doesn't need to be a scholar of architecture to recognize the Spanish influence seen here.
San Lorenzo's neoclassical architecture is typical of Spanish structures built in the Caribbean during the 18th century. Today, there are only a few stone walls that remain of the fort. The humid weather and lack of conservation have taken their toll. But the basic structure and the impressive view from the fort remains.
3. Chitré
Chitré has a reputation as one of the oldest towns in Panamá. The original town dates back to the 16th century, although most of the historic architecture you see today is from the 19th century.
![Architecture In Panama Image: The Museo de Herrera is a colourful—painted in white, and a shade of pink.](/blog/images/1*EFGAVFZuQ58HE67fmscvZQ.jpeg "We can't help but admit that this is one example of architecture in Panama that's "Pretty in Pink."")
This colourful building is as interesting on the inside as it is on the outside. Go check it out!
Go to the Museo de Herrera to see exhibits of ancient handicrafts housed in a beautiful colonial mansion. There's also a bell in the museum that used to belong to the town's original cathedral, which was built in 1767. It's a short walk from the museum to the charming Tomás Herrera primary school, which was built in the 20th century but has neocolonial architecture.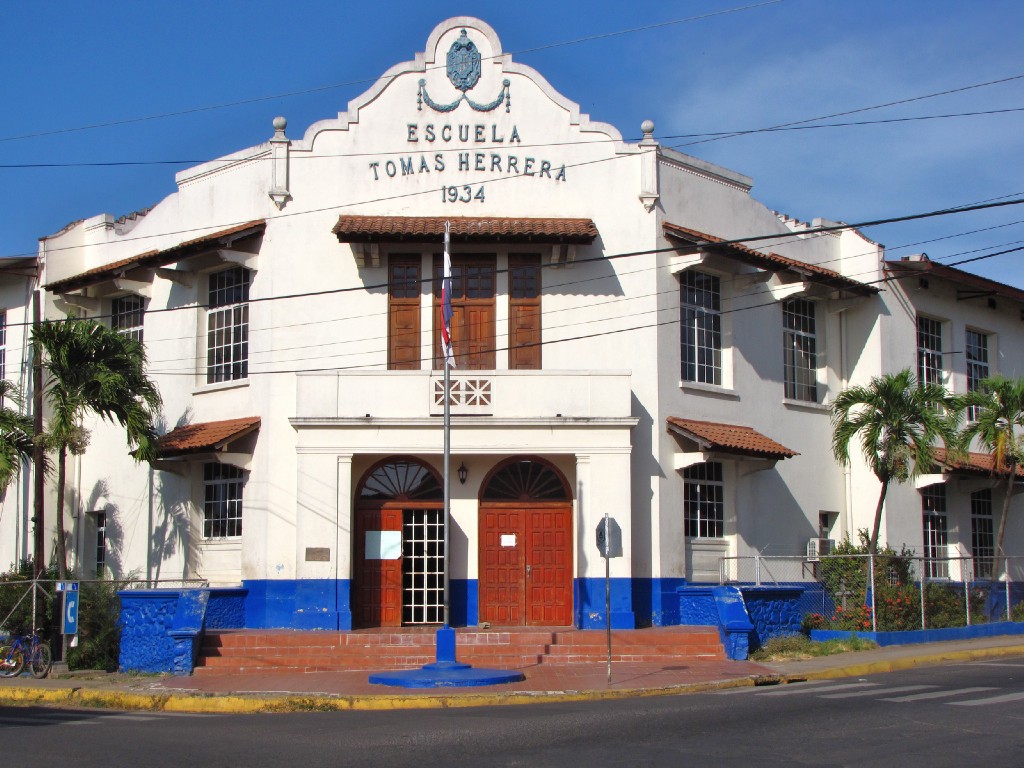 This colorful school boasts a very interesting layout, and lovely lines.
Chitré also has a somewhat unusual cathedral. Builders finished construction of La Catedral San Juan Bautista in 1910. Unlike the dramatic, gothic cathedrals that the Spanish built after they first arrived, this cathedral has subtler decorations and a more streamlined appearance.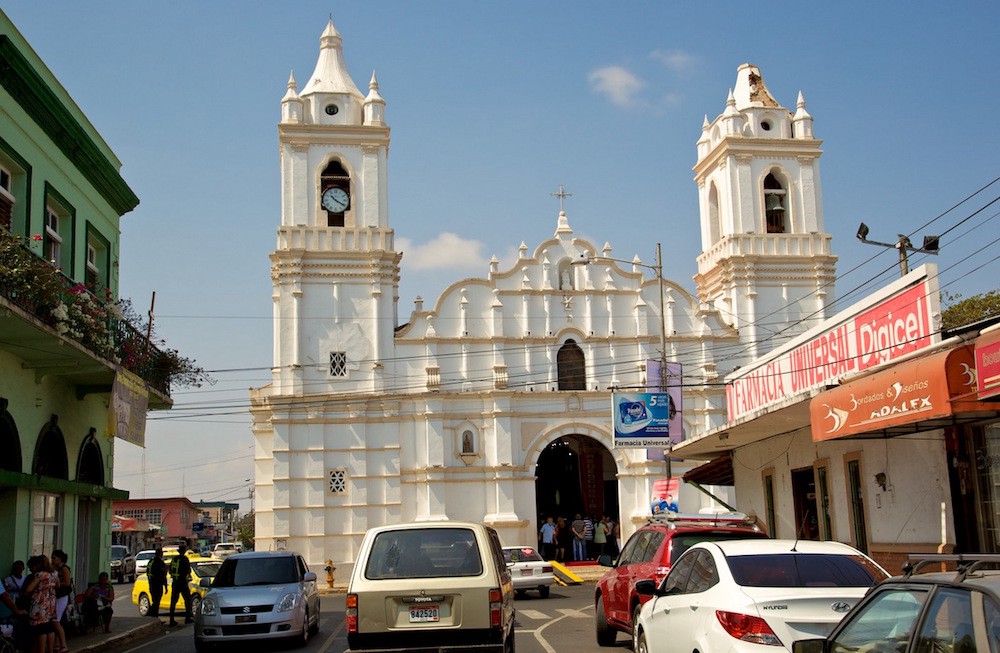 The simple elegance of this building makes it absolutely timeless.
4. Biomuseo, Panama
According to Kahleen Urbani's article "Unique Architectural Designs in Panama" on the NYU Stern Blog, to date, Biomuseo is Latin America's only building designed by famed architect Frank Gehry. Its overlapping, irregular shapes stand in stark contrast to Panama City's colonial buildings. Seen from above, the roof's bright colors are a loud disruption of the calm, tropical green that surrounds the museum. It sits at the entrance of the Panama Canal. The building's design is meant to signify Panamá's embrace of modernism.
This Frank Gehry building is a stunning example of modern architecture. It upholds Panama's traditional use of colour, but curves are now tightened in the tense creases.
From the Biomuseo, visitors have an excellent view of the Panama City skyline.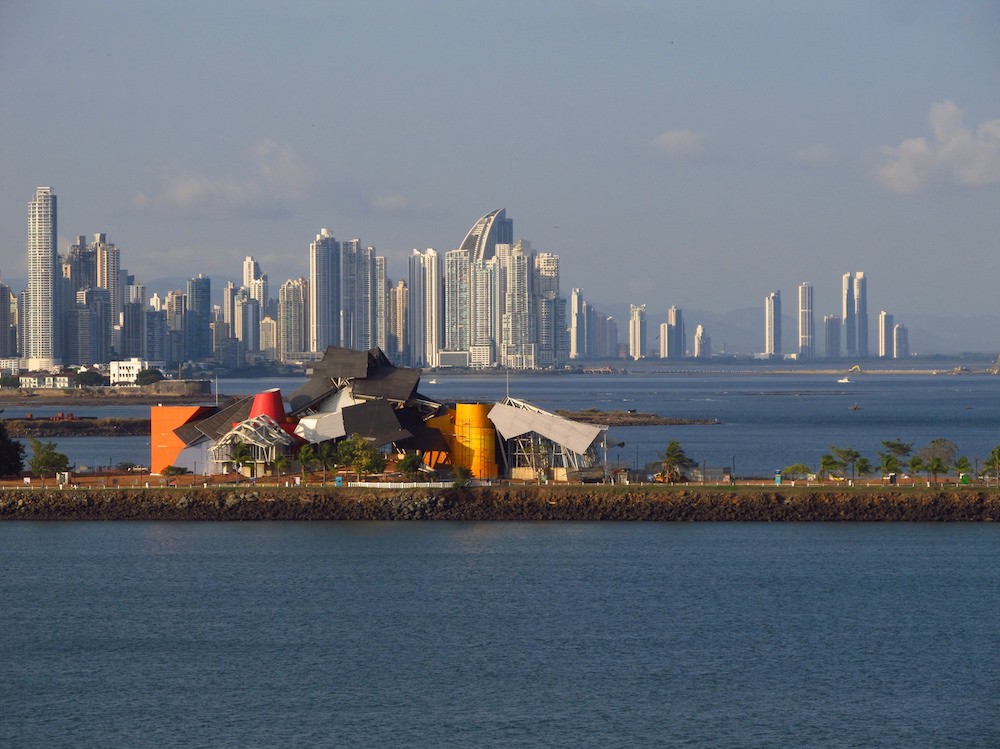 This building isn't the only interesting structure in Panama City's architectural skyline.
5. Casco Viejo, Panama
The oldest part of Panama City is called Casco Viejo. It was named a world heritage site by UNESCO in 1997, and since then has undergone a painstaking restoration. Some of the buildings are beautifully restored, while dilapidated (but still very interesting) colonial buildings await their turn.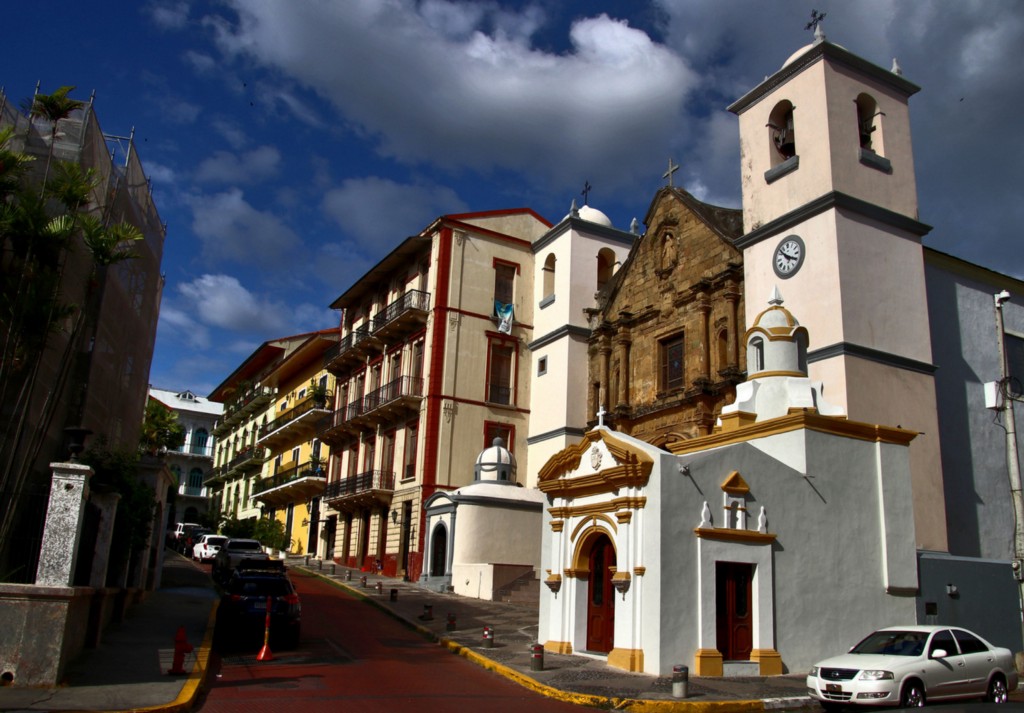 Take a stroll down a UNESCO World Heritage Site, and admire both the aged and revitalized architecture of Casco Viejo.
Casco Viejo has more than colonial architecture. You can see Art Nouveau buildings from the early 20th century, when Panama City was experiencing an economic boom after the construction of the Panama Canal.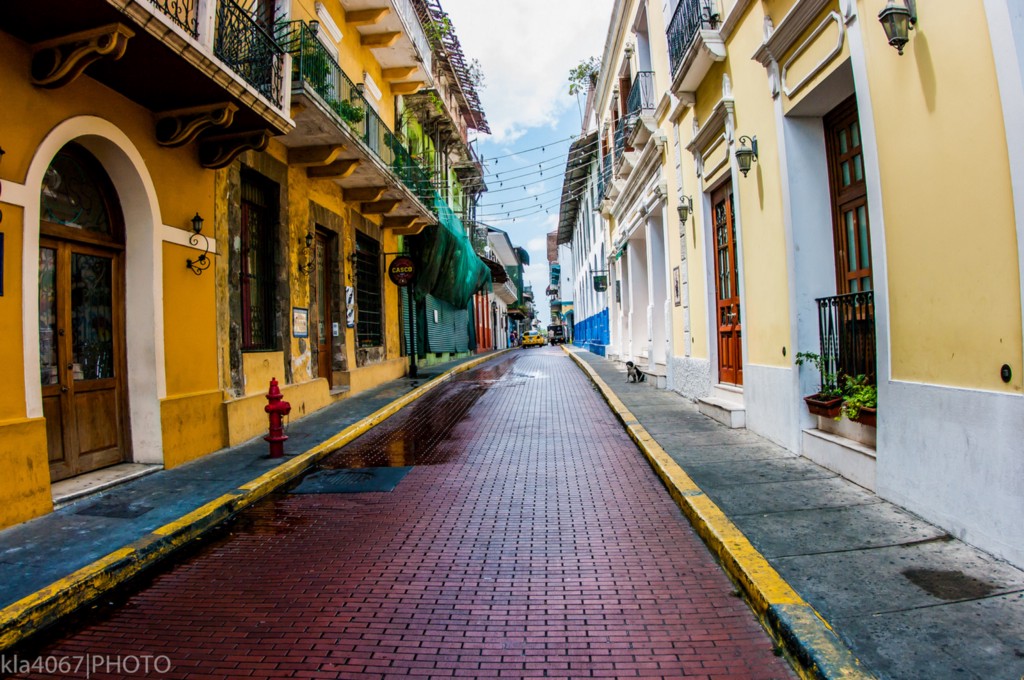 This lovely and colourful street is something architects, artists, and photographers can all enjoy.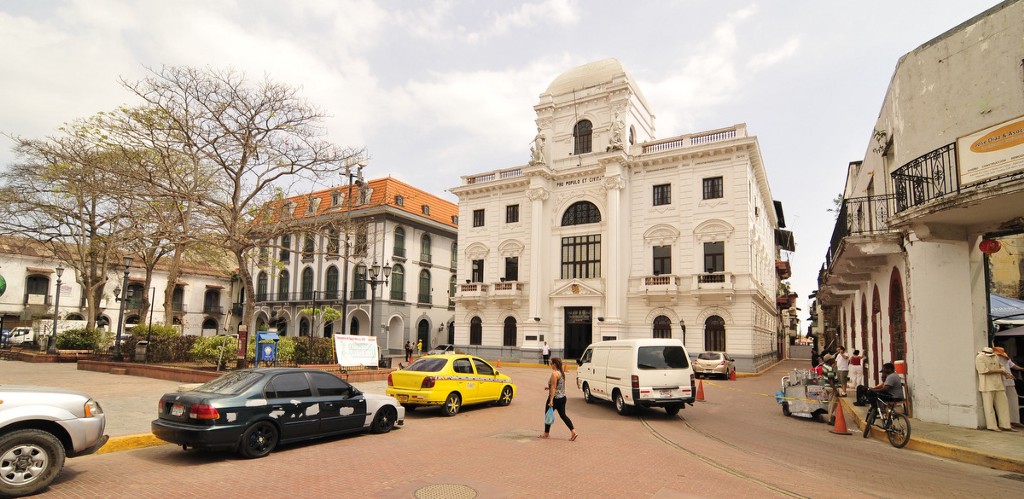 There are all kinds of adventures you can have when you travel abroad—high adrenaline activities are only one option. Culture is always another.
But the colonial architecture is striking. La Iglesia de la Merced dates back to 1680, and is one of the city's oldest buildings. Its main building is made of dark stone and has a Baroque facade. In order to preserve the structure, this church opens its doors very rarely. See more history at the pristine neo-Colonial building called the Municipal Palace, and go inside to see Casco Viejo's History Museum.
Photo credit: Giåm via VisualHunt / CC BY-SA_,_ kla4067 via VisualHunt.com _/_CC BY-SA