Less than 20 years ago, Sapa was as off the beaten path as you might want to go in Vietnam, but is now considered by many to be 'too touristy.' It's 2020 now, and we revisit and discuss why Sapa is still worth traveling to.
last updated: 1/14/2020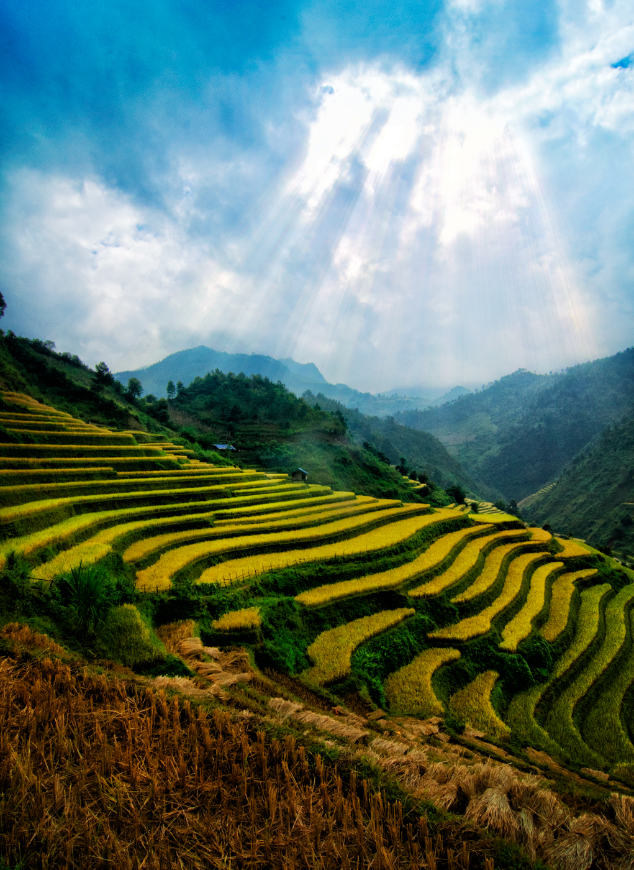 Sapa, Vietnam is extraordinarily beautiful—which is why so many visitors flock to this destination.
Sapa is a mountain town in northwest Vietnam, famous for its towering peaks, steep rice terraces and picturesque villages nestled between every breathtaking view. It is one of Vietnam's top tourist destinations, and for very good reason. The mountains are home to distinct ethnic minorities who are willing to open their homes to travelers for a chance to learn about their unique local cultures and explore their beautiful homeland. It is also one of the best places for trekking in Vietnam and is home to the country's largest mountain—Mt Fansipan. For these reasons and more, Sapa is firmly etched on the tourist trail. Unfortunately, in recent years, people have begun to find Sapa's charms overshadowed by the tourist crowds.
Issues facing Sapa today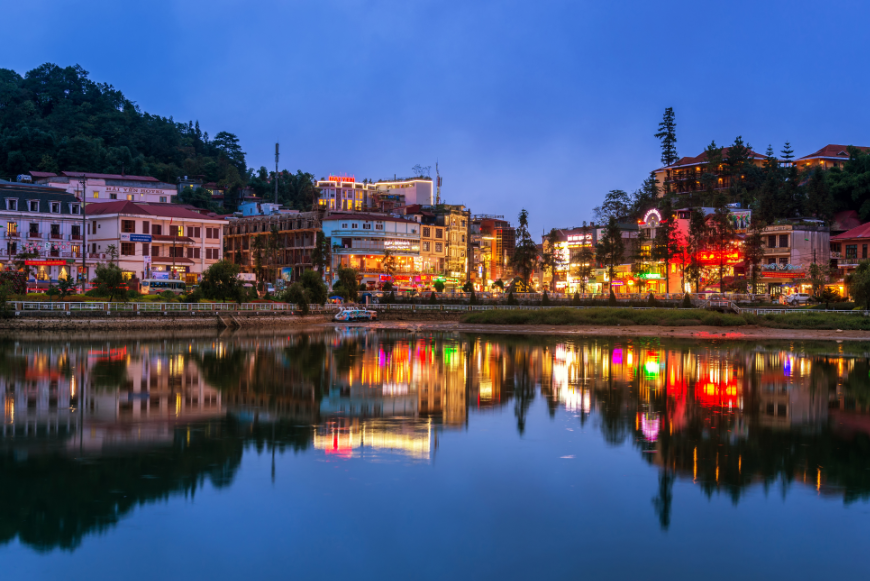 City buildings may surround the lake, but even their bright lights seem beautiful when reflected in the water.
When the ethnic minority communities began to understand the power of tourism in Sapa, they learnt quickly to take advantage of it. They took to English with a ferocity not seen elsewhere in Vietnam and remodeled their simple wooden stilt homes to accommodate travelers for overnight stays. Today, almost every man, woman, and child speak fluent English (often with strong accents caught from tourists) and every home has a few extra roll mats and blankets in case a trekker stops by. For some visitors, this swift change from agriculture to tourism in almost every corner of the Sapa valley has taken away from the authenticity of the place. For want of a better term, people feel Sapa has become commercialized.
Sapa Town is where the transformation is most apparent. New hotels are popping up in every available space and people flock to the streets trying to make any extra income they can. With their language skills, local women can be incredibly assertive in their sales tactics and are not afraid to get in your personal space. It's very different from the streets of Hanoi, just 5 hours away, where most people won't even look twice at a foreigner. Having to turn so many people down is at first a little sad, and then increasingly frustrating.
Of course, with all this change and development, there are some who get left behind. This is often the case for the most pushy of minority people who come from deep in the valley, in the more remote villages, to sell their handicrafts or attempt to take tourists back to their village. They have seen the benefits of tourism and they will go out of their way to try and receive some for themselves.
Travelers come to Sapa hoping to escape into nature, the tranquility of the mountains and engage in friendly cultural exchange. Sometimes, what they find is construction, crowds at every turn, and feeling like a walking wallet.
So, considering all this, why is Sapa worth visiting in 2020?
Well, let us count the ways!...
Sapa will always be beautiful
Despite a decade of development and hasty tourist infrastructure, Sapa is still one of the most beautiful places in Vietnam. There may be a giant cable car etched across mighty Mount Fansipan, and hotels cropping up (even in tiny villages), but the core of the Sapa Valley—its craggy mountains and vibrant green hue—cannot be changed. If you can look past the modernization, the neon lights and the crowds of other tourists, the beauty of Sapa will reward you.
In fact, over the last few years, the tourism industry and local entrepreneurs have begun to take on a more sustainable view of tourism development. New boutique hotels are more often than not keeping with traditional design.
The town itself also has a strangely charming atmosphere. With its narrow lanes and crumbling French Colonial buildings that sit beside higgledy-piggledy construction from every era since, Sapa Town is certainly unique.
Sapa is still one of the best places to trek in Vietnam.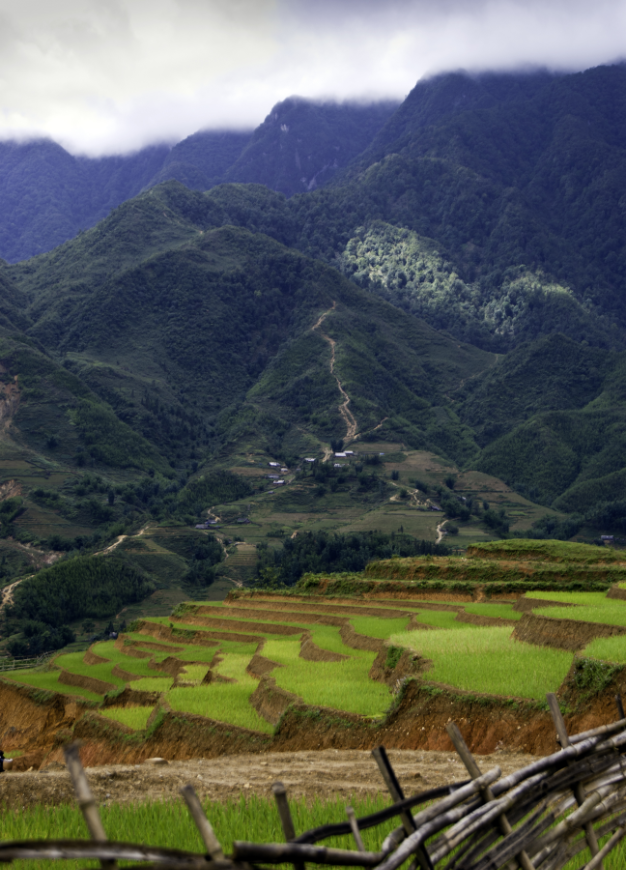 There is so much terrain to explore. If you love trekking, you'll definitely want to make a pilgrimage to Sapa.
Whether you want to tackle Vietnam's largest mountain—Mt. Fansipan—or you are happy with an afternoon stroll, there is a hike for everyone in Sapa. While Sapa Town is a heavily congested and bustling place, just 10 minutes in any direction and you will once again find yourself surrounded by nature. The Sapa Valley is a huge expanse of interconnected villages and hiking between them, up and down steep hills and between those iconic terraced rice paddies, is a beautiful experience.
Even on a cloudy day, the mist clinging to the top of the hills gives the valley its own kind of surreal splendour.
Plus, you will often find yourself with no other company than a couple of grumpy buffalo or cute children.
Another commonly asked question is whether you can hike in Sapa without a guide. Technically, yes. However, we really advise against it and not because there are many dangers of hiking in Sapa alone. Without a local guide, you will miss out on learning about the intricacies of life in Sapa—those cultural quirks that must be shared via stories and anecdotes.
Through years of booming tourism, the locals in Sapa speak fantastic English and they are more than happy to share their culture with you.
By not hiring a guide in Sapa, you are also putting someone out of a well-paying job. Tourism is obviously the most significant part of Sapa's economy, and hiring a guide to show you around is one of the easiest ways to give directly to the local community.
Sapa has never been easier to get to.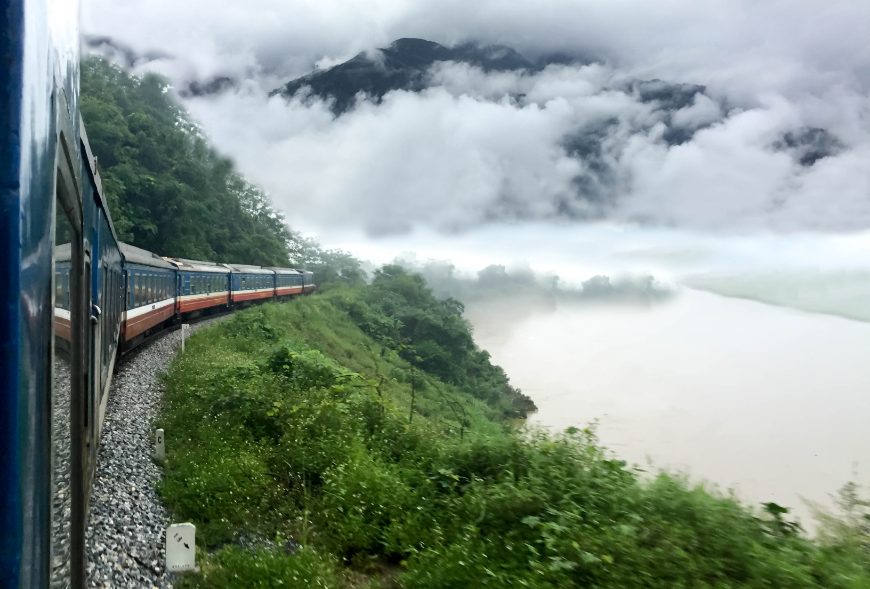 Take the scenic route, and let someone else do the driving when you head into Sapa.
For anyone who loves to stretch their legs in the midst of vast mountain vistas, or for those who want to escape the city for some fresh mountain air, Sapa is a mere train or bus ride way from Hanoi.
Newly paved roads and improved rail networks mean that Sapa has never been easier to get to. In just 5 hours, you can travel from the heart of Hanoi to the villages of Sapa by bus. Or, for a little extra comfort, you can take a luxury overnight train and sleep your way into the mountains. The quality, quantity, and speed of transport to Sapa definitely make it a worthy trip from Hanoi.
Be aware that by taking the train, you will be traveling to Lao Cai city, and then need to take a bus into Sapa Valley. Buses go directly to Sapa Town.
Culture in Sapa is holding on.
For those looking to understand more about the diverse cultural makeup of Vietnam, you will not leave disappointed. The local population of Sapa understands, on a fundamental level, that their culture and traditions are the very reason that people want to spend time in Sapa (along with those incredible views, of course).
This means that even in 2020, when much of the world seems so similar, the local Hmong and Red Dao proudly dress in traditional clothing. They still get up before the tourists to work in the fields before a day of trekking. In fact, many hosts will happily take their guests into the fields to teach them about rice cultivation. Hosts are also more than willing to share their stories of marriage, children, and local festivities.
Sapa is a hands-on lesson in sustainable tourism.
If you read our recent article about ways to think about sustainable tourism, you'll have learned that thinking outside the box, traveling off the beaten path, and making an effort to immerse yourself in local culture are all ways to travel more sustainably. If you want to make your trip to Sapa as wonderful as possible for both you and the locals you choose to spend your time with, then all it takes is a little research.
There are plenty of tours and treks to smaller, more remote villages in the Sapa Valley. Simply asking your guide to show you something different could turn out to be a totally unexpected adventure. And remember, the longer you spend in Sapa, the deeper you can go and the more time you can spend with the local people.
Further advice on traveling responsibly in Sapa:
The sun never truly sets on the beauty of Sapa.
Traveling to Sapa in 2020 will certainly mean sharing the experience with plenty of other tourists. If you are thoughtful about where you spend your money and how you interact with the local people, you will be rewarded with beautiful natural scenery, wonderful trekking, and unique opportunities for cultural exchange. Go to Sapa with an open mind and you will find warm people with an interesting story to tell, and you'll leave with plenty of your own too.
Jade House, Anywhere Contributor
Jade House is a freelance writer who has spent the last few years living in Asia and exploring as much as possible. This year you'll find her closer to home, taking camper van adventures across Europe with her fiancé and their dog. Follow the day by day journey on Instagram (@jade_house) and read more from her at journey-count.com.