There's nothing worse than arriving on a tropical island for a long-awaited escape from the world, then realizing it's just not the atmosphere you were expecting! Read on to get the inside word on the many stunning islands of Belize, and let us help you choose the perfect spot for your next holiday.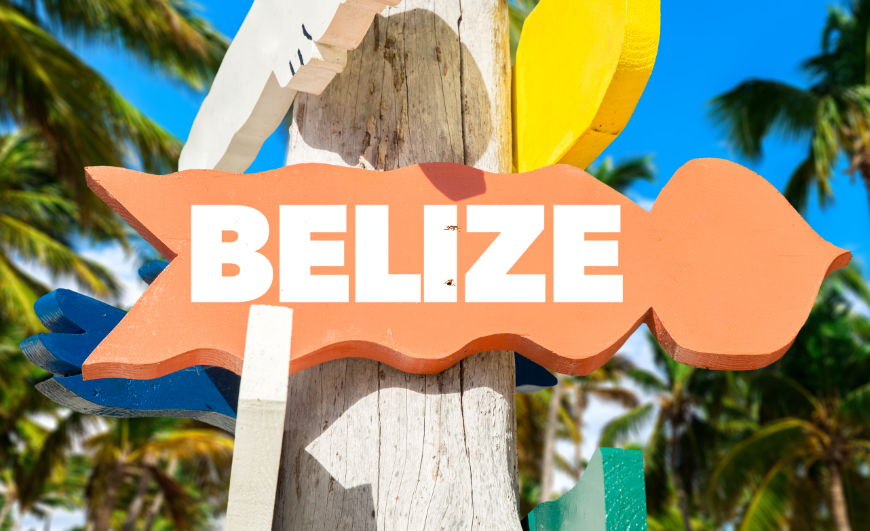 Belize islands by travel type? Right this way...
If you're thinking about heading to one of Belize's plethora of tropical islands over the holidays, then we can help you choose the right one! While they are all stunning, some are more remote, and each suits a different type of traveler. If you're a family, we recommend Caye Caulker. If you're flying solo, then don't miss Tobacco Caye or the Turneffe islands. And, if you're traveling as a couple on a romantic escape from the world, then you'd be crazy to go past Ambergris Caye or the South Water Cayes.
While they all share gorgeous weather, each has a different atmosphere with different activities, transport modes, and restaurant options. Accommodation varies too, so read on and let us help you create the perfect trip. If you'd like more information on what to do and where to go in Central America, then make sure you take advantage of our free trip planning service. We've got staff on the ground in Belize to organize everything for you before you even arrive.
What Are The Best Belize Islands For Families?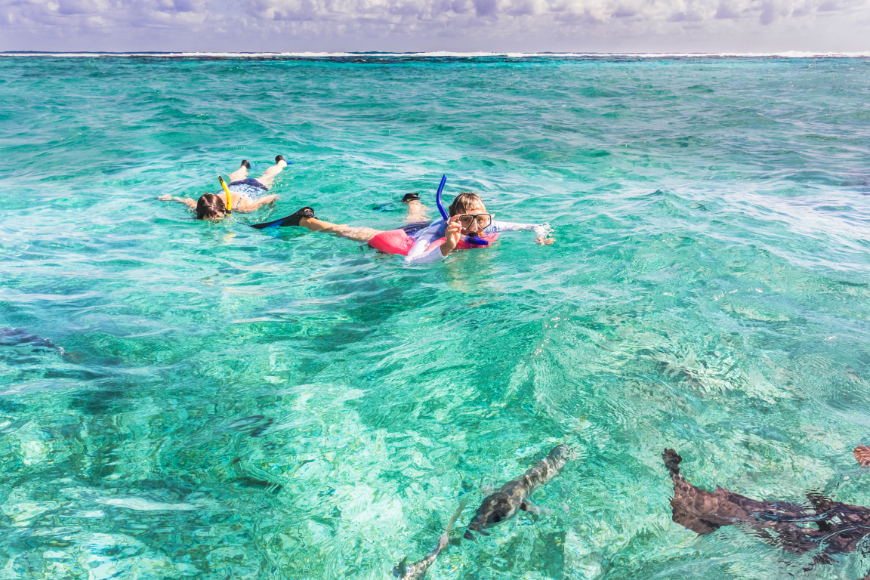 Not only are the people friendly in Belize, the fish are too! A snorkeling excursion beats the aquarium any day.
Belize is home to some of the best islands in Central America, but we all know that family trips can require little extra planning. For a start, it's helpful to avoid long transits that can leave your little ones exhausted. It's also important to ensure the accommodation is safe for children and that there's a good range of food options for any picky eaters you may be dealing with.
Caye Caulker is tiny, peaceful, and great for families, as there are no cars and sandy roads. You have the option of renting bikes or buggies to get around in the warm sun. It's small, so imagine yourself with the children strapped in behind you as you cycle through the quiet palm tree groves. One great attraction here is the "The Split." It's a channel where two islands meet, and it makes for a fantastic day out for the family. You can wade in the shallow waters or sit under an umbrella gazing at the gorgeous scenery. The older kids can jump off the dock and snorkel, and you can all spend afternoons lazing in the oceanfront hammocks.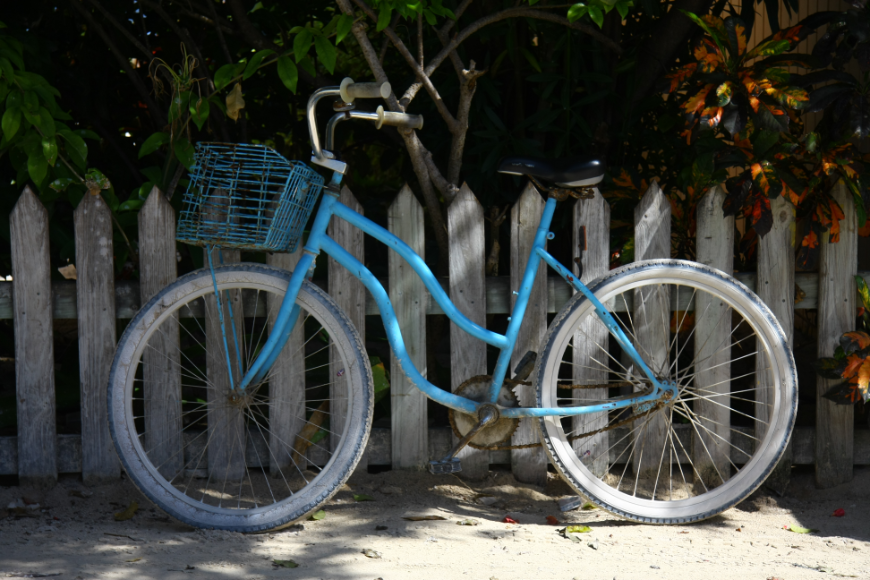 This mode of transportation is family-friendly, and fun for everyone. No more boring car rides!
There are golf buggies to get around if you're too tired to ride a bike, and lots of places to hire kayaks so you can explore the Belize Barrier Reef. It's fascinating for kids to see the little fish swimming below, as you glide above them on the surface of the water. Accommodations range from budget to more upscale. Feel free to ask us for recommendations. You and your family can catch a 45-minute express ferry from most of the main hubs in Belize or take a quick flight in. There are golf carts at the Caye Caulker airport or dock that can quickly transport you to your hotel. We also recommend the Turneffe Islands for families.
The Best Belize Islands For Couples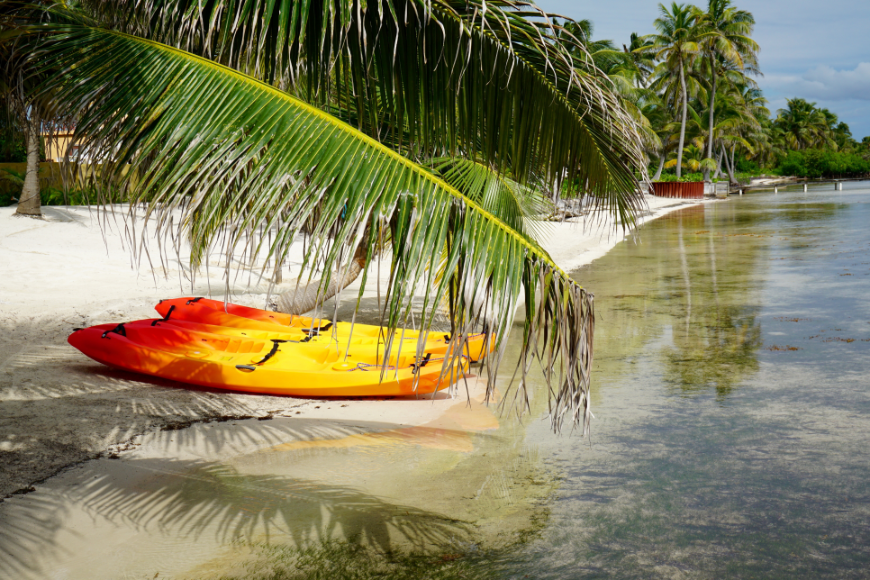 Up for an adventure? Enjoy a kayak ride for two!
Ambergris Caye is one of the most well-known destinations in Belize, but the island is still very romantic despite the crowds! Think aquamarine lagoons, salty kisses, and sandy toes as you wander through the chilled out town of San Pedro for a candlelit dinner. The best thing about Ambergris is the Barrier Reef, it's only a mile offshore so you can snorkel together in the warm water. The color and ceremony of Mayan cultural and religious traditions can still be felt, and there are loads of private guest houses or little hotels to make your own. Many of them have docks for afternoons of sunbathing, but you can also try kayaking, windsurfing, kiteboarding, and stand up paddle boarding if you're feeling energetic.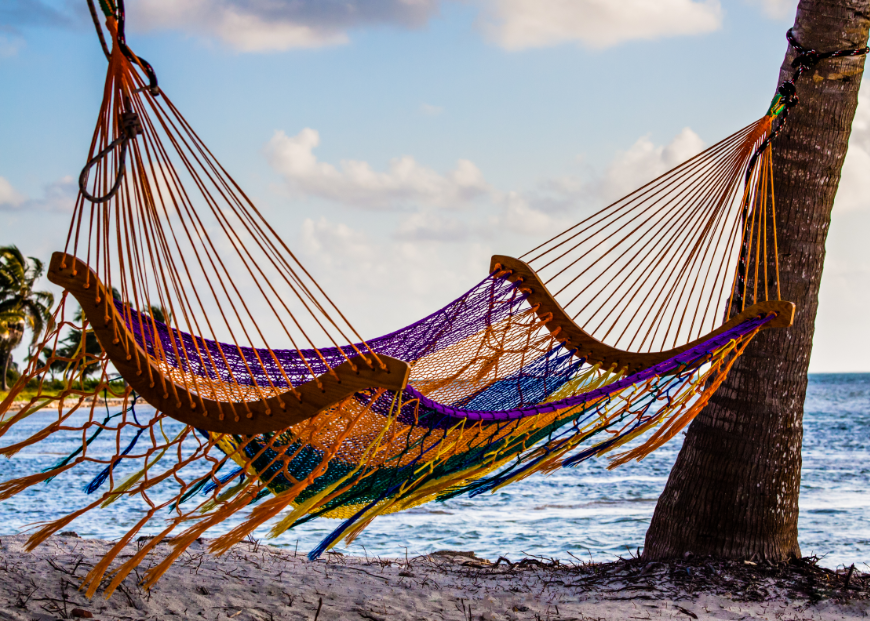 In need of relaxation? How about a beachside nap for two?
You'll drink coconuts by day and feast on lobster by night. There are some exciting day trips to the marine parks where you can see some of Belize's incredible biodiversity, and it's easy to get to and from this island. You can take an express ferry from Belize City to San Pedro or a flight in. Viewing the scenic blue sea dotted with islands from above is a once in a lifetime experience. It's also an excellent proposal idea if this is the trip where you're thinking about popping the big question! And, if you've already been to Ambergris, we also recommend South Water Caye for couples.
Best Belize islands for solo travelers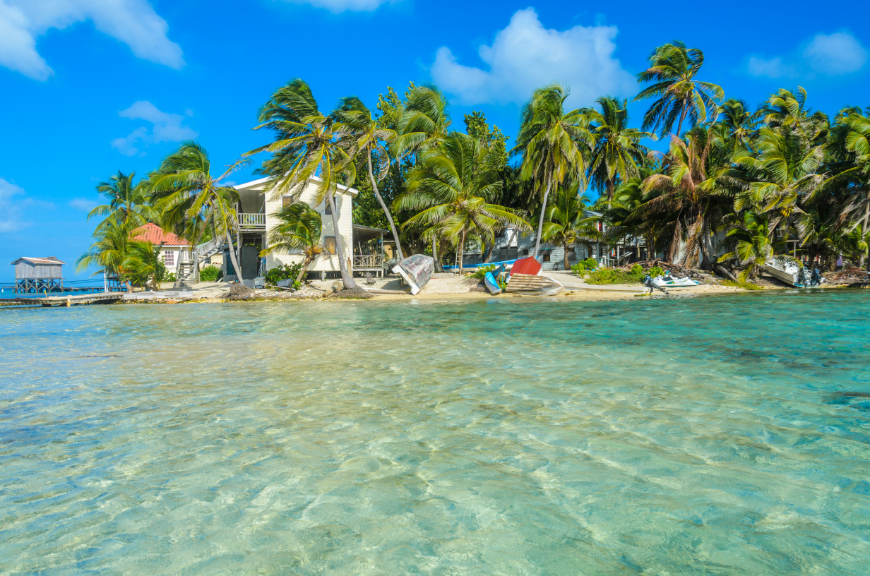 The humble accommodations and lovely beaches of Tobacco Caye.
If you're going it alone, then Tobacco Caye is a tropical and fascinating destination where you'll be made to feel welcome and safe. It's a small island in the midst of the South Water Caye Marine Reserve, and it's only reachable by boat taxi from Hopkins and Dangriga. It's a perfect way to stoke up a sense of adventure; you'll feel like you're in a movie as you settle your bags in the rustic seaside cabanas!
The island is entirely off the grid, so you can truly escape the real world and all the gadgets that go with it. That means rainwater showers and solar panels. We should say that Tobacco Caye isn't the best if you're looking for luxury, but it's an experience that you won't regret indulging in. Hammocks are strung up along the beach, and the scuba diving is off the charts, with such immediate access to the Belize Barrier Reef you can spend days exploring.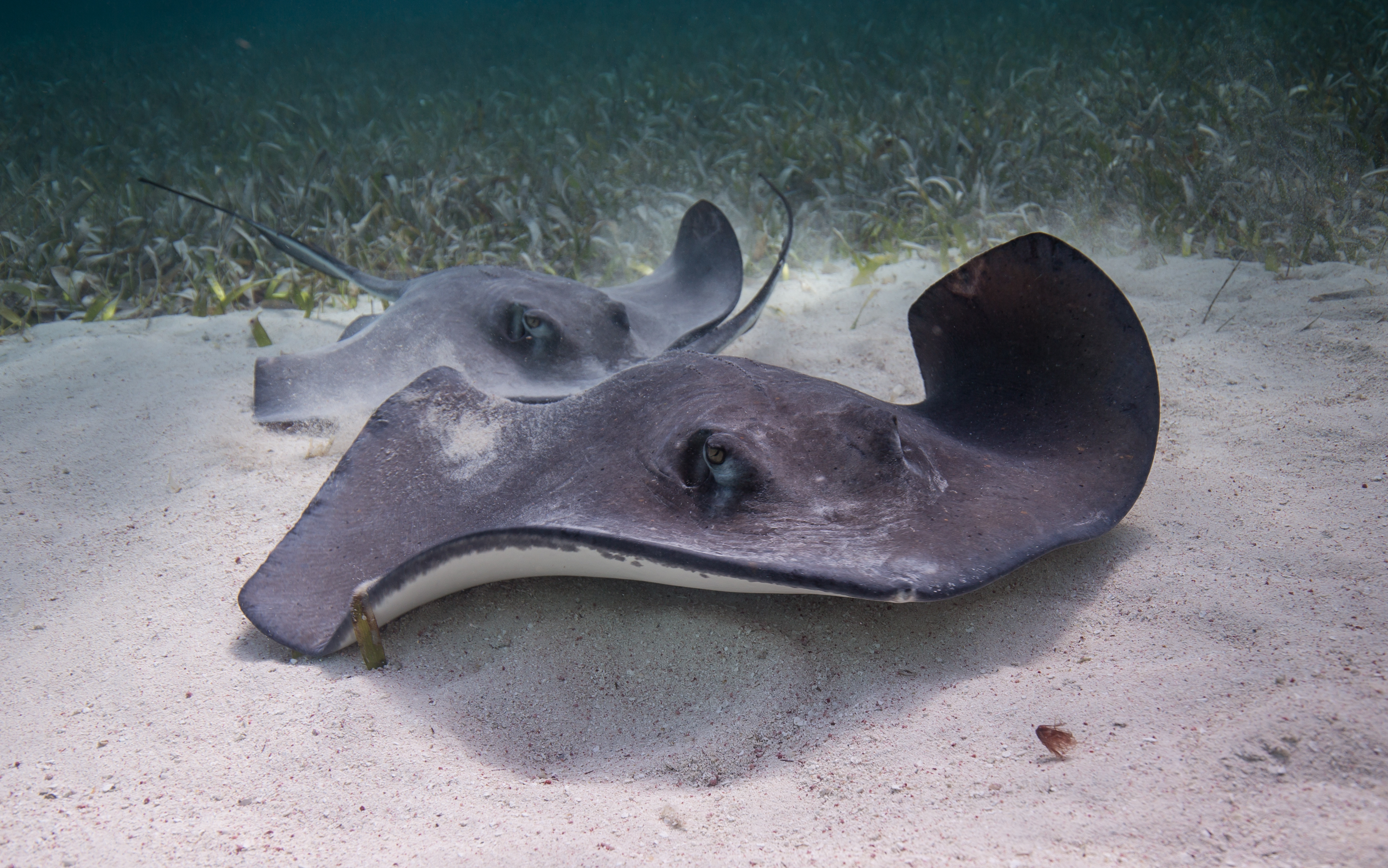 Two rays glide across the bottom of Shark Ray Alley.
Tobacco Caye is picturesque and quiet, but you'll find there are daily visits from those viewing the other islands on small incoming boats.
There's not much on the island with only a small snack shop for tourists, but Anywhere Travel can plan you a trip with all-inclusive meals so you can fully relax and enjoy the solitude. It's also a lovely place to learn how to dive or paddleboard, and there are friendly locals who will take you on a quick boat tour to a place called Man-O-War Caye. This is a mangrove island where hundreds of frigates and brown boobies have established nesting sites. If Tobacco Caye sounds a little remote for you, we also recommend South Water Caye for solo travelers.
Discover The Best Belize Islands For You
Whatever type of traveler you are, you're sure to enjoy the memory of Belize's beautiful sunsets.
After years in the travel industry and many visits to Belize, we're uniquely qualified to advise you on island-hopping adventures in all sorts of fun destinations. Don't hesitate to get in touch with us for a sample itinerary for your Belize adventure. We hope you love it as much as we do!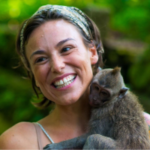 Emma Harrison-Clark, Anywhere Contributor
Emma Harrison Clark is a Bali based writer and adrenaline junkie who loves to travel. When she's not diving, riding fast motorcycles or fighting at mixed martial arts gyms you can contact her at www.emmaharrisonclark.com.