Turneffe Islands, Belize
Located 30 miles (48 km) east of Belize City are an expansive group of mangroves and tropical sandy island atolls where there is nothing more than a handful of private resorts and a very small population of resident fishermen. The waters surrounding the Turneffe Islands are home to the largest coral reef atoll in all of Belize and were set aside as a protected marine reserve in 2012.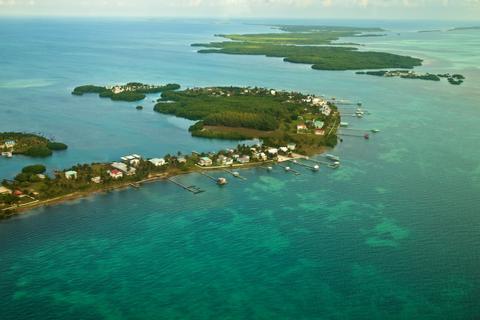 Luxurious accommodations offered in the Turneffe Islands include oceanfront bungalows, where large white-sand beaches await just outside your door. People who spend several days at Turneffe Islands will unplug and unwind—there are no restaurants or amenities other than what is offered by the resorts.
The biggest draw of the Turneffe Islands are the white-sand beaches, the crystal clear Caribbean waters, and the healthy reef ecosystem. With over 50 miles (80 km) of coral reef and more than 100 dive sites, travelers who come here have immediate access to world class diving, snorkeling, and fishing. From the resorts, many of the best dive sites are less than 10 minutes away. In addition to colorful corals, turtles, eels, and reef fish, lucky divers may also encounter larger pelagic species such as reef sharks, hammerhead sharks, and large groupers. With warm water temperatures averaging between 80–84°F (26–29°C) and visibility averaging 75–80 feet (23–24 m), conditions for diving are often ideal, which makes it an excellent place for new scuba divers to get certified. In addition to the dive sites within the Turneffe Atoll, staying here will also put you within a 1.5-hour boat ride of the famous Blue Hole. Day trips to this spectacular site are easily arranged with the resorts.
The network of salt-water lagoons and mangroves also provide primate habitat for a variety of species, including juvenile fish and breeding birds. The Turneffe Islands have one of the largest nesting areas in the Caribbean for American crocodiles, a threatened species, and mangrove tours provide visitors with intimate wildlife viewing opportunities. Kayaking and snorkeling are also popular activities, as they can be done right from the beach at any of the resorts.
Another unique feature of the Turneffe Islands are the miles of shallow saltwater flats where people come from all over the world to fly fish. Bonefish, permit, and tarpon are just a few of the species that are frequently caught, and fly fishing lessons are offered to people of all skill levels.
From Belize City, getting to Turneffe Islands takes approximately 1.5 hours by boat, depending on weather. The three main resorts can help arrange boat transportation, which may be complementary depending on the day of your arrival. Private charter flights, which take 15 minutes from Belize City, can also be arranged.
For more budget-minded travelers, day trips from Ambergris Caye and Caye Caulker are possible, but tours often require a minimum number of guests.