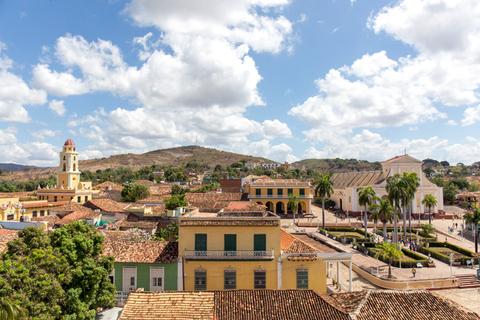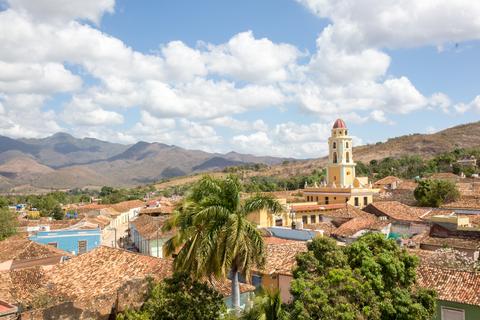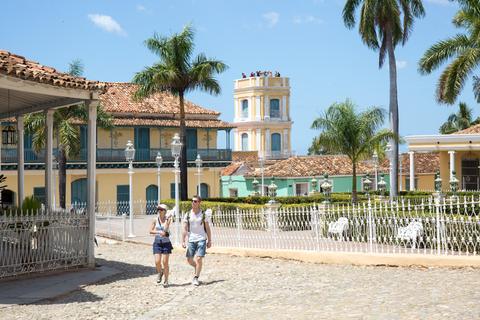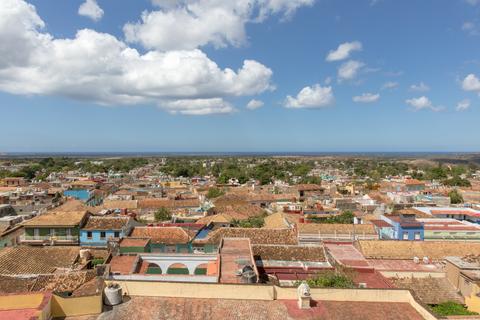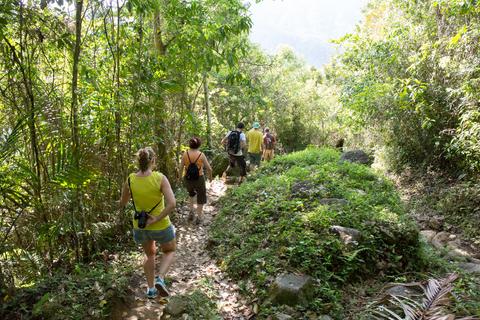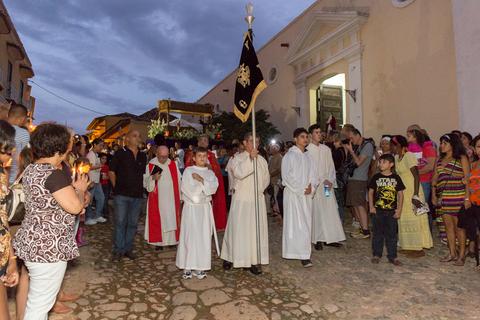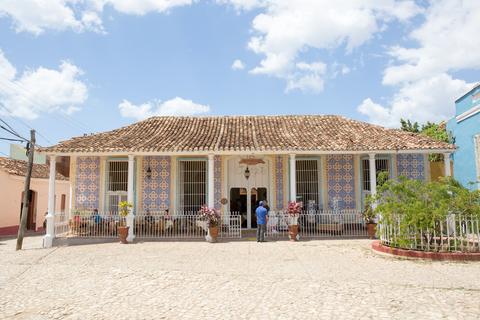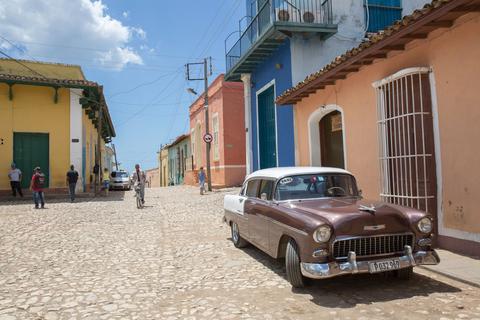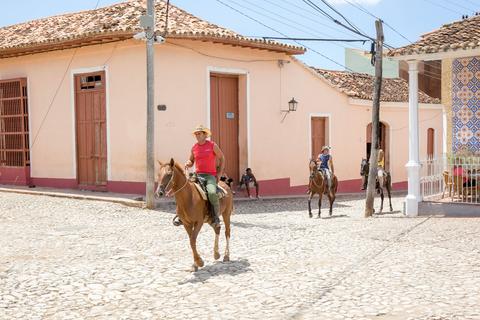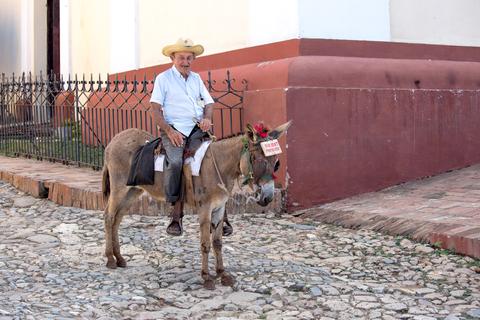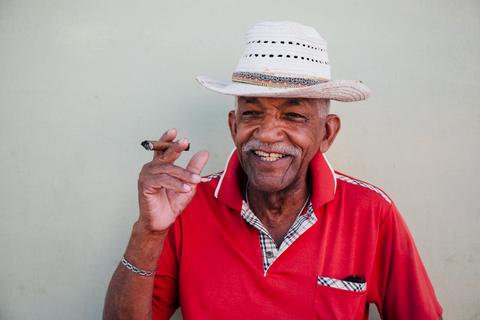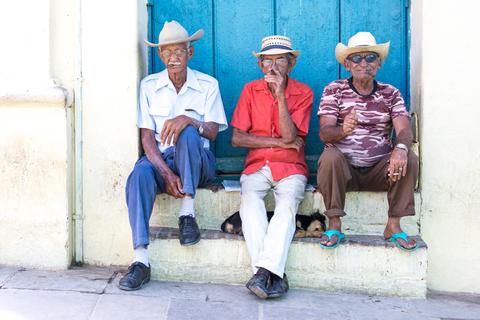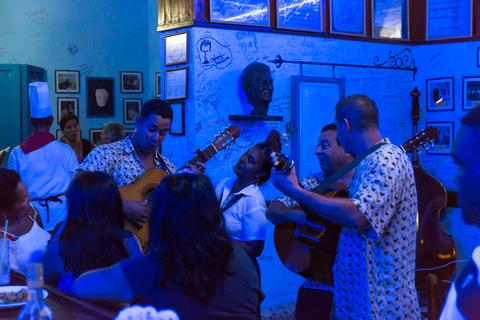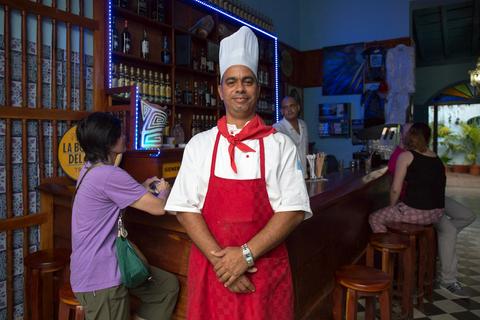 Located 50 miles (80 km) east of Cienfuegos, Trinidad is a well-preserved colonial city set along the southern shores of Cuba. The city is backed by the forested Sierra Escambray and fronted by a lovely section of the Caribbean. The town is like something out of a postcard, with classic cars, cobblestone streets, and quaint cafes. Trinidad's narrow streets are lined with pastel-colored houses, many of which date back to the 18th century. You'll see locals strolling alongside men on horseback, and neighbors chatting in front of their homes. Trinidad is really very special—it's no wonder that the whole city is a national monument.
That said, it's good to be upfront about how touristy Trinidad is. Foreigners love this city, and you'll see them in most places around town. However, this is truly a wonderful city, and it's understandable why most travelers want to include it on their Cuban itinerary.
Diego de Velázquez founded Trinidad in 1514. The Spanish built a gold mine here, and also used the town as a base for ships heading off to conquer Mexico's Aztec empire. Trinidad eventually became wealthy by importing slaves from Jamaica and putting them to work on local sugar plantations. The Valle de los Ingenios, just outside town, was home to several lucrative sugar plantations, and the money from these plantations helped build the town's many mansions. In the early 19th century, Trinidad began losing ground to other cities in Cuba, and by the turn of the 20th century the city was in poor shape. In the 1950s, however, a preservation law helped to halt new development and the city was made a national monument in 1965. The historic center was restored and Trinidad was named a UNESCO World Heritage site in 1988.
These days, most sites of interest are set within the historic core. Plaza Mayor is the heart of this area. This park is lined with palm trees and wrought-iron benches. The Iglesia Parroquial de la Santísima Trinidad lines the plaza's northeast corner. This cathedral dates back to the 19th century and hosts regular mass—be sure to stop by the church during Semana Santa if you're around in late March of early April. You'll see elaborate religious processions and enjoy a festive atmosphere.
A handful of museums surround around the plaza, as do a number of good restaurants and bars. On the north steps of Plaza Mayor you'll often find music and dancing in the evening, hosted by the Casa de la Música. For more revelry, head to the Casa de la Trova or Casa de la Cultura, both of which feature musicians playing tunes that locals and foreigners can groove to. There are also a number of places to learn salsa and other traditional dances in Trinidad. After a lesson or two, head to the local dance halls to try out your moves.
The best museum in town is the Museo Histórico. The museum is set within a large, exquisite home and is dedicated to the history of Trinidad. You can see exhibits on sugar plantations and Afro-Cuban culture, and climb the museum's watchtower to enjoy fabulous views of the city.
Trinidad has a number of excellent dining options. You can enjoy delicious traditional cuisine and creative culinary fusions in the town's many paladares (privately-owned restaurants). These restaurants often feature live music.
Outside of Trinidad, visitors can enjoy a number of activities. The beautiful white-sand beach of Playa Ancón is a short drive away. This beach is a perfect place to soak up the sun and swim in the ocean. The mountains above Trinidad are home to the Gran Parque Natural Topes de Collantes, which hosts an assortment of excellent hiking trails, many of which lead to lovely waterfalls. And don't forget about the Valle de los Ingenios—set just a few miles outside town, this valley was once home to some of the wealthiest sugar plantations in Cuba. Today, you can visit the remains of these plantations.
Do note that while Trinidad's residents are just as friendly as everywhere in Cuba, they are slightly more forward about pushing restaurants or tours to visitors. If you're not interested, a simple "no, gracias," will do. ** ** ** **
Trinidad Personalized Trips