If you're traveling alone but still thirsty for adventure, Vietnam's Ha Long Bay area will tickle your fancy with the beauty and mystery of its limestone caves.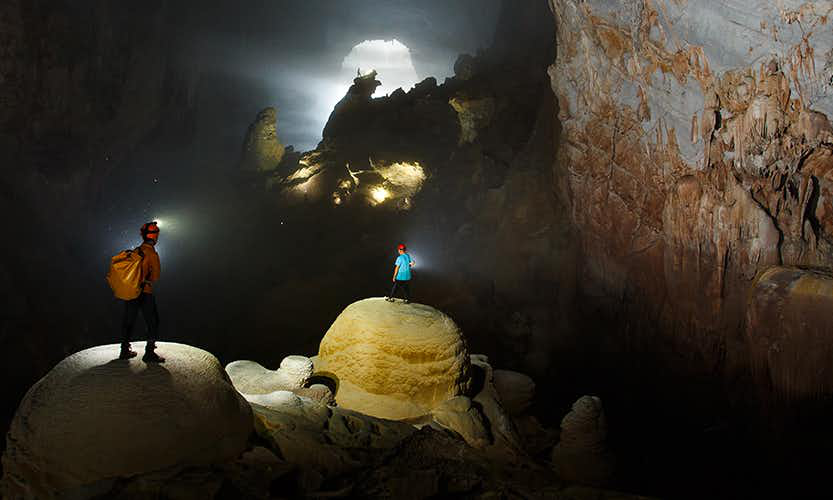 Yes, this image is real. There's a reason Hang Son Doong is one of Vietnam's most visited caves, but it's not the only cave worth exploring...
While cave enthusiasts are often drawn to see Hang Son Doong in central Vietnam, we recommend going a little further North to really make the most of your Vietnam caving expedition. There's magic to be found amongst the jewel green waters and ancient karst formations of Ha Long Bay, so don't miss out!
The mystery and history of Ha Long Bay's cave formations
The exquisite Ha Long Bay is even more beautiful in person.
Some of the most beautiful caves on Earth surround the shores of both Ha Long Bay. The whole area is an "Instaworthy" experience that you'll never forget, but delve a little deeper to discover the myths and legends that have given it such an essential place in the rich weave of Vietnam's history.
Let's begin with the name: In Vietnamese, "Ha" means descending and "Long" means dragon. Taken literally, this means Ha Long is the bay of the descending dragon. With a coastline of only 120 kilometers (76 miles), this area was often attacked by invaders from the North. Legend says that the Jade Emperor of heaven sent a Mother Dragon and her children down to Ha Long to assist the Vietnamese army with their endless battles. At a pivotal moment in the war, just as would be conquerors were attacking the Eastern Sea, the dragon and her children appeared in the sky, breathing fire to incinerate their enemies and dropping diamond scales which formed the karsts, islands, and inlets we see today in Ha Long Bay.
There are around 1,900 emerald-colored islands in the bay. They vary in size but fascinate both tourists and local fisherman, who generally live on floating junk boats in the water. There are 200 or so species of fish in the area, but the caves and islands are the main attraction. Ha Long Bay became popular with the French in the 19th century, but its stunning seascape of limestone pillars have since graced the covers of many travel magazines.
A site of significant biological interest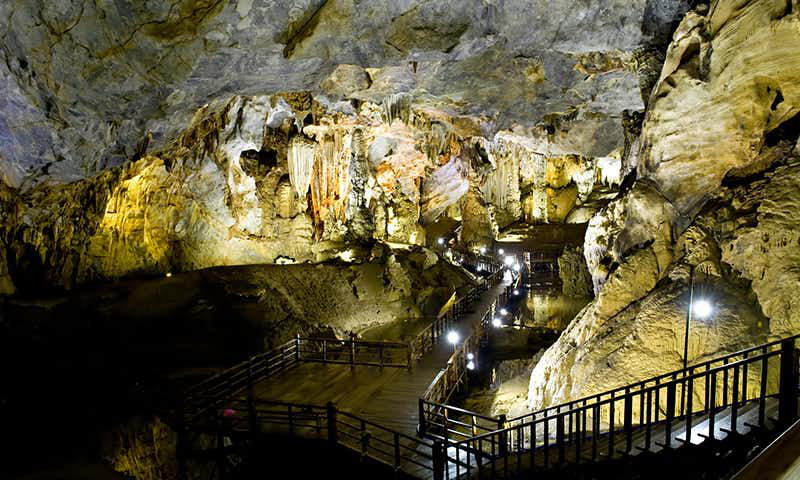 Think you can't manage the terrain? The Phong Nha and Paradise Cave tour
is well-lit and well-structured, and marries a cruise with adventure.
The warm tropical climate has been at work in Ha Long Bay for 500 million years leaving an impressive range of evergreens, flora, and fauna above the surface — and untold mysteries below. In 1994, UNESCO declared more than 1,600 of the islands a world heritage site. The drowned limestone formations have eroded in places to create arches and caves. You'll also see sharp peaks where the sea has eaten away at the base of the islands giving them an undercut of sorts, so they appear to be floating on water.
The best way to see this glorious limestone water park is on a cruise boat. There are several different options, but we recommend you take two days and sign up for an overnight stay, so you can take in the sunset and then wake up fresh in the jewel green waters to continue your cave cruise. We like the Heritage line and the Baha Overnight Cruises where you can swim and kayak in the bay, then be guided through the various caves and even visit a local village.
The best caving in Vietnam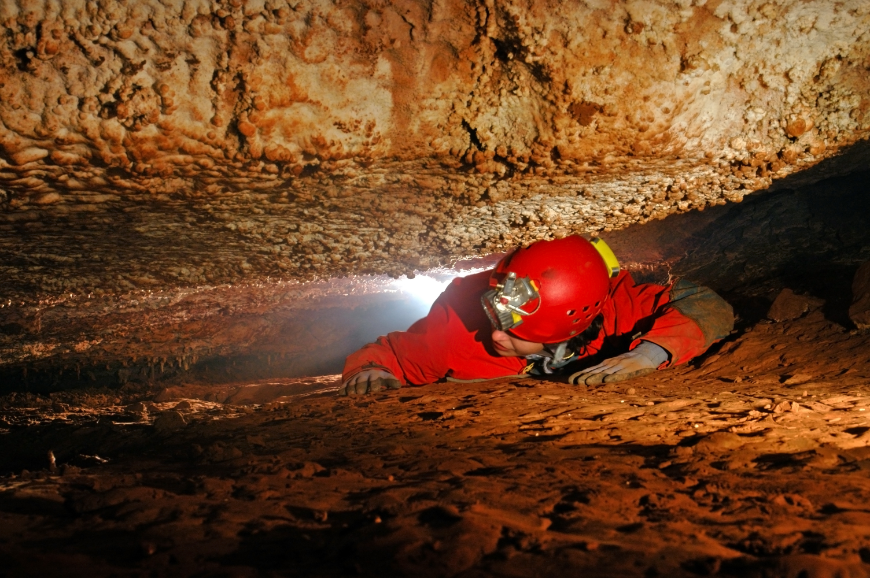 This is one form of 'spelunking' or 'caving,' but there are others. You CAN explore caves without crawling through small, enclosed spaces.
When you say "caving," most people think about squeezing into damp little tunnels with a helmet on, but these caves offer a more inclusive and picturesque experience. In most cases, you can walk upright inside them to view the stalagmites growing in different shapes and layers. Hear the call of birds as the filtered light creates a church-like environment. To add to the experience, each cave is famous for a different legend and known to bring a change of luck to travelers willing to open themselves to their ancient and mystical energies. Below, we outline the myths of four of the best caves in Ha Long Bay. If you're a solo traveler on a journey inward, then maybe one of these caves will give you the answers you've been looking for.
Cave one: Trinh Nu Cave (Virgin Cave)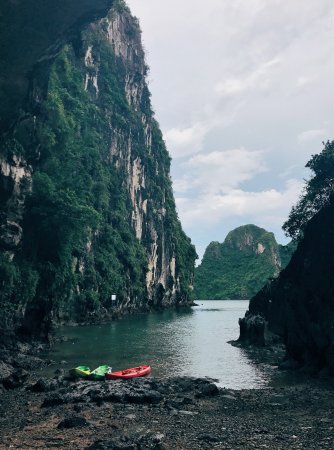 Photograph of kayaking to 'Virgin Cave' in Ha Long Bay, Vietnam courtesy of TripAdvisor.
This cave is located about 15km south of Bai Chay Beach in the Bo Han mountain range. It's known as a virgin grotto where couples can go to take an oath of love for each other. Virgin cave radiates romantic energy, and two stone statues grace the space. A long-haired maiden looks out to the sea in hope towards the figure of a young male who's forever vying for her attention. Legend says she was waiting for her love to return with fish on the night of their wedding when her father intervened and forced her into exile. They searched the rough seas for each other in vain, and it's said on stormy nights you can still hear him calling for her love.
Cave two: Thien Cung Cave (Paradise Cave)
Bright lights add a new dimension to the already striking features of Thien Cung cave.
Sometimes referred to as heaven cave, the stalactites and stalagmites here form strange shapes, leaving visitors with a sense of otherworldly magic. Thien Cung was only discovered in 1993, and has a narrow cave door which is dressed in tropical vegetation. The rock formations inside resemble the shapes of a dragon, a phoenix, and four pillars. These pillars are interpreted as the pillars of honesty, trust, love, and service — the elements one must live to regain access to this imperial chamber paradise after death.
Cave three: Bo Nau Cave (Pelican Cave)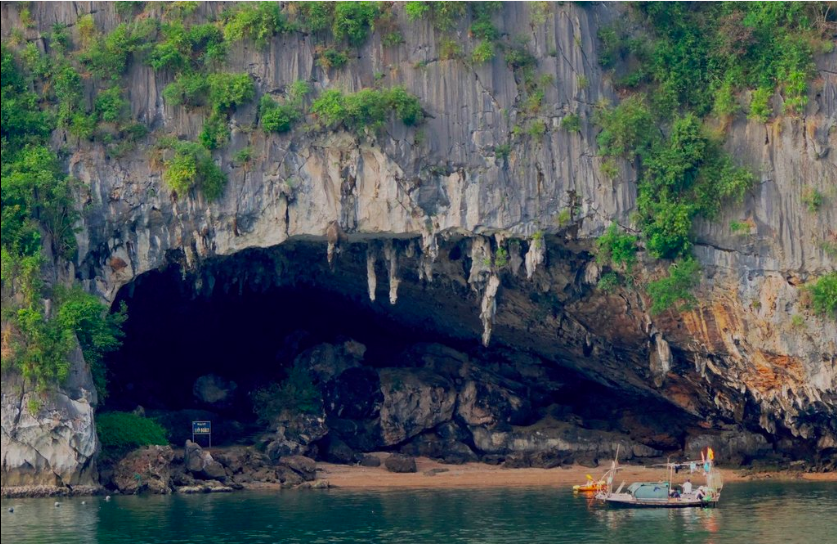 Enjoy a nice ride over calm waters when you make your way to Bo Nau Cave. Photograph courtesy of TripAdvisor user Frontiermail.
Pelican cave is south-east of the Trong Mai Islet and is a vast vaulted grotto with wide flat floors. The walls feature lots of stalactites and stalagmites, and three stone figures sit at its entrance. The stones resemble a pair of chess playing men and a fairy who are waiting out a storm. Bo Nau is a place of retreat and rest; it is said to bring a sense of safety and peace to visitors. You're likely to see local pelicans here; they take shelter from the wind and will stand with you to listen to the murmur of the sea.
Cave four: Sung Sot Cave (Amazing Cave)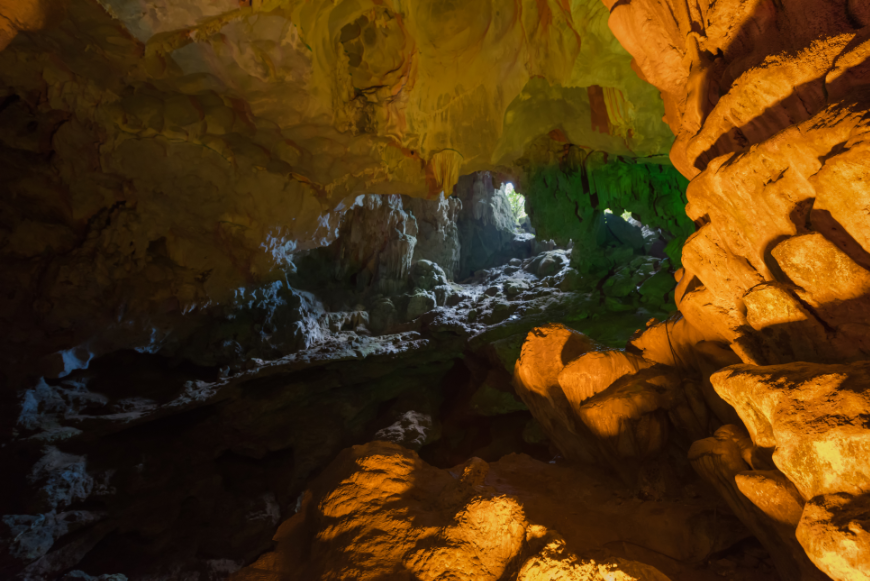 Notice how the structure is not only large, but also full of rather intricate formations.
Last but certainly not least is Sung Sot, the most famous cave in Halong Bay. Sitting at the center of the protected world heritage area, it has been left to grow lush with stunning foliage. You'll make your way up the hill and down again on large paving stones into a high ceilinged cave. The walls of Sung Sot are so smooth that they appear to be manmade; the cave has become known as a serene and regal castle. Rock formations resemble sentries, protecting the ambience, and you may find yourself drawn to stay for longer in the two chambers of this colorful cave. Light reflects off the water making the shadows and limestone formations dance for your camera. Stalactites hang from the thirty-meter ceiling. Deep inside the peaceful chambers, a pond forms the center of a majestic garden where figs grow, cycads flourish, and a centuries-old banyan tree stands guard.
Discover The magic of a Vietnam Caving expedition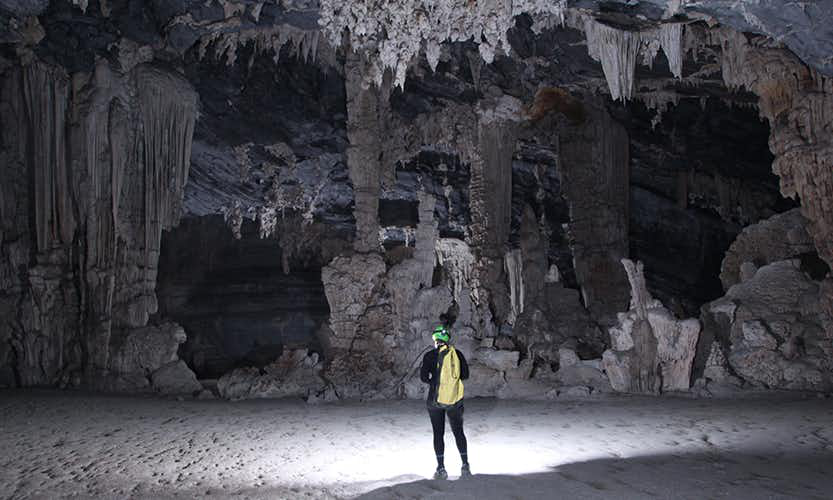 This explorer stands in the Tu Lan Cave System
— another Vietnam spelunking adventure waiting for you.
If the mystical stories and stunning seascape of Ha Long Bay appeal to you, then don't hesitate to contact our free planning service. We have people on the ground in North Vietnam to book boats, organize tours, and ensure you have the smoothest travel experience possible as you visit the bay of the descending dragon.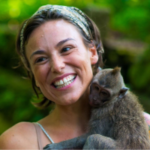 Emma Harrison-Clark, Anywhere Contributor
Emma Harrison Clark is a Bali based writer and adrenaline junkie who loves to travel. When she's not diving, riding fast motorcycles or fighting at mixed martial arts gyms you can contact her at www.emmaharrisonclark.com.