Embark on a voyage into Vietnam's watery landscape to see the country's top beaches, tucked away on tropical islands.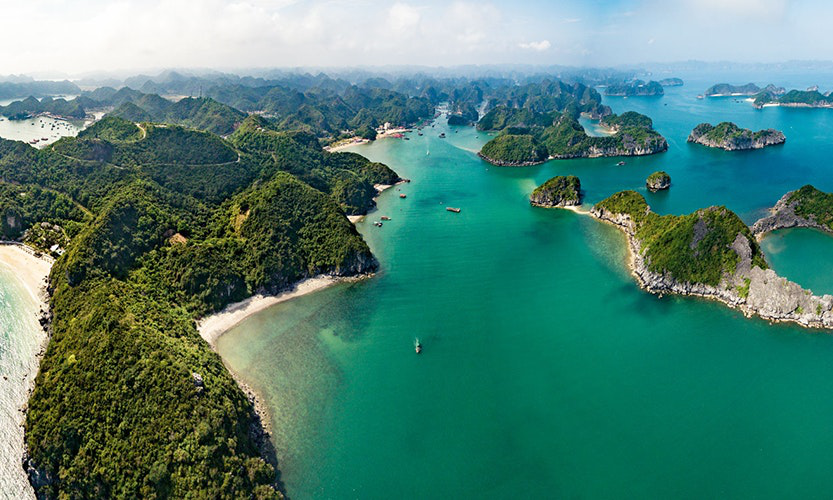 Discover the tranquil beauty of Vietnam's island destinations, then hurry and book your trip!
With such a long coastline and a vast delta, much of Vietnam can only be explored by boat. As you sail along the blue-green water, you may not want to return to land. So don't! Stay at one of Vietnam's island resorts and surround yourself with the sea. But remember — there's much more to these island destinations than swimming and sunbathing. Each of these islands has an unusual attraction you can't find anywhere else in the world.
An Binh Island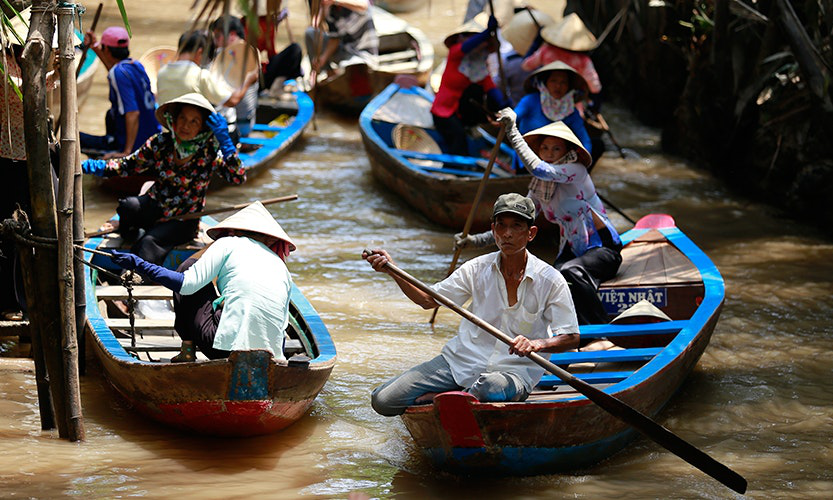 Travel at the pace of locals on the Mekong Delta's An Binh Island.
Depart from the delta town of Vinh Long to get to the shady shores of An Binh Island. The boat ride there takes you past shrimp farms and floating markets. Stay overnight at one of the cozy homestays to experience the relaxed pace of life of the Mekong Delta. Hammocks sway with the breeze — take in the sound of an afternoon rain shower and the trilling of nearby birds.
Bikes are a popular way to explore the island, and you'll pedal along a path lined with fruit trees.
As you make your way around the island, you'll visit homes where locals still ply their traditional wares — like woven hammocks, rice paper, and candies made from puffed rice.
Ly Son Island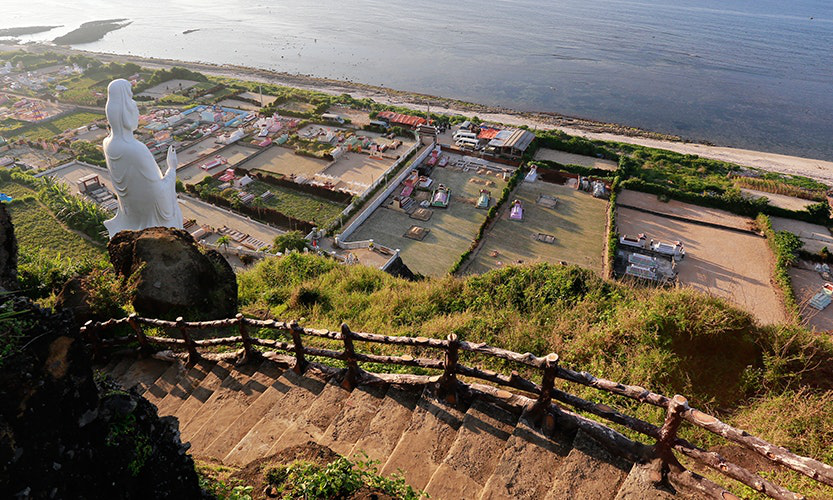 You will enjoy taking in the scenery, and the slower pace, at Ly Son Island.
Ly Son Island sprouts a checkerboard pattern of garlic bulbs, and the pungent smell wafts from roadside stands. If you visit from June to September, you'll also see locals selling their abundant shallots and onion harvest. Get a view of these fields from the top of Mout Thoi Loi, which was formed by the island's volcanic activity eons ago.
Ly Son Island doesn't have the white sand beaches of Nha Trang, so you won't find huge crowds. This is where you can go to experience a calm seaside town. It's a favorite of locals; Vietnamese city dwellers drive from Ho Chi Minh City for a few calming days by the sea. Beaches here are rocky, so if you want to swim, head instead to nearby Cat Ba Island. It's still worth gingerly making your way down the rocks to the shore to see To Vo Gate, a natural formation that looks especially photo-worthy under the rays of the setting sun.
Visit the island village of Thon Dong to see one of Vietnam's most curious temples — the Lang Ton Temple (Temple of the Whale). Its shrine displays an enormous whale spine. Whales are considered sacred here, and locals give any whales that wash up on shore a proper funeral. This tradition is based on the island's fishing culture and demonstrates their reverence for the sea.
Cat Ba Island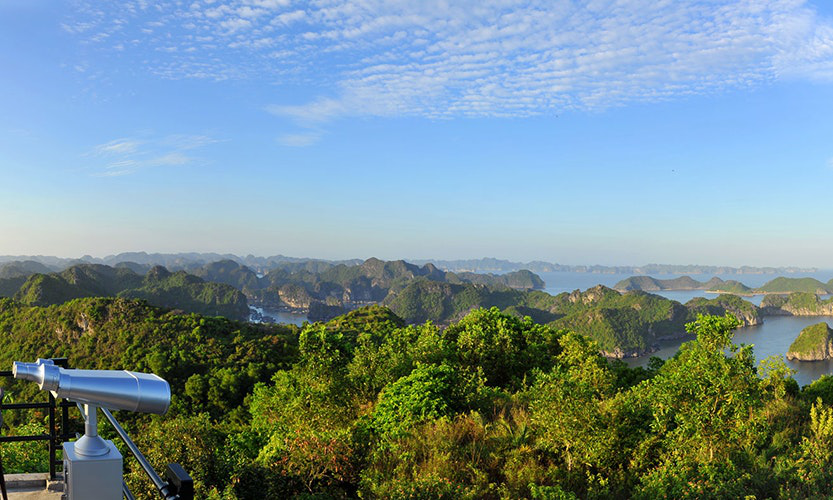 Explore the remote beaches of Cat Ba while you can, before development takes over!
Halong Bay is Vietnam's top destination and most visitors see it on a day trip and an afternoon cruise. Stay a little longer and get to know some of the bay's remote beaches on a visit to Cat Ba. Because it is so popular, Cat Ba Town has seen quite a bit of development. It's easy to find a nice place to stay, but make your way to the island's Lan Ha Bay when you're ready to get away from the crowds. Limestone caves surround the beach and make scenic spots to paddle on a kayak.
Inland, you can stop to see the eerie interior of Hospital Cave, a cave that the Viet Cong used as a spot for wounded soldiers to attempt to recover. Some of the hospital's furniture and medical equipment remain — it's not quite a museum and not quite an ordinary cave.
Phu Quoc Island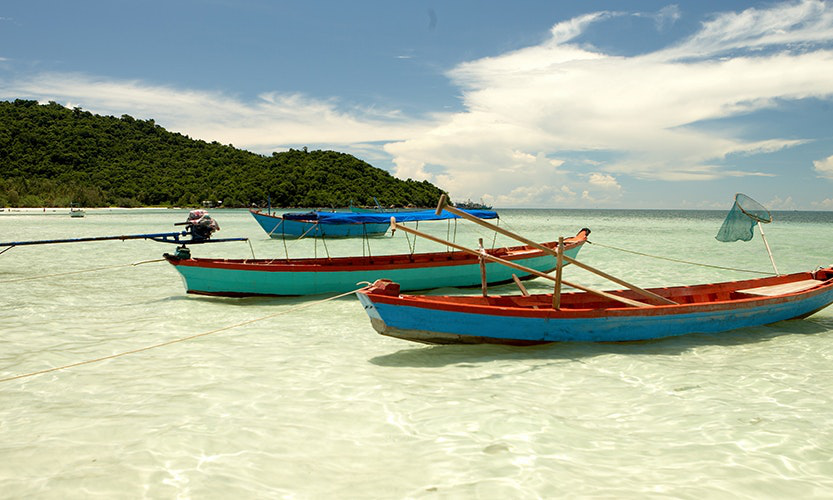 Phu Quoc is a very interesting island — home to both a spectacular fish sauce and extraordinary beaches.
On Phu Quoc Island, you can visit a factory that produces some of the best fish sauce in the country. Foodie travelers might want to see the enormous red barrels of fermenting fish, but locals will forgive you if your nose isn't up to it. Just remember that it's made the old-fashioned way, and adds something extra special to the local cuisine.
Of course, the island's main attractions are its beaches. Phu Long Beach is one of the island's most popular beaches, and the most populated with resorts. Sao Beach also sees lots of travelers, but is slightly less developed and has some of the island's prettiest scenery. On the northern end of the island, the cluster of An Thoi Islands provide the island's top snorkeling spots.
Con Dao Island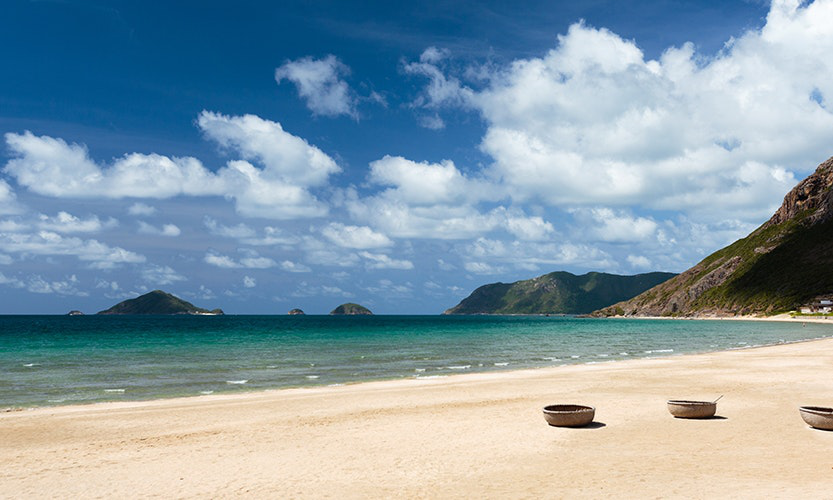 Sample an assortment of beautiful beaches from the Con Dao Island.
It takes about an hour to fly from Ho Chi Minh City to the Can Dao archipelago. You can arrive by ferry, but visitors usually choose to fly since it's a much more comfortable way to travel.
Despite its reputation as a vacation destination, for many Vietnamese, the island has a dark history as a prison under French colonial and North Vietnamese rule. Con Son, the largest island in the archipelago, has a museum dedicated to this history as well as a shrine to Phi Yen, the first Vietnamese woman to be executed by the French.
Although visitors typically find their accommodations on Con Son, the vast majority of the island is taken up by a nature preserve. Go here to hike through some of the truly wild jungles of Vietnam. During your stay on Con Son, you can sample a different beach every day. Ong Dung is one of the most visited beaches, and one of the easiest to reach. You can go a little farther off the beaten path at Nhat Beach, which is only walkable during low tide. You'll spy Dam Trau Beach from the airplane right before you land — hence it's nickname, "Airport Beach." Visit beaches on the other nearby islands on idyllic day trips, and go on snorkeling trips to see the surrounding rainbow reefs.
When To Go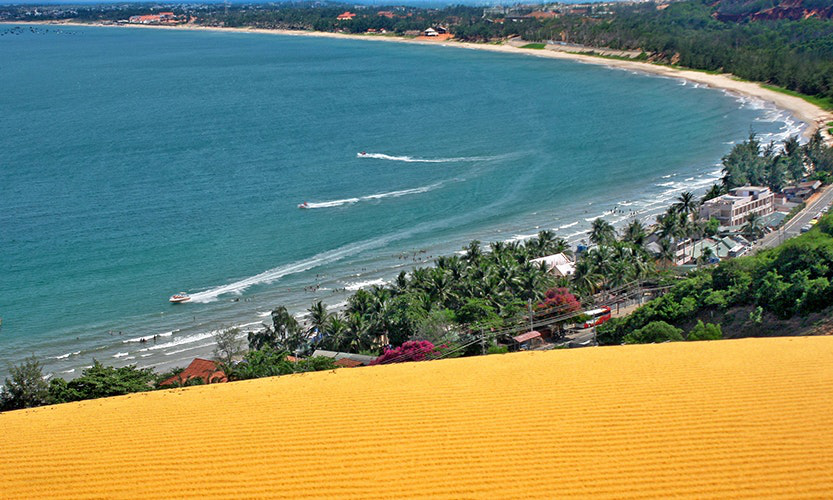 You'll find the Golden Sand Dune of Mui Ne on Vietnam's Southeastern Coast.
If you're raring to go, keep in mind that Vietnam's tropical climate includes a lengthy monsoon season. You can plan to avoid the rain, or choose to go during the low season to get a significant discount.
Plan so that your trip to the southeastern coast — Phu Quoc Island and the Con Dao Islands — falls sometime between October and March.
Ly Son Island has great weather from June to September.
For An Binh (and anywhere else in the Mekong Delta), the rain during the rainy season —May until August — doesn't typically last all day, so you can have a good visit at any time of year.
You can visit Halong Bay and Cat Ba Island any time of year, but the weather is nicest from March to April and from September to November. If you want a discount, May to September is the low season. The weather may be hot and steamy, but that won't affect the beauty of the scenery.