Besakih Temple, Indonesia
Besakih is known as the Mother of all Balinese temples. She sits 3280 feet (1,000 m) high on the southwestern slopes of Mount Agung, a soaring holy volcano that's in the Jungutan area of the Karangasem Regency. The temple site is about 25 miles (40 km) from Amed, and 31 miles (50 km) from Ubud, where most visitors will stay. As the only Balinese temple open to Hindus of all castes, Besakih is famous for a variety of different ceremonies. This means you'll see an astounding array of colorful offerings left by groups of devoted Hindu who make the trek to pay homage. With scenic views and impressive ancient architecture, it's popular with both religious pilgrims and tourists year round.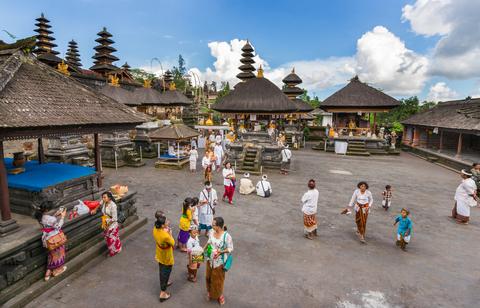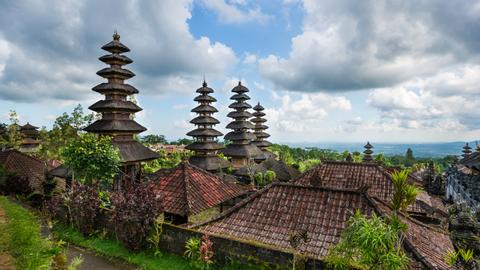 The temple claims the slopes of Mount Agung or Gunung Agung as its home. Mount Agung is actually the highest point in Bali at 9,944 feet (3,031 m), but the geography of the area varies with the rich green lowlands of Klung Klung and beaches like Amed on the Eastern side of Bali less than an hour away. The volcano itself is still active and periodically releases smoke and ash. Guided ascents are available from the town of Besakih, and are considered very challenging. During the last eruption in 1963, 1,700 people died but lava flow and ash miraculously missed the temple by meters.
Besakih Temple, or Pura Besakih, is an ancient and sacred site. It's actually a complex of 23 temples spread across a series of parallel ridges and several of the temples date back over 2,000 years. The name Besakih comes from the Dragon God, Naga Besukian, who locals say inhabits the volcano. The main temple, Pura Penataran Agung, has different sections with shrines that each represent the seven layers of the universe. There is a large Standing Stone in Meru Tumpang Sebelas shrine where the God Vishnu is believed to descend to earth.
The best vistas are found closest to Mount Agung's peak at Pura Pangubengan, but if you're not up for a walk, Pura Peninjoan is a hidden gem in the complex, located about a 20-minute walk from the main area. Here you'll capture beautiful views of Pura Pentaran plus the beaches and oceans of southern Bali.
There are many stepped terraces and stairs ascending the mountainside. They lead the pilgrims closer to God and make a vigorous workout for tourists. There's much to see here, but with a good guide, you can cover it in about 3 hours. Be careful about hiring a guide here — it's best to book an official guide in advance.
Comfortable shoes are a must. This is holy ground, so a proper shirt and sarong are also required. Sarongs are available for rent at the entrance or purchase at any of the innumerable vendors nearby. It's best to arrive before 9 AM to beat the crowds, and check with locals before going to make sure one of the 70 annual ceremonies is not in progress.
Besakih Temple Things to Do