Benoa, Indonesia
Benoa — full name Tanjung Benoa — is a peninsula on the southeast coast of Bali. This peninsula extends north from Nusa Dua to Benoa village and is reachable from Denpasar airport in under 30 minutes. It's best known as the best destination on the island for water sports like paragliding and jet skiing.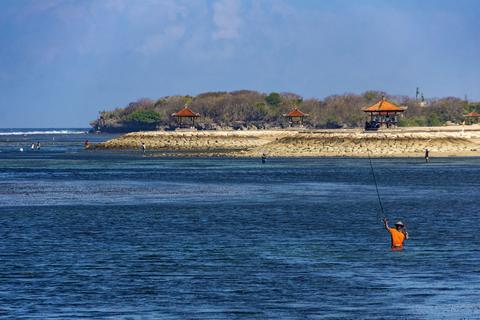 Benoa was developed as an alternative to the more popular destinations in Bali, such as Kuta or Legian, but it has since become a preferred destination for visitors seeking a more mellow vibe. A variety of mid- to high-priced accommodation options are available in Benoa. Visitors who stay in local resorts fill their days with lazy beach days and marine tours.
Apart from Benoa's boat harbor, the fishing village of Benoa itself is a great option for visitors who want to explore their surroundings beyond their hotel or resort. The village is located at the northern end of Benoa peninsula and is known for the Pasar Desa Pakraman (village market), where local fishermen sell their daily catch from early evening until midnight. As the popularity of aquatic activities has increased, the fishing industry has somewhat decreased, but visitors can still see traditional fishing boats and get a glimpse of traditional Balinese life.
Caow Eng Bio Chinese Temple is a nearby cultural attraction. It is one of the oldest Chinese temples in the province and offers some variety to an outdoorsy itinerary. The temple is at its busiest during Chinese New Year and Vesak (Buddha Day).