Uluwatu Temple, Indonesia
This Balinese Hindu temple is in a spectacular location perched on the side of steep limestone cliffs towering 229 feet (70 m) above the Indian Ocean. One of the best spots for sunset photos, Uluwatu Temple also has packs of kleptomaniac gray macaque monkeys and traditional Kecak dance performances. It's a trek to visit this temple at the southern tip of the Bukit Peninsula, but the sunset vistas and neighboring beaches make it worth the trip.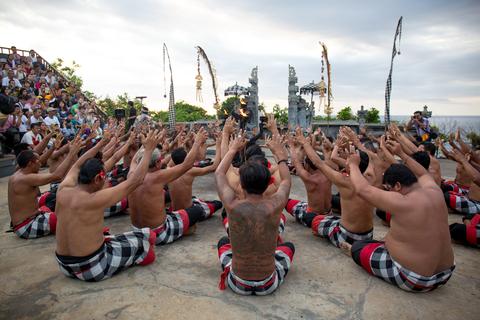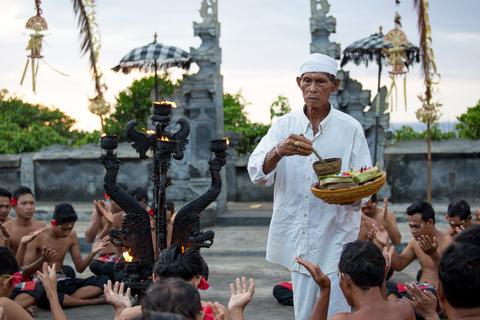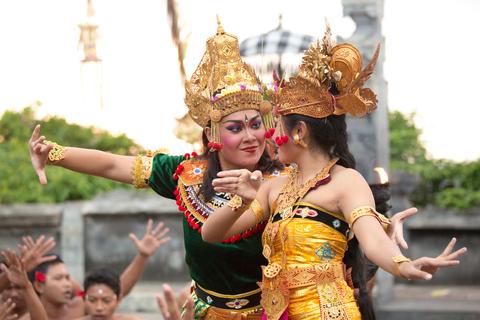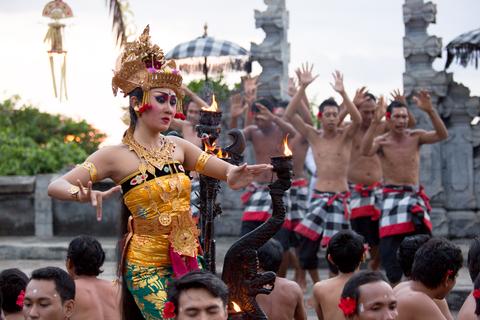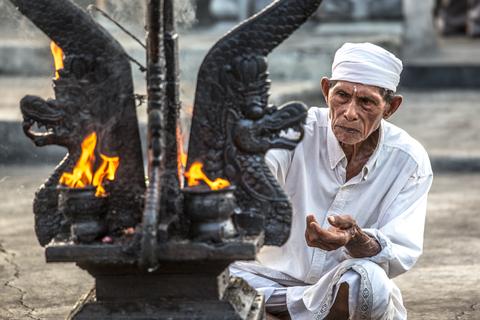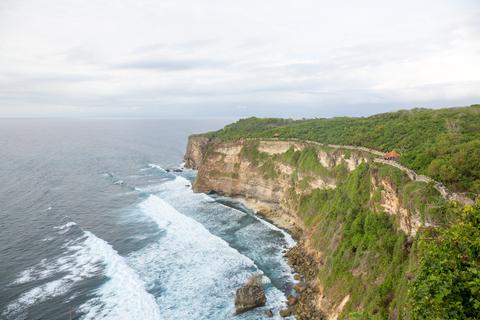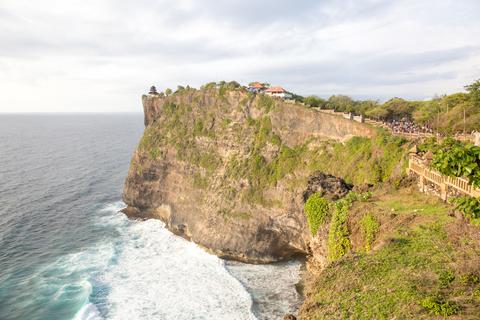 The temple's Balinese name is Pura Luhur Uluwatu, meaning "Temple of Divine Origin at The End of the Rock." It is one of seven sea temples, and one of nine directional temples that protect Bali from evil spirits. The Balinese believe that the three divine powers of Brahma, Vishnu, and Siva become one here. Uluwatu Temple is dedicated to Siva Rudra, the deity of all elements and aspects of life in the universe. The site dates back to the 10th century and was greatly expanded in the 11th century by Majapahit monk Mpu Kunturan. The temple was largely inaccessible until 1983 and underwent significant restorations following a lightning strike in 1999.
Uluwatu Temple itself is not the most impressive in Bali but does have some noteworthy features. Much of it is constructed from black coral rock. A shrine in the main courtyard holds a limestone statue of 16th-century Hindu priest Dhang Hyang Dwijendra. According to legend, Dwijendra made his final pilgrimage here, then achieved oneness with God and vanished in a bolt of lightning. Other local legends paint him as the temple's architect. Stone paths run along the cliffs north and south of the main structure, hosting magnificent views of the temple where it juts out over the crashing waves below.
This is also where you'll find arguably the best sunset views on the island. Be wary of the local monkeys. They're known for thievery and the cheeky practice of bartering back your goods for food. Each night there's a Kecak fire dance performance that revolves around Hanuman, the Monkey God. Sarongs and sashes are required to enter the temple and can be hired at the entrance. A beautiful temple sunset is a great way to end a beach day trip to picturesque Uluwatu Beach, conveniently located just down the road.
Uluwatu Temple Personalized Trips
Uluwatu Temple Things to Do