Lombok, Indonesia
Part of the chain of Lesser Sunda Islands, Lombok is Bali's nextdoor neighbor. They are separated by the Lombok Straits, religion, and the passage of time. In many ways, Lombok is the Bali of old — largely untouched, beautiful, ringed with gorgeous beaches and dive spots.
The Gili Islands surround Lombok, and they are one deserted island paradise fantasy after another. Trawangan, Air, and Meno are the most well known of the Gili Islands — they're lively, and home to great diving and classic island life. The southwestern Gilis are 13 small islands to explore for their quiet and beauty. The northeast Gilis are off the beaten track, and although small, are abundant with nature both above and below the waves.
To the south, white sand beaches with impossibly turquoise waters and excellent, world-class surf breaks line the coast in a neat row of pocket bays. It's possible to visit several beaches and have them all to yourself. To the west is the capital city Mataram, seat of government and the most developed area in Lombok. Senggigi, the closest beach, is the tourist base for exploring the island's wild inland.
In the middle of Lombok you can visit Mount Rinjani — which has the tallest peak, an active volcano, and a spiritual center for the island's Hindu and Wektu Telu religious minorities. Trek the mountain and its surroundings to see lush jungle forest, never-ending green rice paddies, and plantations of fruits, vegetables, and spices. Surrounding villages specialize in ancient handicrafts such as weaving, wicker, pottery, and bamboo crafts. Cool clean water flows from crater lake Segara Anak into spectacular waterfalls.
North Lombok is hilly, with spectacular scenery and vistas in all directions, more waterfalls, and lovely but underrated beaches along the shore. Lombok is the hidden gem of Indonesia — in a way, the mirror twin of Bali — and the time to discover it is now because the secret is getting out.
Personalized Trips for Lombok, Indonesia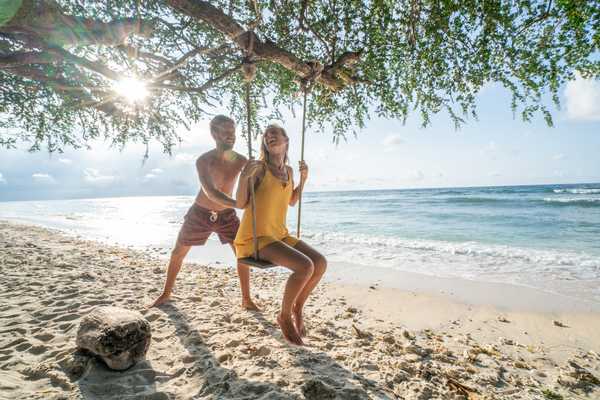 Indonesia
Our Love in Bali & Beyond!
Expert Choice Make a lasting memory when you unplug from the digital world and tune into nature and each other. Island hop your way to happiness and a deeper connection.
Where to go in Lombok, Indonesia