Kerambitan, Indonesia
Kerambitan is a quaint village in the southwest of Bali. Travelers can reach it in under 75 minutes from Denpasar. This secluded area is less often explored by visitors, but easily reachable if you want to get just slightly off the beaten path.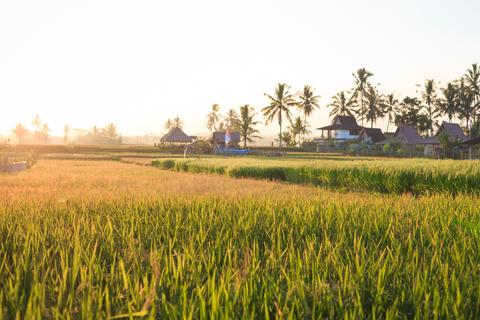 Take a walk through Kerambitan to experience an authentic village, and get to know the true feel of Balinese culture away from throngs of visitors. You'll notice that the markets just sell regular groceries and ceremonial goods, instead of the souvenir markets that you'll see in other parts of town. If you want to see more nature on a trip here, visit the coast where waves crash onto volcanic black sand of Kelating Beach.
It's easy to include Kerambitan in an itinerary that includes stops at a variety of major Bali attractions. Terraced rice fields surround the village and make this a pretty stop on the way to nearby Tanah Lot, Mengwi, or Bedugul. You can see traces of Indonesian royalty at the Kerambitan Palace on the outskirts of town — it still has beautiful architecture and well-kept grounds.