Medewi, Indonesia
This remote area in southwestern Bali is seldom visited by typical tourists but is well-known in the surfing community for Medewi Beach and its epic left-hand surf break. Medewi offers the flavor of old Bali with its endless rice fields, simple villages, and long black sand beaches. It's great if you're a surfer or just looking for an authentic place to really get away from it all. Medewi is located in Jembrana Regency, a 2.5-hour, 46.6-mile (75-km) drive west of Denpasar.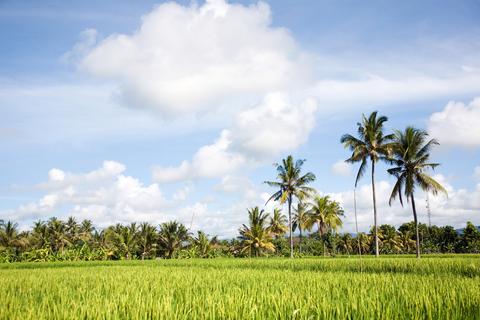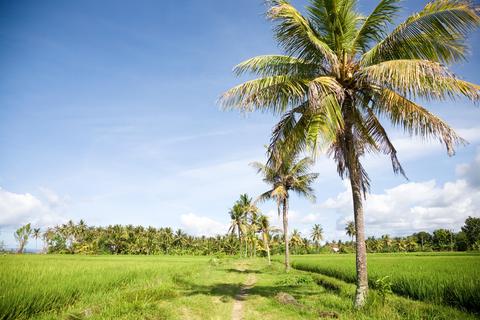 Medewi is a collection of small villages found along the beach and inland among the rice paddies. Pekutatan, Medewi, and Yeh Sumbul are the main villages bordering Medewi Beach (Pantai Medewi). Unlike the rest of Bali, Medewi is a predominantly Muslim area. There is a beautiful mosque in Yeh Sumbul, built among picturesque rice terraces that stretch down to the ocean. The towns are simple - Medewi has one main street south of the highway ending at the beach but has shops with all the essentials. Accommodations range from homestays to hotels and are found on either side of the highway running east to west through Medewi, stretching along the south side down to the sand.
Medewi Beach is a big attraction, well-known among local and international surfers for being the longest left-handed point break in Bali. The waves break over a stone bottom, not a reef, so it's much more forgiving than other spots on the island. The best waves are found in the dry season between April to November. The lineup can be empty or crowded, but more often than not there are waves to catch. There's also a secondary break—a smaller right-hander—further down the beach that is not as spectacular but usually has less traffic.
The beach itself is divided into two parts. One side is filled with local fishing boats, and the other with the surfers and onlookers. Medewi Beach is covered in large, smooth stones and pebbles, so booties for surfers and shoes for spectators are advised. The fishermen bring their catch in as the morning progresses, so come out early for sunrise to see the variety of interesting fish coming off the boats. The beach is largely undeveloped and you'll find cows watching the action with you. It's a great spot for a cold beer and colorful sunset.