You've worked hard and now it's time to play hard. Welcome to a truly indulgent vacation on the island of Bali, Indonesia. Samabe Bali Suites & Villas offers you a truly luxurious experience. Your oceanside accommodations are just the start; all-inclusive options allow you eat, sip, and galavant at your leisure. Return to the real world refreshed, happy, and content in the knowledge that your next vacation in Bali is never more than a click away.
Featured in:
Beachfront, Luxury, Honeymoon, All Inclusive, Best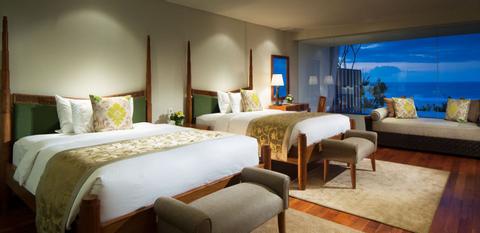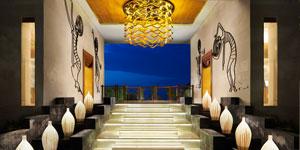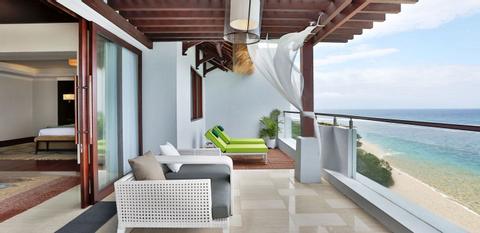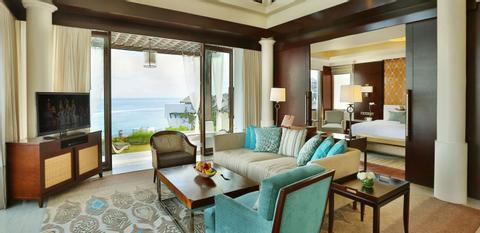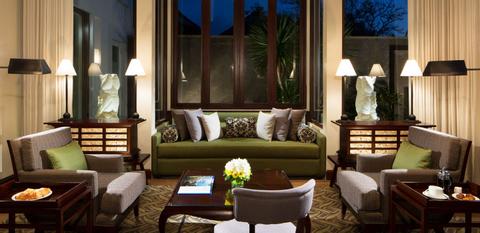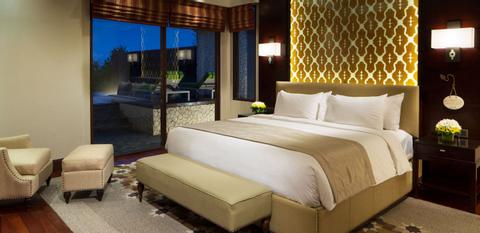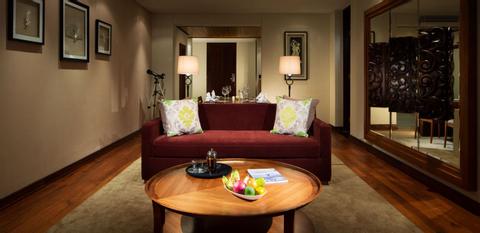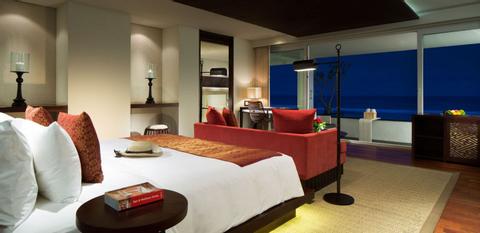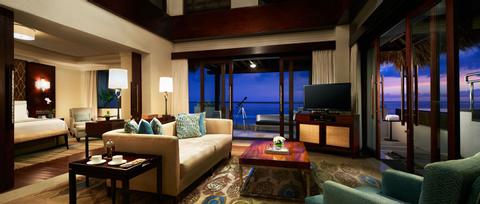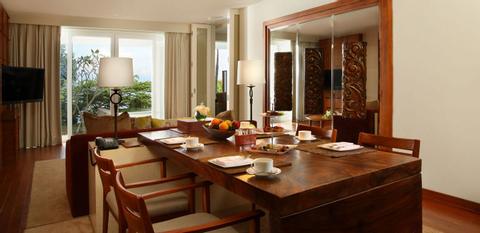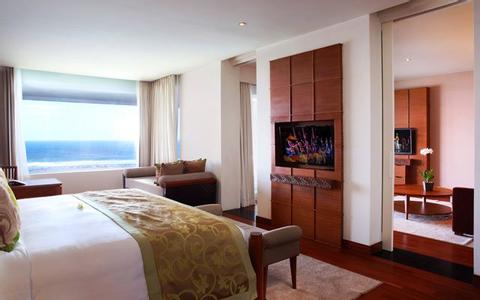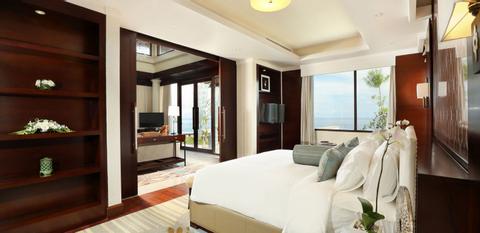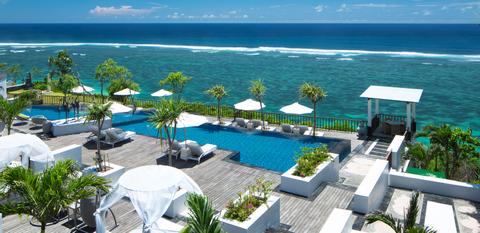 2:00 p.m. check in
12:00 p.m. check out
Free Breakfast
Restaurant in Hotel
Swimming Pool
Wireless Internet
Spa Services
The island of Bali, Indonesia is a mecca for international sunseekers. From surfers to sophisticates, Bali offers delights for every kind of traveler. Balinese cooking classes, cultural tours, jungle hikes, trekking to mountain or seaside temples, or napping in a hammock — Anywhere will help you make your Bali vacation whatever you want it to be.
Nusa Dua will be your headquarters — this high-end enclave is home to white-sand beaches, tranquil waters, and a wide vareity of activities. The region tends to favor luxury accommodations, so you won't find these beaches crowded by digital nomads or hoards of backpacking college students. If you're looking for a grown-up getaway, look no further.
Happiness and Zero Worries? That's All-Inclusive Too...
Samabe Bali Suites & Villas offers you an impressive variety of amenities. Standard options include Wi-Fi, beachside yoga, once daily replenished mini-bar, poolside fruit service, daily complimentary breakfast, daily afternoon tea, complimentary non-alcoholic beverages. Upgrade an all-inclusive luxury experience, and enjoy all of your meals, cocktails, and additional perks (such as spa treatme) without a second thought.
To Think, These Suites Are a 'Modest' Option
Wake up and go to sleep to the whisper or roar of Bali's majestic Indian Ocean. Choose from the following suites:
Ocean Front Honeymoon Suite - You can opt for a room with a private pool or without a private pool. Either way, you will be indulging in a king size bed, and 1,453 square feet (135 sq m) of space. (1,938 sq ft/180 sq m if selecting private pool with garden.)
Ocean Front Samabe Suite - After a great night's sleep in your king size bed, you can luxuriate in your 1,453 square feet (135 sq m) of well-designed space. Indulge even more when you enjoy your private pool and garden amidst 1,938 sq ft (180 sq m) of paradise.
Ocean Front Family Suites - Whether you're traveling with young adults, grown children, or best friends that qualify as family, 2 queen size beds mean that everyone has a comfortable place to sleep. 1,435 square feet (135 sq m) of space ensures that you're never cramped. Need to have fun at a moment's notice? Step right out to your private pool with garden and enjoy 1,938 sq fet (180 sq m) of space.
Everyone Should Indulge in a Private Villa Once in Their Lives
Still not indulgent enough? For extra luxury, and privacy, choose from one of the following Villas:
One Bedroom Pool Villa - A comfortable king size bed. A garden or ocean view. Your own private swimming pool, and 2,852 square feet (265 sq m) of space, combined with Samabe's amenities, make this your most extravagant getaway yet.
Two-Bedroom Penthouse Pool Villa - A king size master suite and a secondary bedroom with king size bed ensure that no on feels shortchanged. Go for an early morning or midnight swim, and enjoy 3,372 square feet (304 sq m) of space.
Royal Samabe Residence - A two (2) level retreat with panoramic view of the ocean and a private pool? Yes please! This villa comes with a king size bed and two twin/single beds. A massive 16,145 square feet (1500 sq m) of space means leave everyone with plenty of room to explore and roam before stepping foot off of your villa's grounds.
Two Bedroom Pool Villa - Ocean view or garden view? Either way, you're treating yourself to 3,208 square meters (298 sq m) of space. Treat yourself to the king size master suite, and give the secondary bedroom with two (2) single/twin size beds to the children or guests.
The Expert Management You Expect, and Deserve
You spend so much time working hard. Isn't it time that you reward yourself with the vacation you deserve? Recharging your batteries isn't an extravagance, it's an investment in your own well-being. Let Anywhere and Samabe Bali Suites & Villas manage your comfort and surpass your expectations.
Focus on nothing but your own happiness and well-being when you let Anywhere's local experts manage all of your logistics across the island of Bali — from accommodations to tours, and even transportation.
More Property Amenities
Ocean View
Air Conditioning
Breakfast Available
Cable TV
Hair Dryer
Hot Water
Mini Bar
Room Service
Safe Deposit Box
Telephone
Balcony
DVD player in Room
Iron & Ironing board
Bar
Mini Gym
Yoga Lessons
Massage
Accommodations
One Bedroom Ocean Front Honeymoon Suite
Sleeps 2
Air Conditioning
Balcony
Cable TV
Hair Dryer
Hot Water
Iron & Ironing board
Mini Bar
Safe Deposit Box
Telephone
Wireless Internet
DVD Player
One Bedroom Ocean Front Family Suite with All Inclusive
Sleeps 4
Air Conditioning
Balcony
Cable TV
Hair Dryer
Hot Water
Iron & Ironing board
Mini Bar
Safe Deposit Box
Wireless Internet
DVD Player
Living Room
Dining Room
One Bedroom Ocean Front Family Pool Suite
Sleeps 4
Air Conditioning
Balcony
Cable TV
Hair Dryer
Hot Water
Iron & Ironing board
Mini Bar
Safe Deposit Box
Telephone
Wireless Internet
DVD Player
Dining Room
One Bedroom Ocean Front Honeymoon Pool Suite
Sleeps 2
Air Conditioning
Cable TV
Hair Dryer
Hot Water
Iron & Ironing board
Mini Bar
Safe Deposit Box
Telephone
Wireless Internet
DVD Player
One Bedroom Ocean Front Samabe Suite
Sleeps 3
Air Conditioning
Balcony
Cable TV
Hair Dryer
Hot Water
Iron & Ironing board
Mini Bar
Safe Deposit Box
Telephone
Wireless Internet
DVD Player
Living Room
Dining Room
Two Bedroom Ocean Pool Villa
Sleeps 5
Air Conditioning
Cable TV
Hair Dryer
Hot Water
Iron & Ironing board
Mini Bar
Safe Deposit Box
Telephone
Wireless Internet
DVD Player
Living Room
Patio
Two Bedroom Penthouse Pool
Sleeps 5
Air Conditioning
Cable TV
Hair Dryer
Hot Water
Iron & Ironing board
Mini Bar
Safe Deposit Box
Telephone
Wireless Internet
DVD Player
Living Room
Patio
One Bedroom Ocean Front Samabe Pool Suite
Sleeps 3
Air Conditioning
Balcony
Cable TV
Hair Dryer
Hot Water
Iron & Ironing board
Mini Bar
Safe Deposit Box
Telephone
Wireless Internet
DVD Player
Living Room
Dining Room
One Bedroom Ocean Front Family Suite
Sleeps 4
Air Conditioning
Balcony
Cable TV
Hair Dryer
Hot Water
Iron & Ironing board
Mini Bar
Safe Deposit Box
Telephone
Wireless Internet
DVD Player
Living Room
Dining Room
One Bedroom Ocean Front Samabe Suite with All Inclusive Services
Sleeps 3
Air Conditioning
Balcony
Cable TV
Hair Dryer
Hot Water
Iron & Ironing board
Mini Bar
Safe Deposit Box
Telephone
Wireless Internet
DVD Player
One Bedroom Ocean Pool Villa
Sleeps 3
Air Conditioning
Cable TV
Hair Dryer
Hot Water
Iron & Ironing board
Mini Bar
Safe Deposit Box
Telephone
Wireless Internet
DVD Player
Living Room
Patio