Sideman , Indonesia
Sideman valley (pronounced like "si de man" in Spanish) is one of Bali's hidden gems, although it has experienced a sudden increase in popularity. You will get there within a 45-minute drive inland from Padang Bai, one hour from Candidasa, 1.5 hours from Ubud, or 2 hours from Kuta. Local hiking trails traverse rice fields, the valleys of the Unda river, and working plantations. Sidemen can be a good setting-off point for a trip to Agung Volcano or a day trip to other sights in East Bali.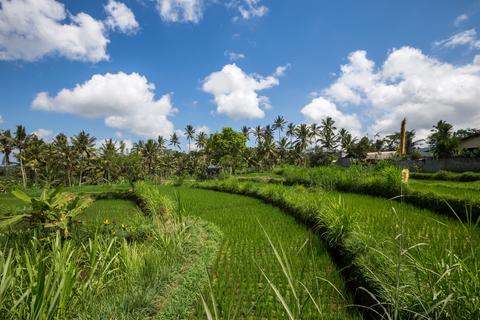 Ubud is known as a peaceful place, but Sideman takes it to a new level. Sideman villages sit in one of the many agricultural valleys beneath the majestic peak of volcanic Mount Agung, surrounded by the picturesque rice fields (called sawah by locals), fruit plantations, and tropical forest. It's mostly covered in rice paddies, but farmers in the area grow peanuts, chilies, corn, tapioca, and flowers that serve as pretty ritual offerings. On the higher slopes, you might also notice salak (snake fruit), cloves, cacao, and coffee.
Tourist accommodation and restaurants in the valley are mainly located around the village of Tabola. Please note that the temperature drops here a little, offering ideal conditions for trekking but chilly nighttime temperatures. Take some sweaters and jackets with you and consider bringing an extra blanket.
Despite the general overdevelopment of Bali, this little charming area still has a low profile. You'll not only find many traditional Hindu Bali temples but you can also participate in traditional ceremonies and rituals, like an evening river bath. Locals are friendly but still very traditional and are a little overwhelmed by the increasing numbers of visitors. A tiny Muslim population lives here, too. It's polite to dress respectfully when wandering around the villages. We'd recommend keeping your shoulders, torso, and knees covered.