Tulamben, Indonesia
Tulamben is a small village located along Bali's northeastern coast, about 2.5-hour drive from Ubud and a 3-hour drive from Kuta. Although not mighty impressive on the surface, this place is Bali's best diving spot—and one of the best in the world.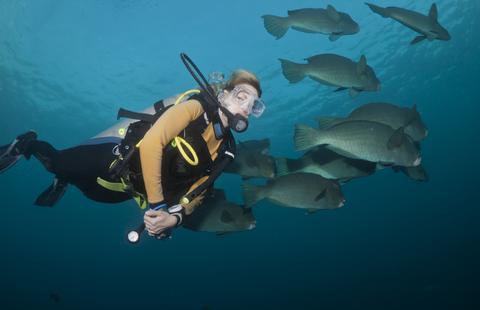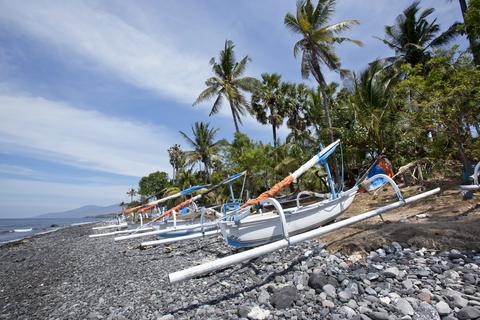 The main attraction is a 393-foot (120-m) long wreck of what used to be an American cargo ship called The Liberty. After a Japanese torpedo destroyed it in World War II, it was intentionally stranded on the rocky beach of Tulamben. It stayed there until the 1960s when Mount Agung (the volcano towering over the village) erupted and the magma flow pushed the ship back into the sea. Since then, coral has coated the wreckage and turned it into an exotic wonderland of marine wildlife. You'll spot schools of fusilier, trevally, bream, anthias mill, batfish, anemone, lionfish, scorpionfish, hawkfish, and pufferfish, to name just to name a few.
The wreck is broken in half on a gradual slope, about 98 feet (30 m) from the beach. The dive begins at a depth of 10 feet (3 m), near ship's bow, which is visible from 95 feet (29 m). Easy diving conditions and excellent visibility make this a great place for snorkelers as well as beginners and experienced divers alike. Consider going on night dives here as well.
Explore on land with a sunrise trek to the summit of Mount Batur or Mount Agung. If you prefer to keep it easy, check out the morning market in Tulamben village, which is about a mile (1.5 km) north of the dive site. Although hanging out on the beach would be rather uncomfortable (unless chilling on large stones is your thing), the local hotels have nice swimming pools and outdoor dining rooms so you can soak up the scenery.
When to go? The island's rainy season begins at the end of October and lasts until April. The average year-round temperature is around 27-29°C, but the humidity during the wet season makes the air quite sticky. Don't let that deter you from visiting at this time of year—after all, humidity won't matter when you're in the water.