Como Shambhala is an upscale resort just outside of downtown Ubud. This is the ideal location for exploring the many spiritual sites just outside of one of Bali's busiest cities, as well as offering easy access to traditional villages. You'll want to spend plenty of time revelling in the resort's facilities, which include lovely grounds and a beautiful spa.
Featured in:
Luxury, Yoga, Best, Honeymoon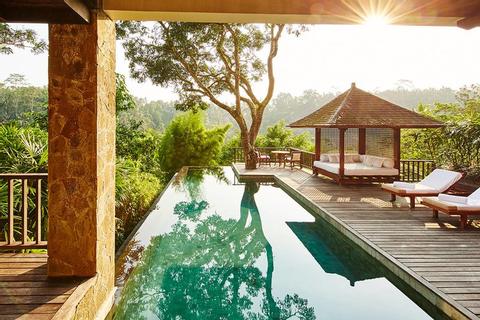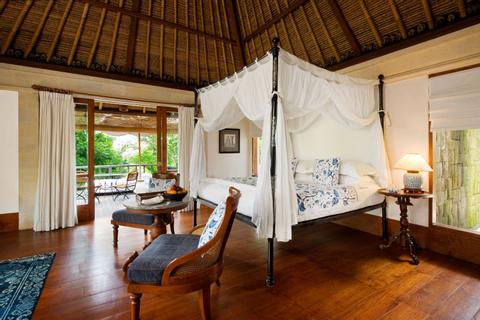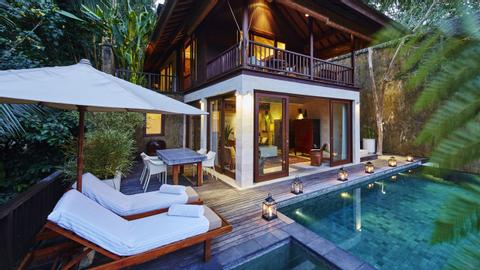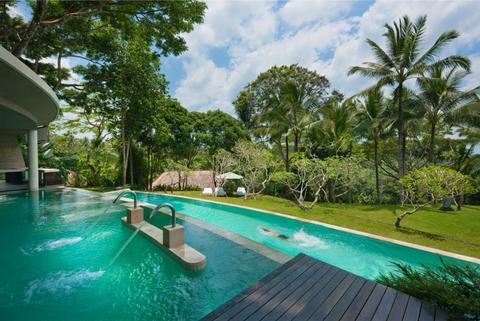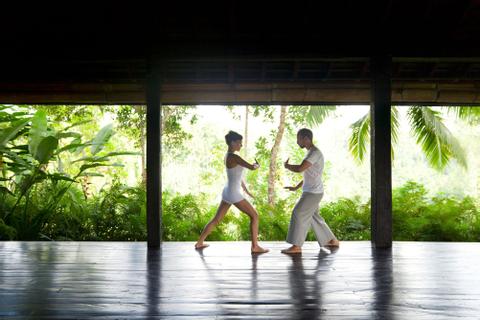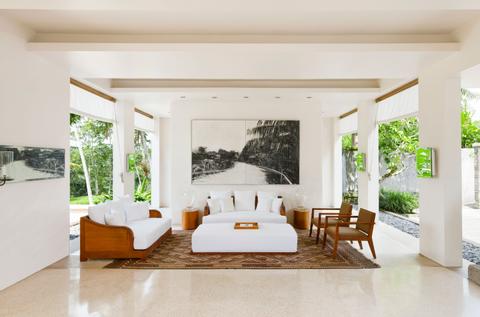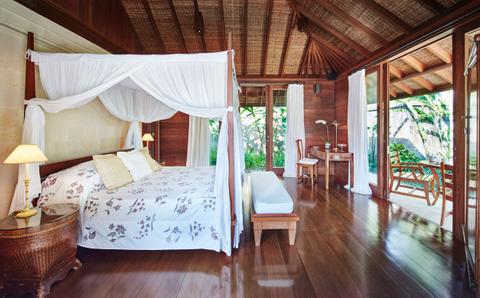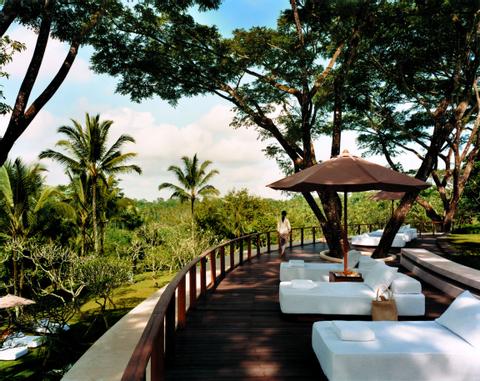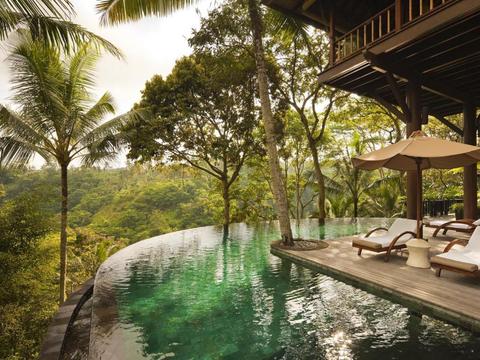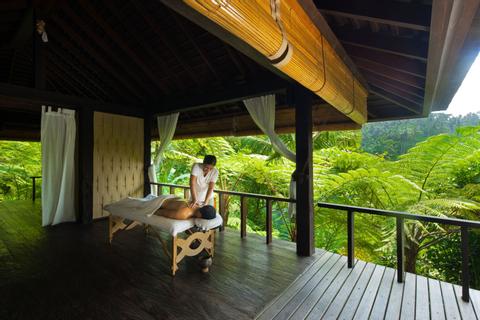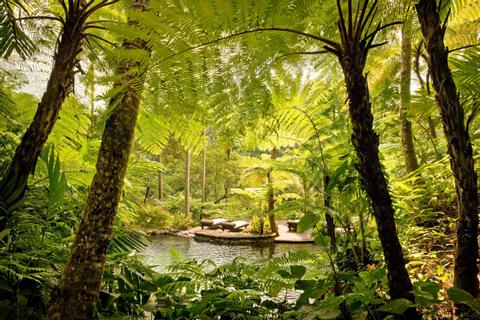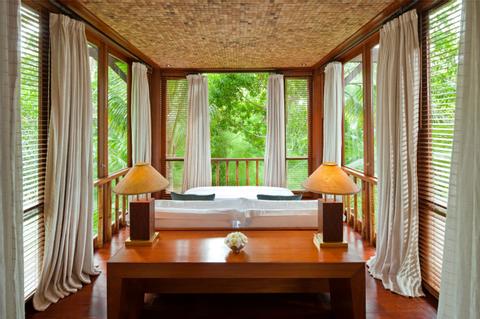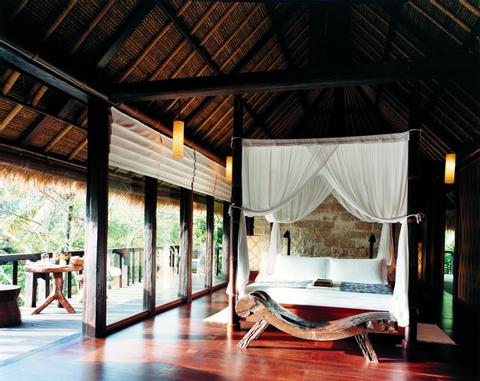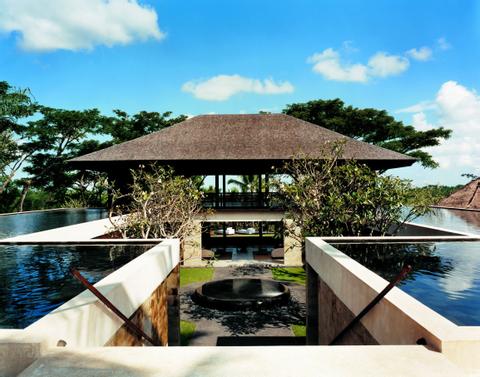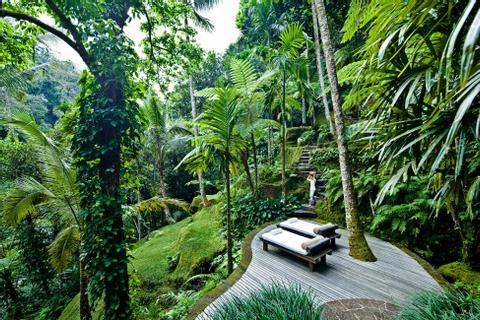 2:00 p.m. check in
12:00 p.m. check out
Free Breakfast
Spa Services
Swimming Pool
Wireless Internet
Attractions & Sites
5 km
18 km
8 km
9 km
15 km
Make your way through the scenic Tegalalang rice terraces on your way to the Pura Tirta Empul, a temple that honors Vishnu, the Hindu god of water. The holy waters of this temple are used in a 12-part cleansing ritual that visitors can experience for themselves. Continue learning about Balinese spiritual traditions when you travel a short distance south of Ubud to Goa Gajah, or the "Elephant Cave." It's one of Bali's oldest temples and dates all the way back to the 9th century.
Accommodations at Como Shambhala are bright and airy, with furnishings that evoke old-world elegance. They're air-conditioned and come with ensuite bathrooms, stocked with all the basics as well as a hair dryer. Rooms come nicely equipped with DVD players, CD players, and satellite TVs. You'll also have access to Wi-Fi and a direct dial telephone. Best of all, you can make sure you have all your needs catered to by the complimentary personal assistant included in the price of your room.
You're encouraged to do whatever stretching or meditation practice you enjoy with the room's yoga mat. Help yourself to the minibar as well as the coffee and tea making facilities. Store anything you want to keep special track of in the safety deposit box.
Como Shambhala offers several useful services for busy travelers, such as a business center with internet access. If you're especially busy, you can take advantage of the secretarial service. The hotel also offers dry cleaning and laundry, as well as room service. You can arrange to have an on-site babysitter to entertain young travelers while you take a tour or relax at the spa. Speaking of kids, there's also an outdoor jungle gym.
You'll be surrounded by the ideal terrain for hiking and biking, but the resort also offers a fitness center with cardio equipment and weights. Practice your flow at the yoga pavilion and check out the pilates studio. If that isn't enough exercise for you, there's also a tennis court on the grounds.
Take a dip in the 82-foot (25-m) swimming pool that follows the curve of a hillside rice terrace. Inside the spa, you'll find an indoor pool with bubbling jets. The spa offers Ayurvedic and hydrotherapy treatments, incorporating water from a local spring.
The dining rooms cater to Balinese traditions as well as a modern aesthetic. Menus here emphasize health, and offer dishes that make delicious use of fresh, raw ingredients. Como Shambhala also offer 24-hour room service. There's a breakfast included in your stay, so make sure to check out what's on offer.
More Property Amenities
Air Conditioning
Cable TV
Currency Exchange
DVD player in Room
Full Size Gym
Jacuzzi
Jungle View
Mini Bar
Tennis Court
Yoga Lessons
Accommodations
Two Bedroom Private Pool
Sleeps 5
Air Conditioning
Cable TV
Hair Dryer
Hot Water
Iron & Ironing board
Jacuzzi
Mini Bar
Safe Deposit Box
Telephone
Wireless Internet
DVD Player
Living Room
Deck
Patio
Two Bedroom Retreat Pool Villa
Sleeps 5
Air Conditioning
Cable TV
Hair Dryer
Hot Water
Iron & Ironing board
Jacuzzi
Mini Bar
Safe Deposit Box
Telephone
Wireless Internet
DVD Player
Living Room
Dining Room
Deck
Patio
Three Bedroom Private Villa
Sleeps 8
Air Conditioning
Cable TV
Hair Dryer
Hot Water
Iron & Ironing board
Jacuzzi
Mini Bar
Safe Deposit Box
Telephone
Wireless Internet
DVD Player
Living Room
Deck
Patio
One Bedroom Retreat Pool Villa
Sleeps 3
Air Conditioning
Cable TV
Hair Dryer
Hot Water
Iron & Ironing board
Mini Bar
Safe Deposit Box
Telephone
Wireless Internet
DVD Player
Deck
Patio
Four Bedroom Tejasura Residence
Sleeps 9
Air Conditioning
Balcony
Cable TV
Hair Dryer
Hot Water
Jacuzzi
Mini Bar
Safe Deposit Box
Telephone
Wireless Internet
DVD Player
Living Room
Deck
Patio
Four Bedroom Tirta Ening Residence
Sleeps 9
Air Conditioning
Cable TV
Hair Dryer
Hot Water
Mini Bar
Safe Deposit Box
Telephone
Wireless Internet
DVD Player
Living Room
Dining Room
Deck
Patio
Four Bedroom Bayugita Residence
Sleeps 9
Air Conditioning
Cable TV
Hair Dryer
Hot Water
Jacuzzi
Mini Bar
Safe Deposit Box
Telephone
Wireless Internet
DVD Player
Living Room
Dining Room
Deck
Patio
Two Bedroom Como Suite
Sleeps 6
Air Conditioning
Cable TV
Hair Dryer
Hot Water
Iron & Ironing board
Jacuzzi
Mini Bar
Safe Deposit Box
Telephone
Wireless Internet
DVD Player
Living Room
Dining Room
Patio
Five Bedroom Umabona Residence
Sleeps 11
Air Conditioning
Cable TV
Hair Dryer
Hot Water
Jacuzzi
Mini Bar
Safe Deposit Box
Telephone
Wireless Internet
DVD Player
Living Room
Dining Room
Deck
Patio
Five Bedroom Wanakasa Residence
Sleeps 11
Air Conditioning
Cable TV
Hair Dryer
Hot Water
Jacuzzi
Mini Bar
Safe Deposit Box
Telephone
Wireless Internet
DVD Player
Living Room
Dining Room
Deck
Patio
Air Conditioning
Balcony
Cable TV
Hair Dryer
Hot Water
Mini Bar
Safe Deposit Box
Telephone
Wireless Internet
DVD Player
Como Shambala Suite
Sleeps 3
Air Conditioning
Balcony
Cable TV
Hair Dryer
Hot Water
Jacuzzi
Mini Bar
Safe Deposit Box
Telephone
Wireless Internet
DVD Player
Patio
Air Conditioning
Balcony
Cable TV
Hair Dryer
Hot Water
Mini Bar
Safe Deposit Box
Telephone
Wireless Internet
DVD Player
Similar Hotels