Transportation in Myanmar
Where do you want to go?
"We can't find a transport with your route. Leave us a message and we'll help you out!"
–

Trustpilot 5-star rated
Transportation in Myanmar
Getting around Myanmar doesn't have to be difficult. Know your options ahead of time, and book in advance so you don't have to figure anything out last-minute. There is a wide range of options — from comfortable private transportation to trishaws and trains.
Frequently asked questions
Can't find the answer you're looking for? Reach out to ourlocal experts.
Can I Rent a Car in Myanmar?

You need special permission to rent a car in Myanmar. In order to rent a car, you'll need to navigate the government's department of transportation. It's unclear whether the government is willing to approve foreign visitors for car rental.

What Are Roads Like in Myanmar?

Roads in Myanmar are quite uneven and riddled with potholes, so expect a bumpy ride. People drive on the right, but Americans still shouldn't expect to have a familiar driving experience. Traffic can be much more hectic, and is often heavy. Drivers must always yield to military vehicles.

Are There Domestic Flights in Myanmar?

There are regular domestic flights in Myanmar. This is a good way to make efficient use of your time and avoid bumpy roads. It takes 16 hours to drive between top destinations Yangon to Mrauk U, and the roads can be difficult.

What Are Taxis Like in Myanmar?

Taxis are quite expensive in Myanmar, and many are unlicensed. Uber recently came to Myanmar, and there are a few other ride hailing apps that use government licensed taxi drivers. Because most Burmese people do not have credit cards, these taxi services accept cash.

Is Myanmar Bike Friendly?

Public roads in Myanmar are typically congested with traffic. This can make urban bicycling exceptionally hazardous. Bikes are a common method of transportation in the countryside, and it's possible for visitors to rent bikes and go on biking tours. Motorbikes are banned in Yangon.

Can I Take Public Buses in Myanmar?

Public buses are a common form of transportation in Myanmar. In city centers, you can find affordable buses to take you to the main points of interest. Signs are typically not in English, so understanding the routes can be difficult. They can also be quite crowded.

Many cities in Myanmar have yet to create a public bus system, although there are alternatives like motorbikes and trishaws. In Yangon and Mandalay, however, there is regular bus service. The price for these buses aren't always fixed for foreigners, and you may have to haggle a bit to get a fair price. Most rides cost between k500 and k1000.

You can find convenient buses for travel between cities, as long as they are in tourist-sanctioned areas. These buses typically leave very early in the morning, although you can also find overnight buses for long trips. Book ahead to ensure your spot — popular routes can fill up quickly. VIP buses or Express buses are the nicest buses in Myanmar.

Long-distance busses are modern, air-conditioned vehicles. Longer bus trips include stops for refreshments and public bathrooms. TVs playing Myanmar soap operas or music videos offer a little onboard entertainment.

What Are Driving Times Between Destinations in Myanmar?

Keep in mind that roads in Myanmar are often bumpy. If it's a particularly long drive, you might want to consider taking a domestic flight. Yangon to Bagan 8 hours and 39 minutes

Yangon to Inle Lake 10 hours and 4 minutes

Yangon to Mrauk U 16 hours

Yangon to Ngapali Beach 9 hours 36 minutes

Bagan to Inle Lake 7 hours and 42 minutes

Bagan to Ngapali Beach 12 hours 24 minutes

Bagan to Mandalay 4 hours

Bagan to Mrauk-U 11 hours and 30 minutes

Mandalay to Inle Lake 6 hours and 10 minutes

Mandalay to Bagan 4 hours

Mandalay to Ngapali Beach 14 hours

Mandalay Mrauk-U 13 hours 20 minutes

Sittwe to Mrauk U 3.5 hours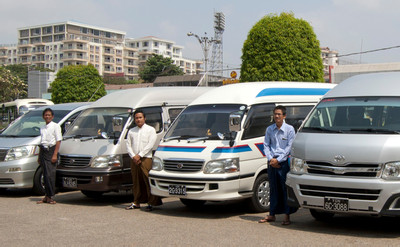 Private transport is the best option for travelers who want to tailor their transportation for optimum convenience.
Anywhere provides private ground transportation with air-conditioned vehicles and friendly drivers. This is probably the easiest way to get around — professional drivers arrive at your hotel, so you don't have to figure out directions to a pickup point.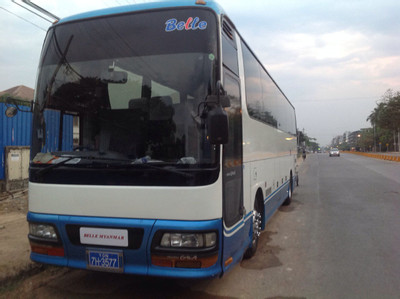 Shuttles are a convenient option for people who want to take an overnight trip—this is a popular option for travelers between popular destinations like Yangon, Mandalay, and Bagan.
Shuttles are also more comfortable for buses, and better suited for long hauls.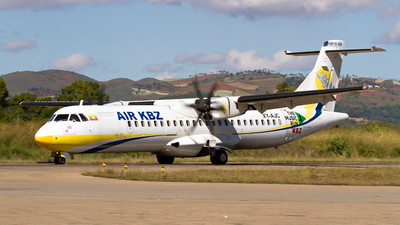 In order to see as much of Myanmar as possible, opt to include a few domestic flights in your itinerary.
Drives between major destinations can be very long and arduous — not to mention roads are not always in great condition.