American Trade Hotel
American Trade Hotel is a renovated historic building, located in Casco Viejo, Panama City's photogenic historic district. Casco Viejo has been designated as a UNESCO World Heritage Site, and visitors come especially to see the majestic buildings that line its cobblestone streets.
Many of the buildings that surround American Trade Hotel have been beautifully restored, to give visitors an idea of what the city looked like during the height of Spanish colonial power. Casco Viejo means "old wall" in Spanish, named for the large wall that used to protect the city. You can still some of this wall in Plaza Herrera, a section of Casco Viejo that remains largely unrestored. Visitors come to admire the buildings that remain dilapidated, with plants growing through the floorboards and poking through the roofs. This neighborhood is in the upscale part of Panama City, and you'll have plenty of good shopping and delicious restaurants a short walk from the hotel.
The American Trade Hotel's owners consulted with designers to make sure the interior of the hotel reflected the aesthetic of the historic neighborhood, without making the interior feel like a museum. High ceilings and neutral colors help keep the focus on the building's elegant architecture.
There is a small pool where guests can swim and sunbathe. Visit the grassy rooftop terrace, a large open space where guests can watch the sunset. Business travelers can help themselves to the 250-person capacity conference room, or the spacious event room.
Rooms are modern and bright, with lots of natural light. Gleaming surfaces and smooth lines exude freshness. Artisanal furniture and subtle artwork give the rooms a warm, welcoming vibe. Many of the furnishings, including the bedding, are locally produced.
In your room, you'll have access to complimentary Wi-Fi. You'll also find a minibar. There is a 32" plasma TV at your disposal, and a desk with comfortable seating. Each room has its own private bathroom, stocked with upscale bath products.
The Dining Room, the hotel restaurant, specializes in local ingredients. There's an extensive wine and cocktail list. If you just want a drink, pull up a seat at the friendly lobby bar. In the lobby, the hotel frequently hosts live piano bar performances. For a quick snack, visit the hotel's Café Unido, a café that serves brews made from famously delicious Panamanian coffee beans.
Facility Amenities
---
Restaurant in Hotel
Free Breakfast
Wireless Internet
Spa Services
Wheelchair Accessible
Swimming Pool
Bar
Cable TV
Conference Rooms
Gardens
Hot Water
Internet Access
Mini Bar
Mini Gym
Mini Refrigerator
Safe Deposit Box
Facility Amenities
---
Restaurant in Hotel
Free Breakfast
Wireless Internet
Spa Services
Wheelchair Accessible
Swimming Pool
Bar
Cable TV
Conference Rooms
Gardens
Hot Water
Internet Access
Mini Bar
Mini Gym
Mini Refrigerator
Safe Deposit Box
Check In:
3pm
Check Out:
12pm
American Trade Hotel Accommodations & Rooms
4 Rooms
Filter Rooms
Room Features
Room View
American Trade Hotel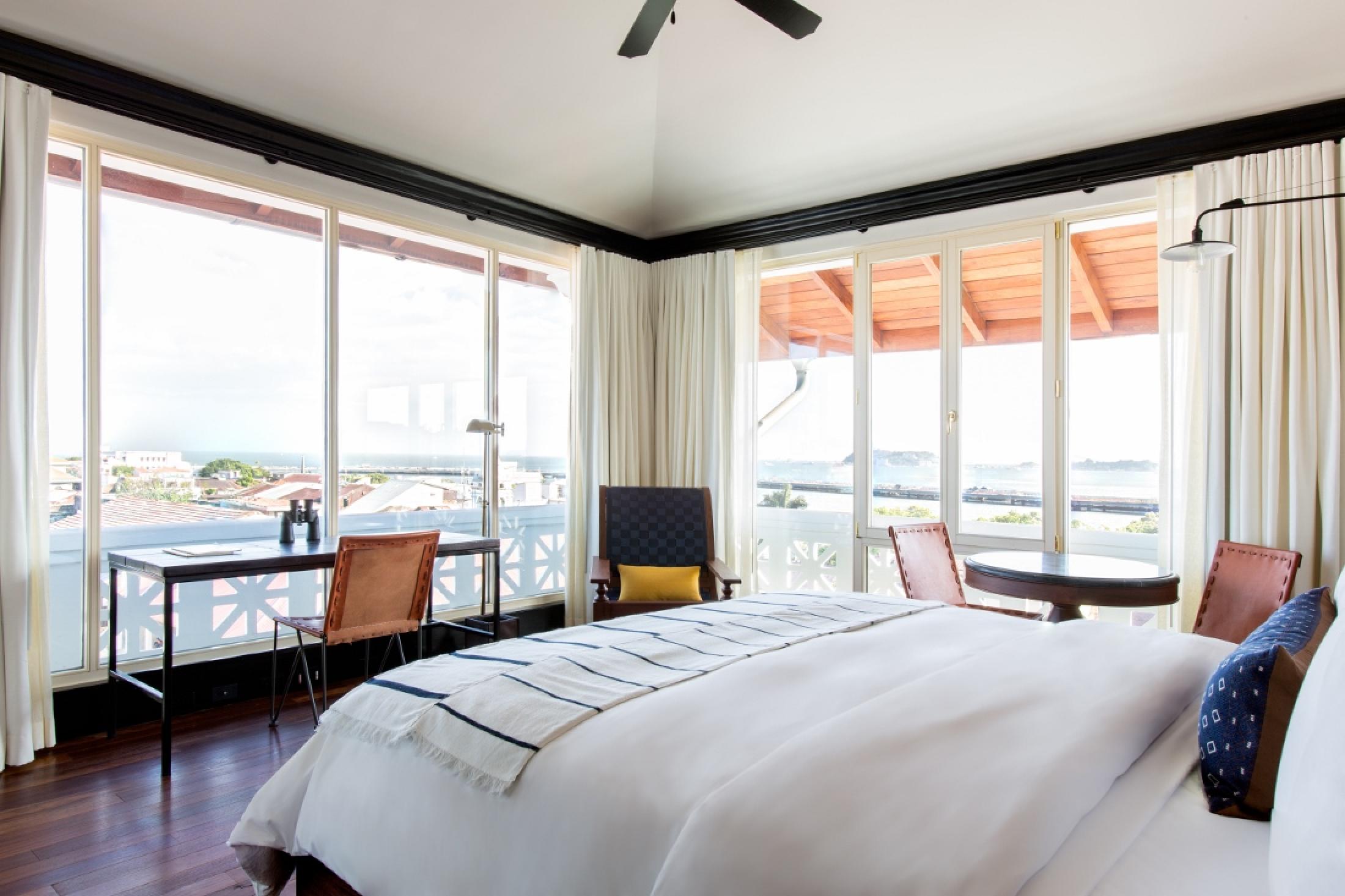 Room rates: $241
Anywhere.com