Not scared of heights? Connect with nature and get a unique perspective of Costa Rica when you go on a rainforest canopy tour...
last updated: 01/26/2020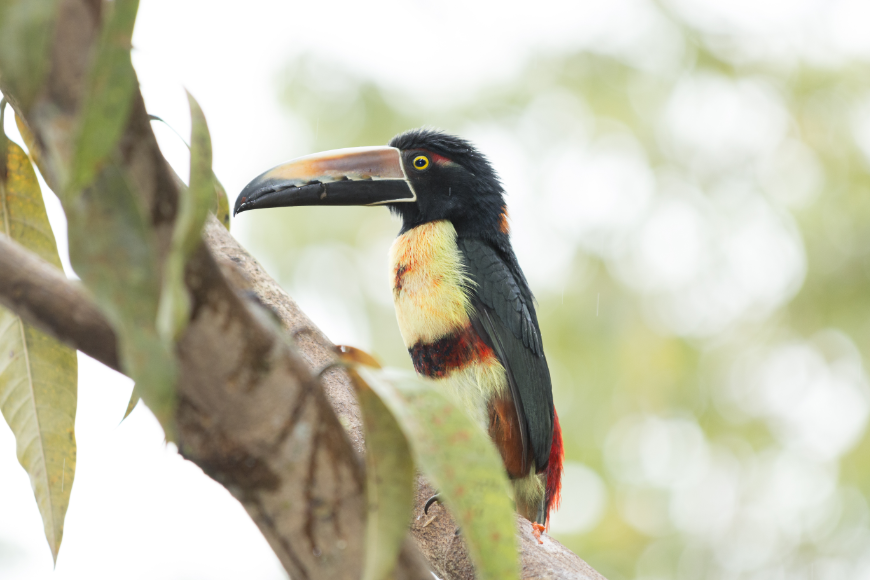 On Costa Rica rainforest tours you can spot amazing animals, like this collared aracari. Photograph courtesy of Royner Lopez.
The jungles and rainforests of Costa Rica are perhaps the most extraordinary example of this country's wild beauty and biodiversity. If you're not bothered by heights, then the best way to see these national treasures is from above — up in the clouds where the birds will fly by as the fragrant rainforest stretches out for miles before you.
Costa Rican Rainforest Facts
Before we start recommending tours, scan down this list of quick jungle and rainforest facts to make sure you're up to date when you get there!
While there are 12 distinct 'life zones' or 'ecosystems' in Costa Rica, the jungles and rainforests are grouped into four main areas according to their elevation and location. You can experience wildly unique tours in each of these areas.
The Dry Forest
Aptly named, as these areas of forest receive less than 2 meters of rain each year. The plants have learned to live with a 6-month dry spell, during which they lose their leaves and sprout fruit which feeds the resident mammals.
The Lowlands
The lowlands are the abundant areas growing between 0-500 meters (1,640 ft) high. They are best known as the wet, steamy jungles of Costa Rica, where trees can grow 50 meters (164 ft) tall with the lush nutrition reaped from high rainfall.
Middle Elevation Forest
These forests are in the foothills of Costa Rica and are between 500 - 1,500 meters (1,640 - 4,921 ft) of elevation. The amount of rain varies each year and trees can grow up to 40 meters (131 ft). They're distinct for their mossy undergrowth and their views of the surrounding mountains and volcanoes. Perfect for zip lining!
Highland Ecosystems
From 1500 - 3500 meters (4,921 - 11,482 ft), highland rainforests are known for being evergreen and abundant. These forests are usually based on the slopes of mountains and host giant oak trees. At this height, the plants absorb lots of moisture, meaning the highland forest areas are significant contributors to Costa Rica's underground water reservoirs.
If you're particularly interested in one of these areas, contact our Anywhere Travel planners here. They'll be able to set you up with everything from accommodations to transportation, and activity planning across the different areas of Costa Rica.
Canopy Tours Of The Costa Rican Rainforest
With its range of different jungle ecosystems, Costa Rica has perhaps the best ziplining and suspension bridge tours on Earth. Below, we detail some of our favorite trips in different parts of the jungle and rainforest, but first, in case you aren't aware of the difference, we'll explain the construction of both zip lines and suspension bridges. Whichever you choose you can rest assured that Anywhere Travel only recommends reputable operators with the highest safety standards.
Zip Lines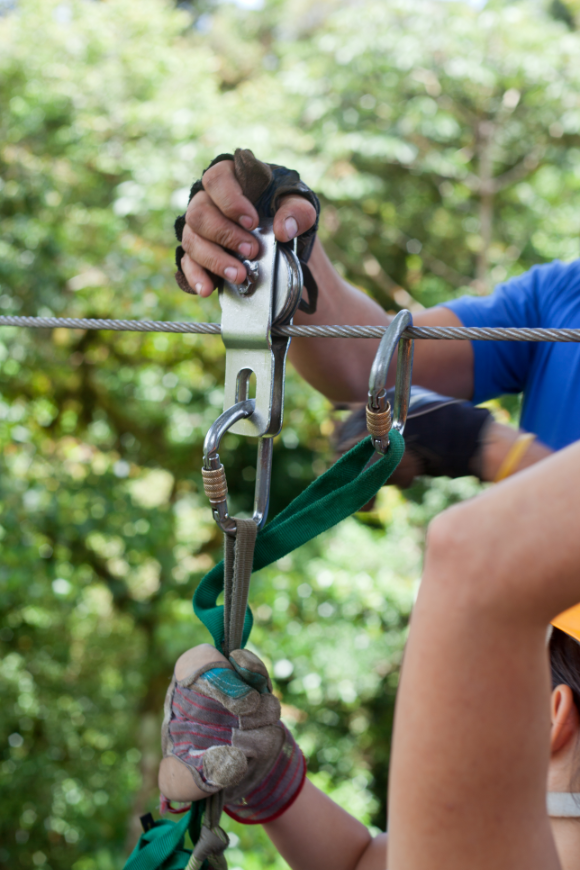 First time ziplining? Don't worry, safety instructions are provided, so even beginners can enjoy the fun!
Ziplines are adventurous courses made of multiple platforms in the rainforest that are linked by steel cables strung at various heights. You'll find yourself locked into a safety harness and then whizzed along the line over the top of the jungle. It's a great way to insert a boost of adrenaline into your rainforest experience and you'll get a slice of botanic education along the way.
Suspension Bridges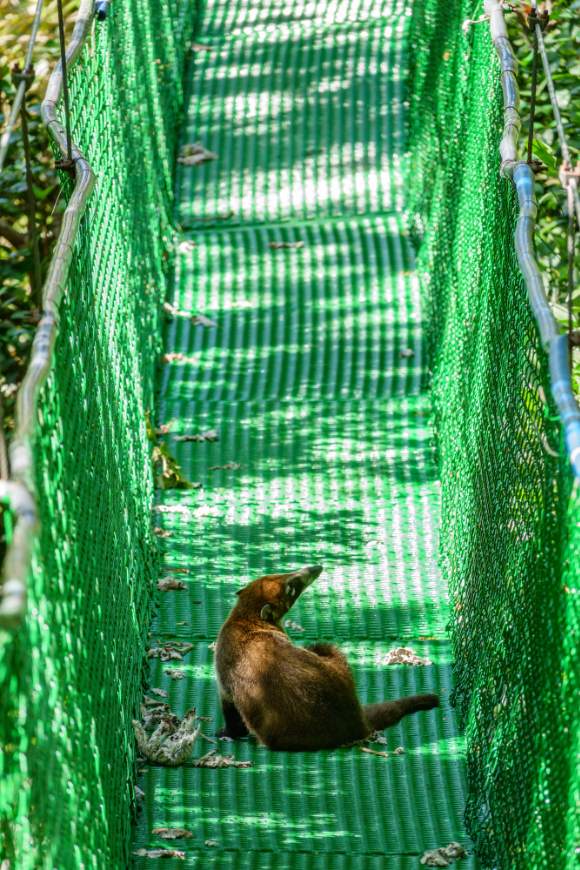 Whilst enjoying your suspension bridge tour, you may need to mind the coatis...
Suspension bridges are great for those wanting an activity with less adrenaline but the same fantastic view. Suspension bridges are safely constructed and walkable, allowing you to see the magnificent rainforest while a guide points out the camouflaged plants and animals. You can find suspension bridges constructed from as low as 100 feet (30 m) to as high as 1000 feet (304 m) in different parts of the Costa Rican rainforest. We recommend those located in Monteverde, Arenal, and the Caribbean.
Three Of The Best Rainforest Canopy Tours
Here are three of our favorite tours but there are many more options so refer here for an entire list of the Rainforest canopy activities you can do in Costa Rica
Based in Monteverde, this is a great combo tour where you'll get to do suspension bridges, a sky tram, and some zip lining with an expert guide. There's an amazing silent tram ride as you ascend into the clouds to begin your journey across the misty cloud forest. Sky Trek has some of the longest zip line cables and is well known for its safety precautions, which make people of all ages feel safe to use the pulley systems and experience the feeling of flying across the jungle.
Sky Trek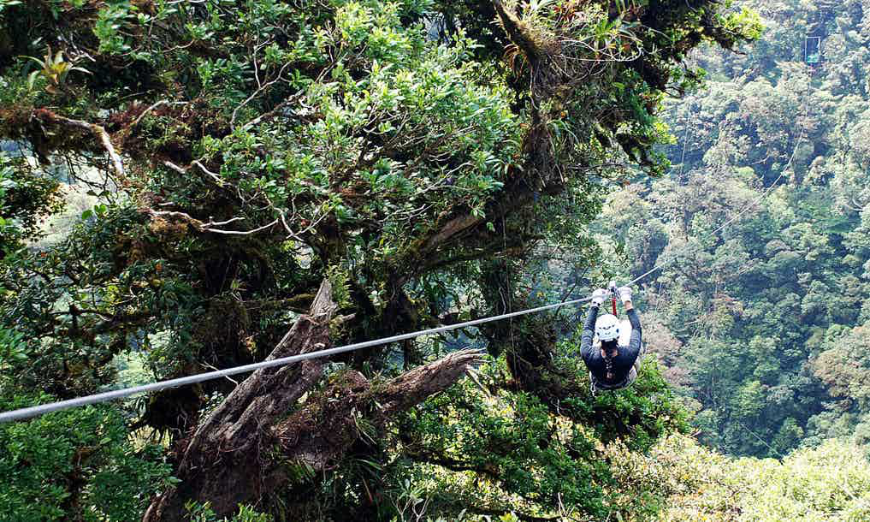 Don't just go on a vacation — go on an adventure when you soar through the jungle!
The Sky Trek experience includes eight canopy lines suspended at heights between 49 - 328 feet (15-1oo m) high. You can take in the gorgeous panoramas at two different observation tours where, on a bright day, you can see as far as the Pacific and the Northern lowlands of Costa Rica.
Sky Tram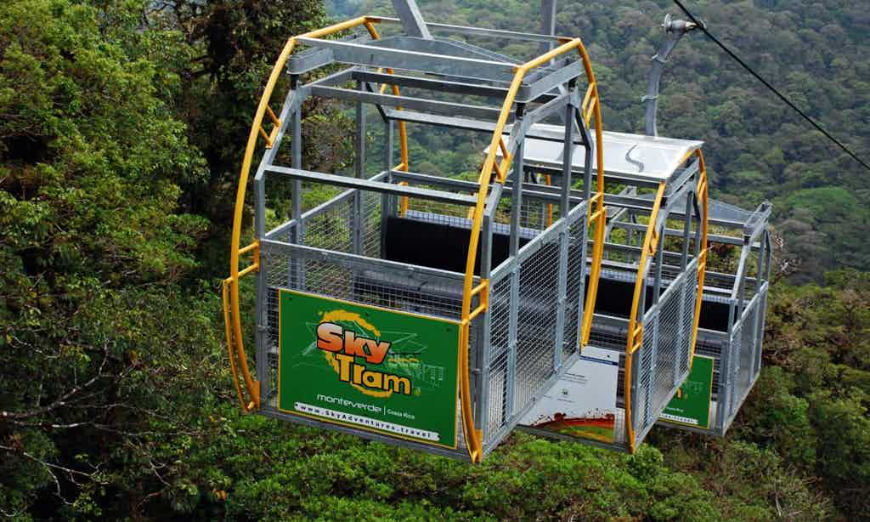 Take a comfortable aerial ride through the jungle on a Sky Tram.
The Sky Tram is a little more sedate as it silently ascends up into the clouds. Your tour guide will stop the tram along the way to point out animals and native plant life. This section of the tour is only about 20 minutes long, but it's well worth the ride.
Sky Walk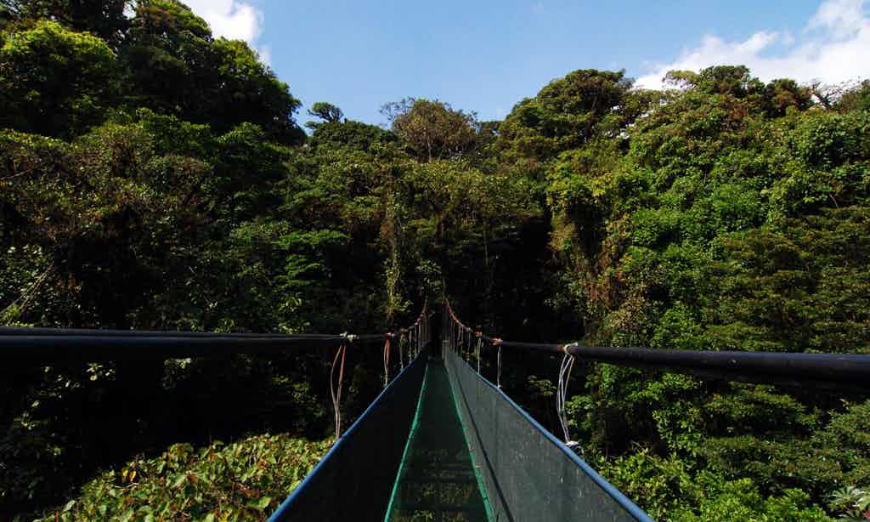 A suspension bridge is a great opportunity to pull out our binoculars and see jungle animals in their own habitat.
These suspension bridges are great for spotting birds as you'll get views of the canopy at a slower pace. The spans vary in length, but you'll be in a harness for extra safety. We recommend wearing long shorts or pants to all of these tours to keep a protective layer between you and the damp.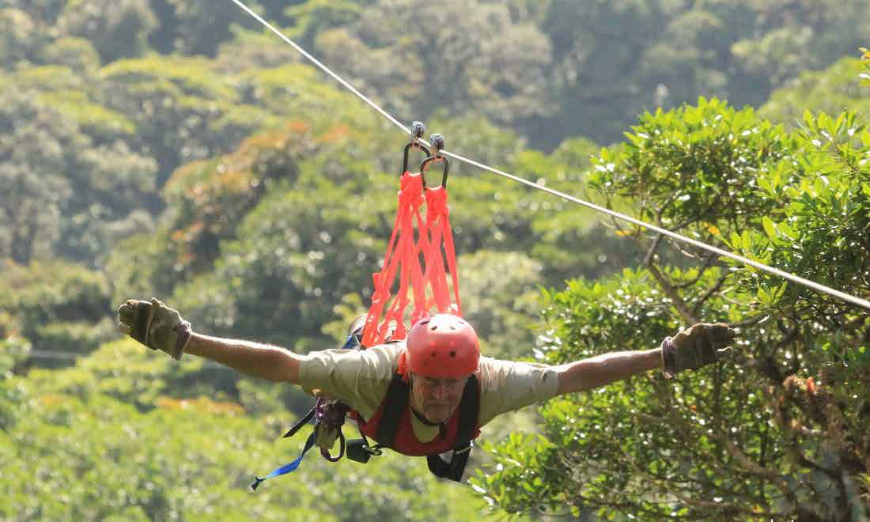 Soar through the rainforest like Tarzan...or Superman. It's your vacation!
Selvatura has (officially) the longest zip line cables in Costa Rica. You'll zoom between 15 different platforms over the virgin rainforest and be able to take pictures from eight different viewing stops. We particularly love their Tarzan Swing which launches you directly into the forest for a thrilling moment of chest-beating glory!
While you're in Selvatura, don't miss the biggest butterfly garden on the continent. It's a giant dome with a 50-foot ceiling, perhaps the perfect way to calm yourself down after all that ziplining and Tarzan swinging. The temperature is controlled to be sensitive to butterflies from a range of altitudes. You'll see exquisite colors and learn about the fascinating life cycle of up to 50 different species.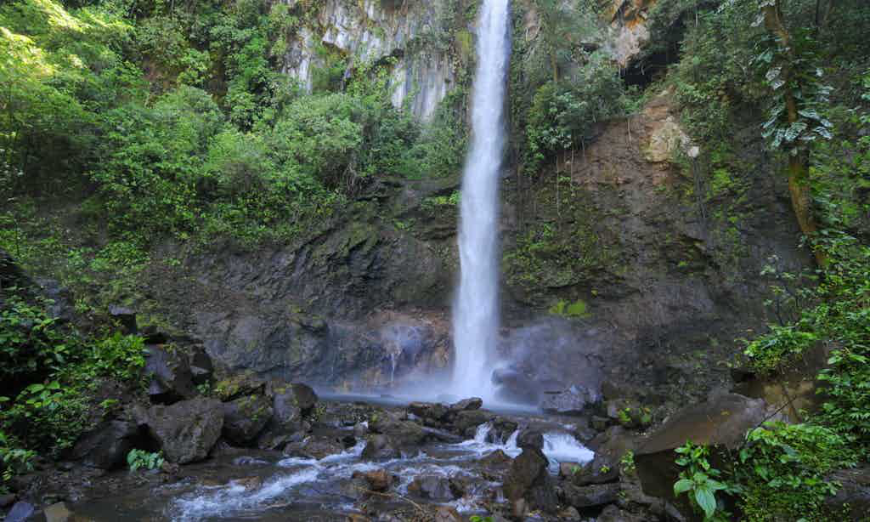 The forests of Costa Rica hold so much beauty — the foliage, animals, and more...such as this waterfall at Rincon de la Vieja.
Based in Rincon De La Vieja this multiple experience tour is pretty amazing in that it includes several other activities after the canopy tours. You'll be signing up for a lovely zip-lining or suspension bridge experience where you can see sloths, iguanas, howler monkeys, and tropical birds - but you also have the option of including horse riding, waterfall sliding, and even a soak in the hot pools!
This tour includes a trip down one of the longest waterslides in Costa Rica at 1,378-foot (420-meters) long! You ride down it in an inner tube through all sorts of thrilling twists and turns. Then your trusty steed will take you past Salitral Waterfall. Though the jungle feels humid on horseback, the waterfall is in a breezy area where you can jump in and refresh yourself from the adventures of the day. You also have the option of going in a truck straight to the relaxation station where you'll take a dip in the modern and well constructed hot springs to ease any sore muscles.
See The Best Jungles And Rainforests In Costa Rica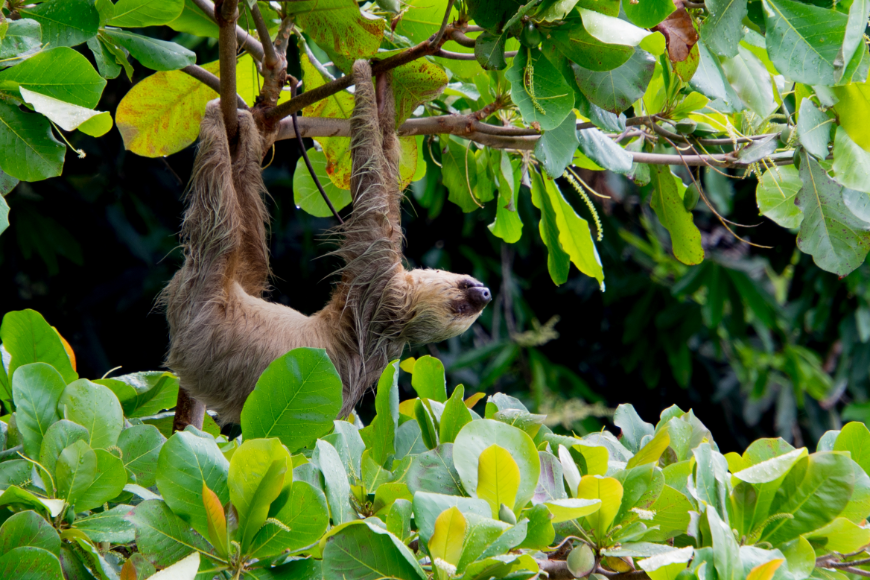 Come 'hang out' with the wildlife on one of these exciting Costa Rica rainforest tours!
Travel planning is key to making the most of your time in this beautiful country so use our website to do your research, and feel free to take advantage of our free travel planning service. We have specialists on the ground who can make sure your Central American adventures are everything you hope them to be.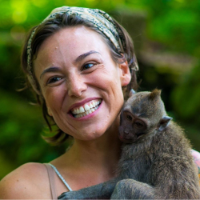 Emma Harrison-Clark, Anywhere Contributor
Emma Harrison Clark is a Bali based writer and adrenaline junkie who loves to travel. When she's not diving, riding fast motorcycles or fighting at mixed martial arts gyms you can contact her at www.emmaharrisonclark.com.