We've handpicked the best Ecuadorian jungle treks and wildlife tours. If you're a photographer or animal lover, read on to discover exactly where to find the rare and beautiful beasts that call this part of the world home.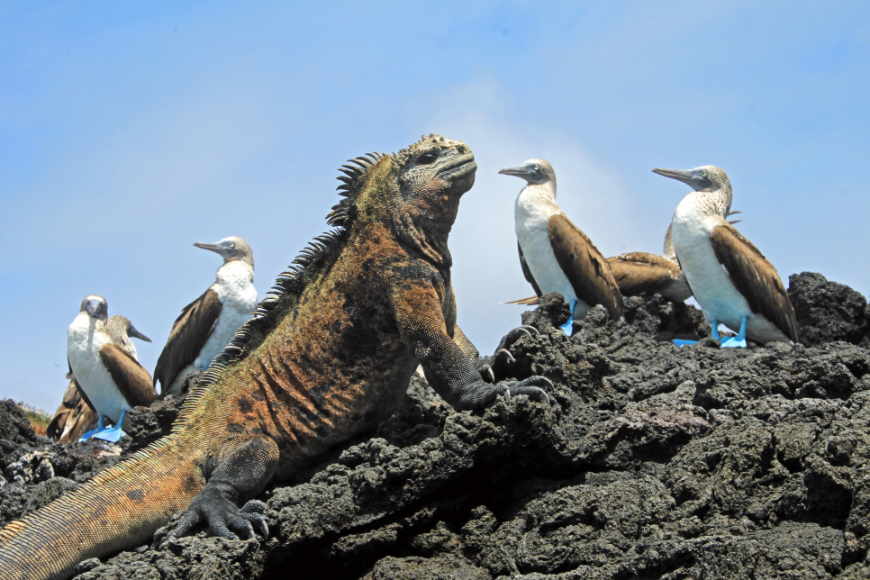 Ecuador is not only a beautiful country, it is home to some of the world's most unique wildlife.
The jungles of Ecuador are a dreamscape of biodiversity that are sadly under pressure from government-sanctioned corporate pillaging. Although sustainable initiatives are in place, it's still very much in danger from deforestation due to loggers, miners and oil drillers wanting to take advantage of this country's immense natural resources. However, amongst it all is an array of rare, intriguing, and even dangerous wildlife protected by national parks and conservationists. They have found sustainable ways for visitors to remotely view rare species that may not be on Earth much longer.
As a World Heritage site, the Galapagos Islands are the most popular destination in Ecuador, but we've dug a little deeper than most blogs to uncover other areas of interest for truly passionate animal lovers. From trips floating down the remote jungle rivers of Cuyabeno, to hikes through the lush rainforests of Yasuni at dusk. Ecuador is indeed where the wild things are, and we can't wait to introduce you.
Ecuador: A small country with a vast wildlife population.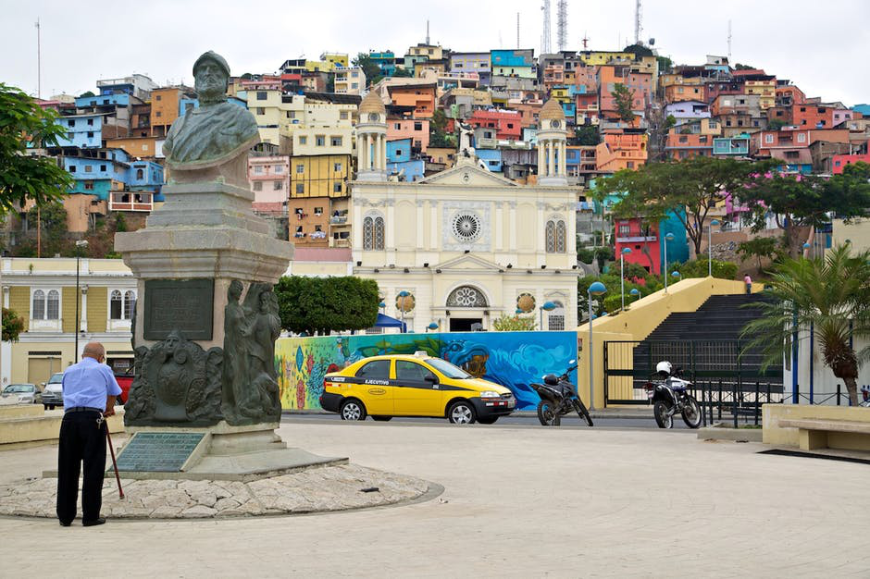 Don't let the man-made structures and trademarks of civilization fool you — Ecuador's primary inhabitants are animals.
Only 15.7 million people call Ecuador home, but there's another set of residents who would far outnumber the humans if they were ever correctly counted. Ecuador boasts more than 300 species of mammals, including jaguars, anteaters, otters, and bears; over 1,500 species of birds; and more than 300 types of reptiles, including giant turtles, colorful snakes, and lizards of all sizes. It's an exciting and intrepid destination that's worth the trip. Some parts of the country have yet to develop a 21st century style infrastructure, which means you won't always find the "First World" luxury you could on an African safari, but you will be guaranteed an unforgettable adventure.
Three Ecuadorian destinations in one holiday: Are you up for it?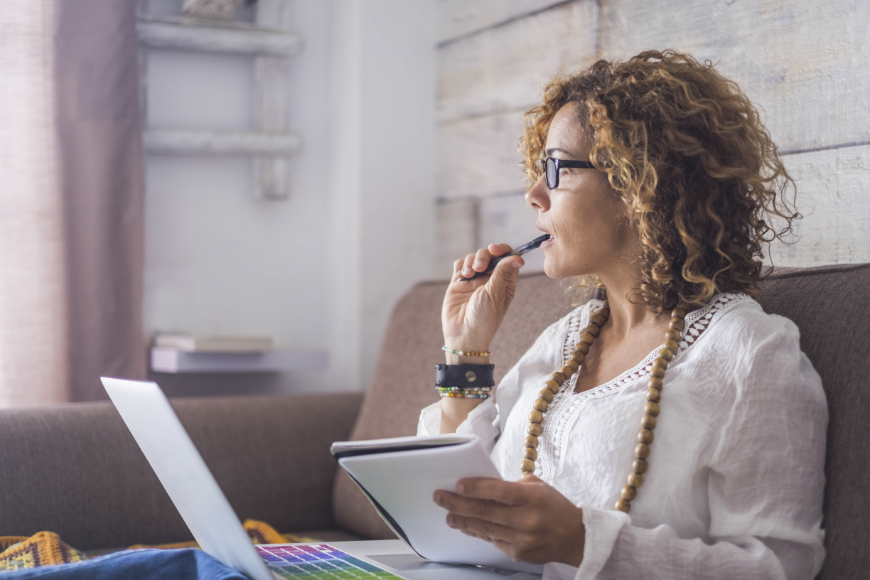 Why go through the hassle of researching your dream vacation to Ecuador? Let Anywhere do the hard work for you.
The Ecuadorian staff at Anywhere Travel are nothing less than master planners, so if you find you can't choose one of the following three destinations then go to them all! You can talk to us about everything from flights and transport to accommodations and even how to choose the most sustainable tour operators when you get there.
1.The Cuyabeno Wildlife Reserve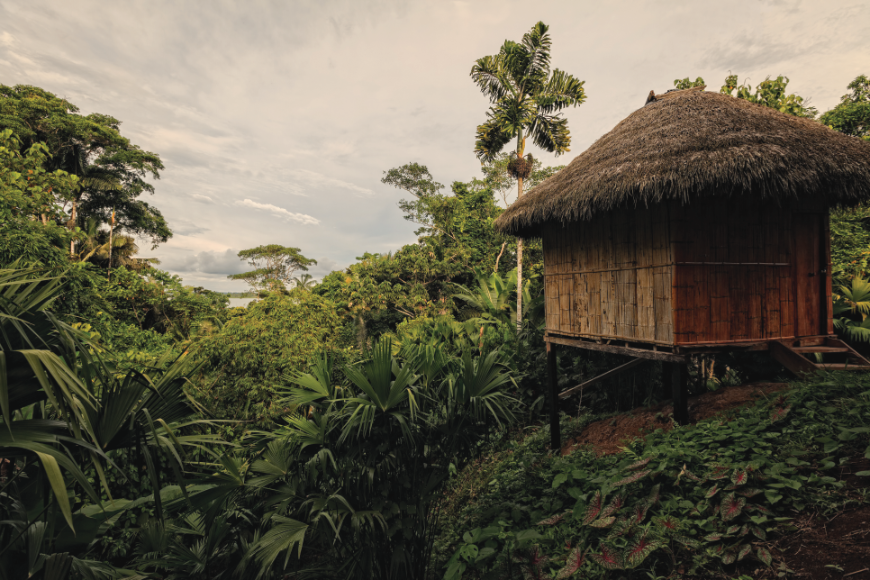 Cuyabeno Wildlife Reserve is strking, and so are its structures — like this bamboo lodge.
The Cuyabeno Wildlife Reserve is genuinely epic, covering 1,490,984 acres (603,379 ha) on the east side of Ecuador. It's also an easily accessible area which is rare for wildlife reserves with such incredible diversity. You fly 30 mins from Quito to Lago Ario, then enter through a well-paved asphalt road into the reserve area and Amazon region. While this thoroughfare once served industrial invaders, it now provides travel-sick visitors some respite from the bumpy safari journey they face on animal adventure tours in other parts of the world.
Cuyabeno is not rainless, but because it's right on the equator, it has less rain than other more steamy parts of the Amazon. These conditions have created fertile soil for a wide range of rare plants, mammals, birds, and reptiles. The reserve has both terrestrial jungle areas and rivers which provide a nourishing environment for beautiful land and aquatic creatures. It's best to explore by canoe, and you can hope to see some of the following animals on your trip:
![Ecuador Wildlife Image: Two common squirrel monkeys play on a tree branch.](/blog/images/ecuador-wildlife-5-squirrel-monkey.png "They don't seem to be missing "screen time."")
Squirrel monkeys are just one variety of primate in Cuyabeno Wildlife Reserve.
2.Yasuni National Park
Yasuni National Park can be as overwhelming as it is beautiful.
Located under 62 miles (100 km) from Cuyabeno Reserve, this area shares a similar level of biodiversity but is perhaps more untouched by tourism. However, the journey into Yasuni is sobering. You must either fly in on a small bush plane to stay in a simple, thatched roof ecolodge, or pass through the Napo River, which has been almost completely deforested. Because of this, the park is better suited to those with more experience in the jungle. Yasuni has some stunning nocturnal wildlife, but it's not laced with the same interconnected rivers and creeks as Cuyabeno, so be prepared for on land jungle trekking (and the insects that come with it) if you wish to see the rarest species: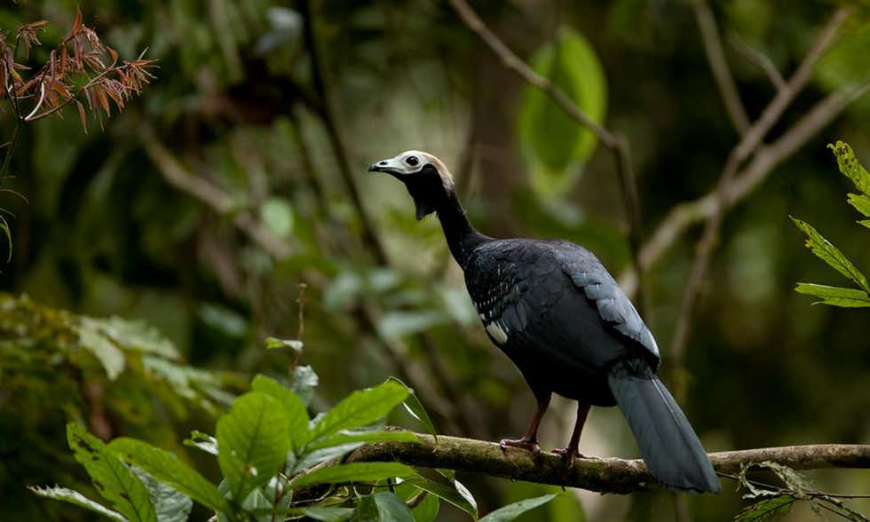 This piping guan is one of Yasuní National Park's many birds.
Jaguars and ocelots — big cats that own the night.

The South American tapir.

Pygmy marmosets (adorable photo opportunity).

A range of rare bats, frogs, and toads.

Three and two-toed sloths, slumbering quietly.

Monkey species, including white-tailed, wooly, and night monkeys.

Snakes, anteaters, and lizards.

600 species of birds.
*Most recent species sightings
3.The Galápagos Islands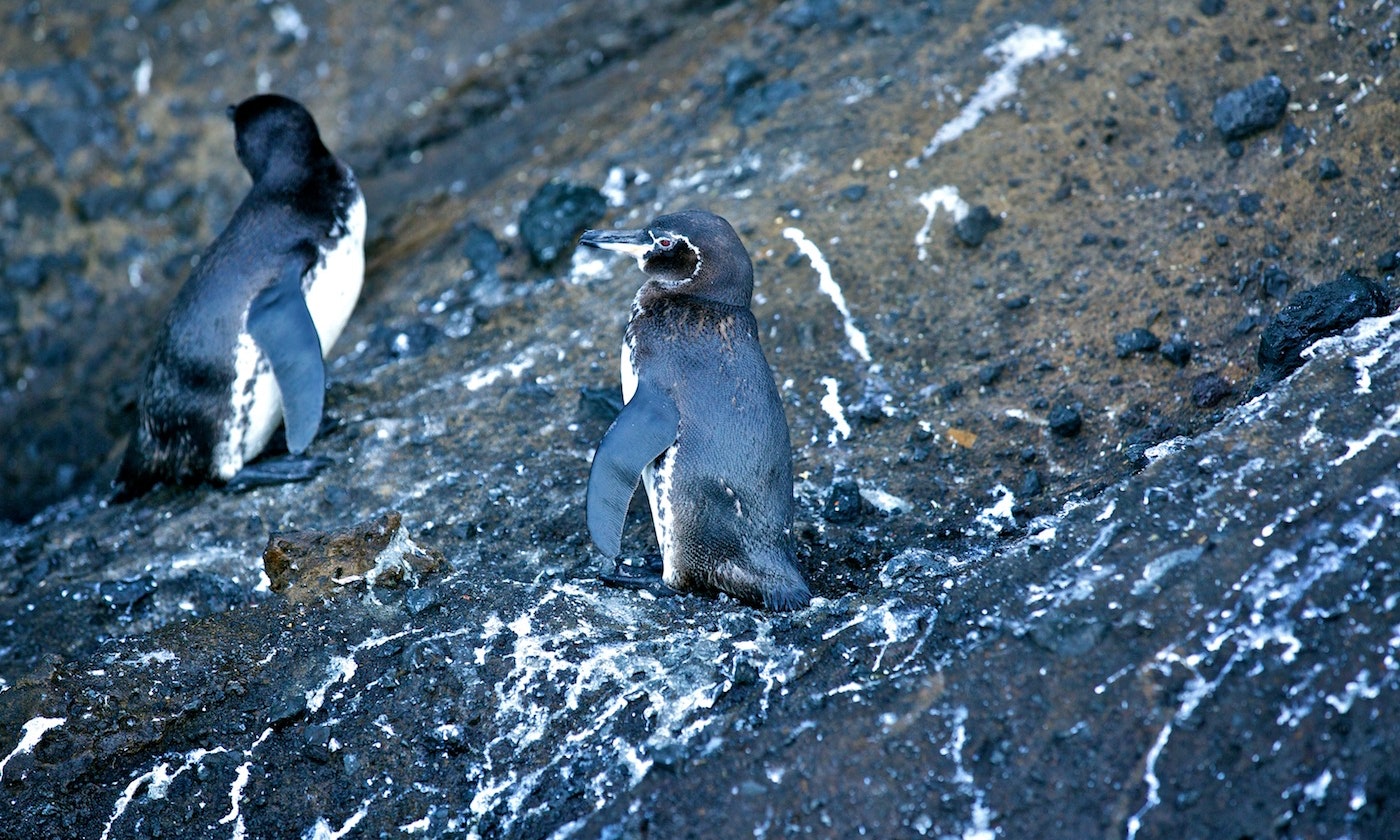 Yes, the Galápagos Archipelago even boasts penguins.
If you're heading to Ecuador, then it makes sense not to miss the Galápagos Islands. Though remote, this area has become popular with tourists, and we urge you to follow sustainability guidelines as you make your way through an ecosystem where the animals are generally free of natural predators. The Anywhere Travel archives include many articles on the Galápagos Islands, so we'll keep it brief here with a rundown of the stunning marine wildlife you can hope to see in the areas of Santa Fe Island, Santa Cruz Island, Lobo Island, Machalilla National Park, San Cristobal, and Montanita: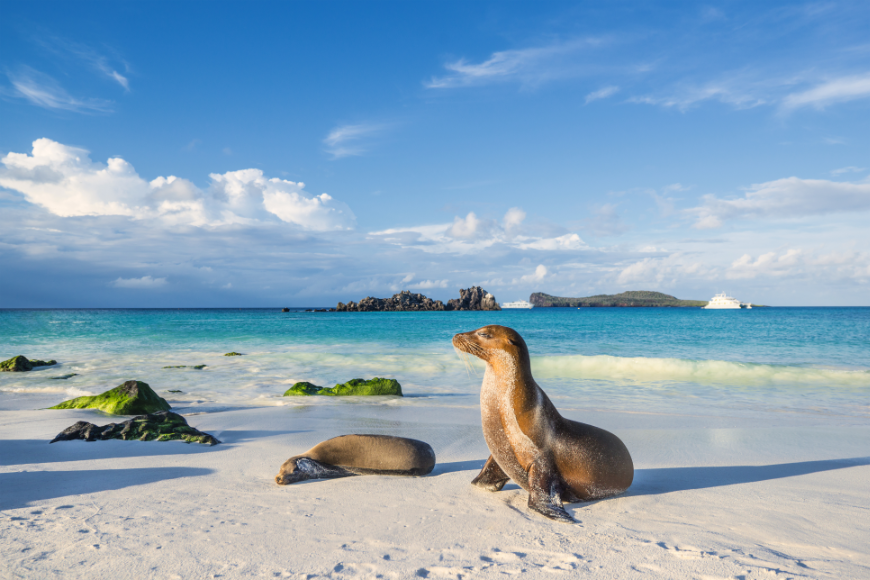 Sea lions sunbathing are a common sight on the beaches of the Galápagos Islands.
An unforgettable Ecuadorian wildlife experience.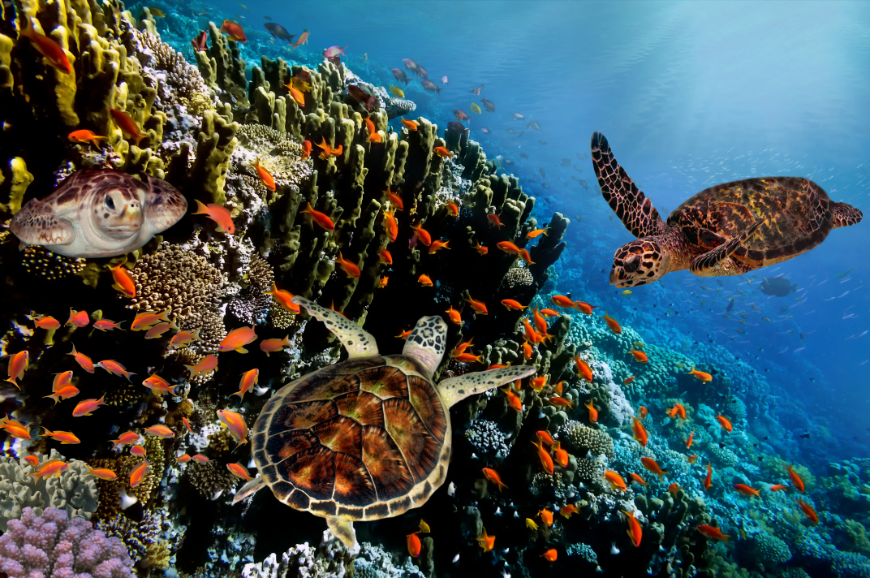 The Galápagos Archipelago is as beautiful underwater as it is on land.
Charles Darwin was fascinated for excellent reason by the Galápagos Islands, with its volcanic craters, crystal blue waters, significant biodiversity, and glorious marine life. If you love rare and endangered species, you're mad not to check it out while you're in Ecuador! Remember, you won't be alone on the journey. With thousands of tourists coming to the area each year, it's become an Instagram famous landmark — with all of the little luxuries a Western traveler could hope for. Regardless of this, whatever you do, wherever you decide to go, we wish you safe travels and an unforgettable Ecuadorian experience.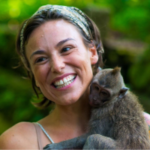 Emma Harrison-Clark, Anywhere Contributor
Emma Harrison Clark is a Bali based writer and adrenaline junkie who loves to travel. When she's not diving, riding fast motorcycles or fighting at mixed martial arts gyms you can contact her at www.emmaharrisonclark.com.